(All images used copyright: Espen Kopreitan Jensvold)
A new snow sledge may be able to beat the world speed record on snow its Norwegian designers hope.
The sledge is the brainchild of Snowspeed, a team of designers and speed enthusiasts, who aim to beat the world speed record for a non-machine-powered device, with their snow sledge designed to reach 250km/h (155 mph) using just gravity.
The current world speed record is held by the British television personality, motorbiker and lorry mechanic Guy Martin who piloted a sledge at 134.36km/h (83.49 mph) in 2014.
Snowspeed aim to smash that record and go on to beat the speed skiing world record which at present stands at 252.45 km/h (157 mph), set by Italian racer Simone Origone in 2014 and considerably faster than the terminal velocity of a free-falling skydiver, a mere 190 km/h (120 mph).
The snowspeed team aim to make their attempts on the various world records in Oslo in winter 2016-17, but have recently been in Cologne, Germany at Toyota Motorsport GmbH (TMG) testing a half scale model, the third prototype to date, at its 30,000m² high-performance testing and development facility.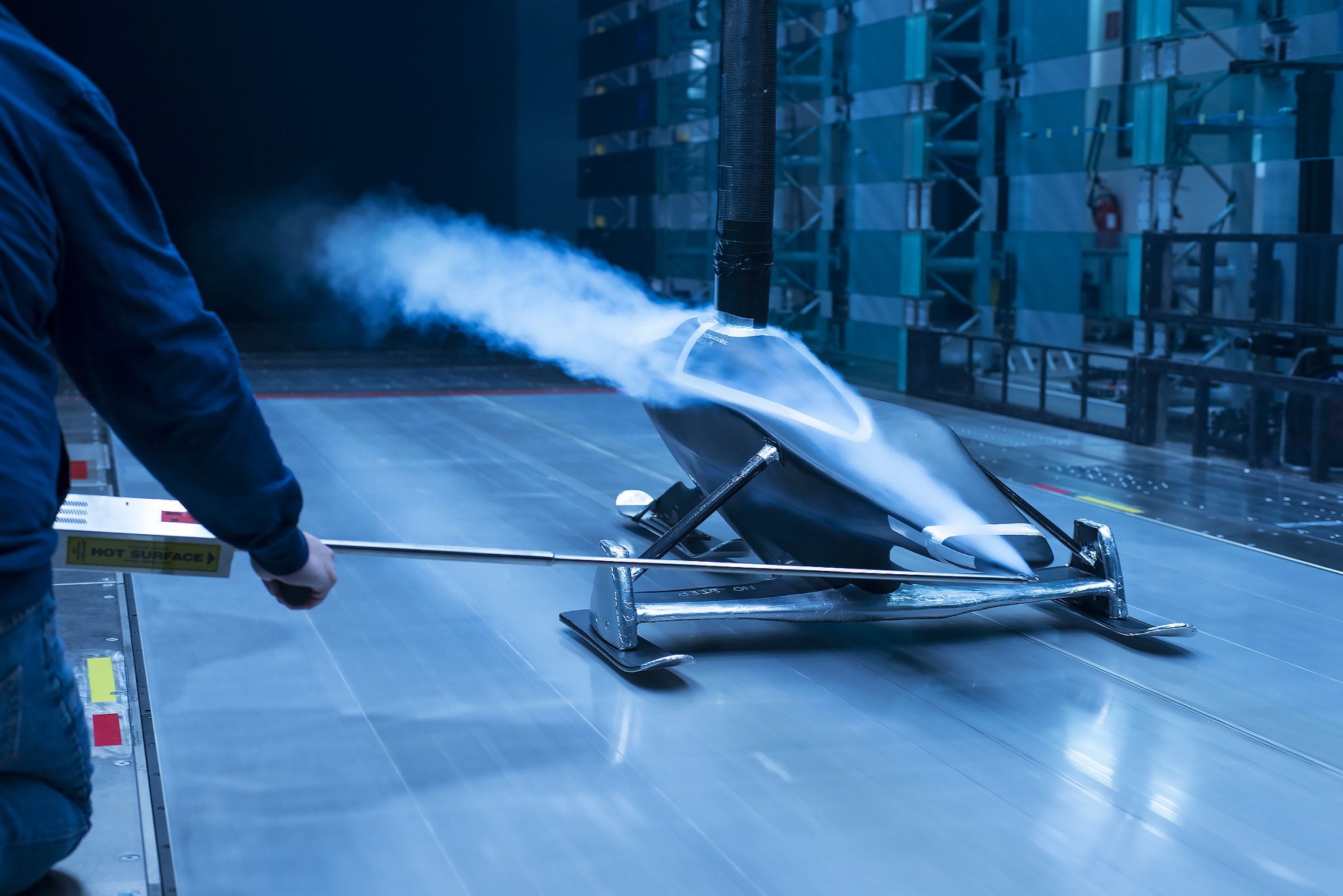 "We are more used to testing Le Mans or Formula 1 racing cars, so this was a new, exciting challenge for us," said Antonio Pavesi, head of the wind tunnel at TMG. "This is the first time we have had a model of a sledge here. The requirements are quite different, but we use the same kind of equipment."
Mounted to an overhead strut and with a continuous rolling road under the skis, the wind was turned on and gradually increased to test how the Snowspeed sledge behaves at speed. The wind speed reached 40m/s and stabilised, with TMG's advanced wind tunnel systems recording sideforce, downforce, drag, roll, pitch and yaw through sensors in the strut.
The data helps the designer continue to improve the sledge in order to minimise drag and maximise speed. Moreover, it aids the fine-tuning of the sledge design to ensure it remainsbalanced in response to forces such as headwind and turbulence. In addition, analysis of the data helps with the creation of a sledge that is stable at speed, by ensuring there is equal side force on either side of the sledge.
Data on the three movements – roll, pitch and yaw – was also generated in TMG's wind tunnel. This helps the Snowspeed designers identify how to best position the sledge on the skis. During testing, the base of Snowspeed's skis were covered in Teflon to reduce friction against the rolling road that rotated beneath it.
"We will improve the design further over the next few weeks and aim to complete the final sledge in the next few months, ready for an attempt at the world speed record in 2017," said Nima Shahinian, head of design at HOOS Design Lab in Oslo.