Ruka resort is located in Lapland, occupying a third of the country's territory. It's a region that has a lot to offer, both on and off the slopes. A multi award-winning resort, Ruka promises well maintained pistes, efficient ski lifts, stunning views and a ski season which lasts more than 200 days. I'm sold. However, while Ruka may tick all the right boxes on paper, will the resort live up to our expectations?
No stranger to awards, Ruka was voted Finlands' Best Ski Resort in the World Ski Awards for 2013, 2014 and 2016 and Lonely Planet Best in Travel 2017 Top Countries. Quite impressive but not surprising; Ruka boasts the largest beginners ski area in Finland, along with two snowparks, a superpipe and a boardercross. Plus, they offer a variety of activities that could please any outdoor enthusiast. Sorry for the spoiler but Ruka is a hidden gem of Northern Finland, and does live up to the Winter Wonderland title.
My journey to Ruka resort was quick and smooth. I flew from London to Helsinki and caught a connecting flight to Kuusamo airport. From there the resort is only a short drive away.  There are airport buses from and to every flight at Kuusamo airport; year round. Once we had our bags we were greeted by a Crystal Ski rep and headed to our Ski Inn Apartment, located in the centre of the village still illuminated from the Polar Night Light Festival. I was very much excited to discover the scenery the next morning in daylight.
The first thing to hit us in the morning? The cold. Layering is key to staying warm in Ruka as the temperature can drop really low. December and January are the most challenging months in terms of weather conditions and coldest temperatures of the year – it can get to -25° – with just 3 to 5 hours of daylight.
The resort had a snowy start to the 2018 season, with a snow depth of 80cm when we visited the resort in February. Ruka's incredible snow record offers an average of 200 days skiing between October and May, making it a go-to destination for early-winter and spring skiing.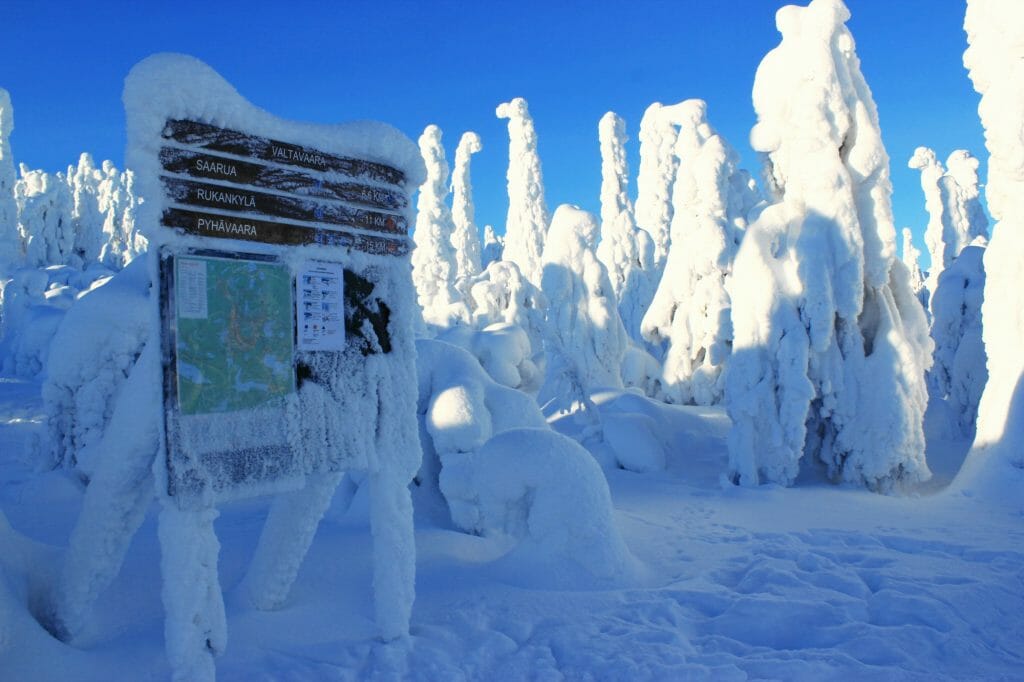 Access to the slopes is very easy with two chairlifts in Ruka Village. The ski area consists of four peaks that have given their names to the four slope areas: Pessari, Saarua, Ruka (Frontside slopes and Vuosseli) and Masto. The highest point is 492 meters. The biggest vertical is 201 m and longest run is 1300 meters. The mountain counts 34 groomed runs – mostly blue cruisers and red runs and the wide, gentle slopes make it ideal for beginners and intermediates. Advanced skiers and snowboarders have not been left out with a FIS rated Super Pipe, a Snow Park & Street, a Ski/Boarder Cross course, a moguls run suitable for international competitions and FIS rated slalom run.
A massive bonus of the area is that the slopes are practically empty and lifts queues non-existent – meaning you can complete the maximum laps of your day until your legs start shaking. When you need a break, you can head to one of the wooden huts around the slopes and warm up in front of an open fire. From 4pm the slopes are illuminated and stay open till 7pm!
Haven for family holidays
Full of character, the resort is family owned and intent to keep its authenticity and provide a quality service to its visitors. With the largest beginner area in the country and a huge selection of activities, Ruka is a perfect family destination. Safe for kids, the village is pedestrian with a car park relocated under the village.
For the2017/18 ski season, Ruka introduced the Rosa & Rudolf Family Park – located in Vuosseli area – an all-family snow park area with several magic carpets of different sizes (24m, 50m, 50m, 80m and 100m ) perfect for the little ones to make their skiing debut, as well as features adapted for one's first slides. You get a free entry to Rosa & Rudolf Family Park with a valid ski pass.
Ruka Environmental Sustainability Efforts
Winters are shorter and the amounts of snow are decreasing. To prevent this and to fight climate change Ruka resort is taking the surrounding nature into consideration and attaches a lot of importance to long term environmental sustainability. Using the snow from the previous winter and automatising the snowmaking as well as the lighting of the slopes are two significant changes to save an important amount of energy.
Snow storage allow to extend the ski season and improve energy efficiency
In the summer of 2016, Ruka introduced a new method of snow storage. A snow layer several metres thick was made with snow cannons in the winter. In the spring, large snow piles are formed and covered with white gauze and wood, forming a natural freezer. As a result, most of the snow remains usable – despite temperature up to 25° during the Summer – for the next ski season with a guarantee opening of the resort from October.
The energy consumption is effectively monitored
By monitoring its energy consumption Ruka has been able to reduce its greenhouse gas emissions by 80 per cent since 2008 and was the first ski resort in Finland to completely shift to renewable energy the next year. Furthermore, the central location of the apartments and the free buses around the resort reduce the need for a car in the area.
Great outdoors activities
Winter in Lapland is a cold, beautiful, breathtaking wilderness. The scenery is absolutel magical, with frozen trees, and a sky that turns pink at sunset, making everything look that little bit mroe surreal. It's a constant picture postcard landscape.
You can read on their website "Every visit to Ruka is the beginning of a new adventure". There's no misleading advertisement here – Ruka and Lapland nature can offer you the full arctic adventure in many ways. Indeed, most people who visit Ruka combine skiing with other arctic activities. Amongst the popular ones you can find dog sledding, snowmobiling, snowshoeing, ice climbing, reindeer sleigh rides or fishing. The possibilities offered by the environment create opportunities for so many different activities.
On the first morning I headed to the Outdoor Passion Finland cabin in the village for a tour with OAC skinbased skis. Skinbased skiing uses a new kind of ski with integrated climbing skin. Made in Finland, these skis  are a combination of a traditional ski, ski touring skis, telemark ski and snowshoe.  The skis provide easy access to wintery nature everywhere as well as a real freedom of skiing on all types of terrain. And above all give you an unlimited access to the "backyard".  The tour – approx. 10km – took us through deep snow, to beautiful winter sceneries, arctic nature, skiing on frozen lakes, and it all happens just next to the Ruka ski resort.
The following day, I tried snowshoeing in Oulanka Park, one of the 20 national parks in Lapland. The snowshoe trail took us through the most beautiful parts of the park. The main attraction is the Kitka river – its water is so clean that it is safe to drink. I've been told that a common thing to do is to jump in the frozen water and go straight in the sauna – a very good way to cure a cold… I will have to take their word for it.
I also gave a go to ice climbing. Not the usual après ski activity. The guide from Outdoor Passion Finland kitted us out in the right equipment consisting of climbing shoes, crampons, a climbing harness and a helmet. We hiked to the ice wall where we were given instruction and then set about climbing the routes. Jussi introduces the basic rules of safety and how the equipment works, from knots to how to hold the axes and use the spikes. It takes a few tries before getting how the shoes work and how to coordinate your gestures as well as choosing the most strategic route. It was a challenging experience, but was rewarded with a breathtaking view over the resort. You don't need to be super fit to ice-climb, nor do you need previous rock-climbing experience but a decent level of fitness will definitely help.
FACTS
Ski day pass – €44
Ski season from October to May
Slopes are open every day 9.30 a.m – 7 p.m.
22 ski lifts, 5 chairlifts
Summit height 492 m
Longest slope 1300 m
Where To Stay
Ski-Inn Apartments – Lodging at the bottom of the slopes – spacious, sauna, commodities on ground floor The Ski-Inn Apartments in Ruka Village are an ecological choice for accommodation since the carbon footprint of their energy consumption is zero
https://www.ruka.fi/en/hotelrukavillage
Outdoor Activities
Skinbased skiing & Ice climbing – Outdoor Passion Finland operates in a customer oriented way, with high emphasis on safety standards, and all activities are planned based on sustainable and long term actions, all year around.
http://www.outdoorpassion.fi/en/
Snowhoeing – This short snowshoeing trip to Oulanka National Park is for anyone
http://www.rukaadventures.fi/en/
Where To Eat
Ruka village ha a great choice when it comes to dining. Many restaurants serve traditional European cuisine as well as local dishes, all of them cooked using local products.
Pizzeria Ruka : http://www.pizzeriaruka.fi/en
Colorado Bar & Grill : https://www.ruka.fi/en/colorado