What's your favourite part of a ski holiday? Flying down freshly groomed slopes, powering through untouched powder? Or simply that amazing post-ski feeling you experience when stopping for a post-ski drink on a sunny terrace, surrounded by the most magical mountain views?
For many of us, food and drink is a huge part of the skiing experience. Our holidays in the mountains allow us to explore and enjoy new cuisines and delicious local produce. Whether it's a classic Savoyarde fondue with all the trimmings, a creamy Bombardino sipped in the shadow of the Dolomites, or a warming gluwhein enjoyed alongside that famous Austrian après-ski, the tastes of a ski resort are unique.
Such tastes have the ability to take us right back to those sunny slopes, bringing back that unique feeling of relaxation that you only get after a day in the mountains.
However, it can be hard to replicate these recipes at home, especially if you're unsure where to start!
So, we've teamed up with some of our favourite drinks brands to bring you recipes for some classic Alpine cocktails.
This year more than ever, when many of us may not be able to get to the mountains, this will at least allow us to bring a taste of the mountains to you.
If you've ever visited the London Ski Show (RIP), you'll no doubt have noticed these guys entertaining a steady stream of skiers with their delicious toffee vodka. Developed in Val d'Isère and best enjoyed neat at the coldest temperatures, this is one drink that's fuelled many a snowy après session over the years.
Thunder Toffee + Vodka also makes for some brilliant cocktails, with its unique taste bringing that mountain sweetness to even the most traditional recipes.
The Toffee Apple, however, is anything but traditional. One of Thunder's most popular cocktails, it's dangerously drinkable, with the sharpness of lemon juice perfectly balancing the sweetness of the toffee vodka and the apple schnapps.
The Toffee Apple

Ingredients
Thunder Toffee + Vodka: 50 ml
Apple Schnapps 25 ml
Fresh Apple Juice 25 ml
Lemon Juice 12 ml
Method:
Shake well and pour into a high ball or Collins glass over crushed ice. If you do not have crushed ice do not fret, as cubed ice will work just as well and still taste amazing.
Garnish with an Apple fan & a dash of grenadine for some colour.
Thunder toffee vodka is available at www.thundervodka.com , Amazon , Bookers , Selfridges , Ocado , Wine Rack stores , Bargain booze shops , Harvey nics , Fenwicks , Bentalls , plus loads more .
You can now also pick up Thunder + Rhubarb & Ginger vodka, perfect if you fancy mixing it up a little!
Let's set the scene: It's been a first-lifts to last-lifts, great skiing day and now your legs are aching, your face is semi frozen and you've just rocked up to a warm and cosy resort bar. What's the one thing on your mind? Something warm, yummy and with a little kick of alcohol to perk things up… Yes please! This extra special rum hot chocolate is sure to bring you that mountain feeling, equally as enjoyable after a lockdown walk as it is after a day on the slopes.
Aluna Coconut Rum is a gold medal-winning rum blend from Guatemala and the Caribbean, with 100% natural toasted coconut and pure, sustainably sourced coconut water but only a fraction of the sugar found in other brands.
You get the true flavour of coconut alongside the authentic warmth and complexity of high-quality rums with none of the sticky, synthetic flavours that let's face it, many of us have experienced before. This means you can mix it with your favourite mixer, in a cocktail or even a hot chocolate without the drink becoming too sweet.
Aluna Coconut Rum Hot Chocolate
For the perfect treat on these cold winter weekends, an A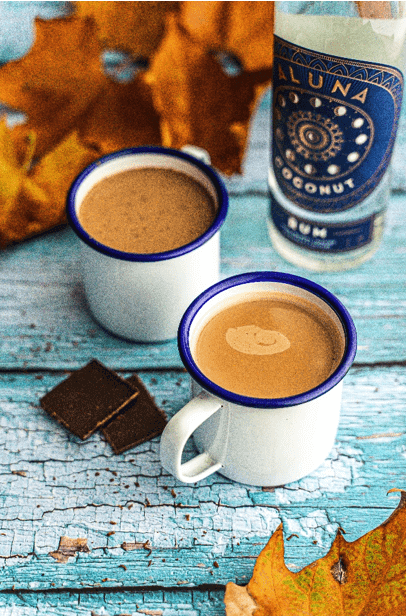 luna Coconut Rum hot chocolate is sure to take you right back to that cosy mountain après bar.
Ingredients:
2 heaped scoops of rich hot chocolate powder (we like Clipper)
200ml coconut milk (or whatever milk you prefer)
25ml Aluna Coconut Rum
Directions:
Make hot chocolate. Stir in rum or serve as a shot on the side. Simple!
Aluna Coconut Rum is available at Waitrose stores nationally or online through Amazon, Ocado or the alunacoconut.com web shop.