France's Best Ski Resorts To Visit In Summer
France is one of the world's great ski nations, home to many of the biggest and best ski regions on the planet.
You can ski or board here still in summer too, for short periods on the glaciers of Les 2 Alpes, Tignes and Val d'Isere between May and July or even indoors on one of the world's longest indoor snow slopes at Amneville up near the border with Belgium and not very far from the Channel.
But French ski resorts are seeing business boom in summer too as more and more people from France and the UK discover just how fantastic it is to be in the mountains in summer too.
There's a huge range of things to do – hundreds of kilometres of hiking and biking trails of all kinds for all tastes and abilities with the ski lifts used in summer to do the hard work of getting you up the slopes to walk, run or ride down …unless you like the uphill but in which case you're welcome to do that.
The ski resorts also host competitions, festivals and fun events right through the summer and there are activities of all kinds. The bigger resorts also have their sports and leisure facilities like swimming and spa complexes open in summer too.
Or you might just want to just do nothing for a week – what a blissful idea and the French mountains are the perfect place for a complete escape.
Here are some of the best French ski resorts to visit in summer and some of the activities each offers.
Les Gets – Europe's Largest Bike Park and Much More Besides
Les Gets has lots going on in summer, just as in winter. The resort, part of the vast Portes du Soleil region, has a particularly strong reputation with families in the ski season, and while that's also the case in summer, Les Gets is also regarded as one of the top mountain biking destinations in the world, with Europe's largest bike park that includes over 128 KMs of marked trails for all levels. The resort regularly hosts the downhill and XCO (Cross Country Olympic) editions of the UCI Mountain Bike World Cup and The Mountain Bike World Championships took place in the resort in 2022.
There are though dozens and dozens of activities on offer that don't involve two wheels. This summer a new four season toboggan run is opening with a 714-metre descent that takes almost 6 minutes that expands the resorts strategy to offer all-year-round activities to a wide demographic and compliments the existing Alta Lumina Park.
There's also a new barefoot walk through the peat bogs of the Chablais UNESCO Global Geopark – water-saturated land where visitors can feel the mass of energy accumulated since the last ice age. Les Gets is teeming with these little-known, multi-faceted wetland areas and sensitive peat bog ecosystems.
In town, there's a number of hotels ranging from 4* to 2* as well as numerous chalets and apartments. There's a total of 40 restaurants, on and off the mountain and the village is located just an hour's drive from Geneva.

Annecy Mountains – Lake and Mountain Activities in Harmony
Encompassing the turquoise waters of Lake Annecy and the region up to the picture postcard villages of the Aravis – La Clusaz and Le Grand Bornand, Annecy Mountains offers a summer holiday exploring the best of this area. Avoid the busiest times in the town of Annecy by exploring off the beaten track.
Discover 'Alex' with its soap making workshops, the high alpine hiking at Col des Annes where you are likely to see more cows than people, taste the local Reblochon cheese at the Caves du Paccaly in Manigod and discover more of the making and storing processes of this cheese.
The area is renown for the Tour de France with its famous Cols, Aravis, Columbiere, Croix Fry attracting road bikers. New coffee shops, Le Shed in Le Grand Bornand and Lo Garajo in Manigod being 'must stop' coffee stops for cyclists en route.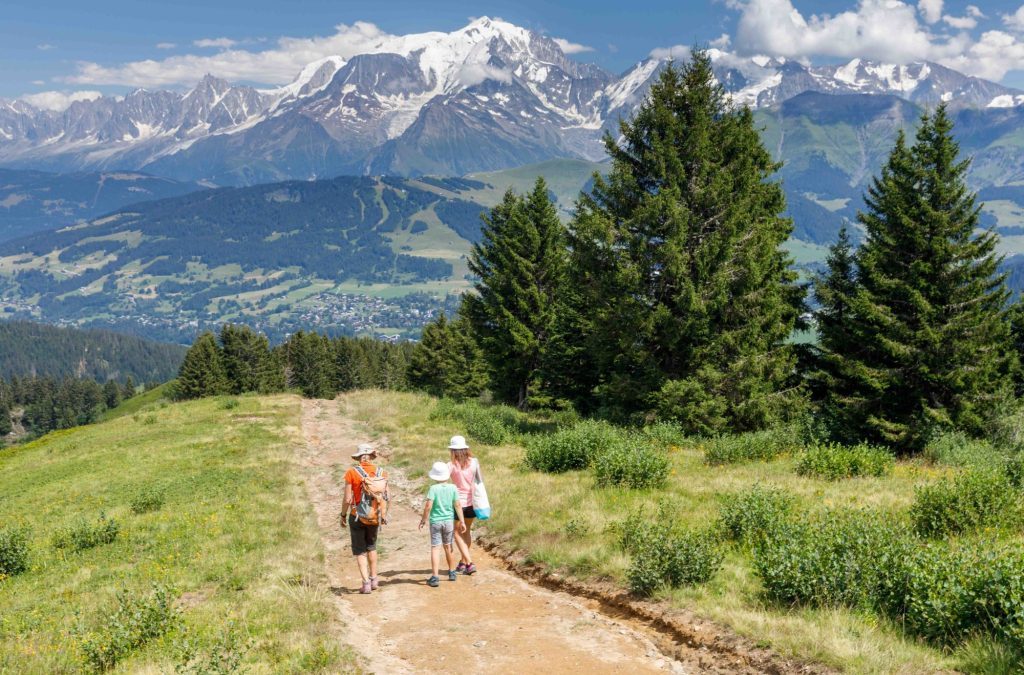 Megève For Donkey Trekking & Barefoot Hiking
Set in the heart of the stunning Mont Blanc massif, surrounded by lush flora and crystal clear waters, Megève is a stunning traditional winter sports and summer village that has been popular with skiers, artists, intellectuals and holidaymakers for more than a century.
The traffic-free, cobbled medieval centre features an abundance of artisan shops, galleries and so it should be no surprise that the resort is becoming increasingly popular with British holidaymakers seeking a charming getaway  in the summer mountains without the price tag, thanks to a growing number of chic and affordable accommodation and dining options alongside the resort's 4 and 5 star options and three Michelin starred restaurants. It's all just an 11 hour drive from the UK or an hour from Geneva airport
Besides just taking a stroll through the sun dappled alpine village with its elegant boutiques, lively streets and inviting large terraces there are lots of activities on offer in summer, as winter. Megève has everything from outdoor swimming, mountain biking and hiking to jewellery making, starry film screenings and tree top adventure courses.
A new family activity this summer is a five day trek walking alongside a group of donkeys, who will lighten the load by carrying all luggage. Accompanied by a mountain guide and instructor, hikers will stroll along market trails, picnic in green pastures and spend the night in a cosy mountain refuge.
Or you could reconnect with nature on a sensory hike, designed to awake all the senses. Feel, smell, discover and learn with barefoot workshops for touch, blindfolded tastings and much more participants are encouraged to go on a journey of personal exploration designed to encourage openness and improved general well-being.
There's much much more and a full events calendar including the Megève jazz contest, various international sporting events such as the MB race, and the Toquicimes festival when Megève's famous foodie culture serves up delicious local dishes.
Arc 1950 – Family Fundays in Car-Free Village
Arc 1950, heading for its 20th birthday this winter, is set in the foothills of some of Europe's best terrain for hiking, biking, and high alpine lakes. Its car-free village centre offers charming pedestrian piazzas and brightly coloured Savoie facades, perfect for a family summer holiday in the Alps.
Free Family Fundays: Throughout the summer, Family Fun Wednesdays will provide a day of festivities each week dedicated to family entertainment. Art & graffiti workshops, mountain & biking festivals, themed pirate & voyager days will set Arc 1950 alive.
You can also let the professionals take care of the mini adventurers with a new outdoor sports camp.
Yeti Camp introduces 3 – 12-year-olds to archery, mountain survival skills, hiking, zip wiring, mountain biking, golf and scooting. Over 12's will also be entertained by Teenage Sports Outdoor Weeks sampling rafting, climbing, electric and downhill mountain biking.
Les 2 Alpes – Mountain of Hell to Family Favourite
Offering one of the world's 10 biggest lift-served vertical drops in winter, Les 2 Alpes is an increasingly popular summer mountain destination too, with a season running from mid-June to the end of August.
Located in the southern Alps not far from Grenoble, this is one of the three French ski areas still open for snowsports in summer, although since 2023, in acknowledgement of the impact of climate change and to protect the glacier, the summer snow sports season which ran from mid-June to late August, now runs through May and June, so for summer visitors is almost over as the season begins. That said, although there's no longer any skiing and snowboarding in July or August, pedestrians can still access the glacier all summer, and enjoy the breath-taking views and cool temperatures up high.
Actually, Les 2 Alpes has had an increasingly busy summer season for 50 years now. It attracts mainly a very sporty clientele wanting to try the main adrenaline activities on offer – paragliding, downhill biking, white water sports and many more. This is the home of the world famous Mountain of Hell downhill mountain biking race where hundreds of experienced mountain bikers line up at the highest start line for a MTB competition (3,000m) and ride down a 2,500 metres vertical run, starting over snow and ice.
But from mid-July to the end of August, there is also a more relaxed, buzzing family-friendly atmosphere. There are more than 30 accommodation options to choose from in summer, double that number of restaurants open, more than 90 shops to peruse and over 40 activities available.
Portes du Soleil – Mountain Biking Heaven
For skiers and snow boarders, the vast Portes du Soleil region that straddles the French – Swiss border needs no introduction. Straddling French/Swiss border it's lone of the world's largest ski region, linking up the terrain above a dozen resorts (eight French and four Swiss), most of them well-known in their own right, Avoriaz 1800, Châtel, Les Gets and Morzine among them.
But in summer too, the Portes du Soleil's location delivers a vast variety of landscapes in the heart of nature providing unlimited access to nature's playground making it ideal for sporting and relaxing holidays alike.
Although perhaps best known in summer as an internationally recognised mountain biking area, everything is possible here from cycling and hiking, to yoga and culinary experiences.
For biking though the Portes du Soleil has few equals, with a vast array of options for everyone from complete beginners to the most demanding pros. Cross-country, freestyle, freeride and e-biking are all options with 80 mountain bike trails, totalling 600km of trails, accessed by 24 ski lifts. As a pioneer in electric mountain biking, the Portes du Soleil has been using electrically assisted bikes since 2014 and the area now offers more than 35 routes specifically marked out for this type of riding.
If you're going for two feet instead of two wheels, summer visitors can also choose from a wide range of walking and trekking routes too of course with over 470km of signposted paths across the region catering to all abilities. Thrill-seekers are equally spoilt for choice in Portes du Soleil, as the region is a mecca for canyoning, Via Ferrata, white water rafting and ziplining. Those looking for a slower paced holiday can opt for forest bathing, jewellery making in the forest or take a step back from the hustle and bustle in a secluded mountain cabin.
The Belleville Valley – Flower Laden Meadows & Snow-Capped Peaks
From the village of Saint-Martin-de-Belleville to the high ridges of Val Thorens and to the crystal-clear waters of Les Menuires, never has there been a better time to discover the flower laden mountain pastures and snow-capped peaks of the Vallée des Belleville, in the French Alps.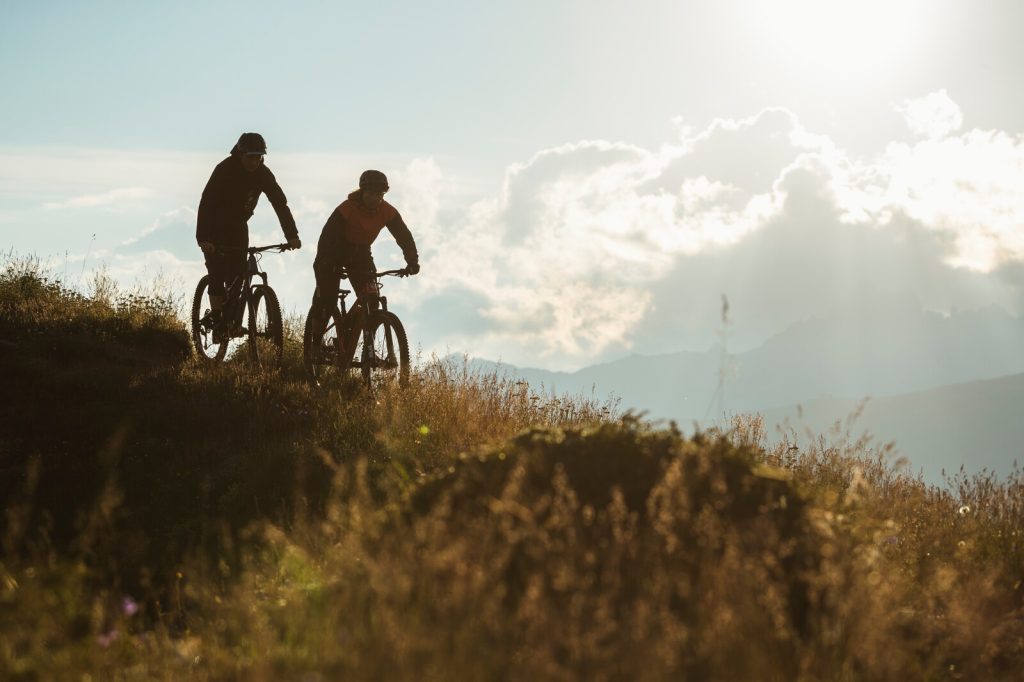 Hike on the glaciers at Val Thorens, bike the huge 3 Vallees loops, fish for local trout, or taste the home-made ice cream at Chez Pepe Nicolas. The Belleville Valley offers a host of activities many available via the 'Ascension Passport' for all ages, families, couples or solo guests.
Discover the new Brava Vela microbrewery, just outside Saint Martin de Belleville; or take a gentle walk to find Nant Brun, an old refuge which has been rejuvenated for summer, stay overnight or enjoy a coffee and homemade cake. If comfort is more your thing, the 4* Higalik or the luxury Hameau de Kamir Residence are open for summer.
Image Copyrights:
Pic top: copyright Portes du Soleil and Sylvain Cochard.
Les Gets – trail running pic copyright OT Les Gets & Manon Guenot.
Annecy Mountains – top pic Copyright Royer
Megève pictures copyright Commune de Megève.
Arc 1950 pictures copyright Andy Parant
Portes du Soleil pictures copyright Portes du Soleil.
Belleville Valley top pic copyright Jeremy Berard
Goat pic credit: Vincent Lottenberg
We have a regular Podcast called The White Out where we review the latest gear, talk about the latest snow forecast and updates on where is best to ski now, as well interviews with absolute ski legends AND we spotlight a resort every week and so much more. You can check out our regular podcast here Apple | Spotify | Podcasts or search The White Out on your chosen podcast directory.