Let us take you through our pick of the best ski gear for kids this season to make preparing for your holiday as hassle-free as possible. There's some great gear out there this season that will help to make your first ski holiday with children will be a magical experience.
Best Ski Gear for Kids InTheSnow Top Tip: All-in-Ones
If we had to recommend just one general product for kids (which luckily we don't otherwise this would be a very short article), it would be the all-in-one snow suit. All-in-ones prove extremely popular, especially for younger children, because of their impressive ability to keep warmth in. Warmth is everything when it comes to kids' ski gear, as they will not enjoy their skiing experience if they are cold. From starting out to getting going, warmth is the ultimate goal with ski clothing.
The K Rider insulated suit from Helly Hansen is a great example of a good quality ski suit. This suit is waterproof and windproof, with adjustable cuffs, elasticated bottoms and an elasticated waist to keep it well fitted and keep all that snow out! What we particularly like about this suit is that it has Hi vis fabric on the arms and the back of the hood, which are a great addition if you are tobogganing or playing in the snow as it gets dark. We also like the reinforcement of the fabric on the seat and knees of this suit, which keeps it very durable and means it will last for ski holiday upon ski holiday (and can be passed down from child to child if you do have more than one!). It comes in a wide variety of really fun colours, which are sure to be a hit with any child.
Also a brilliant option is the Björnen Kid's Coverall from Didriksons. This has similar features to the Helly Hansen suit, but has one brilliant addition. The 'Extend size' function allows the sleeve and leg length to be extended so that this suit can grow with your child.
Again in a range of funky colours, your child will love this snow suit! Didriksons also offer snow suits for babies, so if you have a younger tot to keep warm, we would recommend taking a look at their Borga Baby Snow Suit. Water and windproof, it also has two long front zippers that make it beautifully easy to get on and off!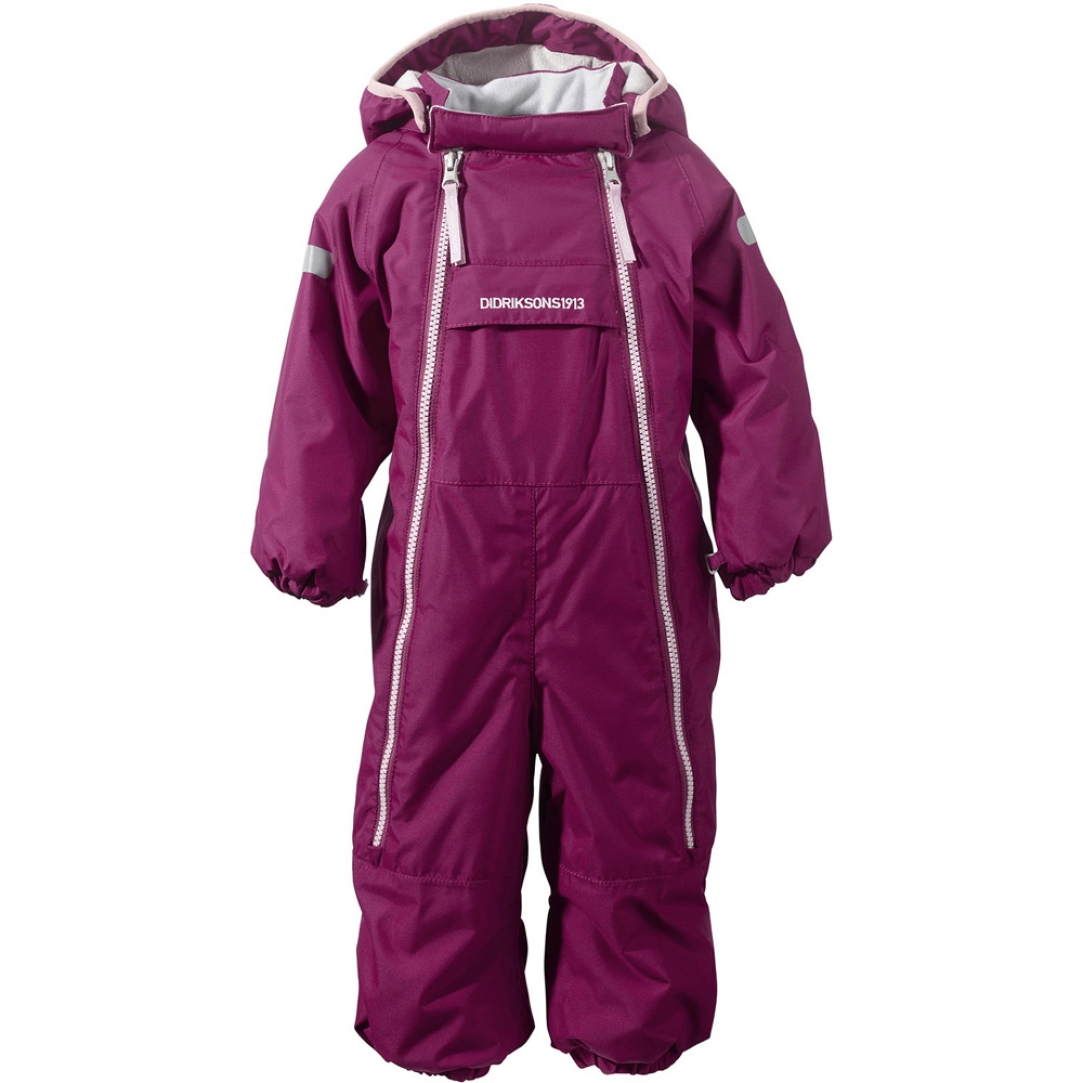 Kids Jackets
As with the all-in-ones, it is really helpful to get jackets and salopettes that have adjustable leg and sleeve lengths, so that you can keep these items as your children grow. We all know that children seem to grow at almost unbelievable speeds, so buying items like this can really save you money.
We love this Helicopter Winter Jacket from Swedish company Isbjörn. With expandable sleeve lengths and PrimaLoft padding, this is a reliable, durable ski jacket. With a good quality snow gaiter inside and adjustable cuffs and hem, it does well at keeping the cold out. However, it's also very well ventilated, which is why it's one of our top picks for this season. While your kids need to stay warm to enjoy their skiing, they also don't want to be too sweaty. A good ventilation flow is very important for keeping their internal temperature well balanced.
Kids Salopettes
If you or your child aren't quite into the idea of the full all-in-one, many children's salopette styles nowadays offer similar levels warmth and practicality.
These Campagnolo Kids Fleece Bib Salopettes are great as they come all the way up the body to keep you as warm as possible. The inner upper part is lined with lovely soft fleece which will be much appreciated on chilly days. The fact that they come over the shoulder also means that there is no possibility of their slipping down on your child if they are slightly too large. The design also ensures that no snow gets into the salopettes if a tumble is taken, further decreasing the possibility of a cold child! The only slight downside is that they can be quite a chore when it comes to going to the toilet, but for many the benefits, we'd say this is a downside we can deal with!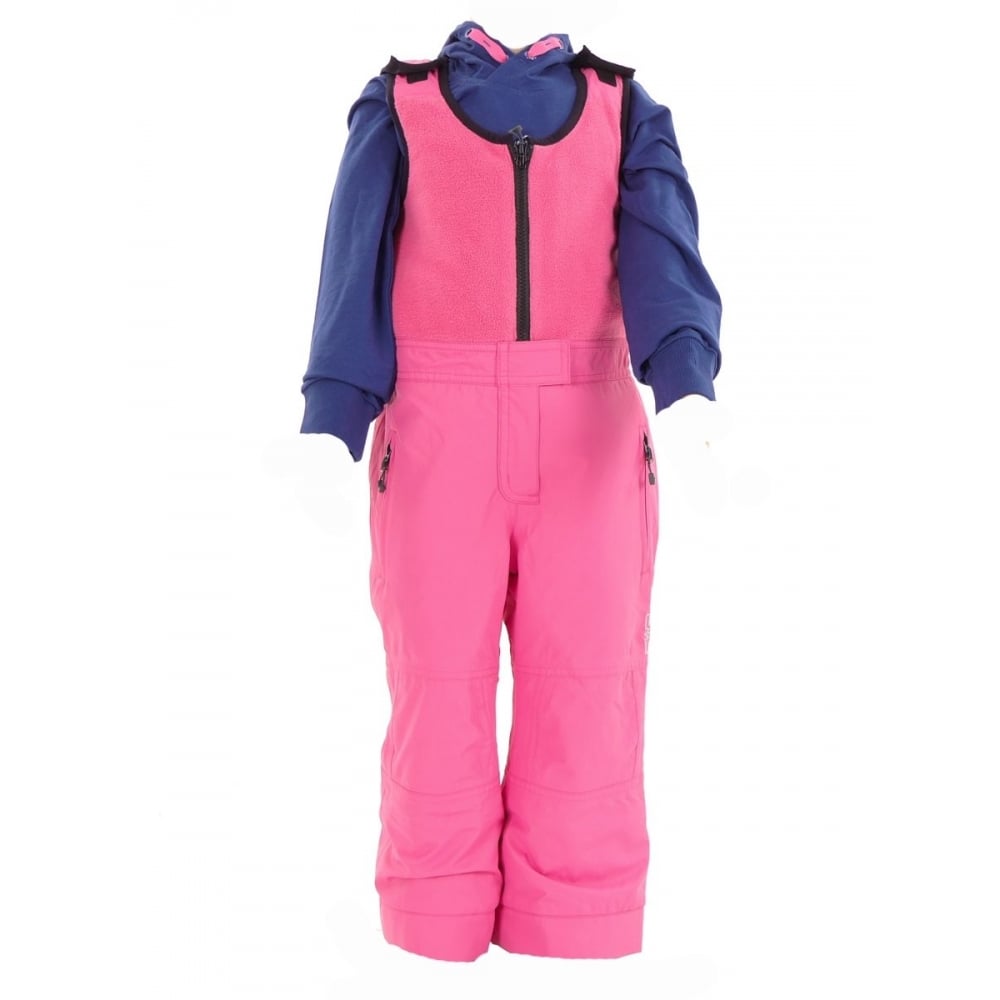 Kids Base Layers
Base layers are a lifesaver when it comes to keeping children warm and happy. This thermal set from Odlo is particularly good, keeping an impressive level of warmth whilst remaining breathable. Extra warm inserts to protect the upper back and kidneys are a great addition, but the real USP is the 'Effect by Odlo' silver ion-treated fibres that claim to offer long-lasting antibacterial defence against sweat-related odours. They really can do everything these days!
A good option if you're on more of a budget are Decathlon's Simple Warm top and trousers. At only £2.50, these provide great value and extra warmth on the slopes.
As with outer layers, base layers are much warmer if they are of an all-in-one design. However, this can be particularly tricky for toilet stops, so do think this through to decide whether it's the best option for your child before buying!
Kids Accessories
Neck warmers are also a really good addition to a child's ski wardrobe in order to maintain that all important warmth. Smaller neck warmers such as this Wed'ze option can fold up extremely compactly and are easily tucked into a pocket if you are uncertain whether they will be needed. As this particular warmer is also only 99p, we'd suggest stocking up!
Alternatively if you are going earlier in the season when temperatures are likely to be extremely low, balaclavas or full chest and neck warmers might be a better option as they cover other important areas such as the chest and the ears, which can affect children. The Turtle Fur Turtleclava is an incredibly soft, lightweight fleece balaclava that will provide optimum warmth across the head while this Didriksons polo neck warmer is a great option for protecting those little chests.
Kids Socks
Children and adults alike, no-one likes getting cold feet. Getting proper, thick ski socks is very important for keeping those tiny toes nice and warm. These lovely colourful Warm 100 ski socks from Decathlon are designed for optimum comfort in the ski boot and will last for many a ski holiday.
Kids Gloves/Mitts
We are big fans of the children's range from Wed'ze at Decathlon, which offers brilliant value for money on good quality ski gear. At only £4.99, these Slide 100 ski gloves are lovely and soft on the inside as well as water repellent on the outside. The elasticated tightening around the hand prevents snow from getting to those fingers, while an extra elastic wrist strap means that these gloves won't run the risk of being lost to that glove graveyard underneath the chairlift!
Some children tend not to like faffing about trying to get their fingers into gloves, so if your little ones fit into this category, mitts might be a better option. They are much easier for children to get their hands into, and the ability to share body heat keeps your fingers equally as toasty as in five finger gloves. Our pick are these mittens from Eska Tots. They come in bright fun pink and blue colours, with cute graphics on the front that your tots are sure to love. These mitts offer PrimaLoft insulation that offers brilliant water resistance, as well as an extremely soft SK Softcurl lining. This feels beautifully soft to the touch and keeps the mitts warm and comfortable. What we love about these gloves though is the long zipper on the back of the hand that makes getting these gloves on and off your child easy as pie!
We would recommend (and this goes for adults too!) that it's always best to purchase gloves/mitts with wrist straps. This will save you many a lost glove as they have a mysterious ability to simply fall off small hands… If you have already purchased gloves without though, don't worry! You can get glove cuffs separately for only £2.99 from Hestra. A very small price for such a useful, helpful item.
Kids Goggles/Sunglasses
Goggles and sunglasses are hugely important, especially for children. Our top picks are:
Uvex Junior Snowy Goggles –  with maximum UVR protection, these are a great choice for younger children.  They have a solid frame that will survive many a tumble, a vented frame to prevent that annoying misting and an adjustable strap to accomodate a growing head!
Shred Junior Mini Timber Blue Goggles – super stylish and provide protection that is equally as good as in the adult models.
Dragon Junior Goggles – for the kids that want the coolest goggles, this Dragon pair are 100% UV protective and are well compatible with smaller helmets and smaller faces.
Manbi Bandit Kids Sunglasses – Even the youngest children need good eye protection, and these Manbi Bandit sunglasses are definitely the best pick for smaller children. Very versatile, they can be used in both winter and summer and thanks to a handy strap that attaches at the back of the head, they will be sure to stay on those eyes.
Kids Helmets/ Protection
Helmets are also incredibly important for children on the slopes. You can either rent these in resort, which is a good option if your children are still growing, or you can make the purchase before you go.
If you've got a keen skier and sci-fi fan in the family who would benefit from their own helmet, we have to mention this brilliant Rossignol option. Complete with Star Wars logo, lightsabers, storm troopers and even Darth Vader himself, it will help any young Skywalker fans channel their inner force on the slopes!
For any child that isn't so keen on the idea of a helmet, it always helps to make wearing one a bit more fun. There are some amazing helmet covers out there, such as Barts dragon and turtle. These covers will keep your child's helmet personalised so that you can easily spot them, not to mention making wearing the helmet a LOT more fun. Your child will be the envy of all their pals.
If your child is prone to a tumble and needs slightly more protection, why not consider a vest back protector, such as this one from Scott. It's soft and comfortable to wear, so your child be happy and you will can more relaxed in the knowledge that they have this extra security.
Kids Snowboots
Snowboots are a great addition to any child's skiing suitcase. With good quality snowboots they can play out in the snow to their heart's content, while you can be safe in the knowledge that their feet are warm and comfortable. This pair of Quechua snow boots will keep your child's feet dry and warm, with good grip on the snow. At only £14.99, they are a great buy.
So there you have it – this year's best ski gear for kids. Now you just have to sort your own gear out and you'll be away! To see our reviews of this year's best adult gear, head to our Ski Gear Reviews page.