Don't miss out on a Lakeside Bivouac experience in La Plagne, France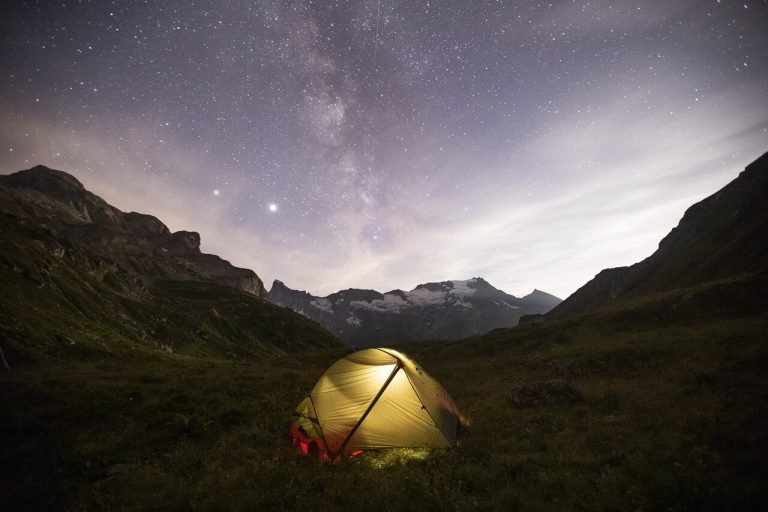 On the back of his successful family 'survival courses' over the past two years, Guillaume Brun – a mid-altitude mountain guide – has set up a brand new offering, Lakeside Bivouacs. The experience allows guests to learn about the formation of mountain lakes, discover how to camp and cook outside, and observe the twinkling night sky from a front row seat. Join Guillaume on a two-day hike with a night under the stars in between.
This new activity costs €180 / £151 pp and includes a two-person tent, meals, and the expert guiding of Guillaume. Guests must bring their own mattress, sleeping bag, and snacks.
Connect with nature and enjoy two new walking routes in Megève, France, this summer
Megève is a hiker's paradise, with 7,000 km of marked paths to explore, and a terrain that is as beautiful as it is varied. This summer, Megève is offering two new walks that will allow hikers to connect with the natural beauty of the Alps. Sometimes it is necessary to take a little time out, to reconnect with the natural elements, and tap into all the energy that nature provides. Enjoy a half-day 'forest bathing' walk, from Megève village up to the trails of the Jaillet sector.
Participants start by focusing on their own body and the here and now, then some will experiment with barefoot walking while for others, the meditation session alone will lead them to an inner sense of wellbeing. Alternatively, those interested in learning about medicinal Alpine plants and herbs, can join a mountain guide and walk through the forest familiarising themselves with the plants traditionally used in cooking and every-day remedies.
The Mindful walking tour costs €25pp for a group session. http://guides-megeve.com/ The Medicinal walking tour costs from €25 pp / £21 for a group session, contact [email protected] for more information. A two-night stay at Les Fermes de Marie, in a club room, during 2022, is priced from £642 pp based on two adults sharing and includes breakfast. Return flights from London Heathrow to Geneva are priced from £76 pp with British Airways during June 2022.
Les Fermes de Marie (+33 450914859, www.fermesdemarie.com/en)
Try these relaxing activities in Morzine this summer, the French Alps
Although there is plenty going on in the mountains of Morzine, it's also the perfect place to relax. There are three new opportunities for guests who are after a tranquil, restorative break. Keen yogis, or even those new to the sport, can discover aerial yoga, which takes place in a hammock. This original and fun concept is designed to get all the parts of the body – and mind – working together by moving through gentle, weightless poses. (From €15 pp per hour.)
Family-run sustainable accommodation provider, AliKats Mountain Holidays, has designed a series of Retreats. Coming into force at a crucial time after Covid-19, these year-round four-night retreats combine yoga, meditation, walking, nature, scenery, food, spa treatments, music, and most importantly, companionship, to support people wanting to press pause on their everyday life, learn how to work with (and through) any problems they may have, plus create meaningful connections with others. (Four nights from €2,000 pp.) And from 18-22 July 2022, Morzine will be concentrating (even more) on the well-being of its guests by running numerous outdoor workshops focusing on sophrology, foraging, tree climbing, yoga, walking, and more.
The event, with the motto of 'replenishment, relaxation, and wonder', will be followed by the Nature and Plants Fair (23-24 July) which offers another opportunity to reconnect with nature.