The first recorded winter snow mountain holiday anywhere in the world famously took place in Switzerland in winter 1864-65 in the now famous ski resort of St Moritz. But It only happened because the grand tourists of the Victorian era loved to travel to the spectacular Swiss Alps in summer for many years before a smart hotel keeper pointed out to departing summer gusts that they'd actually find winter in the crisp clean air and sunshine of the Swiss Alps much more enjoyable than the cold smog of London.
That all boils down to the fact that although Brits have been enjoying winter snow holidays in Switzerland longer than anywhere else, they've been enjoying summer trips to the Swiss mountains even more.
Why? Well firstly and perhaps above all things, Swiss mountains are among the most spectacular sights in the world, winter and summer. The Alps are pretty awe-inspiring across Austria, France and Italy too of course but somehow the Swiss seem to have bagged some of the most jaw-droppingly awe-inspiring mountain vistas on the planet. The incredible Jungfrau mountains including the Eiger and Monch above Murren, Interlaken, Wengen and Grindelwald for example; or the incredible sweeping view of a huge swathe of the Alps across the Rhone Valley from Crans Montana for example. Then there's the way the Matterhorn dominates Zermatt, almost unearthly, so you can hardly believe what you are seeing. There are many others, but these timeless views beloved by our Victorian ancestors are little changed today and still draw summer visitors from around the world year after year.
Next, also little changed for centuries is the Swiss reputation for high quality in all things. True, the strength of the Swiss Franc means it rarely comes cheap, but at least you feel you have value for money in accommodation and eating out because the service standards are so high, and everything is done correctly.
Then there's transport, that efficient and fully integrated travel network that means once you enter Switzerland, whether by rail or air, there's a great terrain and bus network linking everything up easily and efficiently, even boats across the big lakes all work together – it's a system all those using British public transport can only dream of, and indeed have dreamed of for decade after decade as it has deteriorated here and got ever better in Switzerland.
After these key foundations to a great summer mountain holiday, it comes down to your individual resort and accommodation, but you can expect a huge list of activities on your doorstep wherever you choose if you wish. Of course, you may prefer to just do nothing except adopt a local mountain chalet restaurant and sit there on a sunny terrace all day reading a book. The choice is yours.
Here though, are some of the best Swiss summer mountain destinations.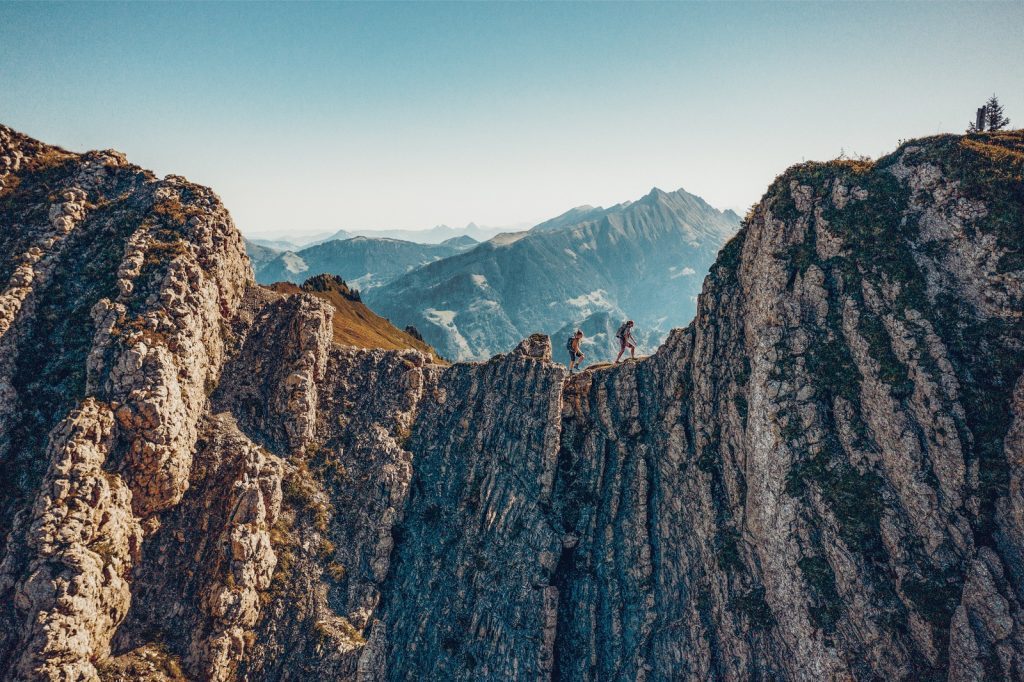 Engelberg – Easy To Get To, Then Get Up 2,000m of Vertical
Engelberg is, of course, a world-famous ski resort and one of the quickest and easiest to reach from Zurich. Once in the resort, it's also very quick and easy to ascend 2,000 vertical metres with a fast gondola connecting with the latest edition of the Titlis Rotair, a revolving cable car that takes you up to the Titlis glacier. Here the ski season extends from October to May and in summer, although skiing and boarding aren't on offer, you can still play in the snow with a bit of tobogganing, or visit the ice caves within the glacier.
Besides the glacier Engelberg (pictured above and top) has established itself as THE biking destination in Central Switzerland in recent years. Depending on your taste, you can choose from leisurely e-bike routes, and flowing trails to challenging cross-country or enduro day tours. Hiking is also popular with, again, routes for all abilities and tastes. Talking of taste, the 47 km (29 miles) long Alpine cheese trail connects seven Alpine cheese dairies and includes almost 2000 metres in altitude to burn off your cheese consumption at your stops en route, which can include overnight in dairies if you want to do the whole thing.
Zermatt – Ski or Board Europe's Highest Slopes in Summer
The mighty Matterhorn is a breath-taking sight on any day of the year and fortunately you can not only see it, but also ski or board right next to it 365 days a year too.
Zermatt's 'Glacier Paradise' ski slopes are normally open every day (weather and summer snow melt permitting – the latter isn't looking bad so far in 2023). It's one of the biggest summer ski areas still opening in the Alps and in summer has Europe's highest ski-lift accessed point at 3,899m
July sees the added excitement of the completion of the 'Alpine Crossing' – a series of cable cars and gondolas planned for decades and the last of them built over the past five years or so – linking Zermatt with Cervinia over the Italian border. It means passengers can travel over the border quickly and in comfort within lift cabins.
Pedestrianised and car-free Zermatt does, of course, offer many attractions besides snow sports in summer. There are hundreds of kilometres of biking and hiking trails, water sports and dozens of other activities offered.
Verbier – Mountain Charm in Summer as Winter
Verbier is a Swiss Alpine village with undeniable mountain charm, combining outdoor sports, with a family atmosphere.
The resort spreads out over a vast sunny plateau with breathtaking views of the most famous Alpine peaks.
While the resort is known for its hospitality and the variety of sports on offer, Verbier also attracts holidaymakers with a wide range of other activities. From music festivals – classical, electro or rock – and events dedicated to relatively new disciplines such as the E-Bike Festival, to golf courses, and local or global flavours, Verbier offers a mix of active, cultural, gastronomic and relaxing summer holidays in a fabulous setting.
Mürren – A Car Free Alpine Idyll In A Sensational Location
A jewel among Swiss mountain resorts, car-free Mürren perches on a cliff top with awesome views of the Eiger and Jungfrau is famed as the cradle of Alpine ski racing over a century ago
In summer too though, it's a blissful retreat for hiking, mountain biking, hang gliding and via ferrata. As the filmset for On Her Majesty's Secret Service, it's a must-do pilgrimage for 007 fans any time of year.
Mürren's award-winning Schilthorn lift company runs the remarkable Piz Gloria revolving restaurant and Bond World Experience at the top of the Schilthorn mountain.
Crans Montana – Incredible Alpine Vistas And Loads To Do
Crans-Montana is the ideal destination for a great summer holiday in the mountains. Thanks to their exceptional playground, you can explore the mountains hiking or cycling, or even relax on a beach by a lake.
One of the easiest resorts to reach by rail from Geneva, with a fast funicular, with new trains for 2023, taking you up from the mainline station at Sierre, itself reached by a direct service from Geneva Airport.
We have a regular Podcast called The White Out where we review the latest gear, talk about the latest snow forecast and updates on where is best to ski now, as well interviews with absolute ski legends AND we spotlight a resort every week and so much more. You can check out our regular podcast here Apple | Spotify | Podcasts or search The White Out on your chosen podcast directory.