One of the highlights of our annual ski holiday is usually the après-ski, and most ski resorts have a favourite local tipple. Here are some favourites from individual resorts around the world, as well as some that are available pretty much everywhere.
Vin Chaud/Glühwein (Everywhere)
Glühwein has conquered the world now, but it's still very welcome for most skiers after a cold day on the slopes. Essentially a mulled wine, it's usually mixed with lemons, oranges, sugar, cloves, water and some cinnamon sticks. The secret to getting a great glühwein is reputed to be the right mixture of red wine, cinnamon sticks, sugar, oranges and cloves. All are heated up together to near boiling for glühweiny perfection.
Bombardino (Bormio, Livigno; Italy)
Translated literally (and accurately) as "the bomb" from Italian, il Bombardino is a popular aprés-ski drink in Italy, particularly in Lombardy, where it was created. It's a warm winter cocktail, essentially, a little reminiscent of eggnog.
Legend has it that Bombardino was created by a former sailor who opened a ski lodge in Lombardia and had to think quickly when four skiers staggered into his establishment out of a blizzard in need of a major pick-me-up. The creative ex-sailor quickly threw together a mixture of milk, whisky (many versions opt for brandy) and (the key ingredient) zabaglione (an egg-based custard), boiling it all up together.
Knocking back the resulting concoction, the skiers are reputed to have declared "Accidenti! È una bomba!" "Damn! It's a bomb!" and the name and recipe stuck.
Hot Toddy (Park City, USA, or anywhere)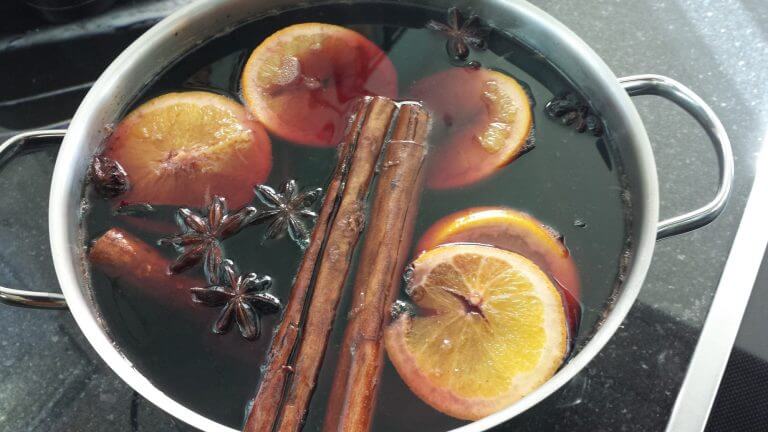 A hot toddy is as warming pick-me-up that usually mixes whisky, honey, lemon and hot water.
You can buy one in almost any ski bar but it's particularly special when sampled at the High West Distillery on Park City's Main Street in Utah. This distillery opened right at the base of the ski lifts at the biggest ski area in America after Utah dropped strict drinking laws some years ago. In fact it was the first new distillery in Utah since 1870.
Their hot toddy recipe incorporates 1.5oz of their American Prairie Bourbon. They muddle two lemon slices in a goblet, add all other ingredients and stir then garnish with a cinnamon stick. Simple perfection.
Flügel
Flügel is described as a "party shooter" by its Dutch manufacturers and first came to prominence in the mid-1990s in Europe's aprés-ski bars, later spreading to the club scene. Based on red vodka with a 10% alcohol content in a 20ml bottle, part of its success is believed to be the ritual that has developed with the drink – this involves tapping the bottle several times on the bar, then placing its cap on your nose to balance as you knock back the drink.
Schnapps (everywhere)
A universal welcome drink at mountain huts, particularly across the German-speaking Eastern Alps, there are thousands of variants on the schnapps recipe created by farmers across Europe and served up in family-run restaurants each winter. Many are a kind of fruit brandy or herbal liqueurs that can be produced using local berries or herbs and often have a bitter taste, as well as quite a kick. In Austria and Switzerland, a type of fruit brandy schnapps called Obstler or Obstbrand is very popular. 
Toffee Vodka (Val d'Isere, France)
Toffee-flavoured vodka mixes have been, and are still to this day, rife in experimentation in the bars and restaurants of Val d'Isère. About a decade ago a company called "Scream" launched what they claim is the first bottled version of the concoction Thunder Toffee + Vodka, claiming to have finally successfully developed a recipe that satisfies in both vodka strength and toffee syrup delicacy. 
"Thunder is the culmination of many years of mixing and meticulous preparation to find the perfect consistent toffee and vodka spirit drink, which could be bottled, branded and introduced to the drinks industry," a company statement reads.
Wasabi Margarita (Niseko, Japan)
Japanese après-ski drinks can include local craft beers, sake, Japanese whisky and, for a novel twist, the wasabi margarita. An acquired taste, but loved by those who do acquire it, the standard margarita mix of tequila and triple sec is embellished with wasabi paste to taste. What's not to love?
Grappa (Italy)
Wherever you go in the Italian mountains, a shot of grappa is not far away. In many family-run mountain restaurants the grappa is homemade and proudly offered as a free welcome aperitif. Beware that this grape-based brandy may contain up to 60% alcohol by volume. The flavour varies widely depending on the type and quality of the grapes used, the distillation process and which fruit or herbs have been mixed in. You may see the locals knocking back a caffè corretto (an espresso coffee with a shot of grappa) to get the day started each morning.