In the rapidly changing environment of 'lockdown-loosening' around Europe it appears that at least one French ski area has taken a major step by deciding they no longer require social-distancing on one of their key ski lifts.
But everyone must wear face masks on all lifts, whether enclosed gondola or cable car cabin or an outdoor drag lift or chair lift.
It is one of the big concerns for next winter – how ski areas will operate at a financially viable level, and how lift queues won't stretch for miles, if people were required to socially distance on lifts – meaning lifts could only operate at a fraction of capacity with a few people at each end of a 4 or 6 seater chair or in a gondola cabin, if they weren't already travelling together.
Two of the country's glacier ski areas, Les 2 Alpes and Tignes, are currently open and Les 2 Alpes isn't limiting the number of people using its key Jandri Express lift (pictured above), which has cabins that can each hold up to 20 people, to reach the glacier, Europe's largest summer ski area with 30km of runs.
"There isn't any special number of people any more who can use the Jandri Express. Staff and all the clients have to wear a mask on all lifts and as they are adults they have to take care when they are in the queue too," said the resort's Héléna Hospital.
Mask-wearing in France will also be mandatory in public offices, shops and any other enclosing area from the 1st of August.
"I must say that it's nice to see running well the ski resort, lots of people, everybody's happy," added Héléna, "It may be surprising, and we don't have firm figures yet, but it actually seems to be a better season than last season so far."
It had earlier been reported that snow cover on the resort's glacier this year was the best for many years – it hopes to be open to the end of August, conditions permitting.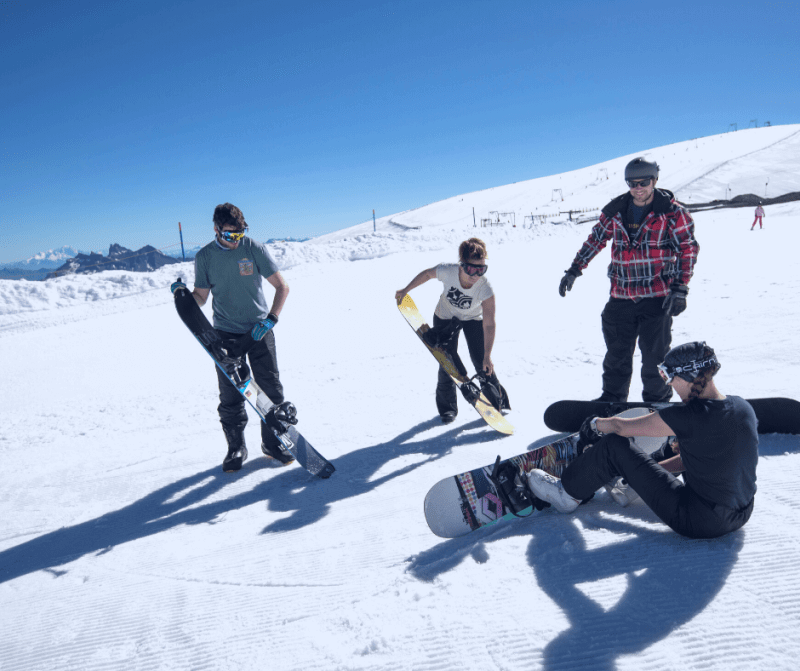 (pic credit Monica Dalmasso)
It's not yet clear whether other resorts will take the same steps as Les 2 Alpes any remove limitations on the number of people allowed in cabins on some lifts. A quick straw poll of half a dozen other areas that have re-opened so far by InTheSnow said so far all others were maintaining the 'new normal' social distancing requirements and separating people from different groups in to different cabins on gondolas.
However the experience of Les 2 Alpes that they're having a busy summer does seem to be being replicated at other French resorts.
Les Arcs no longer offers summer skiing but is open for summer mountain tourism and is also reported to be "surprisingly busy" but with "…people very much 'following the rules. My biggest take away is that it seems that because all staff everywhere are wearing masks and observing the rules, visitors seem to be following," said one resort visitor his month.
At Les Arcs as in Les 2 Alpes people have to wear masks on the lifts and there is no exception to this rule. At the entrance to every lift there is a gel distribution station. On the lifts they put people who are together (in the same group) in the same lift. All the lift operators wear masks.
"We were shocked by the good number of people in Les Arcs for our summer opening weekend and leading into opening week. We feel like people want to escape to the mountains. Reservations for the Hero Pass (activity pass) are not that different to a normal year. Les Arcs has all its activities open for this summer," said Jacqueline Renard, of Les Arcs' lift company who added,

"For the winter we should have a clearer picture in the autumn, and we are now used to having to adapt to new advice all time. Of course we will adhere to government regulations, but next winter could look similar to this summer with the use of hand gel and face masks."