Desperately seeking a white Christmas? We've put together a list of the most magical Christmas skiing destinations this winter so whether you're travelling in a family or in a group, you know the best places to go to soak up the festive spirit. It is the most wonderful time of the year after all – why not make it that much better by spending it on the slopes?!
Magical Christmas Skiing Destinations for Families
One of Europe's top family skiing destinations, Obergurgl certainly lives up to these credentials over the Christmas period. Obergurgl as a resort is one of the most snow-sure in Austria, meaning your chances of a white Christmas are high! Set within the beautiful Ötz Valley, Obergurgl is a picturesque Tyrolean village which is packed with Christmas charm. With 110km of piste, the area is big enough for the adults to really enjoy themselves, while having a lot of choice of blue runs for younger guests.
From December 1st, there is a Christmas market located in the centre of town, selling traditional items, textiles, crafts and decorations, perfect to bring home as gifts! Alongside this, mulled wine and hot chocolate is on offer alongside traditional Austrian delicacies that will be sure to warm your stomach!
You can also take part in Night Skiing and Night Tobogganning every Friday or experience the Night Skiing and Ski Show every Tuesday. Obergurgl is a great pick for families thanks to the completely pedestrianised village centre and the wide, gentle slopes into town. For a magical Christmas for your children, Esprit is a great company to choose, with dedicated a childcare service running throughout the day and into the evenings, with a huge amount of Christmas themed activities to get your little ones excited.
Set within the huge Espace Killy ski area, you can be sure to get some great skiing over Christmas here; while it's not the highest of the French resorts, it's high enough, and has the added benefit of extremely impressive snowmaking facilities that can step in if needed.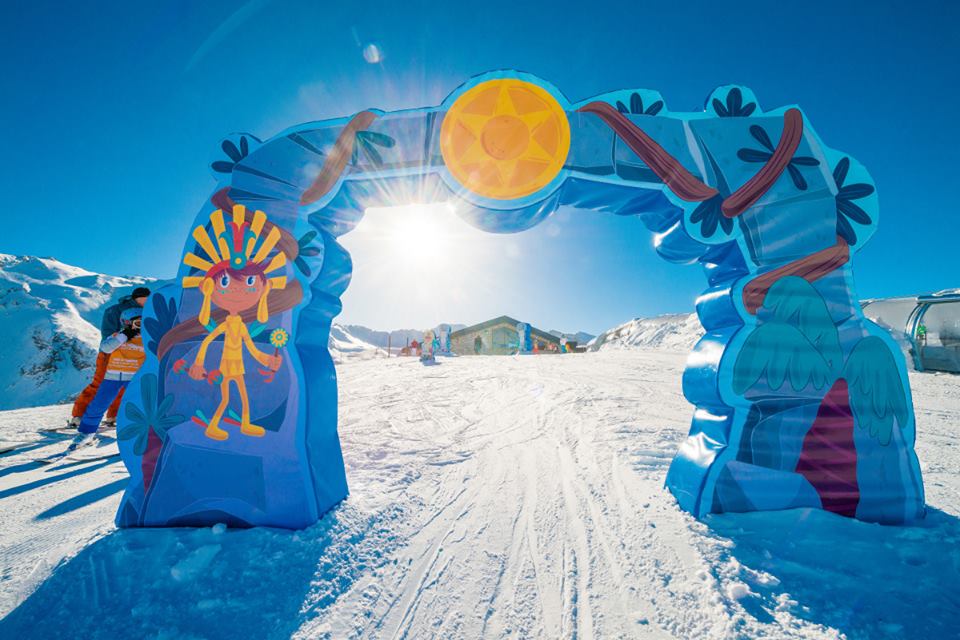 What many families will particularly love about Christmas in Val d'Isere is that this is a resort that has maintained its traditional alpine charm, with wood chalets and stone churches. Decorations are abundant and children will love the huge Christmas trees, festive markets and live music through the town.
Over Christmas week in the resort centre, Val d'Isere puts on an incredibly fun Christmas show that the whole family will enjoy, with huge snow sculptures, torchlit skiing descents, face painting and the arrival of Father Christmas himself! . On Christmas Eve he takes to the slopes, organising fun and games for children throughout the morning before making his way into town for the afternoon with his fairytale helpers accompanying him on his sleigh. Indeed, Santa will not be a rare sight – the man in red seems to love Val d'Isere at Christmastime just as much as we do.
In Val d'Isere, the festive fun does not stop after Christmas day either! Boxing day sees the French National Ski Instructors' annual Christmas show and fireworks display, while the 27th of December holds a Christmas Magic Show. If you can fit any skiing in around all these activities, then you've chosen the right resort.
One of the prettiest resorts in the Alps, Megève is definitely up there with the most magical locations in which to spend the festive period. Beautiful sparkling lights, snowy cobbled streets, traditional alpine buildings, all in the shadow of Mont Blanc… to use a well trodden cliché, it really is straight out of a postcard.
Celebrations begin with a concert to celebrate the lighting of the town's 30 ft Christmas tree on December 9th, continuing through December with a fabulous Christmas market, horse drawn sleigh rides and Christmas concerts.
When it comes to the ski area, keen skiers will be spoilt with the Evasion Mont Blanc pass that offers access to an incredible 450km of mapped runs. You will never get bored (or hungry) on the slopes thanks to the abundance of incredible mountain restaurants serving up traditional alpine food and there is also an open air ice rink in town for those little feet that are still craving some activity once the day's skiing is over. For a picture-perfect Christmas with some amazing skiing on the side, Megève is a great choice for families this year.
Les Gets is a great choice if you want to give your children a taste of something a bit different this year. Alongside all the traditional Christmas Markets and carol concerts, Les Gets also boasts Les Chalet du Chocolat, a chocolatier workshop (which we are sure children will absolutely hate…) as well as a mechanical music museum. Les Gets also offers a more interactive Santa Claus experience that involves a train ride to his grotto in an Enchanted Forest and even a guided tour by some of his favourite elves!
Children are guaranteed to love Christmas in Les Gets and we are sure adults won't mind it either, thanks to the incredible skiing on offer in the area. Les Gets is part of Les Portes du Soleil ski area, one of the largest ski areas in the world, with 650km of runs spanning across 12 interconnected resorts in France and Switzerland. You will be sure to find amazing skiing to suit the whole family.
Learn more about why Les Portes du Soleil is a must visit for skiers by clicking here.
Magical Christmas Destinations for Adults
High enough to guarantee you a white Christmas and enough apres to keep you jingle bell rocking into New Year, Ischgl is a great choice for adults wanting a stress-free but incredibly fun Christmas break. With traditional markets and festive events in the lead up to Christmas, the celebrations culminate on Boxing Day with 'Christmas in the Mountains', an annual festival with carols and music to really bring the Christmas spirit. The next day, from 9pm, Skischool Ischgl take to the slopes for their night skiing demo, complete with fantastic stunts, light displays, fireworks and even a piste basher or two.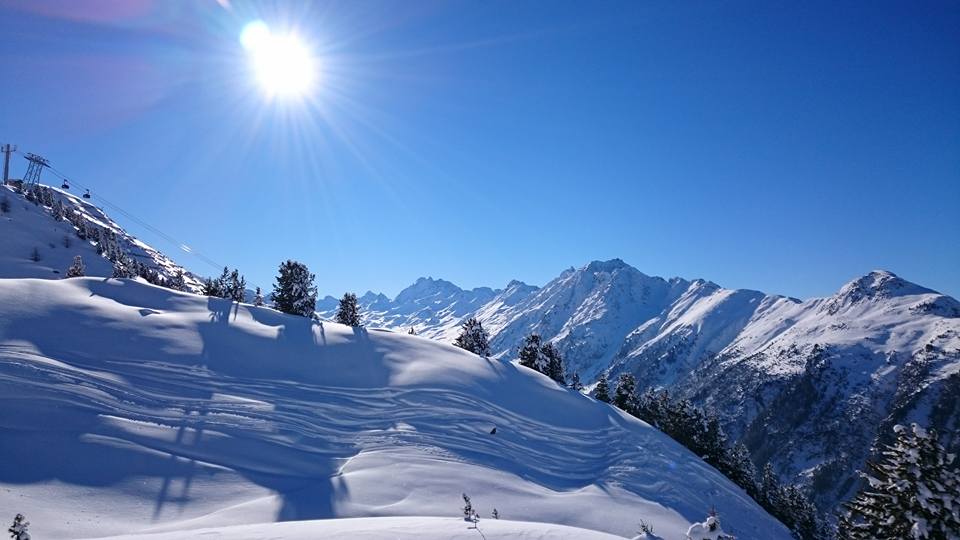 With a high altitude location and a good snowmaking record, Ischgl is one of the more reliable resorts when it comes to Christmas skiing in the Austrian Tirol. Its 238km of piste offer a lot of fun for intermediate to advanced skiers, with state-of-the-art lift systems that will make those horrendous holiday queues a thing of the past.
Ischgl's après scene is buzzing all year round and Christmas is no exception. Head to Kuhstall or Schatzi Bar for some traditional Austrian après, or give the Ice Bar a go for something a bit different. If you are going to après though, remember not to get caught wearing your ski boots in town after 8pm – this is illegal and there's the possibility of getting slapped with a €2,000 fine, which wouldn't make for such a merry Christmas. Off the piste, the nightlife here is also very impressive, with many bars and clubs staying open until the early hours across the festive period. Isghl is a great place for those looking to let their hair down this Christmas, with some festive fun and great skiing thrown in too.
Challenging runs, a beautiful medieval town and a cracking Christmas market mean that Kitzbühel contains all the ingredients for a brilliant Christmas getaway. Said to be around 800 years old, Kitzbühel's town is one of the prettiest when it comes to ski resorts, perfect for a romantic or more historical holiday. It's a bustling town all year round, which makes it a lot of fun over the festive period as there is a lot to do.
Christmas events include nativity performances and evening torchlight parades, but it is the Christmas market that is most popular. The standard combinaiton of traditional alpine foods, warming gluwhein and arts and crafts are on offer in this market, but there is also so much else, including a petting zoo!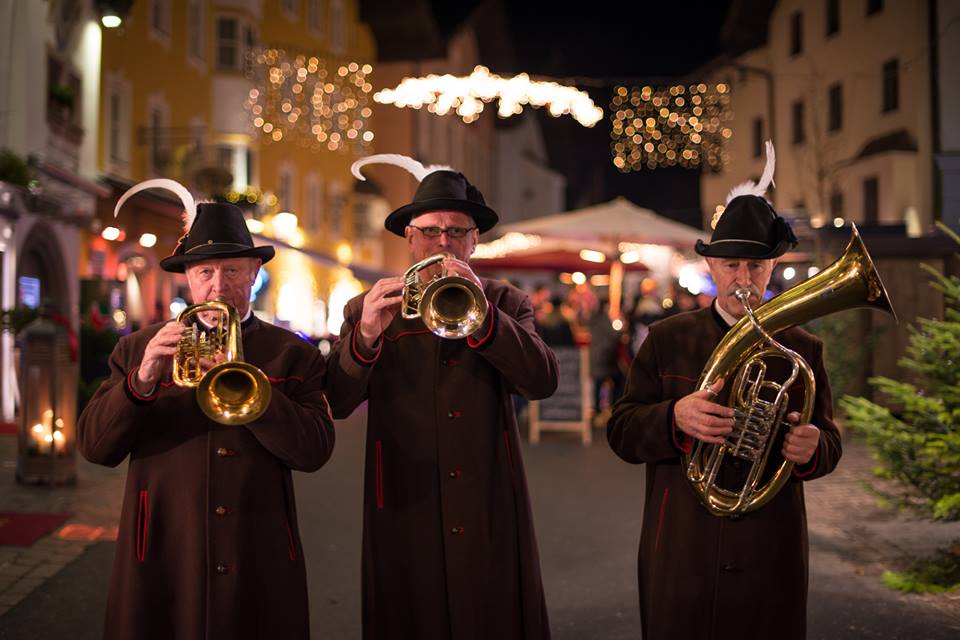 Kitzbühel is famous in the alpine world as the home of the 'Hahnenkamm', the most notorious downhill race in the World Cup circuit and was voted the 'world's best ski resort' for the fifth time in succession this year by resort test portal SkiResort. Try your hand at the Strief run (the actual name of the downhill racecourse on the Hannenkahm mountain) if you dare, or simply enjoy the 215km of piste on offer in this amazing area, complete with snow parks, sublime off piste and cosy mountain huts.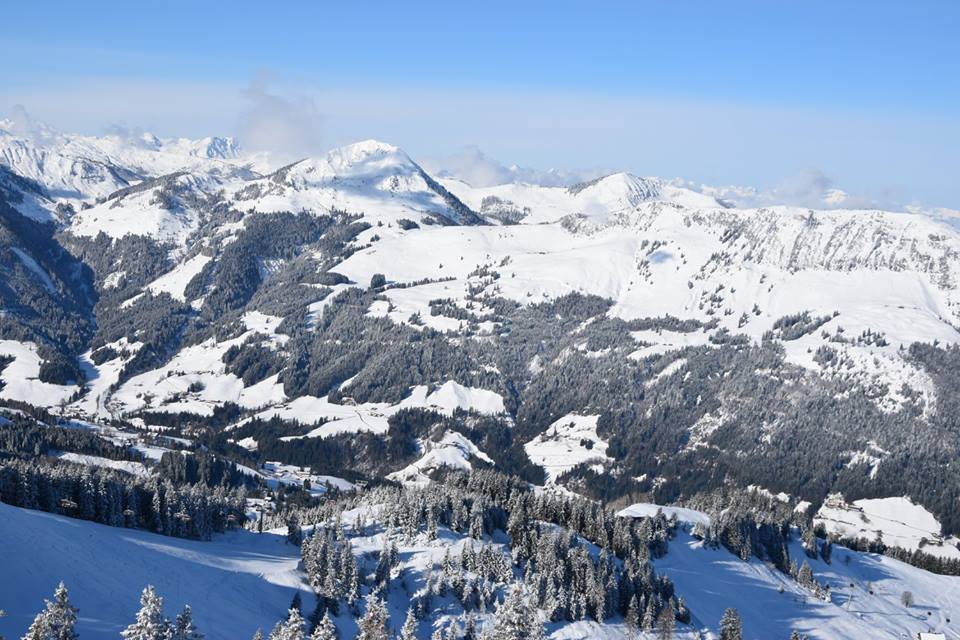 As it is quite a low resort, Kitzbühel does not have the same reliability when it comes to the possibility of a white Christmas as others on this list. However, we think it's worth the risk as Christmas here is simply magical.
With a large ski area with a large vertical distance from resort at 1,035m up to the highest lift at 3,842m, you are guaranteed a good Christmas ski holiday in Chamonix. Set in an incredible position at the foot of Mont Blanc, it's a must-visit resort for passionate skiers and snowboarders and what better time to visit than Christmas?! For those that want some great, fun, challenging skiing alongside some picturesque, unique Christmas activities, Chamonix may be the resort for you.
In December, a beautiful Christmas Market comes to Chamonix, with a wooden village offering Christmas gifts, foodstuffs, drinks and of course, Father Christmas. Alongside this, Chamonix present ten days of Christmas spectacles, including parades, concerts, the arrival of Santa Claus and live music to make sure everyone is feeling the festive spirit both before and after the big day!
Chamonix has also seen one of the more unique Christmas events we've ever heard of; the Geese Parade, where gaggle of geese make their way through the streets alongside drums and whistles in the lead-up to Christmas. We're hoping this parade will return in 2017 so we can see it for ourselves.
An incredibly popular resort for a reason, Zermatt is a great place for keen skiers to spend Christmas this year. While Zermatt village itself sits at 1620m, the resort offers skiing up to 3820m thanks to the Klein Matterhorn glacier, so it is possibly the best choice for an early season break for those that are focused mainly on the skiing. The ski area offers a lot for skiers of all abilities, it's 350km of piste ranging from longer more challenging runs, to gentle pistes and some lovely off piste. Zermatt also boasts some of the best mountain restaurants around, just in case you needed any more convincing to visit its incredible slopes.
When it comes to Christmas, Zermatt is another of the ridiculously picturesque alpine resorts that makes you almost question whether you are in a movie set. With the unmistakable silhouette of the Matterhorn looking down on the village, twinkling lights abundant and inviting, cosy restaurants, you will definitely feel the festive cheer here. Zermatt is not likely to be the cheapest of Christmas getaways, but the standard of skiing is definitely worth that little bit extra.
The popular Swiss resort of Saas-Fee was the setting for the music video of Wham's smash hit, Last Christmas, which let's face it is all we hear/see on the music channels in the run up to Christmas. It's no suprise then that it's a fantastic resort in which to spend the Christmas period. A charming semi-pedestrianised traditional mountain village, Saas-Fee ticks all the boxes when it comes to festive aesthetics. This Christmas, Saas-Fee will be rolling out a Christmas market, festive baking for children, festive cinema experiences and even a disco on the ice rink. Or, you can take a romantic torch lit walk above Saas-Fee for fondue in the glacier village.
Saas-Fee has a great snow record due to its altitude – the ski area is set between 2,500 and 3,500m and offers a lot in the way of summer skiing too thanks to the Allalin Glacier. It's where many European athletes train during the summer and autumn months, meaning that by Christmas, it has a great, well groomed base of snow. The skiing is well varied here, with some challenging runs for more advanced skiers, as well as gentler, easier runs for those who are less confident.
If you're after a bit of advent adrenaline, you're in luck here with the Morenia Freestyle Park providing you with all you need to get your pulse racing. Off the slopes you can also explore the world's biggest ice grotto, climb a ravine, experience the highest brewery in the world before relaxing in one of the resort's cozy restaurants and bars. Saas-Fee is a resort that offers a lot of fun for adults looking to make the most of the Christmas period on and off the slopes.