The name Isère is perhaps not one that's too familiar to many British skiers, except as part of the name of a rather well-known ski resort. But it ought to be! The Isère area is home to four mountain ranges containing no less than 21 mountain resorts making it France's third biggest mountain destination.
Beyond those bare facts Isère really is a spectacular winter playground. Easy to reach from the Winter Olympic city of Grenoble, there's an exceptionally diverse range of resorts here from some of the biggest names in skiing, boasting huge ski domains and among the planet's biggest verticals. But there are also smaller, off-the-radar resorts that offer a very special, intimate feel and a wonderful traditional French ambience.
Whichever you choose access from the UK is – fly to Grenoble Alpes Isère airport, take the train to Grenoble or make the easy drive from Calais.
High Altitude Skiing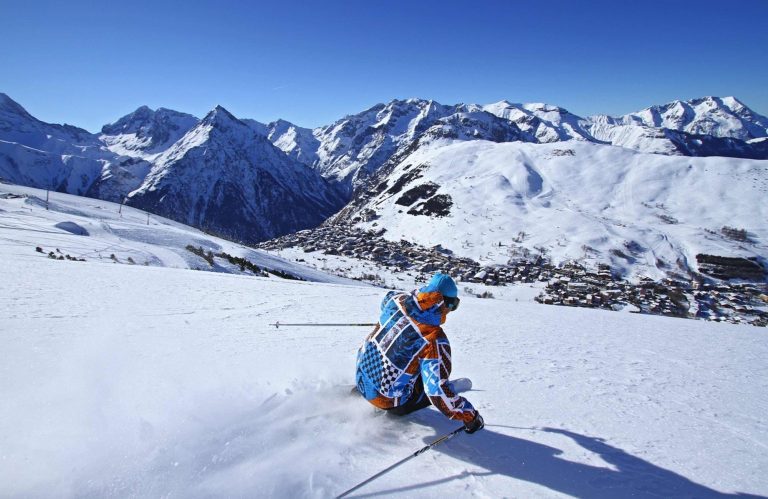 Two of Isère's best-known destinations are Les 2 Alpes and Alpe d'Huez, neighbouring world-class resorts in the Oisans massif.
Both offer summits above 3000 metres, crowned with glaciers, and opening up vertical descents of more than 2,000 metres – both in the world's top 10 by this measure.
Unsurprisingly they're Isère's two largest ski areas, each with hundreds of kilometres of runs, but also a remarkable variety of slopes, a mixture of both perfectly-prepared pistes and exciting freeride terrain.
In Les 2 Alpes you can ski an incredible 2,300m vertical drop without taking a single lift on your way down! 70% of the ski slopes here lie above 2000m altitude and with Europe's largest glacier ski area at the top of the slopes, this is one of the most snowsure destinations in Europe.
The great thing about Les 2 Alpes is that even those starting out can ski from the highest point at 3,600m, so everyone gets to enjoy the whole of the ski area from the start, with a blue run option from the top of the lifts. Children under 10 also have their own dedicated freestyle area, Kids Park, with banked turns and jumps.
Alpe d'Huez is set high on a south-facing plateau at 1860m, but despite its altitude it's not really a purpose-built resort having a long history stretching back more than a century. There has been lots of modern development over the past 50 or 60 years though and ski-in, ski-out convenience (or very close to it) is widely available.
It also has a huge ski area with a massive lift-served vertical and some incredibly long runs, including the world's longest black run, Sarenne. That's one of four different routes here that cover 2000m of vertical drop in one go.
The Alpe d'Huez Grand Domaine Ski area also has a host of smaller villages dotted around the vast ski area and all enjoying the same excellent slopes. These though are smaller, more family-friendly sized. The option includes peaceful Auris-en-Oisans, bustling Oz-en-Oisans, and charming Vaujany with its superb facilities on and off the slopes.
Among the more unusual attractions, Oz-en-Oisans offers dog-sledding for children, allowing kids as young as three years old to try out their mushing skills on a scaled-down sled designed especially for them (and children up to age eight) and learn how to drive a team of dogs.
The resort also offers a memorable sunset skiing experience, descend from the Dôme des Rousses (2800m) one of the most remarkable summits in Oz-en-Oisans with a guide and see the sun set over the mountains.
In Vaujany guests can head to the impressive ice rink to try curling or Eisstock, a cross between curling and pétanque or book an outdoor yoga session in a spectacular mountain setting. Also on offer in the area is a fondue evening with a return trip back to resort in a piste basher – children can even take turns sitting next to the driver!
Or for adrenaline filled family-fun, Auris-en-Oisans has all-terrain electric 'fat' scooters (imagine fat bike wheels on an electric scooter) and a forest trail to explore.
The Pistes Less Travelled
Along side those famous name resorts, Isère boasts more off-the-beaten-track ski areas, especially for British skiers, where you can experience the Alps in a more fully-French atmosphere.
Les 7 Laux offers a wide variety of skiing alongside safe secure access to the unspoilt freeriding wilderness of the Pra valleys. For freestylers the resort's terrain park is particularly highly regarded with multiple lines aimed at different ability levels. Families will love the Wiz Luge mountain coaster; a 723m downhill rollercoaster where you can reach speeds of up to 40km/h. There's also a non-ski play area with play trails and a wooden labyrinth, tunnels and a safe sledging area which will all delight children in the 4-12 years old age range.
Above Grenoble is the resort of Chamrousse, which played host to all of the alpine skiing events at the 1968 Winter Olympic Games. It's only 30km from the city so very quick and easy to reach. The views of the city below are magical at night when you can ski with panoramic views of the city lights, while DJs add to the atmosphere.
Chamrousse also has three ski dedicated ski touring routes, two of which go through the forest. The resort enjoys stunning, panoramic views of the city below and the surrounding massifs. There's a snow park for freestyle which has a boardercross and a great selection of jumps. For an extra bit of excitement there's a mini timed speed skiing, kilometre long, run which can be tackled by anyone able to ski green and blue slopes. There's also a brand new 2km long zipline.
In the Vercors massif, one of the four mountain ranges that make up Isère, you'll find more authentic French ski village in the shape of lively the Villard de Lans and charming Corrençon-en-Vercors.
Their ski area has a long history, able to trace back the first skiers on their slopes to 1906. They also share one of the largest Alpine and Nordic ski areas in the Vercors and are really family-friendly.
Villard-de-Lans has an innovative luge and ski park with the chance to try luge, snake gliss, yooner and airboards …all different types of sledge.
As they say in Isère, your place is here; you just need to decide which resort you'll discover this season.
We have a regular Podcast called The White Out where we review the latest gear, talk about the latest snow forecast and updates on where is best to ski now, as well interviews with absolute ski legends AND we spotlight a resort every week and so much more. You can check out our regular podcast here Apple | Spotify | Podcasts or search The White Out on your chosen podcast directory.