With rising prices and inflation soaring, you might be scratching your head to find affordable ski vacation options for the entire family that won't require remortgaging the house.
Nestled deep in the heart of the French Alps, in the Savoie region, Val d'Arly is a well-hidden resort known for its authenticity and charming villages that may be the solution to keep your pocketbook a little more balanced. The area is between the Aravis, Beaufortain and Mont-Blanc mountains, where a vast array of forested slopes and alpine pastures reveal breathtaking views of Mont-Blanc and many ridges such as the Col des Aravis.
Espace Diamant
With its collective 195 kilometres of pistes, the Espace Diamant ranges from 1,000 m to 2,069 m connecting six connected resorts in the heart of the high mountains: Crest-Voland/Cohennoz, Flumet, Saint-Nicolas la Chapelle, Notre Dame de Bellecombe, Les Saisies, Hauteluce and Praz sur Arly.
The extended ski domain Espace Diamant in France's Val d'Arly region is the ideal destination for families, from beginners to experts. The resort is accessible by car – a 90-minute transfer from Geneva (two hours from Lyon) and remains in the shadow of the chic and upscale nearby resort of Megève. It wasn't until 2021 that Espace Diamant received its first cable car linking Bisanne and Les Saisies. Now you'll find it linking Bisanne and Les Saisies. Otherwise, chairlifts are as sophisticated as it gets, but they are among the most economical ways to explore this part of the Alps—an optional shuttle service also ferries guests from town to town.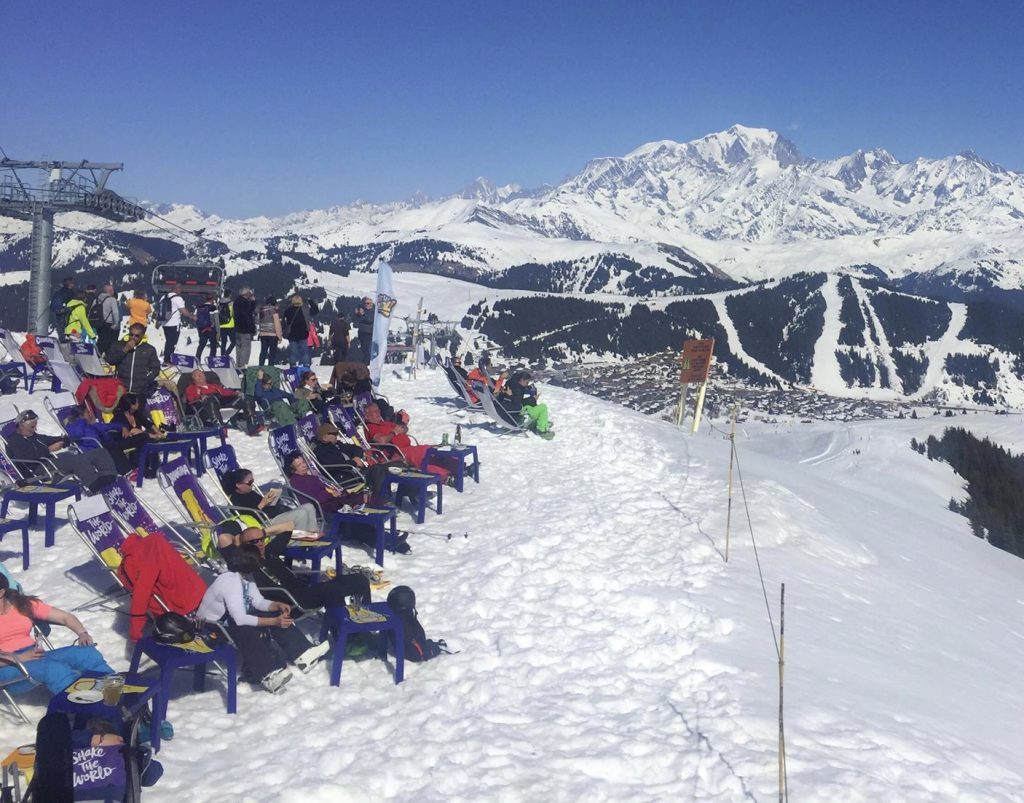 (On a sunny day, the view from the top of the mountain is beautiful. Credit: Rauli Storm)
A six-day adult ski pass at Val D'Arly will cost 195 euros; the extended ski pass for Espace Diamant is an extra 40 euros. A family of four pays a discounted price of 800 euros for six days. A similar ratio applies to accommodation in hotels, guesthouses and residences.
French and Family-Focused
What you'll find in common with all of the villages is a French, family-focused and traditional atmosphere that is unpretentious, chilled and hospitable. Cheese lovers will indulge in the locally produced cheeses from neighbouring Savoyard farming villages known for Beaufort, Reblochon, and Tomme de Savoie.
The skiing experience in this part of France is nothing short of enjoyable. The mountains are not the highest, but they offer enjoyable skiing and well-maintained runs. This part of the country brings a lot of value at a fraction of Les 3 Vallées, Espace Killy or Megève. The local cuisine is delicious, and the streets of the romantic Savoyard villages are an attractive backdrop. No colossal parking lots can accommodate hundreds of tourist buses bringing thousands of screaming skiers. You certainly won't hear loud music reverberating off the windows of your hotel room during après-ski or at night! The extent après-ski activities usually involve family laughing and in the town centres or skating rinks is about as loud as it gets.
(Nicely prepared runs for all levels at Espace Diamant. Credit: Bruno Schmitz)
Unlike some neighbouring resorts, most skiing in this region runs within the tree line. Visibility is not affected when the weather gets lousy, which also comes in handy during low-light days. As a skier, less wind exposure and the generally unobstructed view means enjoying a view of Europe's highest mountain from every peak and enjoying your day even if the weather is windy. If you are intrigued by this destination, we recommend keeping a close eye on snow coverage, such as this year, as the lower alpine may also mean limited ski runs at certain times.
At Les Saisies, directly across from the "Nordic Stadium," Franck Piccard, former French alpine skiing champion, now owns and operates Le Calgary hotel, which was given to him by the town council following his victory during the 1988 Winter Olympic Games in Canada. The architecture is strongly reminiscent of Tyrolean houses, but everything else has a French charm. If you visit the Le Calgary hotel and converse with Franck Piccard, ask him about his favourite World Cup Races.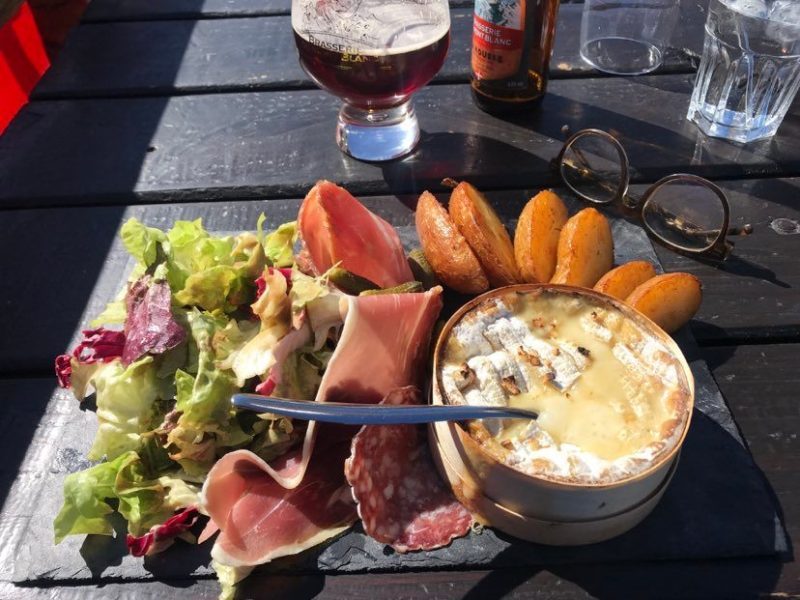 (You do not want to miss the famous « box » at Le Chalet des Marmottes in Les Saisies. credit: Bruno Schmitz)
On the mountain, Le Bonnet Blanc at Notre Dame de Bellecombe and Au Coeur du Diamant restaurants were among the favorites because of the fresh local gastronomy and the warm hospitality. You do not want to miss the famous « box » at Le Chalet des Marmottes in Les Saisies. This local specialty involves a lot of melted cheese you can dip your bread and veggies in. They also have great unobstructed views of the region and Mont Blanc. If you want to dine in the various villages, L'Équipe in Notre Dame is known for its fondue Sayoyarde. At the base of Mont Rond, you can jump into the gooey baked Camembert and tartiflette. After your cheese fill, you can shift gears and enjoy the mixed grill at Le Slalom in the village. In all restaurants, you will eat to your heart's content without the price of 'five fourchettes.
Megève
If Espace Diamant leaves you craving more, you can upscale your experience by driving 5 kilometres to nearby Megève. Founded in 1922 by Baroness Rothschild after being annoyed by the presence of Germans in St. Moritz during her winter holidays, the family's various companies still operate many of the lifts, cable cars, hotels and several gourmet restaurants. The ski area around Megève, Les Portes du Mont-Blanc, is not connected to Espace Diamant by transport and different season passes apply. If you're coming from far, it is also an excellent option to discover this town and explore the slopes where the first cable car carried skiers up the mountain in 1933. Today, a historic replica is on display at the lower station in Megève.
(Lac d'Annecy is the perfect fit for a rest day to roam around and enjoy the charm of this French city. Credit: Bruno Schmitz)
If you want to shift gears and get closer to some of the cleanest water in Europe, the majestic Lac d'Annecy is a great place to unwind and visit the town for free with the local guides who tell you history in another way. With its alpine scenery and numerous activities, this picture-perfect town will make a great way to spend a day discovering and resting. Lake cruises and a town visit of the numerous canals and traffic-free streets make this a great outing.
Staying in Val D'Arly
Here are a few places to stay while in Val d'Arly, including Treehouses Between Earth and Sky, Chalet Hôtel du Mont Charvin, La ferme de Praz, Chalet Hôtel du Mont Charvin and Le Hotel Calgary. Costs in Val d'Arly for one person were approximate: 1,400 euros (transportation, accommodations, lift ticket, meals) inclusive of a one-day visit to Lac Annecy.
Links:
Pic top: Credit Rauli Storm
We have a regular Podcast called The White Out where we review the latest gear, talk about the latest snow forecast and updates on where is best to ski now, as well interviews with absolute ski legends AND we spotlight a resort every week and so much more. You can check out our regular podcast here Apple | Spotify | Podcasts or search The White Out on your chosen podcast directory.