After a few years away from the slopes, many of us skiers and snowboarders may be dusting off our ski gear this winter only to find it in need of a serious update. So this Christmas, why not treat the skier or snowboarder in your life to a ski gift they'll appreciate all the more now that they can hit the slopes again?! We've put together some of our absolute favourite Christmas gifts for skiers this winter to help you find the perfect present…
Serious Ski Gear
As soon as we first saw the Duke PT bindings from Marker, we knew this was a product to get very excited about. This hybrid freeride touring binding has become a staple of many adventurous skiers and is perfect for those looking to explore more of the mountain on their ski days this winter.
The unique ride and hike toepiece means that the Duke PT gives exceptional downhill performance, in line with their other highly popular Royal Family bindings. However, on the Duke PT, the release function and pin-technology mean that you can also enjoy the best uphill experience. Upon removing the convertible toe, you save 300g per foot when heading uphill – pretty impressive!
This binding also features a 4-point self-locking toe part, a lock and walk brake (including neutral walking mode and 10° climbing aid) and the superior Inter Pivot 3 Freeride Heel. The Duke PT 12 offers a DIN release value of 4-12 and the Duke PT 16 of 6.0 – 16.0. The latter also features an additional Inter Pivot 3 heel and magnesium heel housing, offering slightly more serious freeride performance.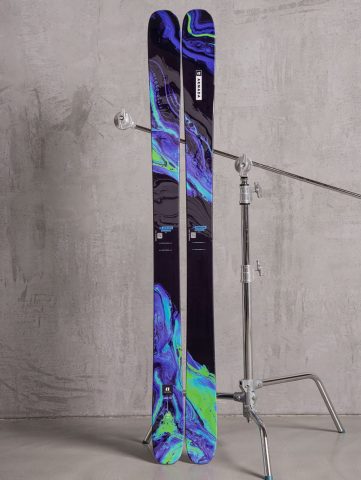 A tried and tested favourite of many skiers across the world (and a personal favourite of our Deputy Editor here at InTheSnow!) the Armada ARW 96 is the ultimate one-ski-quiver for female skiers looking to have the most fun across the mountain this winter. A highly poppy and responsive all-mountain freestyle ski, the ARW 96 can take whatever you throw at it – and more!
With a Poplar Ash Core, AR75 Sidewall, AR Freestyle Rocker and 2.5 Impact Edge, you know you're in good hands no matter the terrain, thanks to impressive stability and durability. Plus, as always, the 2022 graphics are pretty spectacular; in fact, we think they're the best we've seen the ARW look. This is one ski that's sure to put you on the nice list this winter!
For skiers that want to catch the best footage of a serious ski day, there's no better option out there than the Insta360 ONE X2 camera and additional snow bundle. This tiny pocket camera is packed full of features, with 5.7K 360° capture, steady cam mode, incredible flowState stabilization (perfect for bumpy ski runs!) and waterproofing up to 10m. The ultra-bright touch screen allows for easy use while on the slopes, while the voice control is incredibly handy when wearing bulky ski gloves! Plus, throw in AI editing, 4-Mic 360° audio and horizon lock and you've got a pretty hefty piece of kit, that can fit in the palm of your hand.
The Snow Bundle offers the perfect accessories for capturing all your skiing adventures, with a wide range of mounts for chest and helmet, as well as an invisible selfie stick for taking high-quality, drone-esque videos from which you can create some incredible social clips.
With a sustainable ethos that is truly backed up by their products and initiatives, Picture Organic Clothing is a brand you can't help but love. Their new collection, Utility, is one of our favourites for the coming season, with striking monochrome designs that look super stylish while also utilising the most responsible fabrics and technologies.
Our top picks have got to be the U16 jacket and U10 bib, both of which feature Picture's brand-new bio-sourced hard shell, made from repurposed sugarcane waste that is converted into bio-based polyester. With a 20K/20K Dryplay membrane, Teflon EcoElite™ PFC-free durable water repellent treatment and waterproof zippers, this set offers unparalleled levels of waterproof-breathability. The Utility jackets also include a unique body-mapping construction that incorporates Picture's Thermal Dry System (wicking away sweat where you need it most) and a Coremax lining to eliminate any cold spots.
If the full set is a bit out of your price bracket, why not take a look at Picture's wide range of Christmas gifts, many of which are perfect for those on a smaller budget.
Head to any uni Snowsports club and you're sure to see an AfterJAM tee – or ten… so to get the brownie points in with your twenty-something this winter, why not slip one of their latest outerwear goodies under the tree? This winter, AfterJAM have taken the long-awaited leap into outerwear with their Jib jackets, new for 21-22.
UK engineered and made from recycled polyester, these unisex jackets feature a relaxed fit, three colourways, and all the features you could possibly need from a classic ski jacket. Lift pass pocket, media pocket, removable snow skirt, underarm zippers, adjustable helmet hood, plus interior goggle and glove pockets. AfterJAM even claim it can hold a pretty incredible 12 beers – not that we've tried this out ourselves (yet!).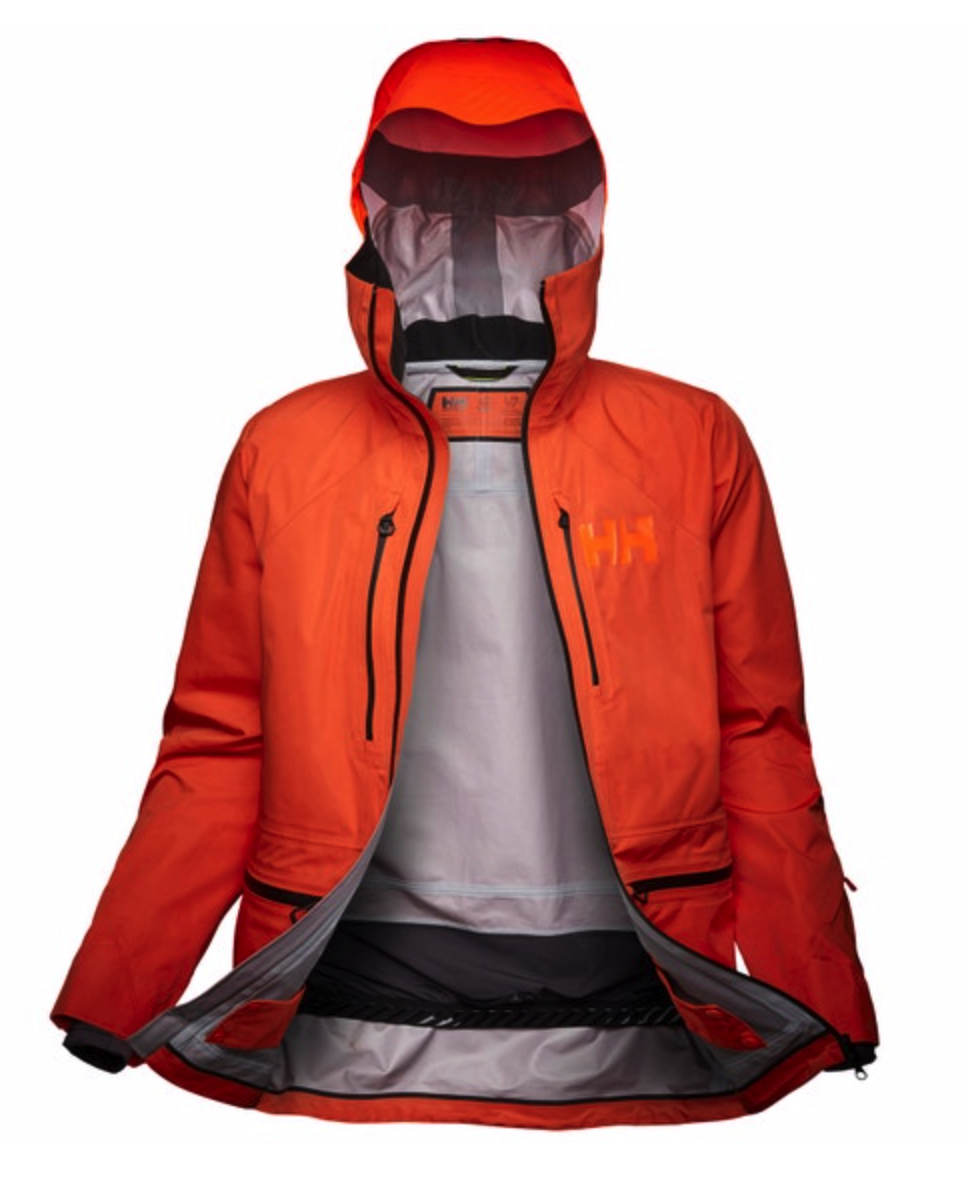 Helly Hansen's award-winning Elevation shell jacket has been enhanced for 2022 with Helly's most advanced and responsible waterproof/breathable technology, LIFA Infinity Pro™. This innovative technology is a hydrophobic fabric with durable water-repellency achieved without adding any chemicals, making it kinder on the environment.
Taking input from pro skiers, they have also upgraded the jacket design for maximum mobility and visibility, making it a perfect choice for those who love the deep stuff! The construction is compatible with helmet and a backpack wearing, enabling access to all pockets and zips for serious mountain missions. Extra freeride features include a RECCO® reflector for findability, a Life Pocket+™ to save your phone battery in extreme cold and hi-vis details make this a fantastic investment for all areas of mountain life.
Dubbed "the world's warmest baselayer", Zerofit's Ultimate Heatrub layer has been proven by the Boken Institute in Osaka to be five times warmer than a standard baselayer. It achieves this thanks to five separate fabrics, a patented knitting process and super-soft fibres. You'll never feel a chill again!
Oosc's snazzy one-pieces are the unofficial uniform of fashion-loving skiers on the slopes, but their new range of riding shirts and funky fleeces are perfect for both off and on the hill.
The Fresh POW Riding Shirts are coated with a durable water-repellent fabric to keep you dry when out in the snow, as well as secure lift pass pocket and waterproof zips to keep your belongings safe. Meanwhile, the Get Wavy fleece offers a super-soft but also DWR fabric, meaning you can wear it as an outer layer during Spring sessions but it makes a fantastic mid-layer for colder days,
In terms of sustainability credentials, the folk over at Oosc are working harder than ever to keep their products as responsible as possible. Not only are their products highly durable, but their riding shirts use a 100% recycled polyester / organic cotton blend, while the fleece is made using recycled bottles.  With a variety of different colourways and retro styling that is proving incredibly popular on the slopes at the moment, these picks are sure to be a hit with the skier or snowboarder in your life!
Stocking Fillers
For the sustainable skier in your life, you simply cannot go wrong with the gift of Mizu. Their fantastic range of products, from bottles to tumblers to cutlery, would all look pretty good wrapped under your tree, but the D7 bottle has got to be one of our top picks for your ski backpack.
Insulated stainless steel bottles are where Mizu started out and are some of the best in the business when it comes to keeping cold cold and hot, well, piping hot. The D7 features a copper lining and vacuum-sealed cap, giving it some of the best thermal properties of Mizu's collections. As a result, it's perfect for heating you up during the winter's coldest days, whether that's with a coffee or a soup. Or if you tend to get thirsty when you ski, it's great for holding more than enough water to keep you hydrated, fitting well into most ski backpacks.
These beautiful prints make the perfect gift for a skier or snowboarder who's been missing their favourite resort! Hand-drawn piste maps of over 150 resorts, reinvented and recreated into contemporary art prints to adorn the wall they offer the perfect opportunity to give a more personal ski-themed present this winter. Whether it's a resort that brings back special memories or a ski town in which you once lived, this is a wonderful way to keep the memories alive. A0 and A1 prints are printed on 235gsm satin coated paper, while all other sizes are printed on 250gsm classic silk paper.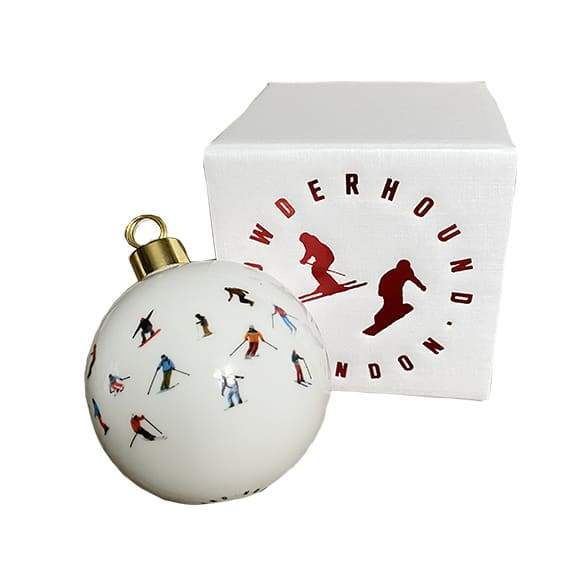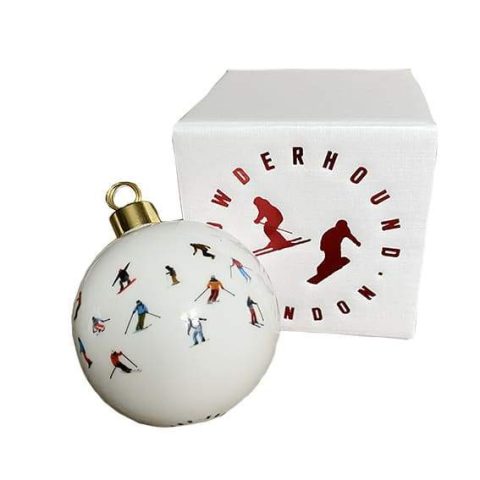 Boutique London brand Powderhound has launched a range of Christmas baubles hand-decorated with skier motifs designed by British artist Natasha Durlacher. The baubles are made from fine bone china and available in four designs featuring skiers, mountain huts, wintery walkers and ski tourers.
As well as the new range of Christmas baubles, Powderhound has an extensive range of Christmas gifts available this year from mugs and tea towels to candles and tableware. All are hand decorated in a range of Natasha's evocative designs born out of years spent skiing and photographing life in the mountains.
We all know how important sun protection is in the mountains, even on an overcast or flat light day. Take it from the experts over at Pelotan – for every 1000-foot increase in altitude, U.V. levels increase by around 4%, so it's key to protect your skin from the sun as much as possible. What's more, for skiers who are going to be out in the sun and snow all day, regular sun cream brands may well not provide enough protection when you factor in the extra sweat, water and increased UV levels.
Pelotan create sun creams designed specifically for athletes, a "once-a-day" water and sweat resistant protection that lets you stay out in the snow without ever worrying about topping up. Their unique formula absorbs into the skin without blocking your pores, perfect for those days when you want to ramp up the mileage.
Their most highly-recommended product is an alcohol-based spray; lightweight, easily absorbed, easy on the skin and tested as lasting up to eight hours at SPF 30. Or, for easier on-chairlift application, you can also get this same formula as a roll-on.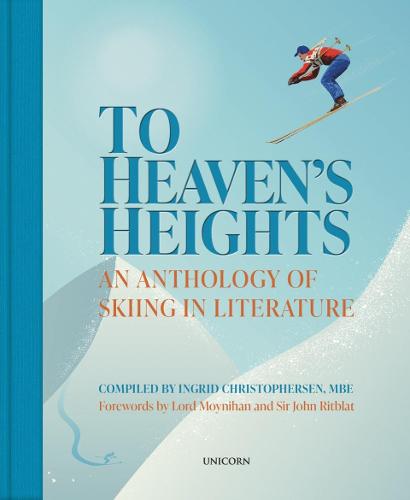 For a little skiing inspiration this winter, pop this fantastic book into your stocking. An intriguing and entertaining collection of ski stories from world-famous authors, this hardback features works from the likes of Ernest Hemingway, Ian Fleming, A.A Milne, Sylvia Plath and Bill Bryson.
Spanning one thousand years and with contributions from over 60 authors, To Heaven's Heights celebrates skiing as a means of transport, communication, hunting, exploring, and latterly as an Olympic sport and a leisure activity enjoyed by millions across the globe.
Whether it's accidents and avalanches, magic and mystery, or incredible feats of skill, these stories are sure to delight skiers of all ages and abilities. Plus, proceeds from the book will go to Snow Camp, the UK's National Snowsports charity, whose mission is to give young inner-city children the opportunity to experience the mountains and influence their futures in a positive way.
Available at Waterstones, Amazon and all good bookstores.
Know a skiing fashionista or true fromage-fiend? This awesome boonie is sure to put a smile on their face come Christmas day. Made from 100% cotton, with a secure toggle on the drawstring to guarantee it won't fall off no matter where you're wearing it, whether on the snow or in the après bar! Durable, practical, stylish and great value for money, this is sure to be a popular addition to any skiers' stocking.
A beautifully illustrated induction to skiing, this book makes all the complexities and mysteries of skiing accessible. For beginners and experts alike, Ski A to Z provides useful tips and insight to prepare you to jump back into the world of skiing after two seasons' too long! The perfect winter gift for skiers of all ages.