Looking for a slice of mountain paradise where you can truly switch off and relax this season? Criminally overlooked by British skiers, Megève is one of the Alps' most picturesque and peaceful ski resorts and offers a unique chance to enjoy the mountains without the crowds this winter.
Megève is an easy drive from Calais and just 1.5 hours from Geneva, making it an ideal spot for shorter breaks and for skiers wanting to squeeze every single second out of the mountains this winter. After all, a shorter transfer time leaves you with more time to spend exploring the impressive ski area!
A World-Class Ski Area (Without the Crowds!)
Megève enjoys a privileged position in the Evasion Mont Blanc ski area, the fourth largest ski area in France. The resort sits in the main part of this area, where 325 km of spacious pistes and 88 lifts provide more than enough entertainment for skiers of all abilities, from gentle beginner runs to challenging blacks. Many of the runs wind through forests and trees, making this a truly magical place to experience the mountains in winter.
The Evasion Mont Blanc ski pass also includes the nearby area of Les Contamines, which is definitely worth a visit as it holds a further 120km of piste to explore.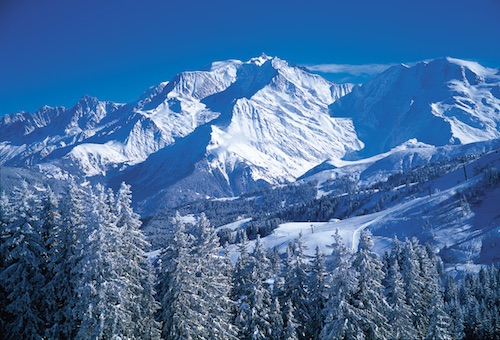 Sound good? Of course it does! After a year away from the slopes, we're all keener than ever to get back to the mountains and it's unsurprising that many ski companies are reporting bookings way above record levels. However, surely this will mean busier slopes and longer lift queues?
In most resorts, probably. But in Megève, you don't have to worry… It's incredible how quiet this huge ski area is outside of school holidays.
As there are no mass market operators in the area, the pistes of Megève are extremely quiet, perfect for skiers looking to develop their skills without worrying about other skiers flying by. If you want to feel like you've got the slopes to yourselves, there's no place better.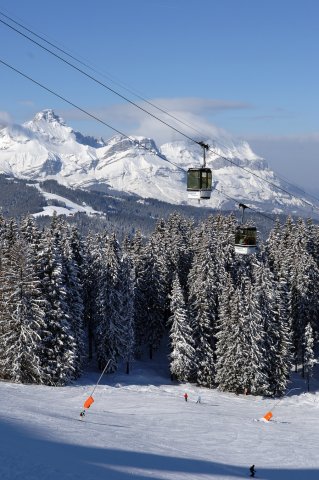 You'll also never find yourself stuck trying to find a table at a restaurant or in a maxxed out ski school class. In Megève, everything feels far more like a private mountain experience.
Forget squeezing your way through a restaurant trying to balance a tray full of food while walking in ski boots. In Megève, the mountain restaurants are cosy rustic spots, with table service meaning you don't have to lift a finger and can simply relax after a great mornings' skiing.
For this reason, Megève is one of the best destinations for those that may still be a little nervous (due to the pandemic) around crowds of people – for example in lift queues or in cable cars.
Lift queues in Megève are but a myth for most of the season and visitors outside of peak weeks will rarely see a single queue. Even on the snowiest days of December and February, it's rare to find yourself sharing a lift with someone outside your group.
What's more, there are very few cable cars and gondolas in the area, so not only do you not have to faff about taking skis on and off, you also have more opportunities to enjoy the fresh mountain air and spectacular scenery. We'll certainly be appreciating those views more than ever this year.
Incredibly, a holiday in Megève also offers far better value for money than many of the other popular resorts in the Alps. The Megève lift pass is 20% cheaper than that of the 3 Vallées, and 15% cheaper than that of Tignes and Val d'Isère.
More skiing for less money – is there anything better?!
A Picture Perfect Resort
The town of Megève is a charming, traditional Alpine village. We're not kidding here, it's one of the most picturesque resorts you'll ever experience, without not one purpose-built tower block in sight. It has retained a quintessentially French feel, thanks, in part, to its well-kept reputation as a real hidden gem.
The pedestrianised Medieval town centre is surrounded by wooden chalets adorned with fairy lights, cosy bars, and boutiques galore. Horse-drawn caleche roam the streets, while the resorts' famous jazz club awaits all those who seek some unique evening entertainment.
Being such a small resort, Megève offers a truly special opportunity to stay with a local specialist company who know this resort like the back of their hand. Family-run Stanford Skiing are the stand-out choice here. The Megève ski specialists, they are passionate about sharing their love of Megève, ensuring skiers on all budgets are able to enjoy the area.
Stanford Skiing offer a complete range of accommodation in the resort, from luxury catered chalets to more budget-friendly self-catered apartments. They are also highly experienced in catering for short breaks and weekend getaways, as well as week-long holidays, so you can truly make the most of your winter!
Guests can choose from catered and self-catered options, they also offer a semi-catered option, so you can avoid all the shopping and cooking whilst also enjoying total privacy in the evenings.
Finally, and perhaps most importantly, Stanford Ski are offering a lockdown/quarantine guarantee this winter, to safeguard guests' payments in the event of government action preventing travel.
Catered chalet prices start from £550/week excluding flights and transfers and weekend breaks start from £335 for three nights. Three nights in a self-catered apartment starts from £600 for an apartment sleeping four people.
To find out more, head to www.stanfordskiing.co.uk