It may be one of Switzerland and the world's most famous ski resorts, but Crans-Montana is equally popular in the summer, with a whole range of activities on offer, along with some great choices of accommodation, dining and shopping that are available in winter.
In fact, the year-round nature of Crans-Montana means that the resort has developed a permanent population without the seasonal highs and lows that can stop quality businesses from being established and surviving from one year to the next in many resorts.
Besides all that, summer gives the same spectacular views out over the Rhone Valley to take in a vast sweep of the Alps including Mont Blanc and the Matterhorn that draws many of its fans back to Crans Montana year after year, winter and summer.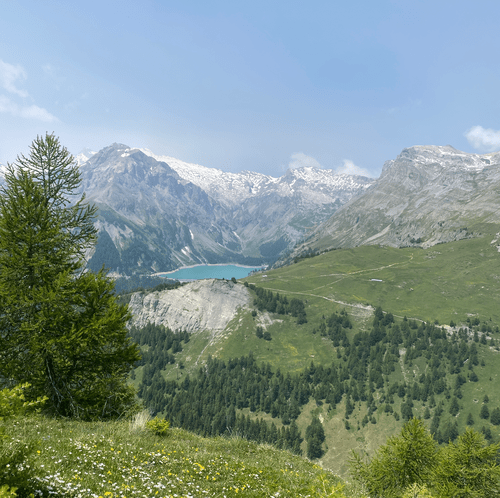 To add to the appeal Crans Montana is one of the easiest ski areas to reach from the UK. From Geneva airport a direct train takes you to Sierre/Sion in the valley below, then a fast funicular, new trains for which were added this year, whisks you up to the resort itself. This spreads out on a sunny plateau on the mountainside, much of it flat so easy to meander around on foot to window shop the many shops or pop in a café or restaurant. There are great public transport systems too, which of course extends to a modern network of chairlifts and gondolas to whisk you up the mountain, including right up to the cool mountain air at 3,000m above for still more spectacular views looking out over the eternal ice of the Plaine Morte glacier.
I headed out to Crans Montana in early summer to check out what was on offer for 2023.
You can do everything from a few hundred metres stroll around the lake to the closest café to a multi-day hike across the peaks in Crans-Montana. Altogether there are 320km (that's 200 miles) of hiking paths and routes for all tastes and abilities so there is something for everyone.
In fact, there's almost too much choice so it's handy that the Crans-Montana website has a section where it highlights some of the best options and even a handy search tool where you can choose how long you want your hike in time and distance, how challenging and how much vertical gain you want, and it then delivers a selection to meet your choices.
The hike I opted for was along the Bisse du Ro. This takes you along by one of the eight famous 'bisses' of Crans-Montana. Bisses, or irrigation streams, date back to the 14th century, when they were created to bring water to fertile land that wasn't close to a local water source.
It is a great 10km walk, taking in Lake Tseuzier, beneath towering rock faces, crossing a 120m footbridge, and heading up to the Rawyl dam. It's really more than just a walk with the second half pretty challenging and taking in over 600 metres of vertical climb but it's all well worth the view at the top (and providing access to an even more spectacular view is tricky when all the views are spectacular around Crans-Montana).
Crans-Montana is a Mecca for biking in all its forms (enduro, e-bike, downhill, road cycling) offering not only a huge choice of routes of all lengths, surfaces and gradients to ride but a big support network too. Whether it's bike rentals, repairs, tuition and guiding or even special bike hotels to stay in, Crans-Montana has it all! Again you can use the mountain lifts to take your bike up the slopes if you wish to make it all downhill.
There are 180km of mountain biking routes, as well as a mountain biking park for downhillers with three routes rated easy, moderate and difficult. There are 200km of road cycling routes too with 13 different choices.
I was lucky enough to ride out on an E-bike tour with Julien Paganelli who is passionate about the mountains and has been working with bikes for more than a decade. E-biking makes tackling the mountain slopes much less hard work. Julian shared his excitement and gave me useful tips and technique advice to help improve my performance and confidence. Julien also guides bikers on the road as well as single track and is able to adapt the route to suit all abilities.
Again Crans-Montana's website has a whole section dedicated to biking and there's also a route finder where you can choose the type of biking, duration, difficulty and length of the ride.
All the snow that falls on the slopes of Crans-Montana in the wintertime transforms to water in the warm months of summer and that opens up a whole new range of water-sports adventure possibilities in summer! You might enjoy lake swimming, fishing or stand-up paddleboarding for example. That's without even considering the many spa options if you like your water in swimming pools and steam rooms.
One fairly new option I got to try was wakeboarding on the Etang-Long Lake. Here the "Ride On" Academy offers lessons for everyone from complete beginners providing plenty of fun and adrenaline under control and in complete safety. The only requirements are that everyone trying must be at least seven years old and children must be at least 7 years old to be able to give it a go.
Even if you don't want to wakeboard you can relax on the manmade beach on the shores of Etang-Long and have a few drinks.
I also took a tour of the golf course, which is transformed into nursery slopes for skiers and snowboarders in winter as well as a children's fun snow play area. It's one of three quality golf courses around Crans Montana which has been a golfing centre for a century now and also has a prestigious club and once again great facilities including an indoor centre that is open all year round, a golf academy for all levels and ages from complete beginners up and once again hotels designed especially for golfers.
The course choices include the Severiano Ballesteros (18-hole) and Jack Nicklaus (9-hole) courses and each summer Crans-Montana stages one of the most prestigious tournaments on the European tour, the Omega European Masters, which brings golfers from all over the world to the plateau.
I really enjoyed my lunch at Chetzeron, high above the resort up at 2,112m altitude above sea level serving up amazing food and stunning views of the highest peaks of the Alps. The restaurant has a pure design where alpine simplicity mingles with an authentic and warm welcome and you can actually base your entire holiday here if you'd like, as there are hotel facilities too. I would certainly like to go back to stay here on my next visit.
I also enjoyed a couple of fabulous dinners during my stay. Firstly the wonderful Wild Cabin restaurant within the incredible all-new Six Senses hotel (of which, more below!) has a super selection of foods with an emphasis on locally sourced food from the Valais region. Open all day, the rocket fuel shot for breakfast really sets you up for the day.
Another evening I dined at le Plaza, a Crans-Montana institution for great food right up to gourmet standard. Open from breakfast through to late in the evening, there's also a cocktail lounge here to relax in before, after or instead of your meal.
I was lucky enough to stay at the exceptional all-new Hotel Six Senses Crans-Montana.
Located just above the Crans-Cry D'Er gondola, the first of the Six Senses group to open in Switzerland has an ethos that combines vitality, serenity, and adventure. I enjoyed both the luxurious facilities and the exceptionally high service standards with impressive attention to detail. That means everything from the fabulous views from my room to the magnificent breakfasts with an incredible choice.
In summer it's a great base for culinary, cultural or sporting holidays, or just to relax on one of its sunny terraces emerging from the mountainside. In winter the hotel provides exclusive ski-in, ski-out convenience from the south-facing pistes.
I also enjoyed a stay for part of my holiday at the recently refurbished Alaia Lodge. This high-quality, functional and modern hotel once again serves up a great breakfast and is superbly located to make the most of all that Crans-Montana has to offer.
Getting there:
Swiss International Air Lines (SWISS)
Discover the beauty and diversity of Switzerland with SWISS, the country's flagship carrier. Fly from six UK airports to Zurich or Geneva, and enjoy competitive fares, generous luggage allowance and free admission to 500 museums and exhibitions across Switzerland. Whether you're looking for culture, nature or adventure, SWISS will take you there. Visit swiss.com to book your flight today.
#FlySWISS
Swiss Travel System
Experience the best of Switzerland by train, bus and boat with the Swiss Travel Pass. This convenient pass gives you unlimited access to the Swiss Travel System network, which covers scenic routes, local transport and 90 towns and cities. You'll also get the Swiss Museum Pass, which lets you explore 500 museums and exhibitions for free. Don't miss this opportunity to see Switzerland from a different perspective. Order your Swiss Travel Pass at mystsnet.com
#GrandTrainTour #GrandTrainTourOfSwitzerland