Most of us will have skied or been snowboarding in Austria, enjoying warm hospitality, great food, stunning scenery, fast and comfortable lifts and the ease of access from the UK.
The good news is that when the snow melts, transforming the white valleys into blue rivers and lakes, many of the things we love about Austria are still there …and yes, you can still ski or board in summer if you want to.
But Austria in summer is so much more. Escape the city heat and frenetic way of life and head to a lush mountain valley. You can hike, bike or do one of the dozens of other activities at any level you like, from the gentlest to the toughest of challenges. Or just take it very easy with a book, sat on the terrace of a mountain hut, soaking up the rays with a cooling breeze and enjoying a local delicacy or two. Pure bliss.
Here's just a fraction of what a selection of Austrian ski resorts have on offer in summer:
Ischgl: the full menu of outdoor activities in beautiful nature
Ischgl is famed for its reliable snow cover and long ski season, from November to May, culminating in a month of springtime festivities with the climax of the annual Top of the Mountain concerts headlined by another global superstar.
In summertime too, Ischgl is at the top of the pile when it comes to offering a huge range of experiences and the finest cuisine. The high Alpine valley is as well known for its summer sunshine as its winter abundance of snow. In short, Ischgl offers everything hikers, mountain bikers, e-bikers and families could wish for in summer.
There are endless trails against a stunning mountain backdrop, with almost 200 miles of scenic hiking trails for every fitness level and culinary highlights on the mountain and in the valley. Bikers have even more terrain to explore, with nearly 500 miles of trails, making it one of the largest and most varied biking areas in the Alps. There's a free Ischgl bike guide with a compass map to take along and a GPS tour portal that uses an interactive bike map to classify the routes according to difficulty level giving an overview of the tours.
The incredible new Silvretta Spa with more than 1,000 square metres of water surface is also open in summer. It includes a 1,500-square-metre sauna area and a 320-square-metre gym. Then the spa and wellness area serves up a vast choice of massages and cryotherapy treatments.
On the resort's summer 'must dos' are the chance to enjoy a spectacular two-kilometre descent with the "Ischgl Skyfly". This zip wire transports two daredevils simultaneously at a height of 50m above the ground travelling at up to 85 km per hour from the middle station of the Silvrettabahn to the roof terrace of the 3-S Pardatschgratbahn's valley station.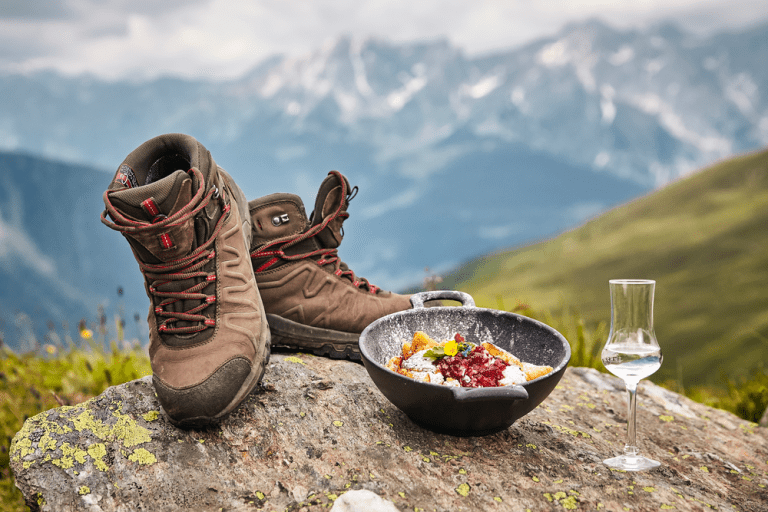 Or for a little less adrenaline but great for your joy in life you can hike the seven routes of the Culinary Way of St. James with gourmet stops at the Almstüberl, Alpenhaus, Ascherhütte, Faulbrunnalm, Friedrichshafener Hütte, Heidelberger Hütte or Jamtalhütte.
Ischgl also organises lots of great events right through the summer. For example the Ischgl Ironbike is one of the toughest and most challenging mountain bike races in Europe, and pushes both recreational and even professionals to their limits. There are four route options: Light, Medium, Hard and Extreme with an elimination race for licensed riders and a Kids & Juniors Trophy. Ironbike takes place for the 28th time as part of a two-day mountain bike event on 4th – 5th August 2023.
For trail runners the 11th Silvrettarun 3000 takes place on 14th and 15th July 2023. This is running for all abilities and for a good cause with a choice of four different routes from Ischgl to Galtür. Those looking for a challenge should take on the "hard" marathon route with its 40.1km (25 mile) route and 1,800m variation in altitude including ascending the Kronenjoch 3,000m peak. It's all for a good cause as five euros of each entry fee go to the "Wings for Life" charity.
Most of Ischgl's 4 and 5-star hotels are open this summer. Those staying at Silvretta Card Premium partner establishments can save on their 2023 summer holiday budget from the first night of their stay. They enjoy free, unlimited use of all open cable cars and chairlifts in Paznaun (which run until early October for summer visitors), the Swiss Samnaun and Montafon. In addition, the card provides toll-free use of the Silvretta High Alpine Road, free bus rides in the region and many other discounts with providers throughout the valley.
Kitzbühel – Hike or Bike The World's Most Famous Ski Race Course
Kitzbühel is of course a legendary ski resort – apart from being at the heart of one of Austria's biggest and best networks of lifts and runs it's home, each January, to the world's most famous ski race, the Hahnenkamm Downhill. It's like the FA Cup final for Austrians …and the skiing world.
The fast gondolas and comfy chairlifts are there year round of course and you can use them to be whisked up the slopes with one option being a hike down the legendary Streif – that's the race course the Hahnenkamm downhill is staged on. If you're feeling really hardcore you can even bike down it, including the super-steep "Mausefalle" where ski racers get airborne each January.
Kitzbühel has 101 other attractions in summer, if you can go beyond just wandering around the old heart of the small town with its many enticing cafes and boutiques. The foodie scene is big in both the traditional inns and award-winning gourmet restaurants resort centre or out in the cosy mountain huts.
Hintertux – Snow Sports in Summer
The places where you can still ski or snowboard in summer are rapidly diminishing compared to 20 or even 10 years ago. However the Hintertux glacier continues to aim to open for skiing and snowboarding every day of the year and even when other glacier areas open in France, Italy and Switzerland for now mostly short periods of a month or two, Huntertux tends to still offer more terrain and vertical than almost everywhere else.
Of course, there's much more to do than 'just' ski and snowboard in summer. Located in the stunning Ziller Valley not far from the big resort of Mayrhofen, there's a vast choice of activities like hiking, biking and water sports too. Up on the glacier a trip into the specular ice cave with its carvings, natural features and even a waterway within the ice, is a must-visit.
St. Anton am Arlberg – Active Year Round
St. Anton am Arlberg may be one of the world's best-known and longest-established winter ski resorts, but in the late spring to autumn months, it and its neighbouring villages come alive for active travellers outside the snowy months too.
Hiking, biking, mountain yoga, trail running, you name it, on your holiday in St. Anton you'll find it all as easy to access as the ski runs and lifts in the winter months.
One big focus is the Verwall Adventure Valley which offers the chance to go hiking, biking, cross a cable suspension bridge or, if you're feeling extra brave, challenge yourself to a ropes course.
The St. Anton Summer Card provides access to it all and even includes the chance to join a torchlit night hike in the surrounding natural wonderland.
Yoga is also big in St Anton with courses of all types in all contexts culminating in the annual Mountain Yoga Festival at the end of summer.
St. Johann In Tirol – Land of 26,000 Dumplings
St. Johann in Tirol ticks all the boxes for a family-friendly mountain getaway during the summer months. Hiking, climbing, mystical or foodie adventures and much, much more.
One popular option is to climb the Kitzbüheler Horn. That's possible via two via ferrata routes providing breathtaking views over the surrounding mountains, including the Wilder Kaiser. There's also a practice route for beginners.
You can also hike the mystical Devil's Lane which legend has it the was created by the evil one himself. True or not, the hike to the gorge near Kirchdorf is spectacular and the kids will love it, too.
If you visit in the latter half of September, instead of Oktoberfest, St. Johann in Tirol celebrates its very own Dumpling Festival. Expect more than 26,000 dumplings, a 595-metre-long dumpling table and traditional live music.
Zell Am See – Kaprun – Snow and Water
In the neighbouring destinations of Zell am See and Kaprun you get to see water in all its forms. There's stunning Lake Zell, good for everything from swimming to kayaking or a SUP ride on top. Then the eternal ice of the Kitzsteinhorn glacier above Kaprun where the snow lasts year round. Then of course there are the streams and rivers between the two.
The ski lifts don't run at on the glacier in summer but there's still plenty of cooling snow and ice fun to be had, including the ICE ARENA, Salzburg's highest situated viewing platform (at 3,029 m), as we; as a restaurant and a cinema.
For something different in the area you can enjoy a night hike at The Sigmund Thun Gorge. It's spectacular any day and time of the year, but the guided summer night walks come with torches and a campfire as a bonus.
Austria Is Easy To Reach
You can be in the Austrian Alps within a few hours by flying to Innsbruck or Salzburg, from where many destinations are only minutes away. There's an efficient public rail and bus network to get you wherever you choose to go, or just rent a car.
There are also even better rail connections to Austria if you can afford more time travelling, including sleeper services once you're over or under the Channel if you want to dream through your transfer. Driving is straightforward to do too with fast, modern roads and plenty of spots for an en-route break or overnight stay along the way.
Image credits:
Top: Kitzbühel Alps COPYRIGHT Hotel Crystal Tirol & Erwin Haiden
Pic 2: Zillertaler Alps COPYRIGHT Austrian National Tourist Office & Michael Stabentheiner
Pic 3: Zillertal Mountain Biking COPYRIGHT Zillertal Tourismus & Tom Klocker Photo
Kitzbühel Pic COPYRIGHT Hotel Crystal Tirol & Erwin Haiden
St Anton yoga pic COPYRIGHT TVB St. Anton am Arlberg & Teresa Arias
Zillertal, COPYRIGHT: Austrian National Tourist Office & Michael Stabentheiner
St Johann in Tirol pic 1: Mountain cart COPYRIGHT: Mirja Geh Photography
St Johann in Tirol pic 1: Kitzbüheler Horn COPYRIGHT Franz Gerdl
Zell Am See – Kaprun – Snow and Water pics: COPYRIGHT: Zell-am-See-Kaprun Tourismus
Bottom Pic: Zell am See Kaprun Schmittenhöhe COPTRIGHT Schmittenhöhe
We have a regular Podcast called The White Out where we review the latest gear, talk about the latest snow forecast and updates on where is best to ski now, as well interviews with absolute ski legends AND we spotlight a resort every week and so much more. You can check out our regular podcast here Apple | Spotify | Podcasts or search The White Out on your chosen podcast directory.