Banff & Lake Louise is one of the world's great holiday destinations. Spectacular scenery, three world-class ski resorts, light and fluffy snow, friendly locals, lots to do off the slopes, excellent dining, shopping and après-ski, and it's even great value. There are few, if any, other ski resorts in the world that manage to tick every box for a successful ski holiday, and even fewer where it's almost impossible to find anyone who has stayed there and doesn't want to return the next opportunity they get.
Well, it's rare that I'm able to be quite so genuinely effusive about a ski destination, but thankfully, with Banff & Lake Louise I can be.
But whilst it's all good, different people like differing things about the region to a greater or lesser extent depending on their personal taste. For me, having visited hundreds of ski areas around the world, it's the scenery that gets me first. Simply stunning.
After landing in Calgary on the direct BA flight from Heathrow or the Westjet service from Gatwick, it's a 90-minute drive almost due west on a wide, easy highway. As you leave Calgary, a wide, flat plain spreads out in front of you, and then the iconic Canadian Rocky Mountains tower up high into the sky. It's one of the most spectacular sights on earth.
Free Access To Banff National Park in 2017
It's difficult to keep improving on one of the best ski holiday destinations there is, but there are a few ways in which a visit this season will be even better than previously.
Firstly, all National Parks in Canada will offer free admission to visitors throughout 2017 in celebration of Canada's 150th birthday, so it's a great time to take advantage of added value for money.
Where To Ski
One of the great things about Banff & Lake Louise is that you have a choice of three ski resorts all on one lift ticket, so you can choose each morning which one to head to, or even ski two in the same day if the mood takes you.
Home to unparalleled mountain scenery in the heart of the magnificent Canadian Rockies, with wide open slopes and champagne powder, there's never been a better time to visit.
These aren't any old ski areas either, but three of the world's best, including Sunshine Village and Lake Louise – two of the biggest and best ski areas in Canada and indeed the whole world, as well as Banff's locals' ski hill, Mt Norquay, which has decades of history and a fan list that has included many famous names, even Marilyn Monroe, over the years.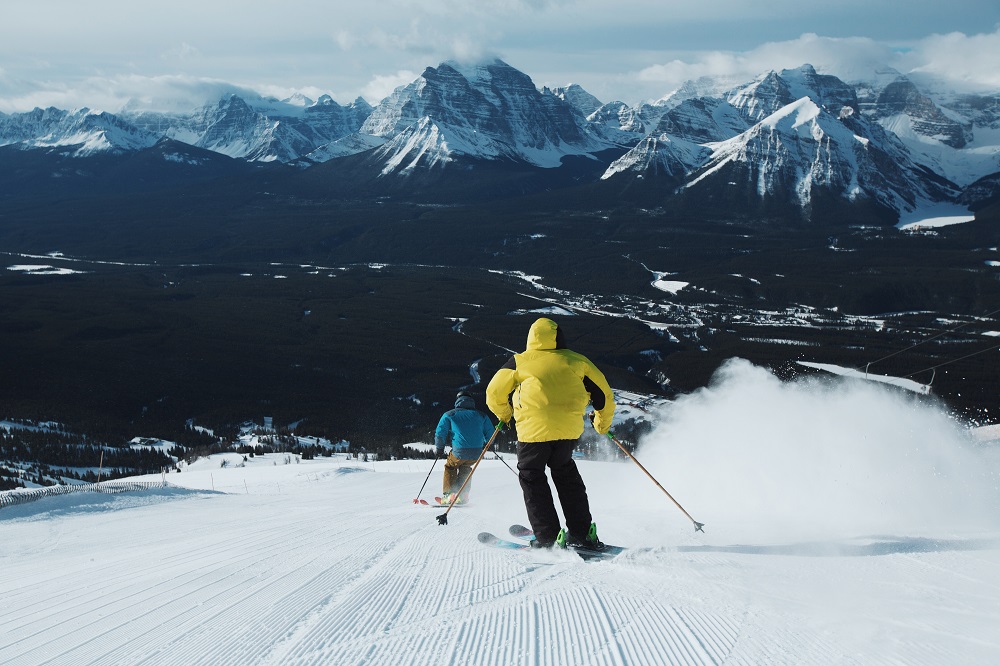 Altogether the three areas offer 334 runs set across a combined skiable terrain of almost 8,000 acres.
All three resorts share an amazing record for reliable powder snow cover that allows them to be amongst the first in the world to open each season in early November (this season's opening day is 10 November and Lake Louise stages some of the first World Cup races here by the end of November each season too), and then to stay open to mid-spring, with sunshine closing after nearly seven months in late May.
Pre-purchase your Tri-Area lift ticket and enjoy the free daily transportation to and from all three ski resorts. Modern shuttle buses will pick you up at your hotel and take you right to the resorts. New for this coming season, visitors will receive a complimentary pass to check out the historic Banff Hot Springs with the purchase of 3+ multi-day Tri-Area lift tickets.
In 1883, three railway workers discovered a natural hot spring that ultimately brought rise to the founding of Banff National Park. In the early years, travellers lured by the healing minerals of the hot springs journeyed to the area via the Canadian Pacific Railway. Nowadays visitors can soak up these benefits after a day on the slopes.
Genuine Ski Town
There are few truly authentic ski towns around the world, especially those with a choice of top ski resorts on their doorstep. The town of Banff is a spirited place, alive with adventure and wonder. In all directions you're surrounded by strikingly beautiful and rugged mountains that seem to burst straight out of the ground. You might see a herd of deer wandering down the main street during your early morning jog. The lively streets of downtown are lined with top-class restaurants, bars and shops, as well as a vibrant range of art galleries and museums. The locals are warm, open and genuinely connected to the inspiring environment in which they live. The town of Banff offers you endless options for rejuvenation and exploration every day.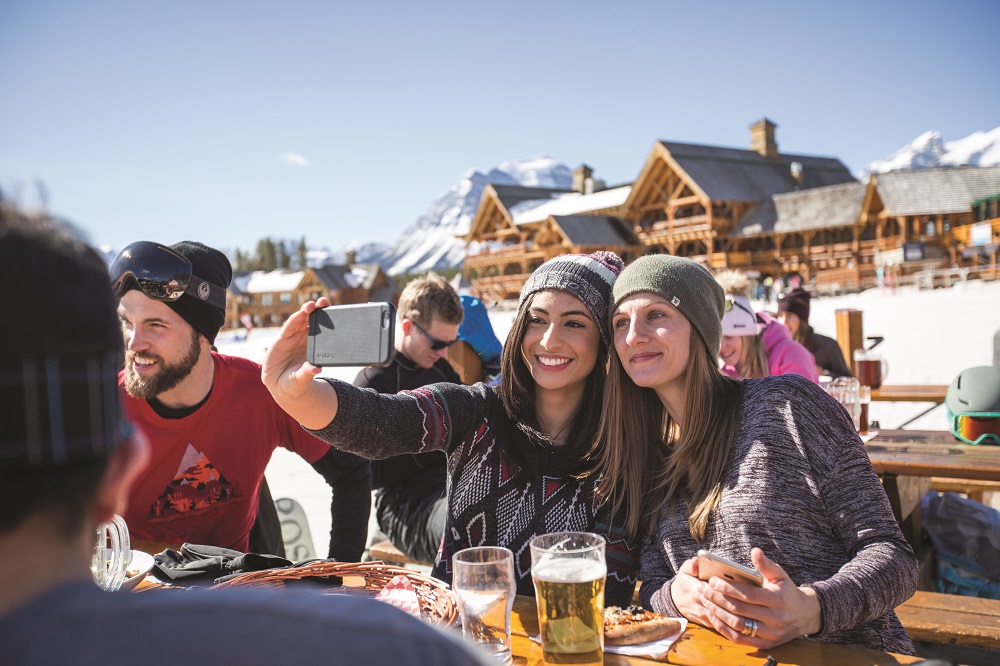 Lake Louise Village, a 45-minute drive away from Banff but located five minutes from the lifts and linked to them by a free bus shuttle service, is a more intimate base with a dozen or so hotels, each with their own restaurants, bars and other facilities, largely open to the public.
Banff & Lake Louise has a reputation also for being extremely good value and having genuinely friendly inhabitants, and for being about more than "just" skiing and snowboarding. There are dozens of other activities to try here if you fancy a change, or just want to add a little more to your ski day. All manner of outdoor winter activities are available from ice skating to dog sledding or just take a plunge in those hot springs. There's also a world-class and eclectic collection of shopping, dining and après-ski entertainment venues for all budgets and all tastes.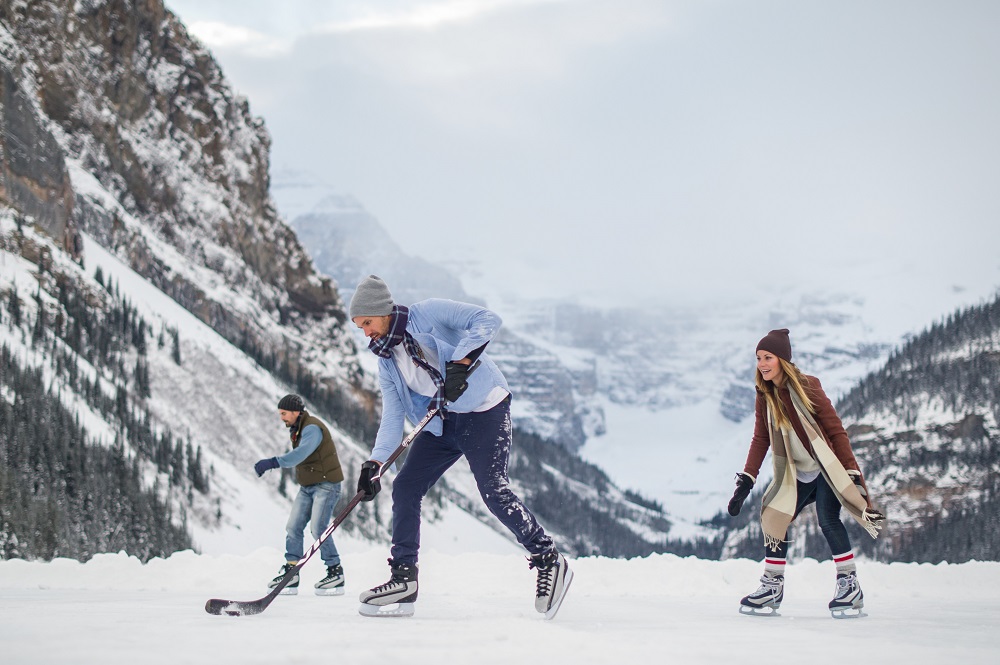 More Ways to Get There
For the first time this winter, WestJet will operate a year-round direct flight from London Gatwick to the gateway of the Rockies, Calgary, three times a week (Monday, Wednesday, Friday) offering greater accessibility for UK travellers planning a ski holiday in Alberta. This new route is in addition to existing direct services offered by Air Canada, Air Transat and British Airways throughout the winter as well as non-direct flights with Icelandair and KLM, which offer regional departures via Reykjavik and Amsterdam. Travel time to Banff from Calgary is just an hour and a half (90 miles).
More Info
Enregistrer
Enregistrer
Enregistrer
Enregistrer
Enregistrer
Enregistrer