Arc 1950 Le Village is a ski resort with a difference in the French Alps.  One of Europe's highest altitude and thus most snowsure destinations, it is also part of one of the world's biggest ski areas and it is also one of the planet's newest ski destinations – less than 15 years old. It's a unique and enticing combination!
Part of the huge Les Arcs ski area, which together with the neighbouring resorts of Peisey Vallandry and La Plagne forms one of the world's three biggest ski areas: Paradiski, with more than 425km of inter-linked runs, the fact that Arc 1950 Le Village was built so recently is a big selling point for holiday makers.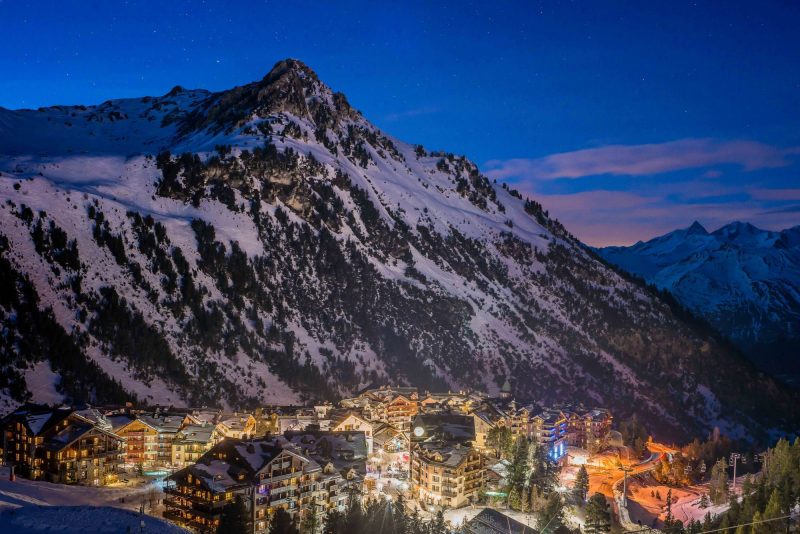 It's a beautifully designed destination with all the mistakes of previous resorts left out and the needs of modern ski travellers kept in.  So, every five-star quality property in the Village is ski-in, ski-out, streets are car free, there are high-end services, fabulous boutiques, animated bars, elegant restaurants and even a welcoming crèche for the youngest guests so that everyone's requirements, from the simplest to the most demanding, are met.
Every residence has spa facilities such as swimming pools, Jacuzzis and fitness rooms. Moreover, the Village's Deep Nature Arc 1950 Spa encourages visitors of all types and ages to recharge their batteries. With its theme grottoes, counter-current swimming lanes, Turkish baths, Jacuzzis, nail bars and massage rooms overlooking Mont Blanc, it truly has turned your well-being into an art of living.
Après-ski here is joyful too as the resort goes that extra mile to organise exceptional events, with both regular events and entertainments through every week of the ski season and special one-off festivals through the winter.
It's a really vibrant, top-end destination in one of the world's biggest and best ski areas. Besides all that skiing and a lively après-ski scene there's always something extra going on for families, for adults and for those looking for a party.
Something New Every Night
Every day and every evening, an entertainment programme is offered by the Village to the resort's guests, based on a different theme every week.
With this season-long series of fun, enjoyable and exciting events Arc 1950 Le Village aims to turn every moment of your holiday into a celebration with a varied and constantly renewing programme of events.
There are plenty of fun activities to try too – how about electric snowmobiles, a visit to the aqua-gym, aqua-biking and for kids the wonderful Children's Ball.  There is always something going on in Arc 1950 Le Village!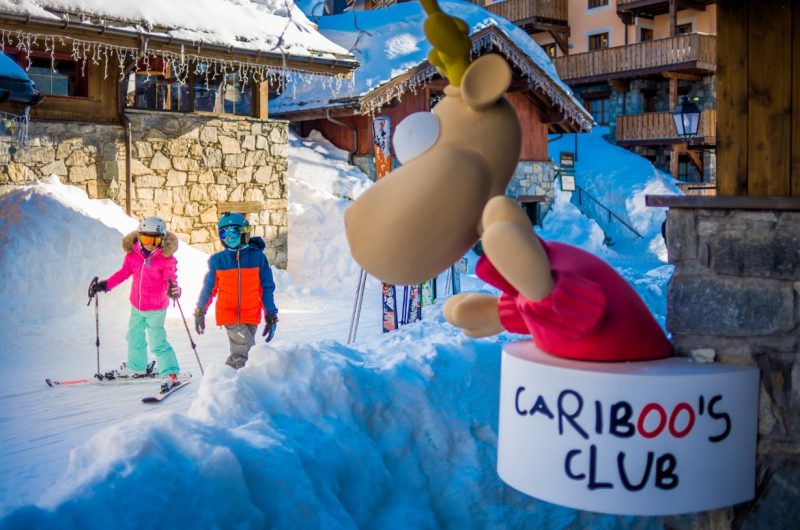 Try Three Different Snowsports Every Week
Whenever you visit Arc 1950 Le Village you have a chance to try any one of three snow sports you probably won't have tried before, are all three, and all free of charge.
Working with luxury accommodation provider Pierre & Vacances Premium which has been running the resort for 10 years now (another reason to celebrate!), Arc 1950 Le Village will be organising a weekly Airboard Party, a Snowball Fight and a session of Laser Biathlon.
Snowballing you will be familiar with, but in recent years it has become something of an organised sport with a version involving point scoring brought to Europe from Japan, so perhaps we should be taking our throwing skills more seriously.
Airboarding is essentially whizzing very fast down the slopes on a toboggan crafted from an airbed (kind of).  Well you get the idea and its lots of fun.
Finally, biathlon, is one of the world's most exciting sports and popular on Eurosport in the UK.  Cross country skiers' race around a circuit as fast as they can but have to relax on arrival at the shooting range every time around a loop and then hit five targets.  Race too hard so you can't hold the rifle straight and you miss the targets and lose the competition, go to slow and hit the targets easily and you lose the competition – it's getting the balance right that's the skill and the world number one for the past few years has been French superstar, Martin Fourcade!
The Arc 1950 version is a little less intense, a little more fun, with participants using safer laser rifles for the target shooting element.  But it's still seriously exciting.
Events Through The 2018-19 Ski Season
Winter kicks off with the 10th edition of Les Arcs Film Festival (15-22 December 2018) when over 120 films will be shown through the week at locations across Les Arcs in addition to concerts, DJ sets and ski competitions and there will be be plenty of celebrities in the Village to celebrate Les Arcs Film Festival's tenth birthday.
In Arc 1950 Le Village, the Les Arcs Film Festival will also be celebrating its 10th anniversary. On this occasion, Arc 1950, which hosts stars of the festival every year, is dedicating the run that goes right through the Village to the stars who have marked the first decade of the festival. There will be signs along the slope with celebrities' names designed to look alike the usual slopes' signs. Les Arcs' very own "Star's Run" which will be christened the Slope Of Fame.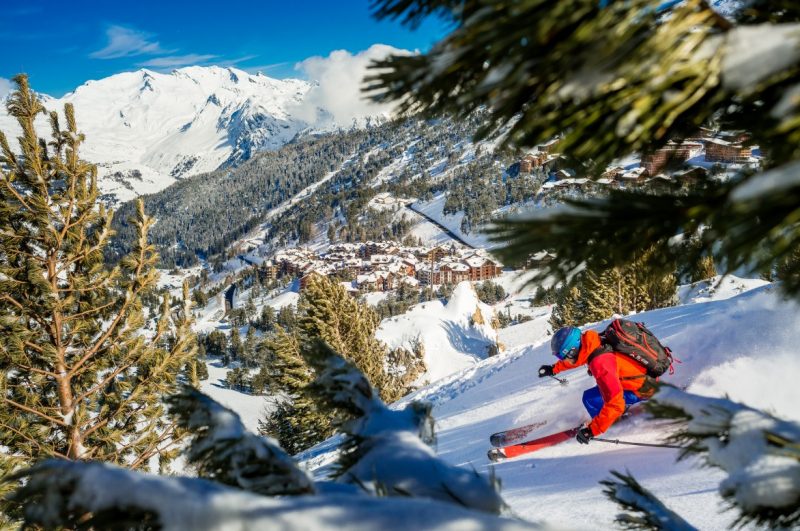 With its family-appeal Christmas is of course big in Arc 1950 and on Christmas Eve Santa comes calling and it's possible for Santa to deliver Christmas presents to your residence – a treat that all children (and quite a few adults) will love.  The service can by requested directly from the tourist office but make sure you secure your delivery early as there are limited places.
The serious snowsports side of the Village comes to the fore in late January with the Arc 1950 Freeride Week (28 January-03 February 2019).  The only French stage of the Free Ride World Qualifier (FWQ) for the FWQ 4 category, this event brings together the world's best riders and the discipline's rising stars in the FWQ 2 and FWQ 3 competition.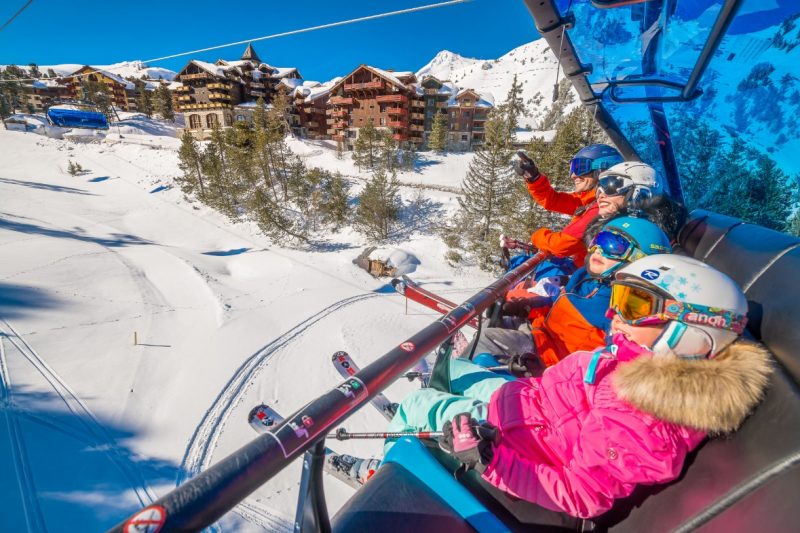 The 1950 Air Show between February 23rd and March 2nd is shaping up to be THE Arc 1950 event of this winter! The Barrebus Association and the Village's ski and snowboard instructors will be putting on a spectacular in the Village square including a big air ramp with breathtaking jumps.
A month later Les Arcs as a whole, but of course including 1950, will be hosting European Gay Ski Week (23–30 March 2019), a truly international celebration attended by upwards of 800 people from all over the world each year. This year's addition promises to be one of the biggest yet, with parties, DJs and a week of festivities.
The following week, the Great British Celebration (30 March – 5 April 2019) will be back for the third time with on and off-slope activities designed to celebrate British skiers, despite Brexit just having happened (probably!), with the resort decked out in the colours of the Union Jack and special holiday deals during the event, it is a perfect time for British skiers to visit Les Arcs and share our culture with our French friends.
Whether you visit Arc 1950 Le Village during one of the special weeks, or at any other time of the season, you're sure to have a fun and action-packed week in one of the world's newest, best-designed and most comfortably-equipped ski resorts, sitting in its snowsure location in one of the world's biggest ski areas.  What a combination!
(Images credit Arc 1950 Le Village and Andy Parant)