Arc 1950 Le Village is a ski resort with a difference in the French Alps.  One of Europe's highest altitude and thus most snowsure destinations, it is also part of one of the world's biggest ski areas and one of the planet's newest ski destinations. Born this century and less than 20 years old, it's a unique and enticing combination!
Part of the huge Les Arcs ski area, which together with the neighbouring resorts of Peisey Vallandry and La Plagne forms one of the world's three biggest ski areas: Paradiski, with more than 425km of inter-linked runs, the fact that Arc 1950 Le Village was built so recently is a big selling point for holiday makers.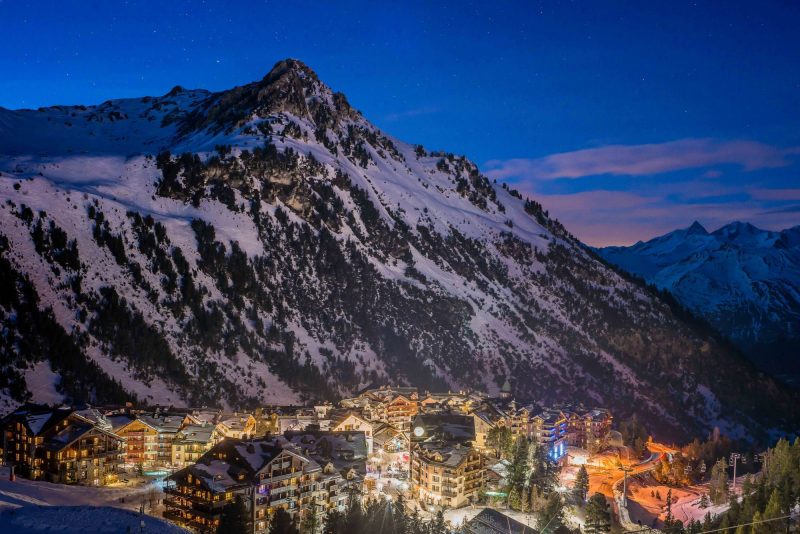 It is located in the Tarentaise region, home to many of the best ski resorts in France, and offers views out to Mont Blanc, the Aiguille Rouge and the many other mountains of the Tarentaise valley.
Arc 1950 Le Village is a beautifully designed destination with all the mistakes of previous resorts left out and the needs of modern ski travellers kept in.  So, every five-star quality property in the Village is ski-in, ski-out, streets are car free and snow-covered so that you can ski along them. There are high-end services, fabulous boutiques, animated bars, elegant restaurants and even a welcoming crèche for the youngest guests so that everyone's requirements, from the simplest to the most demanding, are met.
Every residence has spa facilities such as swimming pools, Jacuzzis and fitness rooms. Moreover, the Village's Deep Nature Arc 1950 Spa encourages visitors of all types and ages to recharge their batteries. With its theme grottoes, counter-current swimming lanes, Turkish baths, Jacuzzis, nail bars and massage rooms with views out to Mont Blanc, it truly has turned your well-being into an art of living.
It's no surprise really then that the village's accommodations have recently been rewarded with TripAdvisor's Traveler's Choice award 2020, given to the top 10% of the best hotels and residences around the world registered on the platform.
Unlike at most French resorts, many of the properties here also allow you to choose the arrival and departure dates to suit yourself, your stay doesn't have to be Saturday to Saturday. Après-ski here is joyful too as the resort goes that extra mile to organise exceptional events, with both regular events and entertainments through every week of the ski season and special one-off festivals through the winter.
The resort is easy to reach too with rail services to Bourg St Maurice in the valley directly below, flights to the nearby airports of Lyon, Chambery or Geneva or it is an easy self-drive choice too with  – all parking underground for drivers from the UK.
All in all Arc 1950 Le Village is a really vibrant, top-end destination in one of the world's biggest and best ski areas. Besides all that skiing and a lively après-ski scene there's always something extra going on for families, for adults and for those looking for a party.
Something New Every Night
Every day and every evening, an entertainment programme is offered by the Village to the resort's guests, based on a different theme every week.
With this season-long series of fun, enjoyable and exciting events Arc 1950 Le Village aims to turn every moment of your holiday into a celebration with a varied and constantly renewing programme of events.
When you visit Arc 1950 Le Village you have a chance to try lots of fun activities besides skiing or boarding.
A thrilling new zipline has opened from the top of Varet gondola and allows riders to fly over the "flying kilometer" slope that was created for the 1992 Albertville Olympics at 130 km/hr (over 80 mph!).
At the top of the slopes and lifts at an altitude of 3226 metres, the Aiguille Rouge footbridge offers a 360° view of the exceptional panorama of the highest Alpine peaks and an educational trail. Accessible on foot or on skis, it overlooks the Hauts de Villaroger Reserve and the Vanoise National Park, revealing a 360° panorama of the Alps.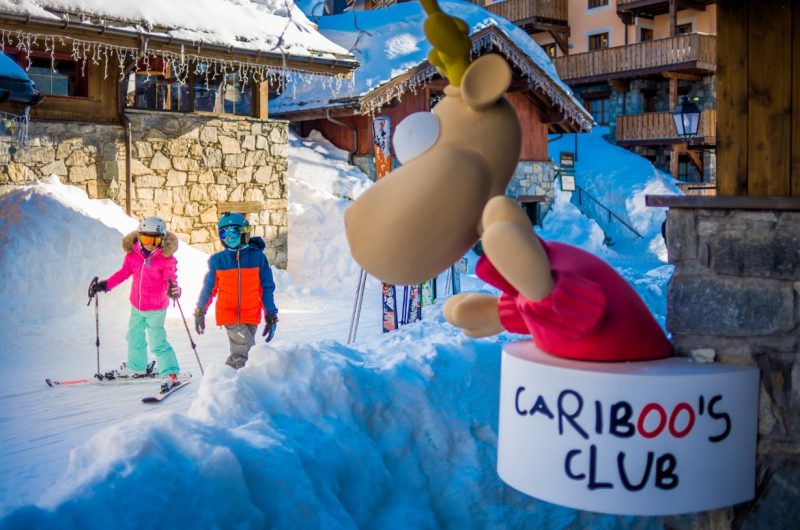 Other new opportunities include the chance to enjoy a helicopter flight or try paragliding with Evolution 2. Departing from just next to the resort you'll fly over the village to get a bird's eye view of the mountain area and its snowy peaks.
Electric scooters and electric mountain bikes are also available for thrills and laughter after the slopes have closed for the day.
There are lots of other activities to try in or near the Village including: ski joëring, dog sledding, snowmobiling, Snake Gliss (a kind of giant, multi-person articulated sledge!) descents or the 3-kilometre Rodeo Park toboggan run, snow shoeing or even speed riding…
Working with luxury accommodation provider Pierre & Vacances Premium which has been running the resort for 10 years now (another reason to celebrate!), Arc 1950 Le Village will be organising a weekly Airboard Party, a Snowball Fight and a session of Laser Biathlon.
Snowballing you will be familiar with, but in recent years it has become something of an organised sport with a version involving point scoring brought to Europe from Japan, so perhaps we should be taking our throwing skills more seriously.
Airboarding is essentially whizzing very fast down the slopes on a toboggan crafted from an airbed (kind of).  Well you get the idea and its lots of fun.
Finally, biathlon, is one of the world's most exciting sports and popular on Eurosport in the UK.  Cross country skiers' race around a circuit as fast as they can but have to relax on arrival at the shooting range every time around a loop and then hit five targets.  Race too hard so you can't hold the rifle straight and you miss the targets and lose the competition, go to slow and hit the targets easily and you lose the competition – it's getting the balance right that's the skill and the world number one for the past few years has been French superstar, Martin Fourcade!
The Arc 1950 version is a little less intense, a little more fun, with participants using safer laser rifles for the target shooting element.  But it's still seriously exciting.
Protecting The Environment and Protecting You
To guarantee a stress-free stay in these unusual times, Arc 1950 Le Village's operators Pierre & Vacances, one of the world's largest ski holiday accommodation groups, has implemented the Safety+ Charter, which provides additional hygiene measures that guarantee a high level of sanitary protection and is independently verified by health security experts.
Arc 1950's Pierre et Vacances residences have been awarded the Green Key label. This symbol of environmentally responsible tourism rewards the Village's commitment to sustainable development from the start.
Resort guests are asked to support this eco-friendly approach to their ski holidays. For the resort's managers and staff it's a highly detailed, seven-point action plan covering every detail of the ski centre's operations, but from the skier's point of view it simply means being aware of the need not to waste water or energy and aim for responsible purchasing and waste recycling – all made simple and easy by the resort anyway.
In the wider Paradiski ski area the region has unveiled five new principles of its environmental commitment: use of renewable energy throughout the area, reduction of its overall carbon footprint, positive biodiversity, better water and snow management and raising public awareness.
Events Through The Ski Season
There's something happening every day in Arc 1950 Le Village.  Highlights include:
December 11 – 17: Les Arcs Film Festival
The Village welcomes the Les Arcs Film Festival every year.  And when the movies come to the mountains, you may well encounter a film star in a shop or restaurant, or by the pool. This cultural event in a unique setting offers the opportunity to discover more than 120 films, professional events and other offbeat, movie-related activities. The resort dedicates its ski slope "Slope of Fame / Piste des Étoiles" to the stars who have come to this original cultural event in recent years
December 18 – 24: An Incredible Christmas
A special Christmas with musical performances at the end of morning and afternoon ski lessons and a highlight from 6pm with a magical Christmas parade through the streets of the village, Santa descending from the roof for a photo session and a firework display on Christmas Eve.
December 25 – 31: Destination 2022
Welcome in the new year with an open-air dancefloor on the Clocktower place with a DJ and live musician before celebrating the arrival of the new year with a sparkling firework display on New Year's Eve.
January 1 – 7: Eastern celebrations
With its sumptuous boutiques, unique atmosphere and sparkling decorations, the Village of Arc 1950 is a festive location that carries you off in a bubble of joy. This totally original event to celebrate Christmas as it is by some Christians in the East in early January features a fashion show of the chicest ski wear, a light show and DJ, as well as premium oysters and champagne.
Jan 29 – Feb 4: Matra Snow Cross
After a 'Dantesque' first edition, the Matra E-Fatbike championship returns to Arc 1950. The organisers, seduced by the unique décor of Arc 1950, wanted to make the Village the only night stage of the tour, on a snow-covered course.
February 19 – 25: #ARC1950AIRSHOW
This spectacular show sees Arc 1950 ski schools' instructors get together for a new freestyle ski show that gets bigger and better each year but is still Made In Arc 1950.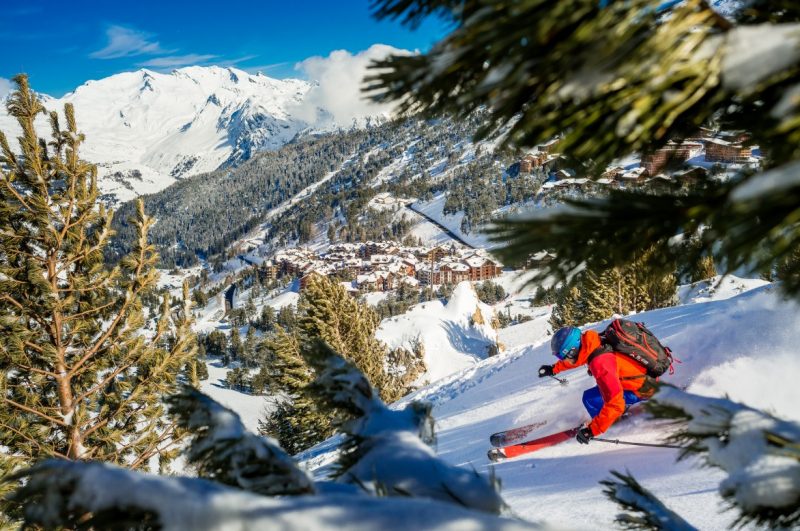 Other events through the season include:
January 8 – 14: Sugar house
January 15 – 21: The Polar world
January 22 – 28:  Freeride Week
February 5 – 11: Winter park
February 12 – 18: Guardians of Paradiski
Feb 26 – March 4: Mardi Gras
March 5 – 11: Challenge Day
March 12 – 18: St. Patrick'sDay& the StarTrail
March 19 – 25: Pride Week
March 26 – April 1: Arc on Stage
April 2 – 8: Zen Week
April 9 – 15: Little Chefs
April 16 – 22: Easter
April 23 – 29: Closing week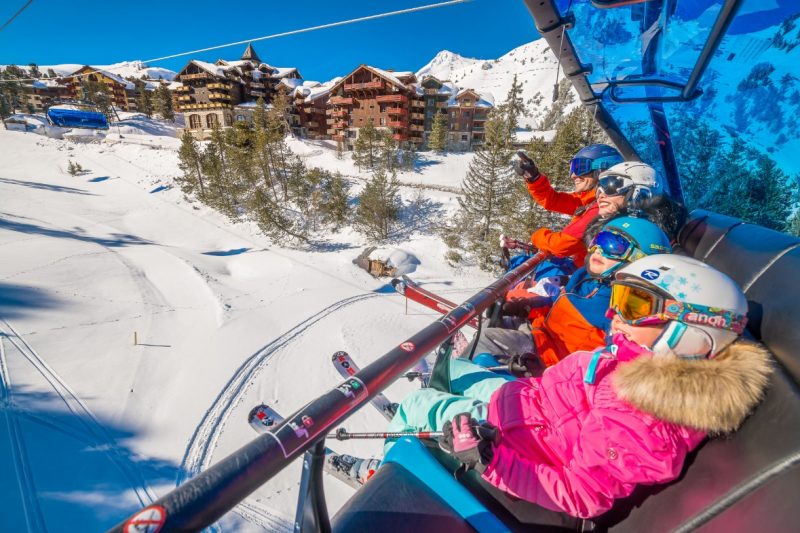 (Images credit Arc 1950 Le Village and Andy Parant)