The word 'sustainable' is used so widely these days that some people say that sadly it has become almost meaningless. But it is still possible to take a genuinely sustainable ski holiday if you want to.
The good news is it's not that difficult to do it …it's just not the way most of us think about taking a holiday.
We want to battle the climate emergency, but still go skiing, we do have to make an effort to change.
In further good news, making that effort can make your ski holiday even more fun, plus, you win smug points for doing the right thing by mother nature.
Getting to The Austrian Alps
The biggest single impact our ski holiday has on the environment is our travel from our homes to our destination ski resort.
If we fly, as most of us do, to the Alps, studies show the flights make up 50-60% of the CO2 emissions for our trip. That's not bad compared to a long-haul flight where the CO2 emissions are much higher and make up 90-95% of a ski holiday to, say, The Rockies.
But it's still way more than if we all get together and fill a fuel-efficient family car, or better still drive in an electric car if we're lucky enough to have one, or best of all take the train.
After all, taking the train to the Austrian Tirol was how most Brits took their ski trips up to the 1970s so maybe their day has come again. Especially when you consider how much faster and comfortable trains in Europe have become. The journey can also be much more stress-free and comfortable than battling through airports to fly.
Indeed for years now, Tirol has been working together with railway partners in Austria, Germany and Switzerland to improve rail connections to the region. Today there are fast and comfortable train links to Tirol all year round.
A rail trip from the UK need not be as intimidating as you might think. Websites like Snowcarbon.co.uk specialise in rail travel to ski areas and is a great source for information and advice.
The Tirol is easy to reach with a Eurostar direct from London to Brussels, a train change on to the cool Intercity-Express (ICE train) which whisk you at up to 320 km/h (200 mph) through into Germany and then a connection again to your ski destination in Austria.
Choose A Resort With Good Green Credentials
It's not quite right to say that finding a resort in the Austrian Tirol that has good green credentials is a "no brainer". It is easier than in most ski regions when you consider virtually all the electrical power used here is, in any case, green electricity from hydropower plants that were used long before there were real concerns about climate change.
Of course, even if you are already using green power, resorts still want to increase efficiency and use less of it, so it can be used elsewhere, and increasingly resorts are using their own wind, solar and micro-hydro installations to work more efficiently.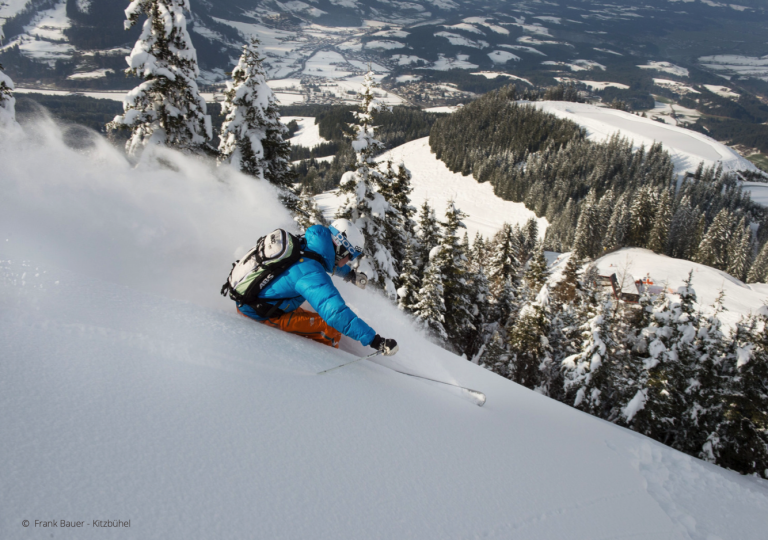 Kitzbühel lift company has been working hard to cut its CO2 emissions. The company has run a fleet of free ski buses for many years to cut down the need for driving in the resort, but a successful test of electric ski buses has resulted in the resort now running one of the largest electric ski bus networks in the Alps. There is also a direct train connection at the base station of the main Hahnenkamm lift and the KitzSki Express (bus) connects with Munich, Holzkirchen, Rosenheim stations and the Streifzug (train) runs from Rosenheim. Passengers in skiwear can travel free of charge on the Streifzug train between Kirchberg, Kitzbühel and St. Johann.
For those arriving in electric cars charging points for electric vehicles are available at some car parks operated by the Bergbahn AG Kitzbühel lift company so you can charge up your vehicle whilst you ski or board!
On the slopes the latest lifts are equipped with the energy-saving direct-drive, meaning they use 600,000 kWh less green electricity per year and the GPS-controlled snow management system guarantees even distribution of snow. In addition, some of the main heating systems have been converted from fuel oil to wood pellet biomass systems and thermal facade insulation has been installed in some mountain restaurants.

In the 2019/20 season, Ischgl became climate-neutral when lift operator Silvrettaseilbahn AG partnered with ClimatePartner and Vitalpin in this respect to carbon offset its energy needs and develop an ongoing plan to continue to reduce CO2 emissions in the future.
Here to a comprehensive ski bus network provides smooth connections to the lifts in Ischgl and Samnaun. The use of solar power and heat recovery systems, which recycle heat generated by machineries like lifts and snowmaking plant, allows the ski resort to save around 80,000 litres of heating oil per year.
The SkiWelt region which includes a lot of well-known ski villages like Brixen, Soll, Hopfgarten, Westendorf and Ellmau has lots of initiatives to cut its environmental impact. One of the most headline-grabbing was a recently-installed fast new chairlift, the Sonnenlift in Brixen, which is 100% solar-powered.
Environmentally friendly snow-making is also a priority for the region. In summer, the snow reservoirs are filled mainly with precipitation and snowmelt.
The piste machines are equipped with a sophisticated system for measuring snow depth on the slopes and 100% renewable biodiesel is used.
In each of the villages free ski buses run to the lifts and In Scheffau, Hopfgarten and Brixen, there are free charging points for electric cars in the car parks.
On the mountain, the main ski huts use mainly regional produce and pay attention to sustainability, sourcing locally and cutting waste wherever they can.
Book Sustainable Accommodation
Again sustainable living has been a way of life for generations in the Tirol as much of what's involved – cutting waste, maximising efficiency, looking after your local environment – is just the natural, sensible thing to do here and always have been.
But new ideas and new technologies have allowed some accommodation providers to go much further and seem to create ever more sustainable places to stay.
This means you can 'travel green' to a 'green ski resort' and stay in 'eco-friendly accommodation'. All this mean you might actually end up generating less CO2 on your ski holiday in the Tirol than you do in a week back home in your day-to-day life.
Among the more interesting ideas, The Naturhotel Waldklause in the Ötztal Valley, home to the ski resorts of Obergurgl and Solden has insulated its walls and roof using Tirolean sheep's wool, within a building they made of local Tirolean wood.
In the Zillertal Valley, the eco-friendly Natürlich Hell apartment hotel and campsite generate energy from pellet heating, photovoltaics and solar panels.
Meanwhile, in the east of the region, the partner businesses of the Hohe Tauern National Park are hard at work developing water-saving techniques and ways to avoid using and wasting plastic and aluminium.
The Hotel Stern on the Mieming Plateau offers a 5% discount to guests who use green travel options to get to Tirol and also promote environmentally friendly transport options within the region. The hotel even has a fun climate game for guests aimed at raising awareness about the importance of sustainability.
Further positive examples can be found in the Wilder Kaiser Mountains. "Tourism Upcycling" is an initiative aimed at creatively and gently modernising ageing hotel interiors instead of simply throwing it all out and starting again.
The project "Quality of Life in the Wilder Kaiser" brings together tourism experts, community leaders and local citizens to develop steps to achieve its vision of an "excellent quality of life for people living, working and holidaying in the Wilder Kaiser ".
Eat Local

One of the things which makes Tirol so special are its small and medium-sized farms. All in all the region is home to more than 2,000 farmers who play an essential role in preserving the landscape and also produce all manner of culinary delights.
This is of course very environmentally friendly. Unlike produce which is flown in from around the world, food made in Tirol often has an exceptionally short journey from the maker to the consumer.
Many farmers sell their goods straight to the public at farmers' markets, alpine dairies and farmyard shops. Local hotels, huts and restaurants also source many of their ingredients from local producers – sometimes they produce their own on a linked family farm.
Many huts and restaurants are members of the initiative "Tiroler Wirtshauskultur." This is a group of guesthouses in Tirol which have joined forces under a shared green logo to promote local food made using fresh ingredients sourced from regional farms, lakes, rivers and forests. As well as serving authentic food, these guesthouses also guarantee diners an authentic dining experience with their typically Tirolean décor and architecture.
If you're cooking for yourself natural produce from Tirol can be found in shops and supermarkets under the labels "Qualität Tirol" and "Bio vom Berg".

Think About Your Ski Kit
Creating ski and snowboarding gear and clothing has long been an energy and material intensive process we've fuelled by our desire to have something new every season.
The fashion industry has a disastrous impact on the environment. In fact, it is the second-largest polluter in the world, just after the oil industry. And the environmental damage is increasing as the industry grows.
Equipment manufacturers don't help much by announcing some new 'must have' development each winter like phone manufacturers do, well, they need to make sales. Unfortunately, much of this material is shipped in from Asia, adding to the big issue of CO2 emissions from international shipping, on top of those from production.
But in recent years more and more people have been questioning if they really need to buy new ski wear each season. It has become cooler sometimes to 'go retro' and some manufacturers, most notably Patagonia, have actually been sending teams on a road trip around world ski resorts offering to repair gear that's damaged free of charge, there and then, from any manufacturer.
Ski equipment manufacturers have also got far better in just the past few years at both making it possible for the gear they make to be recycled, and creating systems that allow people to return their gear, at the end of its life, to be recycled.
As almost every ski gear and skiwear manufacturer now says they use sustainable practices (and most are now indeed actually trying to do their best, rather than just trying to look like they're doing their best…) it can be hard to know which to choose if you do need some new gear.
One option is to rent, with companies like EcoSki offering gear they've sourced from the best 'green' skiwear manufacturers.
Another is to use a small manufacturer that has looked at every aspect of their production and endeavoured to make it as carbon neutral as possible.
If you are buying new gear for yourself, take a look at items that are made of recycled material, or use organic and natural fibres that don't require chemicals to be produced.
Picture Organic uses organic cotton and reuses leftover fabric scraps to line the inside of their jackets. Their line also features a helmet made of 100 per cent recycled and organic components. No harmful chemicals are used to make their water-repellent clothing and since 2008 the business has also used recycled plastic bottles to produce snow jackets.
Patagonia, already mentioned for being brave enough to suggest people repair rather than buy new if they can, have had an eco ethos from the start – 50 years ago in their case. A high proportion of the materials they use are recycled, reducing their CO2 emissions by 4,300 metric tons and they are aiming to be carbon neutral by 2025. They're also serious advocates and donors on environmental issues.
There are also small manufacturers that are actually based in the UK, including production, whilst working to be carbon neutral. So what you're buying hasn't come from the other side of the world.
In terms of ski and board production, several manufacturers have switched to quick-growing bamboo, which has a naturally high strength to weight ratio, reducing dependence on plastics without sacrificing performance.
Another idea is to make skis that are designed to last your skiing lifetime, and again repair rather than replace them as they age.
London-based Nix make skis and snowboards tailored to individual needs with barely any waste in their production processes. They don't use non-sustainable fibreglass but have opted for flax fibre, and use 100% FSC certified bamboo for the ski cores, helping to keep weight down while giving plenty of pop and strength, and being more sustainable to boot.
Back in the Tirol Innsbruck based SpurART hand make ultra-light touring and freeride skis and splitboards from 100% carbon fibre. These are stronger than mass-produced skis that have been shipped across the world and provide both durability and tuning longevity. There's also easy to repair, unlike plastic.
Of course, the same basic rules apply away from these niche manufacturers if you're happy with regular skis or board from the big-name manufacturers. Maintain your existing gear so long as you're happy with it (then sell-on, repurpose or recycle it if you can) and consider renting rather than buying.
Ski Green
So to sum up, it is getting ever easier to do your bit to help save the planet, whilst still enjoying your ski holidays.
All you need to do is think about the impact your trip could have and look at the options that are there for you to lessen them.
The biggest thing is to consider travelling to Tirol by train, but you can also choose a greener ski resort and accommodation in Tirol that is working extra hard to be sustainable.
When skiing try to shop and eat local. Again, in Tirol, that's not too difficult.
Finally consider ways to make your gear and skiwear choice as environmentally-friendly and sustainable as possible by buying less and buying from companies that are trying to do the right thing.
Do all this and you'll not just be doing your bit to save the planet in the climate emergency, you'll probably actually enjoy your ski holiday even more.
For more information on a holiday to the Austrian Tirol: visittirol.co.uk & welcome.tirol