When thinking of a ski holiday, many people assume that you have to set aside at least a week and a whole lot of money in order to get the most from your time on the slopes. However, with ski resorts becoming increasingly accessible and a number of companies committed to making short ski breaks as easy as possible, the traditional week-long ski holiday is coming up against strong competition from the short ski break.
So if you're looking for an excuse to add a short ski break to your winter plans this year, we've got you covered!
1. Save money
We all know that ski holidays can be expensive, which is why many of us shop around to find the best deals and packages. Yet if it's true value for money you're after, a short ski break is definitely something to consider. Whether you fancy a long weekend break or a mid-week getaway, flights are generally much cheaper when heading away for only a few days than when heading away for a week Saturday to Saturday. Furthermore, dedicated ski short breaks companies often offer fantastic deals, so that you can push prices down even more. Whether it's a free lift pass, free night's accommodation or discounted ski hire, there are a number of ways to save on a shorter getaway, so ensure you do your research in order to find the best deal for your needs.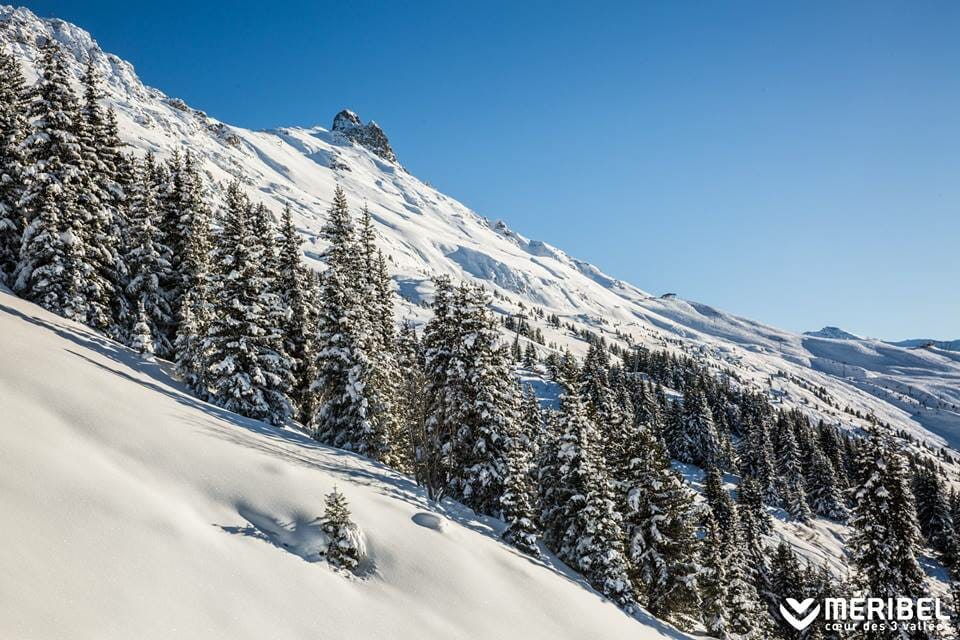 2. Wave goodbye to hectic transfer days
If you've ever experienced a Saturday transfer day at one of the smaller airports that act as a gateway into the Alps, you will know that quite often, these airports are not geared for the huge volume of people passing through on popular transfer days. It can be extremely busy, leading to large queues and risks of delay. Not to mention the fact that with so many large suitcases and ski bags coming through, it's not uncommon for bags to get lost or mixed up. Not the ideal way to start your holiday!
On a short ski break, you will generally be travelling outside of the traditional transfer days, so you will miss out on the crowds and the queuing! On short ski breaks, airports are often far different places – quiet, relaxed, giving you the perfect start to your holiday.
These benefits also apply to transfers. When you're only spending a few days on the slopes, you want to really make the most of your time – you definitely don't want to be stuck in a traffic jam of coaches waiting to make their way up the hill. Travelling on a quieter day means less chance of delays or heavy traffic.
3. Experience some incredible ski terrain…
When considering a short ski break, you may find yourself wondering whether you can really experience some of the world's best skiing within hours of leaving the UK. Luckily, the answer is an overwhelming yes. There are a huge number of resorts across the Alps that can be now be reached easily and quickly from the UK, from the huge ski areas of the 3 Vallees and Portes du Soleil to the charming villages of Les Gets and Samoens.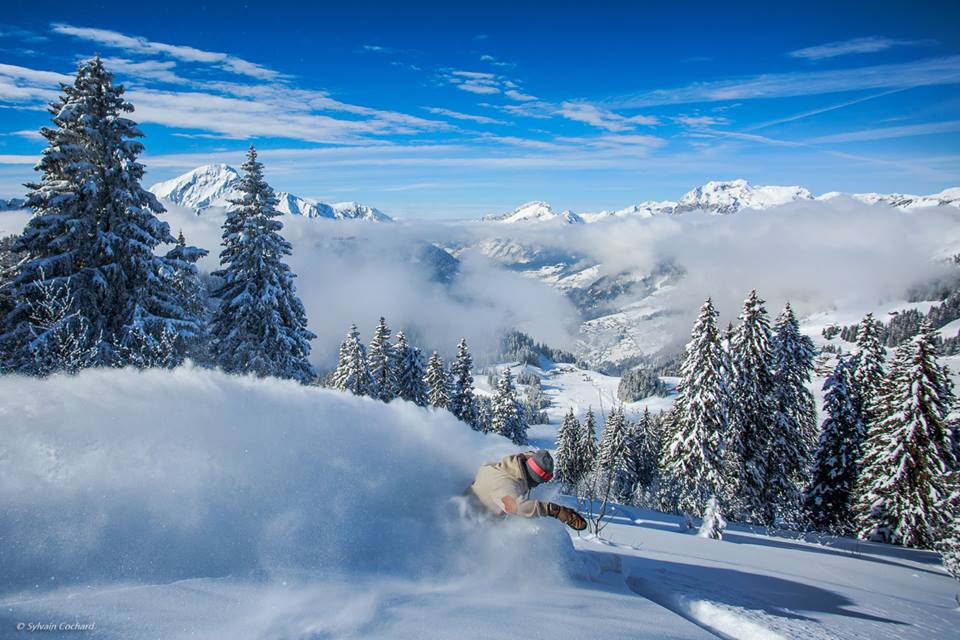 An example itinerary? Fly from London to Geneva in 1hr 40, hop on a transfer and be in La Clusaz, part of the Aravis ski area, in under an hour. That's under three hours for a journey to the slopes! Leave after work on a Friday night and you'll be waiting up to fresh, empty slopes for the weekend! Add on an extra 10-15 minutes to the transfer time and you can be in a number of world-class resorts.
For experts, the freeride Mecca of Chamonix is renowned for its incredible off piste terrain. Beginners looking to practice on lovely gentle slopes will love Flaine and intermediate to advanced skiers will be spoilt for choice in the huge Portes du Soleil area. Not to mention Areches-Beaufort (pictured top), though slightly further afield, provides some of the most beautiful skiing in the Alps.
4. … and do so without the crowds
Indeed, peak weeks in highly popular resorts can often result in crowded slopes, long lift queues and packed mountain restaurants. At times like this, those picture-perfect, wide, empty slopes seem like the stuff of dreams, impossible to actually experience. However, this dream is actually surprisingly simple to attain if you consider a short ski break.
If you opt for a weekend break (e.g. Thursday – Monday), you will not be on the same schedule as most of the weekly travellers in resort. This means that on popular transfer days such as Saturdays and Sundays, you will practically have the slopes to yourselves. Whether you're hitting up the fresh corduroy of the groomers or making first tracks in fresh powder, you'll be able to fully enjoy all the benefits of your chosen ski area.
5. Get a good amount of time on the slopes with less time away from work or family
With a long weekend break (Thursday – Monday), you can enjoy four full days of skiing, maximising your time on the slopes. That means you only have to take two days off work for four days' skiing – as opposed to five days off for six days skiing!
For this reason, shorter ski breaks are a fantastic idea for those who can't afford to take chunks of time off work or away from their family and the rise of short ski break focused companies means that the process has become incredibly hassle-free.
Dedicated weekend ski holiday companies really do understand the need for short ski breaks and how helpful they can for those with busy lives. Their expert teams know that skiers heading on short breaks want the most bang for their buck, so they strive to provide the best possible experience; bespoke flight times, departures from various UK airports and an exclusive on the snow service, ensuring you get your lift passes on arrival and are fast-tracked through ski and snowboard hire. Letting an expert company take care of things takes a lot of the stress off you and allows you to simply enjoy your holiday!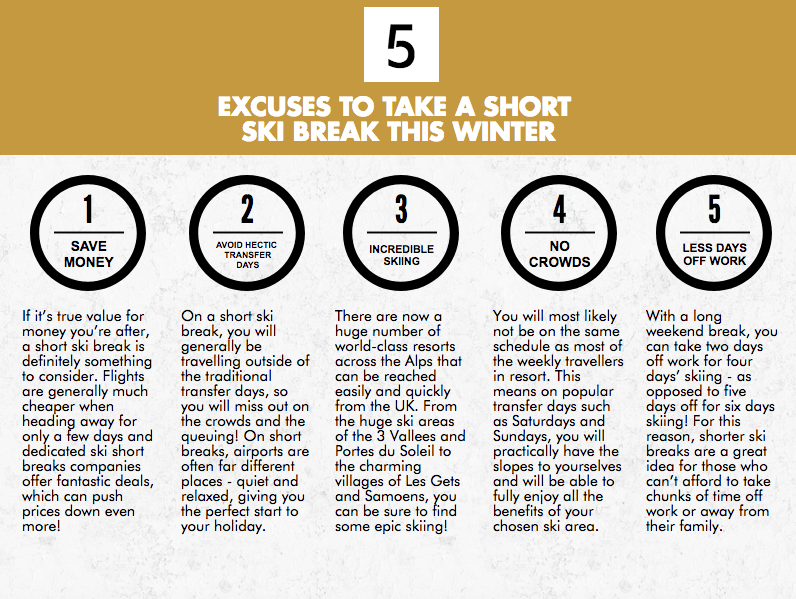 The beauty of short ski breaks is that you can either take a couple throughout the season to get your ski fix without using up your precious holiday allowance, or you can enjoy an extra ski weekend in addition to your annual week-long ski trip. More skiing each season? Yes please!
Featured Image © Areches Beaufort – Roger Moss