This winter, popular multi-sports brand Dare 2b have teamed up with Formula One World Champion Jenson Button to release a super stylish collection of ski and lifestyle clothing, perfect for active men who love the mountains.
It's a highly versatile range that draws on Jenson's own adrenaline-seeking lifestyle, but it did leave us wondering, how exactly did an F1 driver come to be so involved in a ski wear collection?
We caught up with Jenson to chat about how the collaboration came about, as well as to find out a little bit more about his experience with skiing – from the similarities between skiing and F1, to the ski career he could have had in an alternate reality…
So Jenson, tell us a little bit about your history with skiing – when did you first learn to ski?
I actually didn't start skiing as a kid. For me it was when I got into Formula One, so I was about 20 when I started skiing. I started skiing in the South of France as I was living in Monaco at the time, but we also used to go to Limone in Italy. That's probably the closest ski resort to Monaco, it's about an hour away, so I had a few lessons there too.
I hate learning anything because it takes a while before you're good at something. I really struggle with that learning phase, but I got through it and when I actually got out skiing, I didn't want to go with people! I really just wanted to enjoy the great outdoors on my own and I absolutely loved it. I was amazed at how physical skiing was – I just didn't realise. But I absolutely loved my first proper outing on a slope and just loved skiing from then on!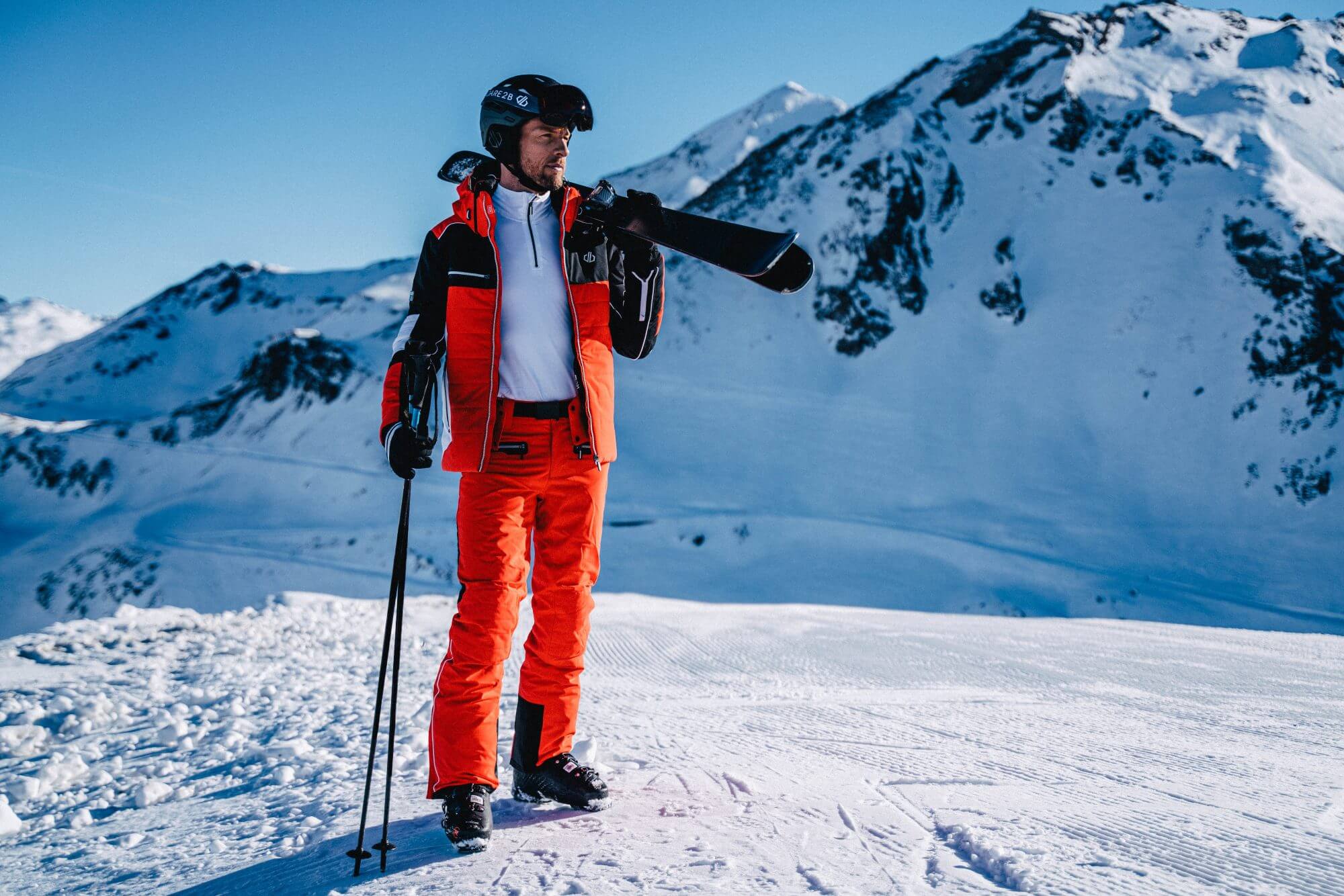 For most people, skiing satisfies that need for speed that we all need once in a while. As someone's that's spent most of their career at high speeds, do you find that there are any similarities between Formula One and skiing?
I think they're similar in the sense that people think it's easy. You look at a professional skier, or you look at a race driver and you just think "well that's easy isn't it? An F1 driver you just turn, a skier you just turn left and right down the slope." But the skills involved are similar in a way – there's a lot to do with feeling.
It's not just one part of your body, your arms or your legs; you're actually using your whole body to manoeuvre yourself down the mountain. With an F1 car it's similar, because although you're obviously seeing with your eyes and feeling with your hands, you're also feeling with your bum, you're dancing on the throttle and the break pedal, it's a full body workout! You're using everything to get there, to get down that mountain as quick as you can or get round that circuit as quick as you can.
Reactions are also really important in both. When I see the Super G, I find it phenomenal the speed that they're going. And I know when you ski, everything feels ten times faster than it actually is!
So I'd say there are many similarities. For me, skiing was a great way to train for racing. It was a full body workout and you'd always have to be reacting to different things – you know, there's always that crazy person that's coming across you – so it was really good training.
Let's say in a parallel world, you ended up a professional skier rather than a Formula One driver… Which discipline do you think you'd have been best suited to – ski racing, freestyle skiing or backcountry freeriding?
I've never really been good at leaving the ground, whatever I'm doing! Even with the truck that I race off road, there are massive jumps and that scares me. So it would probably be the speed, so the Super-G or something, that would probably be where I'd be strongest.
Also maybe cross-country… I mean that just looks painful doesn't it?! But I did do quite a bit of training about 18 years ago cross-country skiing and it is so tough. My trainer was from Norway so we did it there and that was a lot of fun.
I've done quite a lot of ski touring too. It's always weird to be going up a mountain and seeing all these people coming down with big smiles on their face, and you're there climbing upwards. I used to do ski touring as a lot of my training in Zermatt and once I actually got sick from training at too high an altitude. I was sprinting to the top of the mountain and I actually got altitude sickness, so be careful out there guys!
So how did this collaboration with Dare 2b come about?
It actually began with something very different to skiing – it was the Baja 1000, a desert race in Baja, Mexico. It was an 850 mile race, and it's the most insane adventure I've ever been on. You're driving right past people's front doors in towns at full speed, you're driving on the edge of a cliff, then you're driving in the mountains…
During the race, you go through such different temperature changes, from 30 degrees by the coast, to zero degrees in the mountains. So we decided to work together with Dare 2b on that adventure and it was great fun and a great way to start working with a brand. It was the biggest adventure I've ever had in my life – and I've had quite a few!
There's quite a variety in the range, with ski, mountain and lifestyle pieces. Is it important to you that this collection is versatile enough to be enjoyed in day-to-day life as much as on ski holidays or mountain adventures?
Definitely. I'm a really outdoorsy person – I don't really like sitting inside for too long, so it's been really difficult being a grown up now I'm finished in Formula One to have to sit in front of my computer in the morning when I just want to get out there!
I'm lucky enough that I live in Bel Air in Los Angeles and I'm in the mountains, so there are hiking trails and you can always do fitness training outside, so this collection with Dare 2b is perfect for that lifestyle.
What are your personal favourite pieces from the ski and lifestyle collections?
The jackets for me – definitely the jackets. When we were doing our photoshoot in Val d'Isere earlier this year, I actually stole one of them, the Endless Jacket (pictured below). We had a Zoom chat the other day and they hadn't realised yet, so I had to apologise!
I remember putting it on and just thinking "Oh this is so cosy" and I now take it with me pretty much everywhere I go when I travel to Europe.
It's perfect for travelling, with the F1 programme that I do (as a pundit for sky sports) we've travelled to Austria, we've been to the UK, we've been to Italy and it's just a great jacket for me to have in that environment, so that's definitely the one that I wear the most!
In terms of ski jackets, my favourite is the Surge Out jacket. I love the bright blue colour option on that too. During our photoshoot in Val d'Isere, it just looked amazing with the white snow and the blue sky, it's really striking.
Finally, we have to ask, do you have a favourite ski resort?
Val d'Isère is awesome – the photoshoot was the first time I've ever been there and January was a great time of year as it wasn't too busy. In terms of skiing it's great, but also in terms of restaurants and bars as well.
Coming down at the end of the day when the sun had just gone down, there was this party at the bottom of one of the slopes and I just thought, this is insane – everyone's off their heads already! We weren't of course, we were busy working… But yeah I think Val d'Isère has a really cool atmosphere.
I love Whistler as well though – that was always a big place for me. I used to go there for New Years which could be pretty messy… the Canadians know how to party!
A place I'd love to ski but haven't yet would be Japan. It's a funny one because I've raced with Honda (a Japanese team) for many years, but I've never been able to ski in Japan and I've heard it's wonderful. The snow, but also the really cool restaurants and bars, it's definitely a real bucket list place for me.
Dare 2b x Jenson Button is available now at dare2b.com and selected retailers across UK and Europe.