The season is not over yet! It's time to go Spring Skiing. True many ski areas will be ending their winter seasons over the next few weeks and a few have closed already, but be not down-hearted, others will be open in the may, June and even longer… Here's a quick guide to ten of the most snowsure choices for spring 2016.
I've picked one ski area each from ten countries, each having great snow cover as we enter April and all expecting to stay open for at least another month in to May – some much longer.
(Pic above courtesy of Mammoth, California)
Zermatt
Europe's highest ski area is one of only two in the world that tries to open 365 days a year (Occasional strong winds are the only thing likely to prevent opening). Even in summer the 20km or so of slopes and 800m of vertical matches ore surpasses almost all that's available in the southern hemisphere, it's that big.
During April the resort promises 360km of terrain remains open and offers special deals on packages of three nights or more, including lift p[ass, when you book direct. The resort is very easy to reach with a flight to Switzerland then train connections direct from the airport to the resort.
Whistler Blackcomb, BC, Canada
Whistler has the longest ski season of any major North American ski area – if you add in the five weeks of late spring skiing it offers each June on its glacier.
The 2015/16 season has been a good one for snowfall with more than 1,000 cm of snowfall reported having fallen by early March, already beating the total for last season by more than a third even then, so with the snow still falling it's looking good for the coming few months.
Currently, Blackcomb Mountain is scheduled to end winter operations on May 23rd, 2016 – but this date is most definitely not etched in stone and the season may be extended, whilst Whistler Mountain will close on April 17th.
Riksgransen, Sweden
Europe's spring skiing capital only opened for the season in late February and will now remain open to midsummer's day in late June albeit only at weekends through latter May and early June. Located 200km north of the Arctic Circle 24 hour daylight arrives here in mid-May after which you can ski under the midnight sun on several evenings per week when the lifts re-open for the ultimate in novelty value skiing and boarding.
Mammoth, California, USA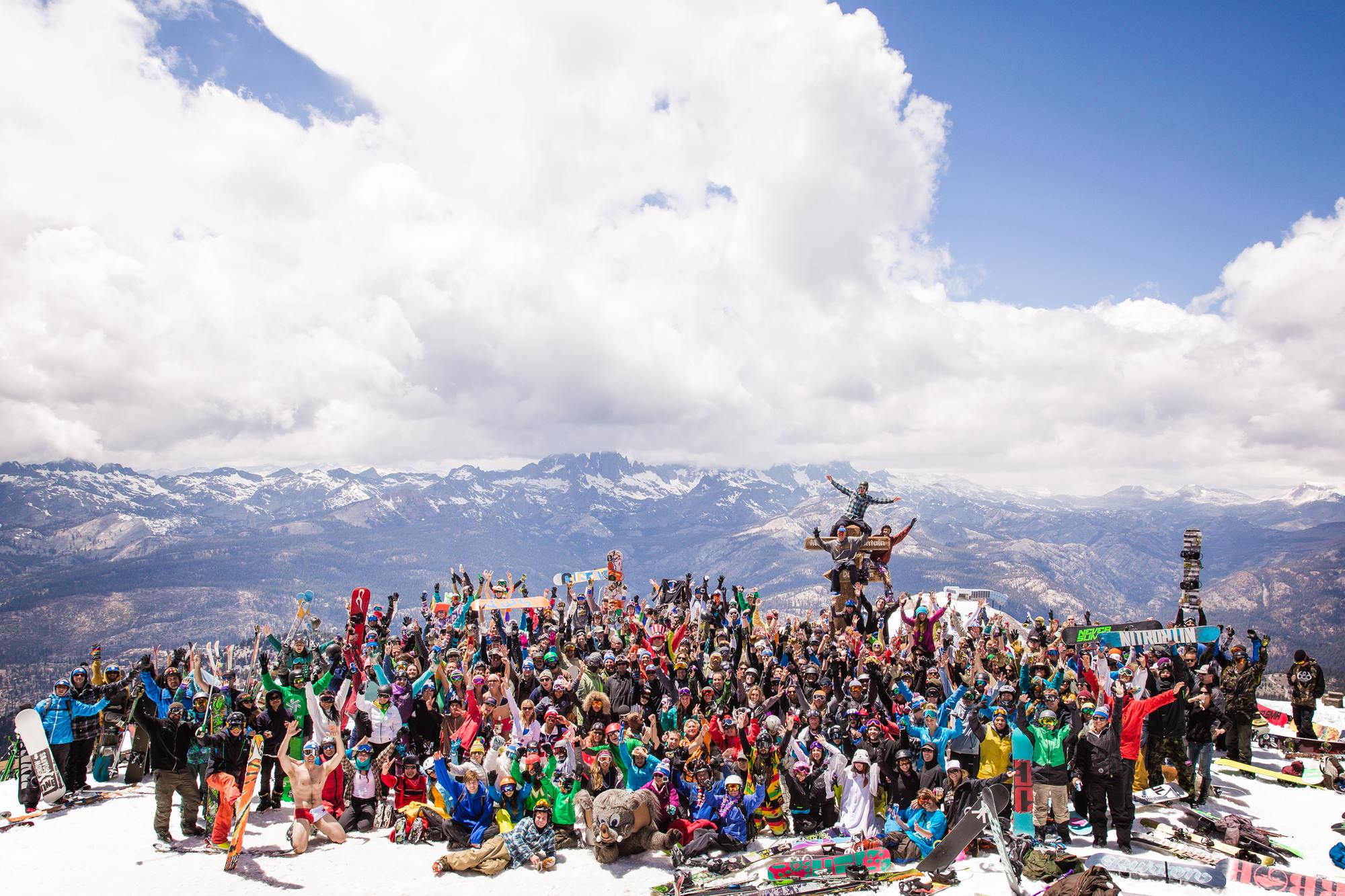 It's not yet known how late Mammoth plans to stay open this year but with the best snow conditions for five season and a base depth at the end of March heading towards 6m/20 feet it seems likely they'll be staying open well in to Spring. The last time the resort had this much snow they were open on US Independence Day, July 4th and they have managed to stay open in to August before. Along with regular skiing and boarding expect special spring skiing and snowboarding events.
Hintertux, Austria
Austria has more late spring, autumn and summer ski glacier areas than any other country with up to eight glaciers to choose from. The Stubai and Kitzsteinhorn glaciers are among those normally staying open late in to the spring. Only one area endeavours to stay open year round however. Hintertux, not far from Mayrhofen in the Ziller Valley is accessed quickly by high speed, high capacity gondolas and often has a bigger skiable vertical still in spring than many Austrian areas have in mid-winter.
Tignes
With France's longest ski season – open for around nine months each year – including skiing in to May then summer skiing in July and August, Tignes is one of the world's most snowsure destinations. The famous French resort which shares the vast Espace Killy ski area with neighbouring Val d'Isere began April with a 2.5m snowbase on its Grand Motte glacier so is looking great for the coming month and indeed summer skiing and boarding later in the year.
Hemsedal, Norway
One of Norway's largest ski areas, Hemsedal stays open to May 1st each season, normally throwing a big closing weekend party. Conditions have been good for most of the 15-16 season here and more snow is expected in the final month of the season.
Cervinia, Italy
Cervinia shares Zermatt's highest slopes in Europe but a lift pass costs much less when bought on the Italian side, as does a coffee. The snow base was more than 2m at the end of March and Cervinia will be open daily until the start of May and then at weekends through May – so there's still plenty of the season left on these high altitude slopes shared with Switzerland.
Ruka, Finland
Ruka claims the longest ski season of any non-glacier ski area in the world, open for around eight months from mid-October to mid-May thanks to its northerly latitude. After near 24 hour darkness in mid-December it's the opposite extreme and hardly gets dark at all by mid-Spring. This year the season is scheduled to run until Monday 9th May.
Sierra Nevada, Spain
At the other end of the continent, remarkably Europe's most southerly ski area, just above the Med in southern Spain, somehow manages to stay open in to May each season. Back in February when there had still been no serious snowfalls that looked like a tall order but since then it has just kept snowing and whilst the usual 5m end of season base looks unlikely (It's about half that) there should be enough for skiing in to May. It's easy to reach from London City with BA flights direct to Grenada, 45 minutes from the slopes.
Enregistrer
Enregistrer