(Pic above: Steamboat, Colorado, home of 'Champagne Powder TM')
I'm often asked where is snow guaranteed or where gets the most snow? You can answer both questions with 'good examples' but weather being weather, you can never truly guarantee snow conditions, so there are lots of 'but, er…" in the explanation.
For example the Swiss resort of Zermatt (below) and the Austrian resort of Hintertux both try to open 365 days a year for glacier skiing, so you would list them in any list of good choices for guaranteed snow you'd think. But when I visited for a few days last May, I never got to ski on Zermatt's glacier slopes, even though there'd been a foot of fresh powder overnight, as it was too windy and too dangerous for the lists to operate. So the snow was there but I couldn't quite reach it.
Similarly it's Mt Baker in Washington State in northwest USA that has the designation for getting the most snow of any ski area in the world, usually. It averages 641 inches (or 53.4 ft; 16.3m) of snow each season and set a world record in 1998-99 when it got 95 feet (29m) but if you'd visited last March after a winter of exceptional drought and warm temperatures you'd have found it closed for lack of snow. Such is mother nature's unpredictability. This winter it's business as usual.
But beyond trying to guarantee snow or looking for the most snow, perhaps what we should be doing is trying to seek out the best snow?
Most skiers, even if they stay on the groomed piste, agree this is the light, fluffy weightless stuff that gives no resistance.
Of course, even here there are disagreements, some saying that a certain depth of this snow is best, that if it gets more than a few feet deep it is too much and those 'snow porn' videos of people snorkelling through deep powder is actually too much of the stuff for it to be fun.
I know I should say I love careering down a steep and deep powder cover hill trying to make turns and stay upright and not lose my ski under it all, but the truth is I rather like a smooth groomed piste with a few inches of fresh powder on top, that's perfection for yours truly.
Anyway, here are half a dozen suggestions for where to find the best quality snow on the planet. Again, there is that problem that if you're not there at the right time that great snow that fell a month before is now solid stodge, so timing, and luck, is everything. But get it right and you should enjoy powdery perfection at these seven places:
Japan – Hokkaido – The Planet's Powder Central
Japan's northerly island of Hokkaido and particularly the resort of Niseko has, over the past decade in particular, grown a global reputation for both the quality and the depth of its snow.
The snow that falls is of the fine and weightless variety beloved by the powder obsessed and the fact that traditionally most local Japanese skiers stay on the piste and don't venture on to it only adds to the appeal to freeriders from around the world.
Many freeriders claim that the volume of snow that falls, generally regarded as the second greatest for a ski area after Mt Baker across the pacific in Washington state in the US) coupled with that snow quality makes the snow here unbeatable, although at its most extreme some have said that the snow has got so deep on occasion that they've found it too deep and almost felt like they were drowning in powder.
Utah – "The Greatest Snow On Earth ™", USA, North America
(Snowbird, Utah)
For the past 30 years Utah has officially claimed to have the planet's best snow. The state motto, "The Greatest Snow on Earth" first appeared on the license plates of cars registered in the state in 1985, in the intervening years they even saw off a legal challenge from Barnum's circus.
So why so great? The snow quality is considered perfect for snowsports by experts quoted by Ski Utah. They say that the 8.5% average snow density gives the perfect level of support for skis and boards on snow – not too light that your snowsports equipment sinks in too deeply, but not as dense as the higher water content of snow in most areas of the planet (by comparison).
The snow is so dry because it is freeze dried as the storm clouds off the Pacific are forced to rise first by the Sierra Nevada coastal mountains in California, then cross the plains and salt lakes en route to Utah, losing 10-12% of the moisture they started with en route and falling 'like down' on Utah's slopes.
The Powder Highway, BC, Canada
Canada's westerly province of British Columbia has built a worldwide reputation for the quality and volume of its powder fields, making it the planet's leading heliski destination. But even if you can't afford to rent a helicopter seat, you can access the powder by skiing at one of the provinces more Easterly ski areas, were the snow is most likely to be drier as well, as arriving in vast volumes, compared to by the coast.
The country's 'Powder Highway' close to the Alberta border takes in resorts famous for their snow quality including Fernie, Kimberley, Panorama, Kicking Horse (above) and Revelstoke (below) – the latter also boasting one of the world's top 10 biggest average annual snowfalls and the continent's greatest lift-served vertical.
La Grave, France, Europe
Europe has more ski than twice as many ski areas as the resort of the world put together but it does not have anywhere that get the volumes of snow nor (arguably) the light powdery quality of snow that areas in North and South America as well as Asia can claim.
But that's not to say that there aren't some areas with a reputation for better powder than most. In the French Pyrenees there's the Pic du Midi (above) for example, an off piste Mecca; and resorts like Chamonix and St Anton (below) are cult classics for a reason – and it's not for their groomed pistes.
But for the sake of choosing one I'll plump for La Grave In France. Known for its formidable and frankly often dangerous off piste terrain (more than the normal level of dangerous I mean), in terms of snow quality it is located in permanent shadow behind the 4000m peak of Meije and with north facing slopes too the snow stays better for longer.
Portillo, Chile, South America
Like so many great resorts, Portillo has its good snow days and its bad snow days, but looking at the southern hemisphere, Chile does seem to get more good powder snow than the other major ski nations although I'm sure that fans of Argentinian and Kiwi ski areas would argue with that.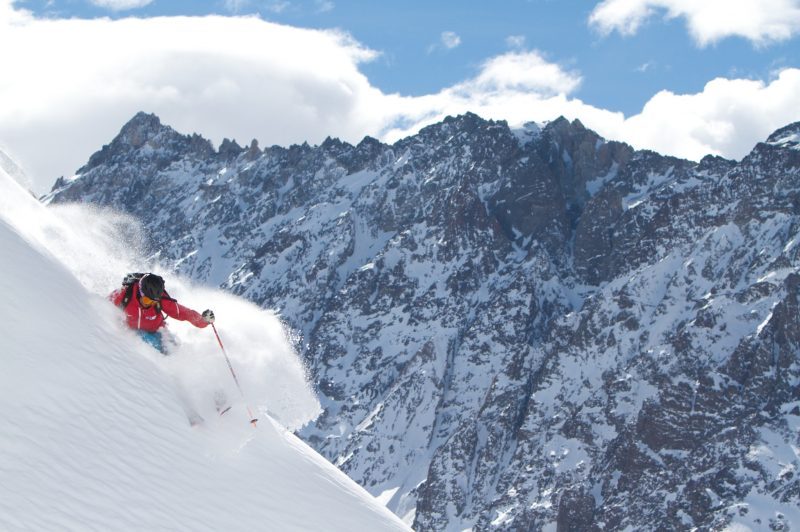 The average annual snowfall at Portillo ski resort is 7.4 metres (about 25 feet) and snow storms are typically short and sharp bringing big volumes of snow very quickly.
It's a case of heaven or hell as that powder can sometimes be unbelievably good, light and dry but other times it can bring too much moisture from the ocean and shouldn't make our list.
'Champagne Powder®' Steamboat, Colorado, USA
Steamboat Ski & Resort Corporation in Colorado has successfully trademarked the term 'Champagne Powder®'
Local rancher Joe McElroy coined the phrase even before the ski area opened. Out skiing one sunny day in the early 1950s on what terrain that eventually would be the ski area, McElroy turned to a few friends and said the stuff tickled his nose like champagne-Champagne Powder snow.
According to scientists from the Desert Research Institute, who operate a climate laboratory atop Steamboat's Storm Peak, there is a good scientific basis behind the name. The abundant snowfall is a result of Steamboat's location within the Park Range, which is the first significant barrier in the Northern Colorado Rockies to storms arriving from the Pacific. Although the moisture from these storms has been depleted after passing the Wasatch Range in Utah, the Park Range causes a so-called 'feeder' or orographic cloud to form. The orographic cloud is primarily filled with tiny super-cooled droplets. It is this rare combination of feeder and seeder clouds that is responsible for the frequent occurrence of rimed crystals resulting in the formation of Steamboat's famous Champagne Powder® snow. Simple
Lapland, Finland, Europe
Snow in northern Scandinavia is different to the Alps. Many skiers and boarders used to the big mountains to the south tend to write it off because the snow doesn't usually get very deep and there aren't many big or steep slopes to ski down it on.
But purists love it because it falls in a misty clouds of super light, super dry snow, which, thanks to temperatures remaining below freezing, often double digits below freezing, for weeks and sometimes months on end, maintains its integrity longer.
Add to this the dreamlike quality of the dusky light in mid-winter and perhaps throw in an appearance of the aurora borealis and you have a magical ski or boarding experience at resorts like Levi, Pyha, Ruka (above and below) or Yllas.
Enregistrer