You often wish that a weekend away could be just one day longer, though if that extra time is a night in the airport hotel because the snow's closed Gatwick, that's a wish you're going to reconsider. But that's the end of the trip, back to the start.
We are flying with BA on its new route from London City to Salzburg. It's an early start, but the 07:15 departure puts us in Salzburg around 90 minutes later, and with a gloriously short transfer time of around 1h15m we're soon out on the slopes for the afternoon. I'm a fully paid-up member of the London City Airport appreciation club, especially when parking there – if you do drive, it's as simple as parking and walking five minutes to the terminal – no minibus transfers, no waiting for folk to pick up your car, it's self-service all the way.
Skicircus Saalbach Hinterglemm Leogang Fieberbrunn
Our destination for the weekend is the nippily named Skicircus Saalbach Hinterglemm Leogang Fieberbrunn in the famous Austrian ski province of Salzburgerland.
Skicircus covers 270km of slopes, mostly reds and blues, and is all very well laid out with clear signage and modern infrastructure. Most of the lifts are for four or more and often have seat warmers, which for our weather (-7C) was very welcome.
Leogang
Leogang, where we're based, is a mid/high-end resort with quality hotels and restaurants. We're staying at the Naturhotel Forsthofgut a vast hotel with a vast spa and all the niceties you'd expect. We were staying on a ¾ board basis with one of the best breakfast buffets I've seen and a six-course evening meal.
You need to leave any British self-consciousness at the door of the spa in Austria, it's all-in here (or, I guess, all out). The hotel's spa is enormous and is split into family and adults only areas (the family area even has a water slide running through it). There are different saunas to try, indoor and outdoor pools, relaxation areas, a gym, massage… everything you need. Head to the Onsen pool for a 42C treat, followed by the icy lake if that's your thing.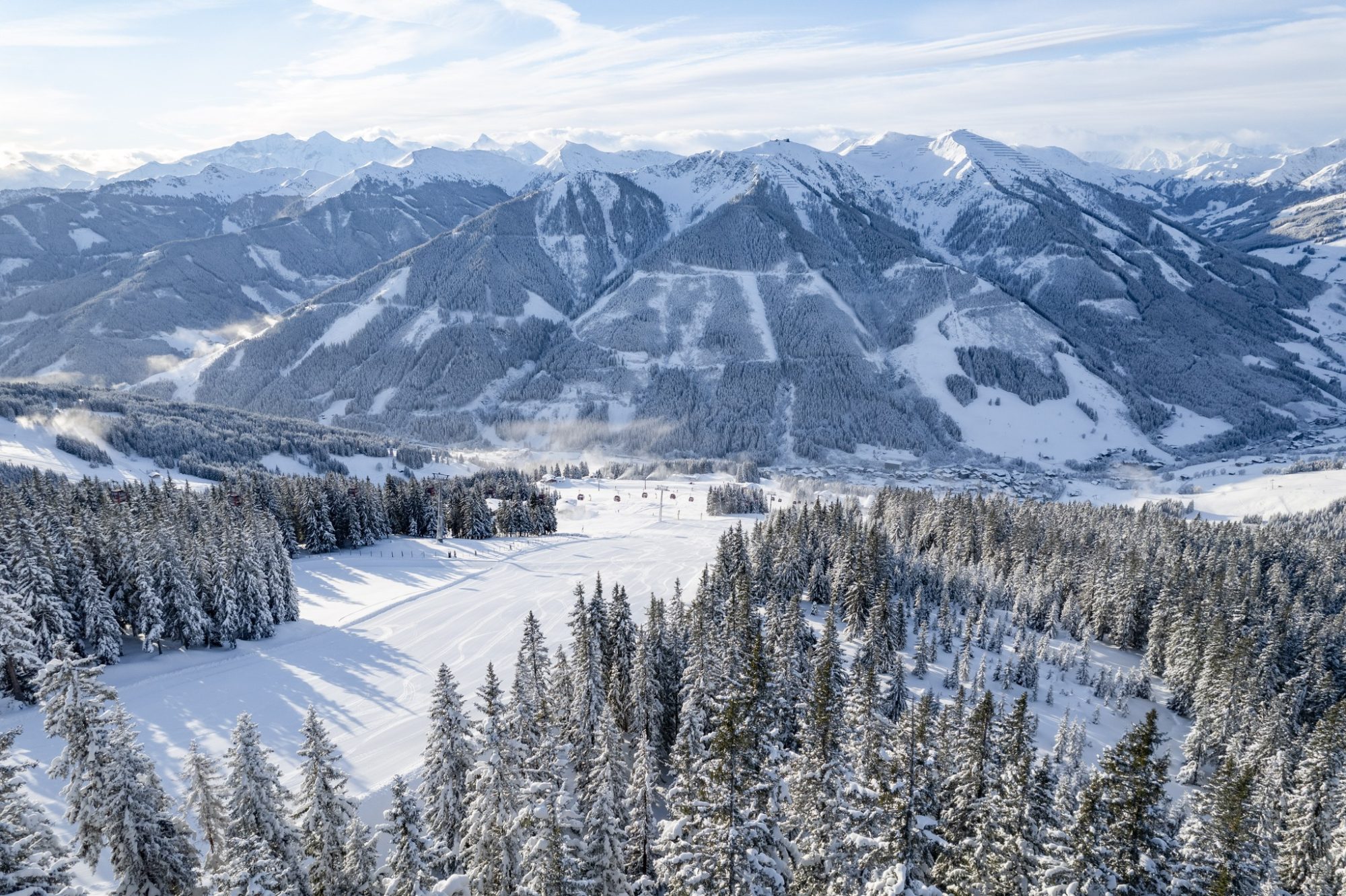 So after a great afternoon skiing, we head to a restaurant to cook our dinner off a hat. That's not a sentence I was expecting to write. A local cuisine is the 'hutessen' which is a little like fondue in that you cook your own meat, but you cook it by hooking it onto the hot hat… a cone with a flame under it. There's salad, potatoes, dips and soup as well – a fun group meal.
The venue for this was the Priesteregg which has been around for over 500 years in some form and has been in the same family for the last 250 years or so. It's a beautiful little complex in the Pinzgau region of Salzburgerland with places to eat, sleep, spa and relax. There are 18 chalets tucked away, built around 2009, and while we weren't staying there, what we saw looked very relaxing and a little more remote than a larger hotel in the town.
The Hendl Fischerei restaurant at the top of the Asitz lift is a prime spot for lunch. A welcome of Champagne and oysters is not to be turned down and lunch is a locally-sourced charcuterie board followed by perfectly cooked chicken; simple food done well. It gets a little loud in the restaurant if you stay a while (look, it was really cold outside and that bottle of wine wasn't going to drink itself), as when we were leaving the DJ was starting up, getting everyone in the mood for some Austrian après.
If you're after a challenge, you should set aside a full day to do, um, The Challenge. It takes you all over the Skicircus area and clocks in at 65km over 32 lifts. At around seven hours (without breaks) to complete, it's one of the most demanding ski circuits in the Alps and certainly not one for this skier after almost three years away from the slopes.
So, after a couple of days skiing and lots of spa-ing, we head to the airport only to be delayed because of the snow in London. But hats/helmets off to the BA crew who looked after us extremely well while we all hoped the snow would stop long enough to get us home – it didn't so it was off to the airport hotel. I felt a little sorry for the guy sat next to me who hadn't charged his phone or laptop. I still wonder what he was thinking about while he stared out of the window for 3.5hrs. Life lesson: always charge your electricals, kids.
Info – Transfer time
——————————————-
We have a regular Podcast called The White Out where we review the latest gear, talk about the latest snow forecast and updates on where is best to ski now, as well interviews with absolute ski legends AND we spotlight a resort every week and so much more. You can check out our regular podcast here Apple | Spotify | Podcasts or search The White Out on your chosen podcast directory.