Visiting one of the world's leading ski resorts like Switzerland's Crans-Montana, there's so much choice when it comes to accommodation options it can be hard to know where to begin.
As a family of four we were looking for somewhere with plenty of space but high value, and we struck lucky with the 4★ Helvetia Intergolf, located just a few steps away from the centre of town.
We found this lovely hotel beautifully combined local traditional values with modern comforts, and its central location made it very easy for walking into the village after skiing.
As one of our group was recovering from an injury and sadly could not ski, it was great for popping out to do some shopping or just to grab a scrummy cake in one of the many local cafés.
We found the recently refurbished rooms were of a very high standard with ample space to spread out in. We had a two-bedroom apartment with bright, sunny rooms and lots of space, so perfect for not tripping over each other. There was even a small kitchen which proved very valuable on the nights we decided to eat in.
But all of the hotel's rooms are cosy and welcoming, and every single one has a balcony with amazing views of the mountains in different directions. We had a wonderful, huge, south-facing balcony as all of the hotel's family suites and king suites do.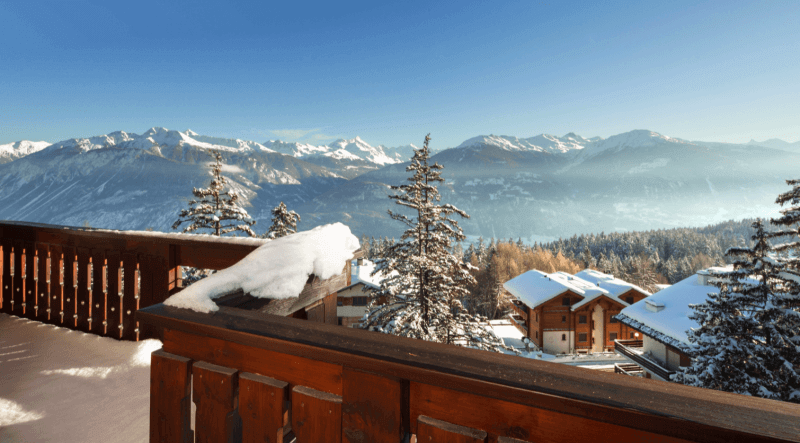 From here we had a magnificent panoramic view of the Alps out across the Rhône Valley and could make out many famous peaks including the Matterhorn and Mont Blanc in the distance. It was also a great spot for sunbathing in the afternoon.
If you don't need a suite, though, the hotel has a good range of regular rooms from the low-priced economy single (12m²) through standard (18m²) or superior doubles (26m²) as well as their huge executive double room (52m²).
To reach the slopes, we made the most of Crans-Montana's great ski bus service, which circulates the village every few minutes.
The hotel's facilities are excellent too. We made good use of the wellness and spa centre, which contains a steam bath, sauna and whirlpool. The hotel's swimming pool and wellness area is free of charge and open every day exclusively for hotel guests, and you can also book a massage treatment if you want to really relax and feel good.
Guests receive an inclusive buffet breakfast with high-quality and plentiful locally sourced ingredients. The Carnotzet is the hotel's traditional restaurant, where you can enjoy a delicious Swiss speciality paired with a local wine, and there's also a chalet-style bar where local beers and wines as well as champagnes and cocktails are served. Finally, when the weather is good, there's also a terrace from which you can enjoy that fabulous panoramic view once more.
It's not a view we ever got tired of taking in!
All in all, the Helvetia Intergolf was the perfect hotel for our family, and we would certainly go back.
helvetia-intergolf.ch, +41 (0)27 485 88 88