So much has changed in a year that it can be hard to imagine that just twelve months ago we were merrily spending our days on the slopes, our afternoons packing into après bars and our evenings in lively resort hotspots.
From mask-wearing to social distancing, we've all had to change our ways in the last year and for many of us, this has actually made us step back and consider what we really want out of our ski holidays when we can hit the slopes again.
For some, the energetic, crowded après-ski we're used to simply isn't a priority right now. After a year away from the mountains, the idea of a secluded, more serene ski resort is increasingly appealing; somewhere you can truly switch off and enjoy the peace of the beautiful Alpine landscapes. A destination that provides an opportunity to enjoy the same amazing slopes and varied terrain of the world's largest ski areas, but without the crowds, the lift queues or the rush for restaurant reservations!
Now here at InTheSnow, we know that if there's one resort that provides the best opportunity for secluded skiing, year in, year out, it's Vaujany.
Sat on the edge of the vast Alpe d'Huez ski area, a ski holiday in Vaujany provides skiers with an opportunity to enjoy not only fantastic skiing and first class facilities, but also a true Alpine village atmosphere.
The Ski Area
There's a reason that Alpe d'Huez tops many lists when it comes to the best ski areas in Europe. Not only does it boast the longest black run in the world amongst its 249km of ski slopes, but the area is renowned for having around 300 days of sunshine a year and some of the most spectacular views in the Alps. Is there any better combination for secluded skiing?!
The ski area boasts a vast range of slopes, with more than enough to entertain every level of skier.
Beginners can enjoy large open areas – most notably the nursery slopes of Montfrais and Alpette, where wide, gentle slopes allow for great progression and many easily accessible restaurants await you for a mid-morning hot chocolate stop!
Intermediate to advanced skiers can take on the more challenging reds and blacks of the resorts' higher altitude areas, including the world's longest black run, the Sarenne. At a staggering 16km in length, this is certainly one to tick off your bucket list!
The area's challenging slalom course has been widened and lengthened in recent years and now plays host to FIS Ski Championships throughout the season. If you're lucky enough to visit during a race week, you'll be able to watch all the action for free from the side of the slopes and if you're visiting outside of these events, you can take on the slope yourself!
What's more, thanks to its impressive altitude, the Alpe d'Huez ski area also offers exceptional off piste at your fingertips, with options for experienced freeride skiers to first-timers looking to hop safely into the powder.
The popularity of Alpe d'Huez means that inevitably, the main resort tends to be pretty busy, with a lively atmosphere throughout the season.
Though this is ideal for some skiers, others may be wanting a little more peace, quiet and mountain tranquility after a year that has taken its toll on all of us.
If secluded skiing is a priority for you this winter, how about considering the smaller satellite village of Vaujany instead.
Here, you can experience all the incredible secluded skiing of the Alpe d'Huez ski area from a charming, more relaxed Alpine base. Forget the swarms of people you might find in areas of Alpe d'Huez, in Vaujany, you truly feel like you have the mountains to yourself.
To put it plainly, this is the perfect destination for skiers who just love skiing.
Though Vaujany sits at 1250m, you can be up at the heights of the resort (3,300 m) in practically no time, thanks to the resort's state-of-the-art lift infrastructure – undeniably some of the best we've experienced in the Alps. Lift queues are a rarity here, with the cable car that whisks you up to the mountain heights is one of the world's largest, capable of carrying 160 people in each cabin.
Indeed, while everyone in Alpe d'Huez is joining the back of a lengthy queue for first lifts, those staying in Vaujany can hop straight into the cable car, heading up and away and enjoying those first tracks in peace.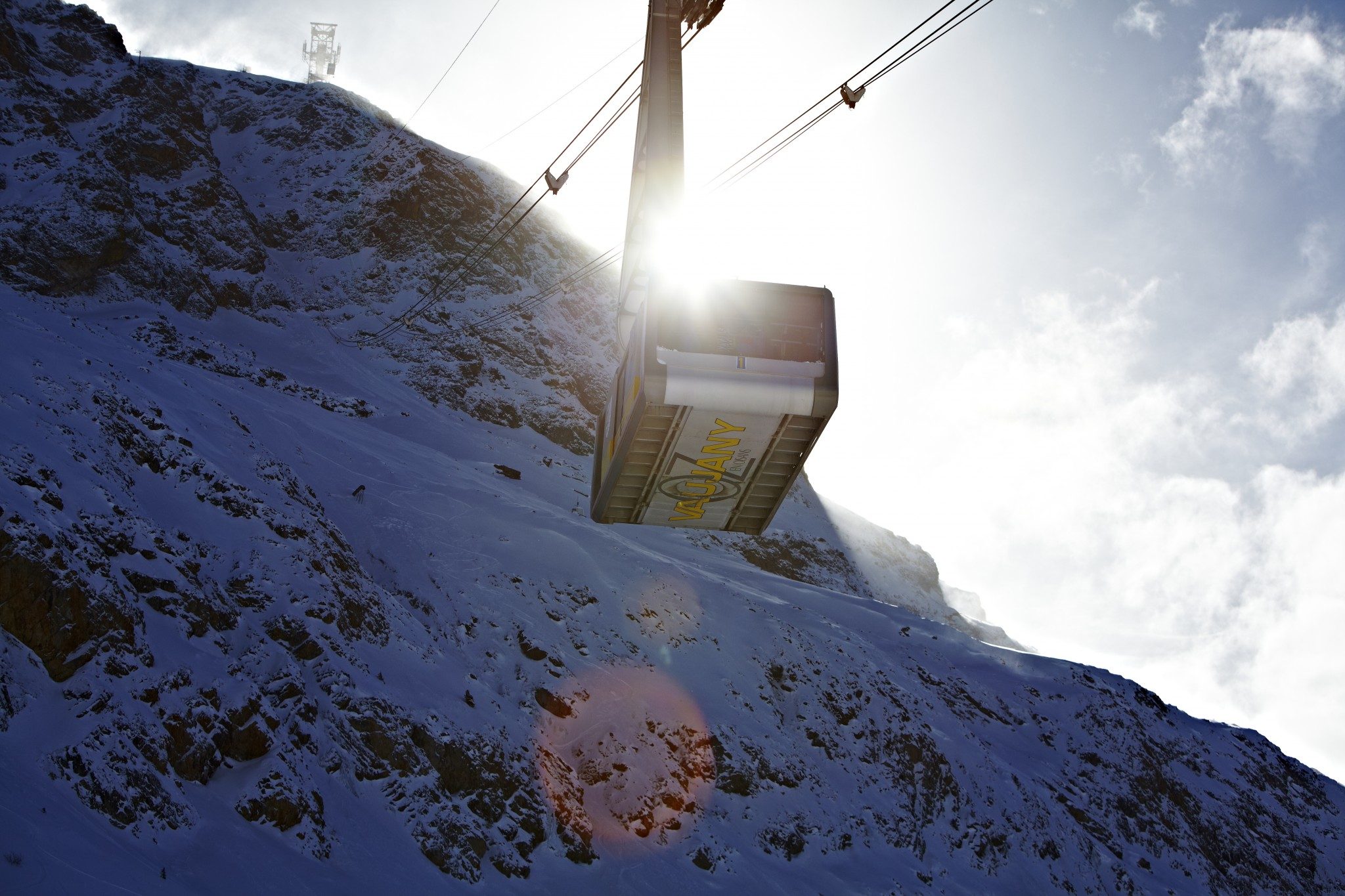 The Village
In Vaujany, guests enjoy a traditional Alpine village vibe – no gimmicks or tacky commercialisation, here you experience mountain life as it was meant to be. It may only be a small resort, but it's got a lot of character, with a truly friendly, welcoming atmosphere that's rare to come by these days.
While there are only a few restaurants and bars to choose from of an evening, all are very highly recommended, providing a lovely opportunity to relax and wind down with some delicious local dishes and drinks.
It's a far cry from the table dancing and lengthy bar queues of Alpe d'Huez, but this type of relaxed après-ski has its own unique draw, particularly as we've all learnt to increasingly appreciate life's more understated pleasures in the past year! For many, the thought of sitting beside by the fire with a steaming glass of vin chaud is the perfect way to end a day on the slopes and who are we to disagree!
Just because Vaujany is a smaller resort, don't be fooled into thinking it is lacking in unique off-slope activities. As a matter of fact, Vaujany offers almost as much to do off the pistes as any resort, whether you fancy husky rides, ice climbing or snow shoeing!
Alongside first class leisure facilities, Vaujany also offers a wide variety of free evening events throughout the winter, such as the International Ice Hockey Championships.
Vaujany's family-friendly atmosphere means that those with younger skiers in tow are often drawn back here year after year. The quiet nature of the village makes it feel incredibly safe for children, who love the adventure of exploring their very own picture book Alpine town.
In addition to all these unique benefits, there are a few other reasons why staying in a smaller, more secluded skiing village might be a better choice next winter.
Firstly, by avoiding the more 'famous' name of the area's larger resort, you're also avoiding the inevitable price premium that comes with it. This makes staying in a village like Vaujany a much better value option for those wanting to spend less, but enjoy the same spectacular slopes.
Secondly, a smaller resort village often means that you're more likely to find yourself staying with a local, more knowledgeable tour operator.
In contrast to larger holiday companies, who offer hundreds of resorts and staff them with those who have little prior knowledge of the area, these locally run companies live and breathe the mountains in which they operate.
For example, in Vaujany, family-run business Ski Peak has been the only British tour operator to service the village for over 30 years now.
Specialising in Vaujany and Vaujany alone, they know everything there is to know about the area and provide a truly special experience for their guests. With friendly staff, beautiful centrally located chalets and a flexibility in booking that many larger tour operators aren't able to offer, Ski Peak offers the most seamless way to enjoy this beautiful village.
We will warn you though, once you have experienced the unique draws of a resort like this, you'll be wondering why you ever booked into a 'big name' in the first place!
For more information on skiing in Vaujany, head to www.skipeak.net