Luxury ski accommodation. It's something we can all dream about, but few can actually afford. After all, the best chalets and hotels in the Alps can easily set you back more than £1000 per night. On the other hand, as we reported in last month's InTheSnow, one of the few booming sectors of ski holiday travel from the UK is in the higher-quality market. Perhaps not quite true luxury, but at a level where you pay more upfront, which may include private transfers, inclusive-quality catering and drinks, and a quality that is at least above the mass-market norm. Consequently, guests still feel they are getting something truly special, a real holiday, rather than just moving the stresses of daily life at home to the mountains, with a little skiing or boarding thrown in. Such holidays are also an increasingly savvy investment, as people realise just how much in-resort charges for often lacklustre food and poor service can add to the cost of their "cheap package".
But that's just four star. The newest, arguably the most luxurious accommodation yet, the recently opened No.14 in Verbier (www. no14verbier.com; 01608 674011) is several notches above. Earlier this winter you would have needed to pay (for most of us) an eye-watering £91,000 for exclusive use of this spectacular mountain home over New Year's week. Of course those that can afford it would consider that fee pretty good value for money. Having the top week of the season in one of the world's top resorts, with 13 stylish en-suite bedrooms, a spa, swimming pool, cinema, and a team of 15 experienced, professionally-trained staff to cater for your every need doesn't, and shouldn't, come cheap. Unsurprisingly, the catering is something very special too, overseen by No.14's young, talented head chef Dan Cox, winner of The Roux scholarship 2008, and fresh from several three Michelin-starred restaurants, including Per Se in New York and the Fat Duck in Bray, Berkshire. Guests receive a seven- course meal (almost) every night, and champagne on tap (well, it might as well be). You'd rapidly rack up a similar bill for eating-out alone in Verbier if you tried to feed a party of 20 say.
But what if you could enjoy it all for just £125pppn? Then it becomes an option far more of us could afford, and indeed with luxury accommodation, the same gourmet meals and drinks included, as well as the many other special touches – it suddenly offers great value on almost any budget. Well, £125 per night is the low price- point offered at No.14 under "certain circumstances." Those circumstances are, of course, that firstly the chalet has not already been booked up, secondly that it is outside peak season, and thirdly that you are staying during a "reverse weekend" – that is a four-night visit from Sunday to Thursday.
That £125 per night is based on two sharing a twin room during the last week of the season, just before Easter from 17 April at £500 each for the four nights. But there are other reverse weekends still available in between now and then for only a little more – check prices and current availability on the website.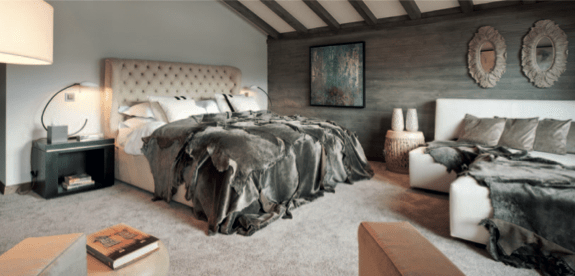 It's not just reverse weekends that offer the deals however. As we went to press No.14 was still available for the weekend of 24–27 March for exclusive use at the reduced price of £39,000, or at an individual room rate of £1500pp. Also, the first two weeks of April (27 March–3 April and 3–10 April) are available on a room-by-room basis for £2250pp (based on two people sharing). Formerly a hotel, No.14 has undergone a major refurbishment, and reopened just last December. Designed by the same team who worked on Verbier's other luxury chalet, Richard Branson's The Lodge (£98,900 over New Year's week and fewer bedrooms!), No.14 is the brainchild of David Pearson, who built up the chalet company Ski Verbier over more than a decade, ultimately running 17 chalets in the resort, and the hotel that is now No.14, before selling the company in 2005. Along with No.14, Pearson's new company, Verbier Exclusive (www.verbierexclusive.com; 01608 674011), is run in partnership with Tom Avery who, along with his business skills, is one of only 41 people to have made it on foot to both north and south poles, as well as the now-defunct world's highest ski area, 5200m up at Chacaltaya in the Bolivian Andes. David and Tom are keeping Verbier Exclusive small, and say there are no plans to expand much beyond their current list of three properties, with No.14 by far the largest.
The chalet is testimony to Pearson's two decades of experience in this market sector. The epitome of stylish, yet understated, Alpine chic, it features a mix of traditional timber and stone, complemented by the highest quality fixtures and fittings, with furniture bespoke and handmade in London by Ben Whistler. Apart from all the attractions already mentioned, guests have access to a 24-hour on-call driver service, the spa with a 10m pool, steam room, cold plunge pool and large Jacuzzi, and an exclusive spa therapist, Alex Main, who did her training at Loughborough University, working closely with the British athletics team, and touring rugby teams like the South African Springboks, and can provide every kind of massage and beauty therapy. There's also a home cinema room with oversized U-shaped sofa, games consoles, and a selection of children's toys and games.
Outside the decked terrace offers views across the valley from one of the comfy chairs, or the huge cedar hot tub. But really it is just the sheer delight of being a guest in such sumptuous and spectacular surroundings that makes a stay in No.14 a very special experience indeed.