Think back to the best fondue, tartiflette, schnitzel or bavarian sausage you've ever had. Where were you? Likely the answer will be in the heart of the mountains somewhere, hungry after a great day's skiing, stomach pining for that traditional hearty Alpine fare. Somehow, these dishes never quite seem as good back in the UK as when you're in the mountains. However, The White Haus, a new London-based restaurant is aiming to change all this, bringing these traditional dishes a modern twist and creating a ski-themed haven in the heart of the city. From the outside, you would be forgiven for thinking this was another modern city bistro restaurant, however once you step inside, you realise that you are somewhere truly special.
The Style
Set across three floors, each with a distinct style, The White Haus skilfully blends the line between traditional Alpine and modern, from their menu to their interior design and decoration. All the elements we love about traditional chalets are present here, from timber walls, cosy sheepskin throws and roaring fires to smaller details such as vintage skis, accessories and memorabilia. Images of skiing legends grace the walls and a retro ski lift photo booth is available for visitors to create their own memories. Yet amongst this traditional decoration lie modern elements too – neon wall lights, modern light fixtures and some gorgeous bar areas.
Rupert Clevely, Managing Director of The White Haus, credits his wife, Jo, with the design. "My wife is a genius" he says. "She has created it from start to finish. Every little piece is of her doing – mountain chic mixed with usable and enjoyable space."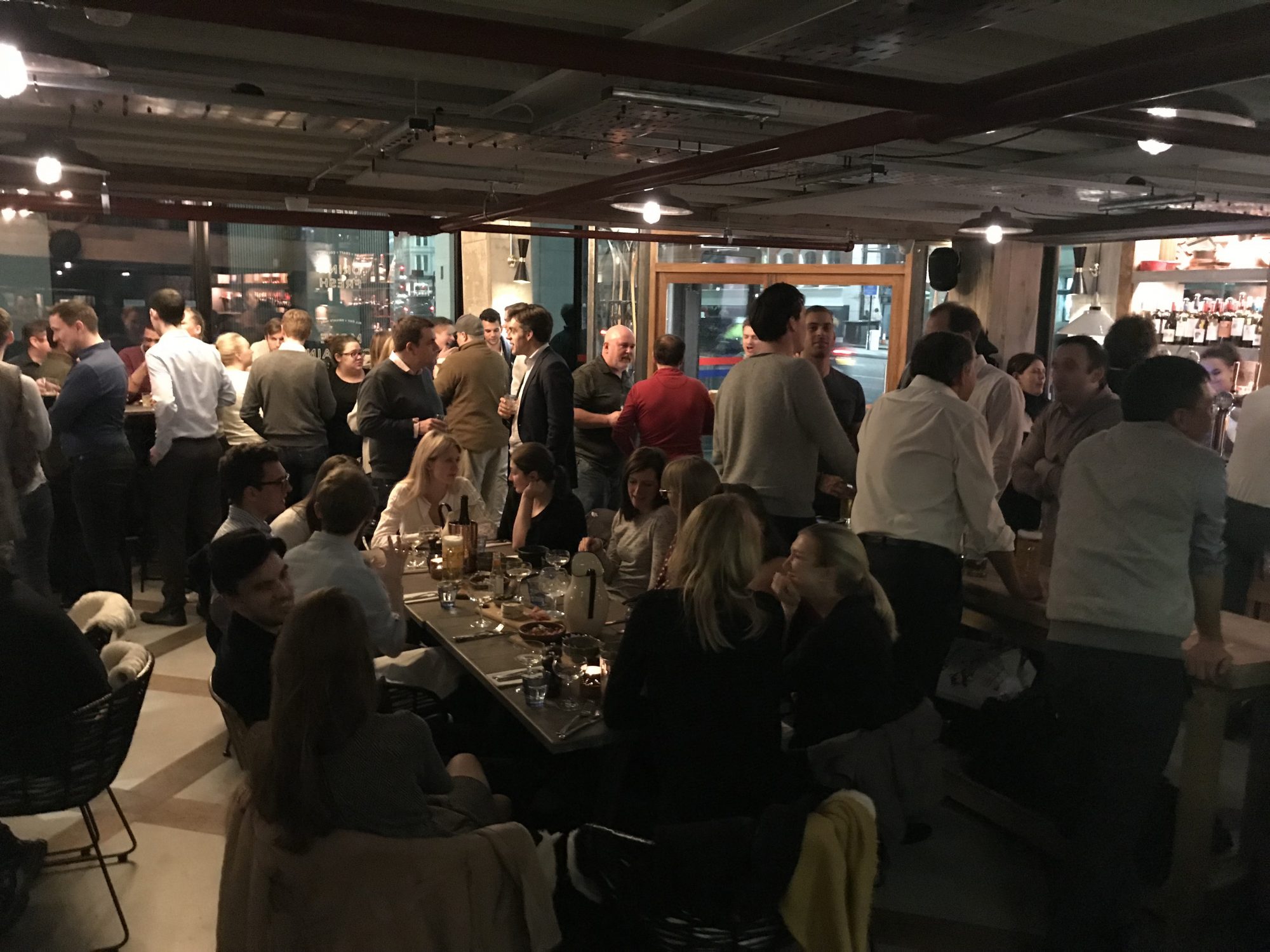 The main area (pictured above) holds the bar and a large seating area, with a number of large tables ideal for groups wanting to experience the buzzing atmosphere of the place while enjoying their meal. TVs are cleverly spaced not to be too distracting to diners on the first floor, but to provide live coverage of sporting events. They are also committed to showing as much skiing action here as possible, with the 27th January's 'Ski Sunday' event bringing visitors all the action from the slopes of Val D'Isere and Alta Badia with the men's giant slalom and the ladies' Super G! Watching the skiing with a vin chaud and a belly full of tartiflette? What could be better…
Up above the bar is the mezzanine area, inspired by the bar at the Blizzard Hotel in Val d'Isere, with another small bar and additional dining tables, as well as comfortable sofas. The centrepiece of the mezzanine area is undeniably the large red gondola which takes pride of place above the main bar floor. Originally a working gondola transporting skiers up and down the mountains of Ischgl, the gondola was found online by The White Haus and now serves as a dining area and DJ deck!  With seating for six, this truly is a highly unique way to enjoy an evening in the city and one which is sure to prove popular with mountain lovers!
The basement level is a much more cosy and traditional affair, with wooden walls, plaid sofa areas and stunning tile work. This is the perfect spot for a romantic dinner or a more special evening and can also be hired out for events. The private room at the end is ideal for more private group dinners, special events or even meetings, with a dedicated function and meeting menu available.
"The City is full of mountain addicts summer or winter and they need a beautifully decorated place with warmth and character. Every where you look there are pieces that take the eye" Rupert says.
The Food
Speaking of menus, now onto our favourite part of The White Haus experience – the food! The menu is not huge, but boasts all the Alpine classics, with some unique modern twists. If, like me, you're immediately drawn to anything with a high cheese content, the fondue here is definitely one to consider; beautifully creamy, absolutely delicious and with more than enough cheese to keep you going and going. There are a number of sharing boards, from prosciutto, pickles and baguettes to hummus, haloumi and pitta breads, so you can ramp up your fondue or your main meals.
However, don't be fooled into thinking this is a heavily cheesy menu.
Rupert Clevely says: "Themed menus are often ghastly aberrations so whilst we need to have some Alpine feel I did not want it to be too cheese and mountain heavy. We took some of the best mountain elements and blended them into a continental menu with lots of favourites. When looking at a menu it's important to want everything on it. We add specials very day which allow our fantastic chef Dan the opportunity to explore a little off piste!"
Indeed, I'm told that so far, the Chicken schnitzel with fried egg is proving the most popular dish and the more traditional menu items, from fish and chips to pizza, all looked delicious coming past the table. The truffle fries and the macaroni cheese in particular are definitely on my list for the next visit!
I ate the beetroot humus with pitta bread for starter, with fondue for the main (plus a sharing board of extra salami and bread) and apple strudel to finish. An alpine feast fit for a king and I enjoyed every bite! There were a few teething issues, which are to be expected in the first few week's of an establishment, but the overall experience was highly enjoyable, though the fondue was undoubtably the star of the show.
The dining at The White Haus is by no means limited to dinner. Their Brunch menu boasts all the familiar favourites plus some mountain specialties – think rosti, croque monsieur, french toast and a 'Haus breakfast' including Bavarian sausage.
There's even a 'bottomless brunch' on Saturdays for those who fancy a weekend tipple. For just £45/head, you get an awful lot of food. Unlimited pastries, pretzels, tea, coffee and prosecco (to name a few) are followed by brunch canapes, granola, baked eggs, rosti, french toast, crostini, kedgeree risotto balls and a cheese fondue pot! We feel like you may be rolling out of this one…
The Bar
The atmosphere on a Thursday evening was electric, with the bar area seeming to be a popular post-work destination for the local city workers. It's got a sophisticated vibe, pairing the lively atmosphere of après-ski with an impressive, unique draft beer and cocktail menu. Pride of place on tap is 1936 Bière, a Swiss lager brewed at the foot of the Alps using only the purest water and raw ingredients grown in the mountains. Sounds good for you right?!
Classic cocktails are served beautifully and at a very decent price for the area – the Salted Caramel Old Fashioned is certainly worth a try. However, what we were most intrigued by were the warm cocktails on offer. Of course, you can order the classics such as vin chaud and hot toddy, but the White Haus also offer additional warmers including a 'hot winter G&T' and a 'hot gin and gingerbread'. If gin is your thing in the winter-time, this could be a game-changing cocktail for you…
The White Haus definitely seems marketed as much towards City workers looking to unwind as it is towards mountain lovers, an element which is reflected in their opening hours – open until midnight Monday to Wednesday and until 1am on Thursday and Fridays. Each Friday, a DJ takes over the gondola above the main bar, spinning tunes until the early hours.
Our Verdict?
All in all, if you are missing the Alpine atmosphere and the hearty food of the mountains, the White Haus may well be your new favourite London destination. Delicious food, inventive drinks, helpful staff and decor sure to interest all skiing fans, it's somewhere that we definitely think this should be on your list for your next city visit.
We love the fact that Managing Director Rupert and his wife Jo are dedicated skiers themselves, so you know this place is in great hands. Rupert says: "When we got married the music we left the church to was ski Sunday so it's been in our blood for quite few years. We have a small place in Saint Foy near Val d'Isere. We love it more than words can say. The peace and quiet, the simply amazing off piste the perfect groomed pistes as if they our own private resort and wonderful French friends. It's paradise."
Perhaps Sainte Foy is their paradise in the mountains, but The White Haus is definitely our mountain paradise in the city.