There was a palpable sense of excitement last week as we rolled in to Alpe d'Huez last week. It's one of several French ski areas where music festivals have been able to finally return this spring, three years since they were last staged.
For the past two years the thought of being able to attend a music festival has seemed an impossible fantasy. Thanks to the pandemic it was not possible for even a small group of people to get together, let alone tens of thousands whilst the dangers of coronavirus were so apparent.
But now we're back and electronic music festival Tomorrowland Winter, is one of the biggest – about 18,000 'people of tomorrow' in fact arrived in the mountains joining all the regular skiers and boarders already there.
My wife Fi and I were among them and I have to say of all the years I've spent visiting ski resorts around Europe and North America I've never seen anything like it 1,800 metres up in the mountains.
Tomorrowland has been going in some form or another for a while now, getting bigger and bigger, with their first summer festival being put on in 2005 in the town of Boom, Belgium. Since those early days it has grown into one of the biggest electronic dance music (EDM) festivals in Europe.
It had previously launched spin-off festivals in the USA and Brazil before finally bringing out their first Winter festival in Alpe d'Huez in March 2019.
This was a huge success, and as such attendees became very excited for the return of the festival in 2020, with excitement reaching fever pitch as the largest stage up above 1800m ever built was erected and a stellar line-up announced. Their dismay at the festival's enforced last-minute cancellation in the wake of the pandemic was felt again in 2021 as early hopes it might be able to return were soon quashed by the second wave of the pandemic. So when France eased restrictions enough for the festival to happen again we were among the tens of thousands not holding back our excitement. The idea of putting the biggest festival in the Alps in one of the continent's largest ski areas is genius after all, what's not to love?
Of course being in Alpe d'Huez with its hundreds of kilometres of slopes means there are times when you want to get away from the crowds and enjoy the snows on your skis or board.
As the ski area is so vast, and as quite a lot of the "people of tomorrow" aren't skiers or boarders, that's not a problem.
As soon as I could I headed up to the top of the mountain at Pic Blanc and jumped on to the epic Sarenne run, the world's longest black.
That makes me sound quite hardcore, but if I was I'd be going for the terrifying Tunnel run instead, a super-steep mogul field accessed through a tunnel as the name implies. Sarenne, on the other hand, is more blue-red than black, but it's the run that keeps on giving way away from the main area and its classified black mostly to put beginners off starting on down it then having nowhere out for 10km or so if they find they're not up to it. For me it was one long glorious cruise, just wishing it wasn't quite such a warm March and the snow was in better shape.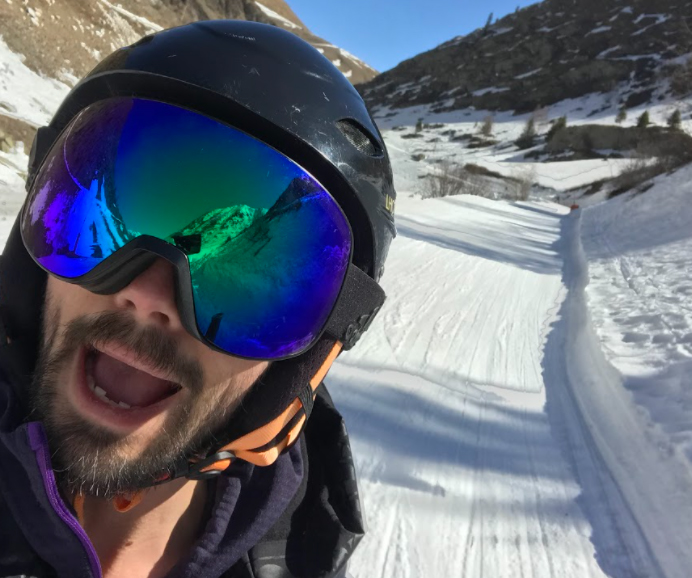 But while the festival is on it's easy to stay in party mood on the slopes in the daytime as well as in the night time so long as you have the energy. Tomorrowland extends around the slopes in the daytime on top of its huge evening presence. A new three-year sponsorship deal with sportswear giants Ellesse has helped secure the winter-version of the festival's future and Ellesse were already very present with their Crystal Garden area the perfect place for lunch and a bit of a lunchtime dance party (below).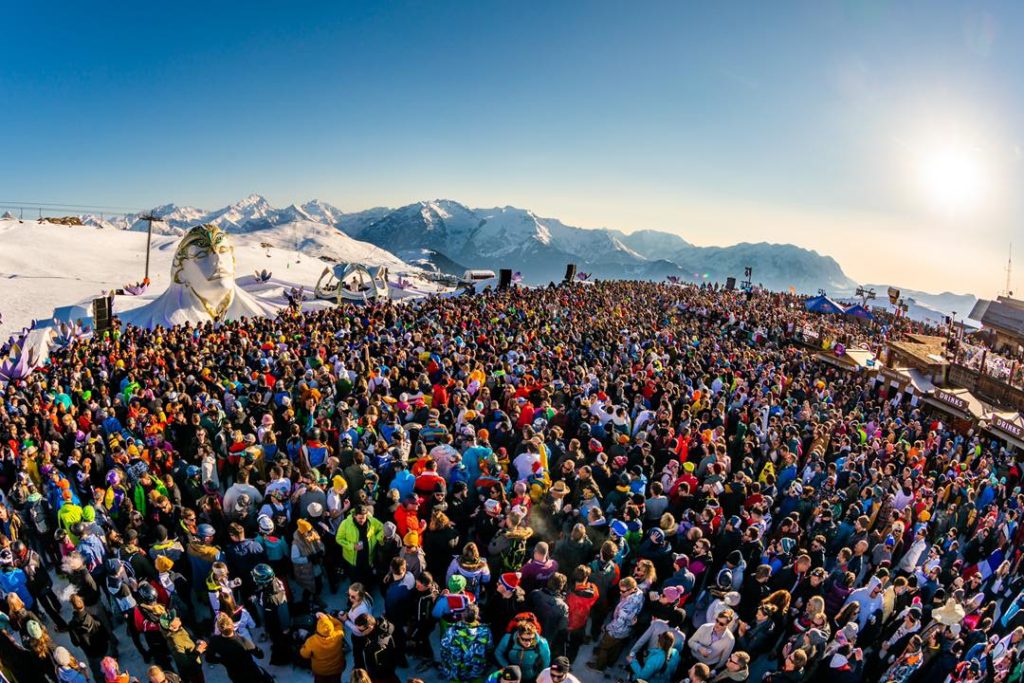 At Crystal Garden guests could enjoy a fantastic meal provided by the local lodge of Chantebise, before heading to the dancefloor to stomp to a beat whilst an enormous snow-sculpture of an ice queen gazed down impassively. Of course you could go back out on the slopes after lunch if you wanted to but for many they never made it and as the sun would begin to set the party would continue down the mountain to the main festival area in the resort. Here revellers had access to multiple stage areas, some fantastic food and drink stalls and shops selling some very high-quality winter sportswear provided by Tomorrowland Winter's partners.
Part of the deal with Ellesse sees the company launch a whole new winter sportswear collection, which was being very well modelled by many of the festival goers. Keen fans of the Winter Olympics may even have spotted such talent as Britain's Jamie Nicholls (slopestyle snowboarder) and France's Anais Caradeux (freestyle skier) sporting some of the latest Ellesse gear as they whizzed down the slopes and then bounced around the dancefloor.
There are plenty of other things to do when the lifts close in Alpe d'Huez besides party even when Tomorrowland is in town. For those who are looking for alternative apres-ski activities once the lifts shut, Alpe d'Huez has plenty to offer.
In particular their snowmobile excursion is one of the more exhilarating ways to spend 30 minutes, where guests get to ride along a night-time trail to a secluded spot from which (on a clear night) the stars look absolutely magnificent. For those who would rather do a similar excursion in the daylight, they might prefer dog-sledding with an adorable pack of huskies. Or if getting airborne is more your thing, you might prefer paragliding from the top of a snowy peak to see the full resort spread out below. The point is that there's something for everyone.
For most though, it's one incredible, massive EDM party it's hard to believe is happening half-way up a mountain…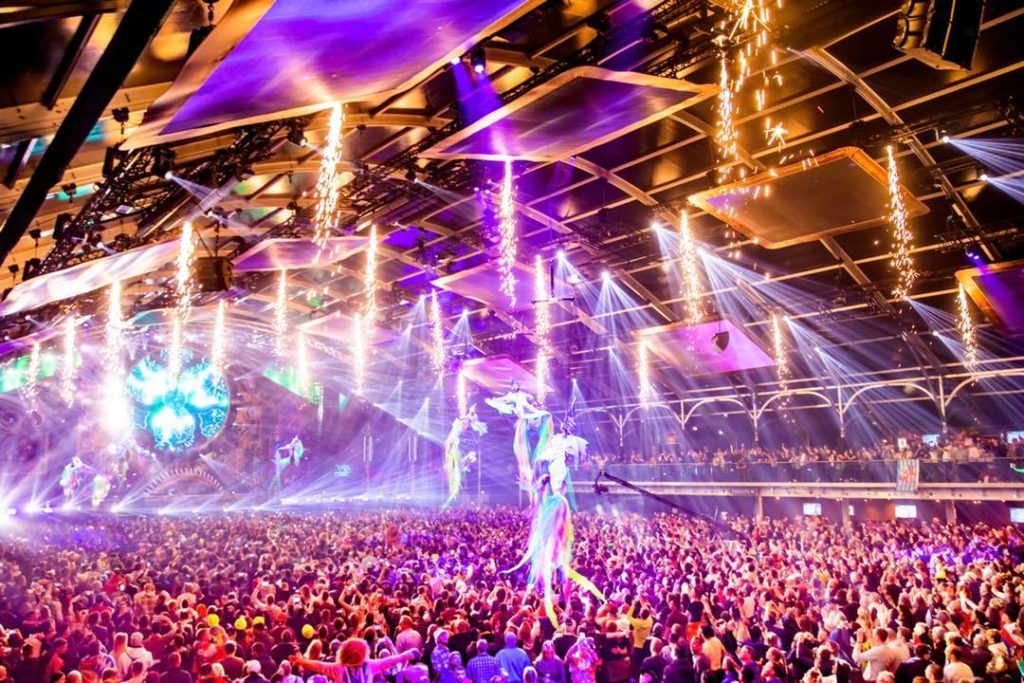 It has been a long time since we could enjoy being at a music festival again. However, seeing the crowds flock to Tomorrowland Winter makes you realise that the world is returning to some semblance of what normal was before 2020.
To travel, to dance and to ski – these are all things that so many of us have missed. Whilst things may not yet quite be what were once normal, events like a music festival in the mountains can certainly get people once again excited for tomorrow.
For more festivals check out our Events page