Now we all know that dogs are man's best friend, and who wants to go on holiday without their best pal?! This may be why more and more people are travelling to ski resorts with their pooch in tow. But is taking your dog skiing a good idea? Of course, you can't take them out on the slopes, but there are a lot of dog-friendly ski hotels out there.
In general, European ski resorts are surprisingly dog-friendly, with many hotels that are targeted towards those wanting to travel with their canine companion.
Taking your Dog Skiing in Austria
The Zillertal area of Austria in particular has many pet-friendly hotels, most of which are happy to accommodate pets on request. However, if you really want your dog to have a holiday as good as yours, there are some places here that really go above and beyond to ensure your dog enjoys themselves as much as you do (as opposed to simply allowing pets in your room).
Claiming the title of 'the first dog friendly hotel in the Zillertal', Hotel Magdalena is a popular destination for holidaymakers with dogs in tow all year round. No surprise, as Hotel Magdalena has a huge amount of services on offer for both you and your pooch. While you're working up a sweat on the slopes, your dog can keep themselves active too; the Hotel Magdalena has a doggy swimming pond, agility centre, playground and even a doggy treadmill!
You can choose to leave your dog in your room unattended, or if your pooch is particularly well behaved, they can walk freely around the hotel. If you'd like them to have some human interaction throughout the day while you're on the slopes, dogsitting and walkies services are available upon request. For a pre-dinner pamper, there's a fantastically well-serviced wellness area and spa for the humans, while a doggy bath and shower are available to keep your furry friend looking their best. Dogs are allowed into the 'dog lovers' dining area, provided they are well behaved. And, if you've got two dogs, you can bring both!
A beautiful family-run hotel nestled at the foot of the mountians, Hotel Magdalena is sure to be a hit with both humans and dogs. A free ski bus shuttle directly from the hotel, the huge Zillertal area is right at your fingertips. The area offers a huge amount of skiing covering 498km, as well as many hiking trails, cross-country routes and toboggan runs.
Another popular Austrian choice is the Hotel Strasserwirt, a traditional Tyrolean manor house with bundles of character, where pets are welcome free of charge! While they may not offer quite as much in term of doggy day care as the Hotel Magdalena, they are very pet-friendly and offer special rooms with wooden floors for those bringing their furry friends.
Skiing offers include use of the modern spa area, which boasts a Finnish sauna, infrared sauna, steam bath and sanarium – bio sauna and relaxation area, all of which are sure to be very well received after a day on the slopes. The area around the Hotel Strasserwirt is full of opportunities to get onto the slopes, and the Osttirol Skipass comprises 8 wonderful ski areas spread across the mountains. Quiet slopes, with incredible views of the Dolomites and a huge variety of skiing to choose from, it's a good choice for dog-loving skiers.
Also pet friendly is the Hotel Falknerhof, which charges €10/day per dog in the winter season. Here, dogs are not permitted in the dining room and animal lovers are asked to respect other guests. An activity and wellness hotel, your pooch will have ample space to enjoy the outdoors, while you can explore the lovely Niederthai ski area. Though small, it offers some great skiing for families and beginners, free from crowds. If you are after a more expansive area though, the resorts of Sölden, Kühtai, Obergurgl and Ötz-Hochöt are all between 20 – 50 minutes drive away.
Hotel Falknerhof's 'Vacation with Dogs' offers include:
Fresh water outside the entrance
Feeding bowl and cover for the room
Pet area
Dog food (surcharge)
However, there is a charge of € 10,00 per dog per day, and they also have to obey the Falknerhof's House Rules.
Taking your dog skiing in France
More Mountain, an independent chalet company based in Morzine, is making furry friends guests of honour with a new package dedicated to canine holiday indulgence. Inspired by More Mountain's CPO (Chief Pup Officer), Figsy the Fox Terrier, the personalised Alpine Pups package will equip even the most discerning doggos with everything they need to stay comfortable, entertained and nourished whilst holidaying with their humans in the French Alps.
The chalet company has partnered with British dog product specialists, Mutts & Hounds, to provide a selection of luxurious products, treats and accessories. Complementing More Mountain's philosophy, Mutts & Hounds' offering balances style and practicality, with a high standard of quality.
With seasonal variations, the package welcomes four-legged guests to join their owners in discovering the thrills and charms of the Portes du Soleil during both winter ski / snowboard holidays and summer mountain retreats. Dogs love riding the gondolas and trotting the scenic routes, exploring the region's oasis of hidden trails, winding paths and beautiful natural lakes in the summer, and its snow-covered peaks and winter wonderland valley walks during the winter. Morzine is a friendly town that is home to many dogs and warmly welcomes man's best friend across its community of shops, restaurants and bars.
The Alpine Pups package is available for stays at selected self-catered apartments in More Mountain's portfolio of centrally-based, stylish properties, including The Petit Farmhouse, Apartment Central, Super Morzine, Waterside and Terrasse Du Soleil. Without compromising on the standard of accommodation as seen in More Mountain's wider portfolio of properties, these dog-friendly apartments are best suited to furry friends because they have fully enclosed gardens and secure terraces, making outside space safe and independent. The apartments are also close to great walks and opportunities to let your dog roam free.
The Alpine Pups package includes:
Advice on bringing your dog to France (requirements including pet passport, microchipping etc).
Use of luxury dog products including a cosy bed, towel, and food and water bowls.
A quilted waterproof dog jacket worth £50, natural chicken baked biscuits, and a doggy toy to take home.
One dog walk courtesy of More Mountain, for the day when people-oriented mountain activities come first.
A guide to local dog-friendly walks and other activities for you and your pooch.
Sam Thomas, co-owner of More Mountain comments; "There's so much opportunity for guests staying with us to share precious holiday time with their dogs – whether that's frolicking in the snow, tackling the ultimate mountain hike, or curling up together in front of the fire inside. As dog owners ourselves, we know that they're very much part of the family and should feature in our happiest times. We are excited to work with a like-minded brand, Mutts & Hounds, to make the Alpine Pups package possible".
The package must be booked with at least four weeks' notice as a supplement to an apartment booking. Guests will be asked to complete a simple questionnaire about their dog to ensure that the elements can be personalised. The package costs an additional €150 for a week's stay for one dog.
Meanwhile, Hotel de l'Arve is bang in the centre of Chamonix, offering access to one of the Europe's top ski areas and it's free for dogs. Set within the stunning shadow of Mont Blanc , the Hotel de l'Arve has a free private car park, perfect for those driving to the resort. It's in the centre of the town, just minutes from the shops, pool, skating rink, casino and cinema and 80m from the bus stop to the ski areas. Pets are allowed in the hotel at no extra charge, with only the breakfast room off limits.
La Clusaz has some gorgeous dog-friendly chalets – the Chalet Beauvoir offers luxury for you and your dog. A 5* detached chalet, with a heated outdoor pool, jacuzzi, gym, sauna and hammam – you will be able to fully relax and unwind after a full day on the slopes. Meanwhile, the Chalet de Paul et Marie has a garden area perfect for your dog to stretch his legs. With stunning mountain views and the ski bus stopping just 100m from the chalet's door, it's a great location to explore the mountains of La Clusaz.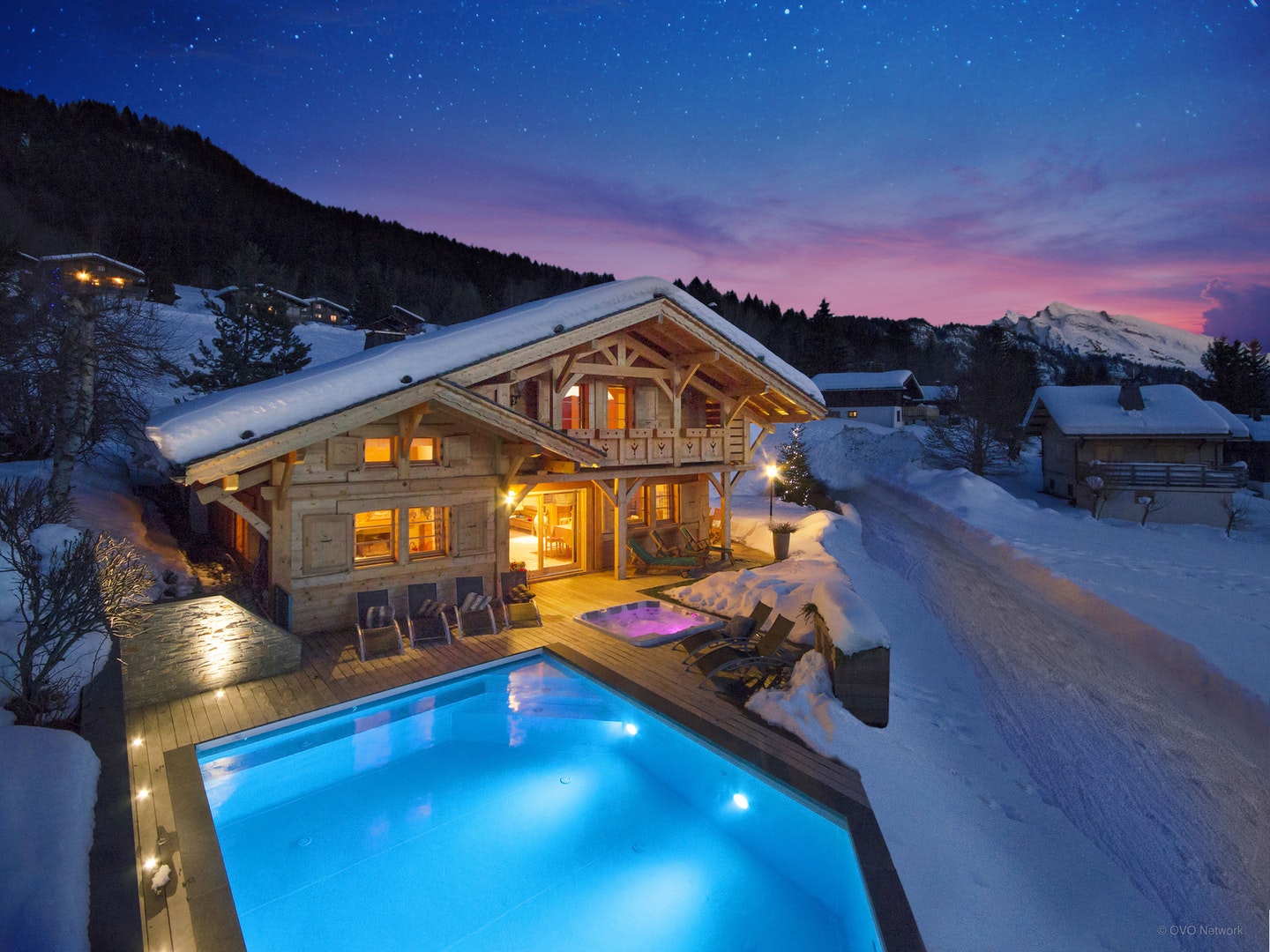 In the French Pyrenees, La Grange aux Fees gives you a fantastic ski-in, ski-out location and allows 1 dog per apartment, for a cost of €60 per stay. These are self-catered apartments with high levels of privacy for you and your dog to relax. There's an underground garage (also at the cost of €60 per week) – ideal for those driving from the UK. The residence has its own pool and spa facilities which are perfect for tired legs after a long day's skiing. There's a free private indoor heated swimming-pool for adults, a paddling-pool for children, while over 16's may use the Jacuzzis, saunas, steam rooms and fitness room. The best thing about these apartments though is that they provide access to the incredible ski area of the French Pyrenees. With something for all skiers, from powder hounds to piste pros, it's a beautiful, varied ski area.
Meanwhile, Peak Retreats have a range of accommodation available for those wanting to take one or two dogs away with them. Les Cimes Blanche in La Rosiere offer 4* apartments complete with a free private indoor heated swimming pool, jacuzzis, saunas, steam room and fitness room and allow a dog for an additional €60. In Tignes, the Kalinda residence is ideally situated right next to the Boisses gondola and allows one dog per apartment at €60. Le Hameau du Rocher Blanc in Serre Chevalier allow two dogs per apartment at €39 each per week. Similarly, Les Fermes Emiguy in Les Gets allows two dogs per apartment, in a great location just metres from the slopes.
Taking your Dog Skiing in Italy
There are plenty of pet-friendly hotels in Italy as well. Our pick is the Touring Hotel Val di Fassa, which welcomes pets, including dogs and is an ideal location for dogs, with a large meadow area and woodland for them to enjoy the outdoors. Dogs are allowed in both rooms and communal areas, which means maximum time spent with your furry friends. The hotel is located right on the edge of a ski run and also metres from the ski bus stop, meaning the huge Dolomiti Superski area is right at your fingertips. Try your hand at the Sella Ronda, marvel in the incredible scenery and enjoy the Italian food and drink (be sure to try the local specialty – a bombardino!).
Extra Luxury?
To you really pamper your pooch, you can give them an extra taste of luxury. Alpine Guru operate luxury chalets throughout the Alps and in certain locations, with their 'Paw Pair' service, you can essential tailor a daycare service to your pooch. Chalets in Verbier, Courchevel and Val d'Isere, to name a few, will be operating the service, which means that your dog can experience mountain luxury as you do.
Ski in Luxury have a range of dog-friendly chalet in locations from Chamonix to Val d'Isere to Zermatt. Their chalets provide a great base for both you and your dog to enjoy all the mountains have to offer. Staff will be on hand to help with your needs and may even be able to provide some doggy day-care according to your dog's needs, simply drop Ski in Luxury an email beforehand and they will be happy to help you arrange your perfect trip.
EU Laws – What you Need to Know
Your dog will need an EU Pet Passport (your vet can issue this), a microchip, a rabies vaccination, which must occur over 21 days before travelling. It's a good idea to ensure that your vet reads and records your pet's microchip number on its vaccination record.
They must also have a tapeworm treatment before outbound travel, as well as between 1 and 5 days before returning to the UK, which means finding a local vet wherever you are staying.
In order to travel to the UK with your pet, you also need to use an approved route and carrier. These include most mainstream ferry carriers, and a set list of airlines, which can be seen here.
Getting There
So which is the best way to do it? Drive yourself with your dog, or fly? An important thing to consider is your dog's temprament – are they good with travelling or do they get easily agitated? The journey to ski resorts can be lengthy, so you need to ensure that it will not be causing your dog undue stress. Though it's a nice thought to take your dog away, it may be in their better interests to be left with friends or family, so be sure to consider this before heading off with your pooch.
One of the simplest options is the Eurotunnel as you remain with your dog for the full journey. When driving, make sure you find a way to keep your dog secure in the car, either in a harness or a pet carrier – it's extremely dangerous to have them loose, for both you and your dog. You also need to ensure you plan regular stops for your dog to go to the toilet and stretch its legs, while making sure it gets fed and watered.
If taking the ferry, make sure you are up to date with the regulations of the company when it comes to pets. They may require you to keep your dog inside your car, so again make sure it has access to water.
Flying may seem like the easiest and quickest way to travel, but in reality it can be more stressful for your pet, what with the travel to and from the airport, the airport and the flight itself. Again, make sure you know whether your dog will be comfortable with this.
What to Pack
Some essentials that may be useful include:
Water
Collar and Lead
Name Tag
Bedding
Grooming equipment
Food and Treats
Coat/Boots
If your dog has a short coat itself or does not cope well in the cold, a dog coat and boots can be a very good idea. Think about how cold your feet get in the snow in trainers, let alone without them! A dog's paws, though tougher than a human foot, are not immune to the cold.
Who knows, your dog may even want to join you on the slopes like this lot!
Another great day skiing with the dogs, Sammy Carlson and Hudson Knoll!#lineskis #anon #dakine #GoPro #sammycarlson #ericpollard #puppies

Posted by Eric Pollard on Friday, 18 November 2016