The summer glacier ski season in France has got underway today in Val d'Isere.  The famous French resort which had already opened slopes normally open only in winter for a fortnight of June skiing due to all the snow received last winter now has its Glacier du Pisaillas summer ski area open too (pictured below). This  means that for three days only, for the first time ever, skiers have the choice of two separate ski areas open in June at the resort.  Skiing on the winter slopes there will end this Saturday.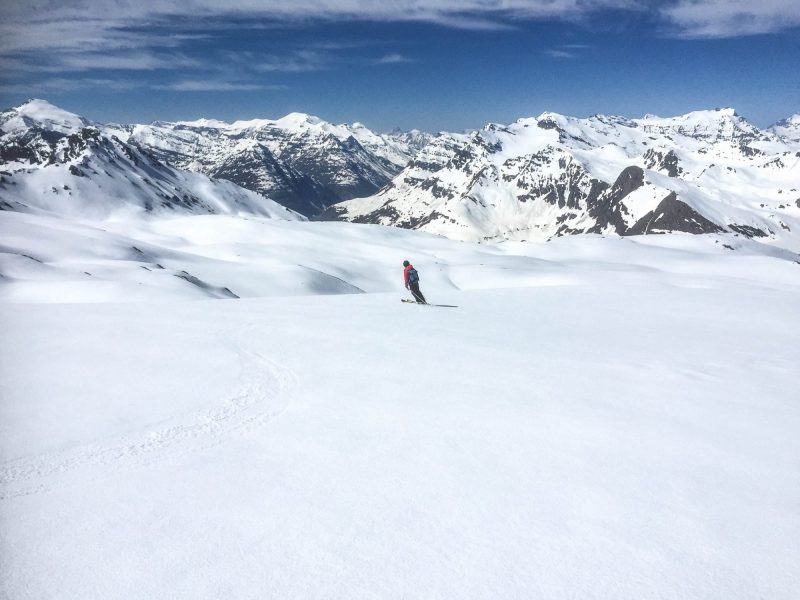 France's other two remaining summer ski areas are due to open a week on Saturday (June 23rd) at Les 2 Alpes and Tignes.
The summer season at Tignes (pictured above, image credit Andy Parant) will be its shortest year running only six weeks to August 5th, whilst Les 2 Alpes plans to stay open a further three weeks to the 26th, conditions permitting.
Last summer was so hot that snow on the glaciers melted away almost entirely by late July and some centres had to cease summer operations.  This summer things are looking better, so far, with ski areas reporting around 50% more winter snow build up than the average giving deeper coverage.
"If there is a year to enjoy the snow to the end, then it is this year! Great quantities of snow this winter, no less than 8.50 metres in total, enable Tignes to offer ideal conditions for glacier skiing," said the resort's Marion Lapouble.
Teaser Trail Les 2 Alpes Outdoor Festival

Nos ambassadeurs trail Germain Grangier et Julien Jorro vous présentent les randos / trails qui auront lieu du 22 au 24 juin pour Les 2 Alpes Outdoor Festival, dans le teaser le plus décalé de la planète trail! ➡️ + d'infos et inscriptions : http://bit.ly/2GiVcjB ou directement sur Facebook dans l'onglet "inscriptions".

Posted by Les 2 Alpes on Sunday, 3 June 2018
A spokesperson for Les 2 Alpes agreed,
"After a very snowy winter, cold temperature this spring and an excellent work done by the resort to preserve the snow, the glacier is in superb condition."
The summer season at Les 2 Alpes kicks off with an Outdoor Festival from 22 to 24 June when sports like mountain biking, trail running, slackline, waterline, yoga, street golf, rock climbing, paragliding and mountain boarding can be tried alongside skiing or snowboarding.
Les 2 Alpes says it operates its summer snowsports on Europe's largest skiable glacier with 100 hectares of runs for beginners and pros or practice some tricks in the snow park.
At the beginning of the summer ski season skiing will be possible between altitudes of 3,600 and 2,600 metres, but the lower slope height will rise to 3,200m later in the season.