If, like us, you're going a little stir crazy during this lockdown and have found yourself re-watching ski movie after ski movie, drooling over the snow covered slopes, I think it's safe to say that you could do with some good old Alpine entertainment.
Thankfully for you, youth charity Snow-Camp is hosting its first virtual fundraising event, 'The Snow-Camp Alpine Evening' on May 5th from 7.30pm.
Snow-Camp is the UK's only registered youth charity using snowsports to change the lives of inner-city young people and are continuing to provide support throughout this pandemic, despite the difficulties.
Their first ever virtual fundraising event will be hosted by Snow-Camp Patrons and Ski Sunday hosts Chemmy Alcott, Graham Bell and Ed Leigh, the evening will feature cocktail making with professional mixologist Simeon Gunn, a retro ski fancy dress competition and automatic entry into the live raffle. There will also be special appearances from Jenny Jones, Warren Smith and Frank Gardner.
Chemmy Alcott, Snow-Camp Patron, TV Presenter and Former Olympic Skier said: "Supporting Snow-Camp is always a priority for me, having seen the life changing work they do. But especially now in this pandemic when the young people have had their structure and learning through participating in sport taken away.
"This evening will be a fun, entertaining and important celebration of everything Snow-Camp have achieved and all the lives they will positively help in the future. I'm honoured to be hosting with the Ski Sunday crew!"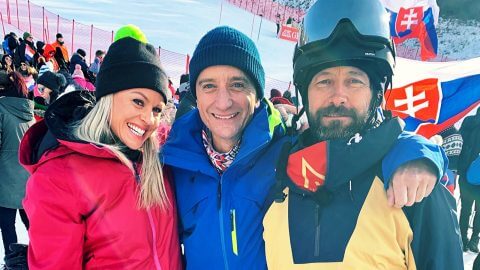 Throughout the event, attendees will also hear from the charity's patrons, ambassadors and beneficiaries on how the charity's life changing work is continuing to support young people during the pandemic.
---
Watch Next: Interview with Dan Keeley, Snow-Camp Charity
---
The event will be streamed live from 'Chalet Snow-Camp' and is free to attend. The charity hopes the event will bring together Snow-Camp's supporters and the wider skiing community, for an enjoyable evening amid these difficult times.
Attendees will be able to donate to Snow-Camp throughout the evening and all the funds raised will significantly help support the charity continue its work with young people, especially at a time where all spring and summer fundraising activities are either cancelled or postponed.
Dan Charlish, Founder of Snow-Camp said: "We are all really looking forward to hosting our first ever virtual Alpine Evening, streaming live from Chalet Snow-Camp. During these difficult times it's even more important to come together as a community, share some positive stories and have some fun together. Putting on an evening like this would certainly not be possible without the support of our incredible patrons and ambassadors, and also our young people, who you will meet, virtually of course, during the Alpine Evening.
Our fundraising events are essential in helping us continue our work with young people across the country, and this evening holds particular significance with all our regular events having to be cancelled or postponed. So please do join us, it's going to be a night to remember!"
For more information or to RSVP, head to snowcampalpineevening.com
Donations can be made here.