Iain Martin reduces his emissions by avoiding the lifts in Les 3 Vallees.
The light of the moon was so bright I simply turned off my head torch. Far behind me, Les Menuires glimmered on the other side of the valley, and scattered across the mountain were the beams of piste-bashers grooming the snow for tomorrow morning's skiers.
"I saw a wolf near this spot a few weeks ago," my guide, Clement, casually shared, as if it was an everyday titbit. Noticeably, I pushed slightly harder to reduce the distance between us, not wanting to look like the straggler in the pack to any lupine observers.
Ski touring at night
This was my first experience of ski touring at night; a journey to a different world, so far from the regular rush of resort life.
Ski resorts are rarely completely quiet: even when you have a piste to yourself there's often the hum of a gondola or chairlift in the background, skiers laughing as they tumble their way down. Yet within a few minutes of leaving the Plan de l'Eau car park, Clement and I were padding our skis through the powder, with only the sound of our breath in the cold night air to accompany us.
The 'Etoilée' ski touring ascent, taken under the stars at night from Les Menuires to the Lac du Lou refuge is offered by the ESF, but often missed by tourists.
There is a pisted track that passes by the famous Chez Pepe Nicholas mountain restaurant (known for its home-produced organic fare), with a gentle gradient up to the refuge at 2035m. However, with great early season snow and a clear night, we chose to take the more scenic route.
Rewarded with Raclette
I put my trust in Clement, who told me that in summer he regularly ran up to the Lac de Lou on the same route. As we climbed and talked, it became apparent that this ascent of 400m was not even a warm up for him: last winter he ski toured to the summit of Mt Blanc, before skiing back down!
Apparently the climb was still enough for him to build an appetite. On arrival at the refuge, the gardiens, Benjamin and Sophie, served us a classic Savoyarde meal of raclette. On a cold night, after a testing climb, infinite servings of melted cheese, alpine potatoes, gherkins and charcuterie were exactly what we needed.
The 31-bed refuge was rebuilt in 2017 at a cost of €1.2 million. It's modern, warm and clean, but I had to wait until the following morning to appreciate fully its magnificent location.
Nestled in a side valley between Les Menuires and Val Thorens, the refuge can be reached via multiple itinerary runs from either La Masse (now served by a new gondola, reputed to be the fastest in France) and Cime de Caron (at 3300m, the highest lift-served point of Les 3 Vallées). While I stayed the night, many visitors simply drop by for a high-carb lunch after thigh-busting runs down.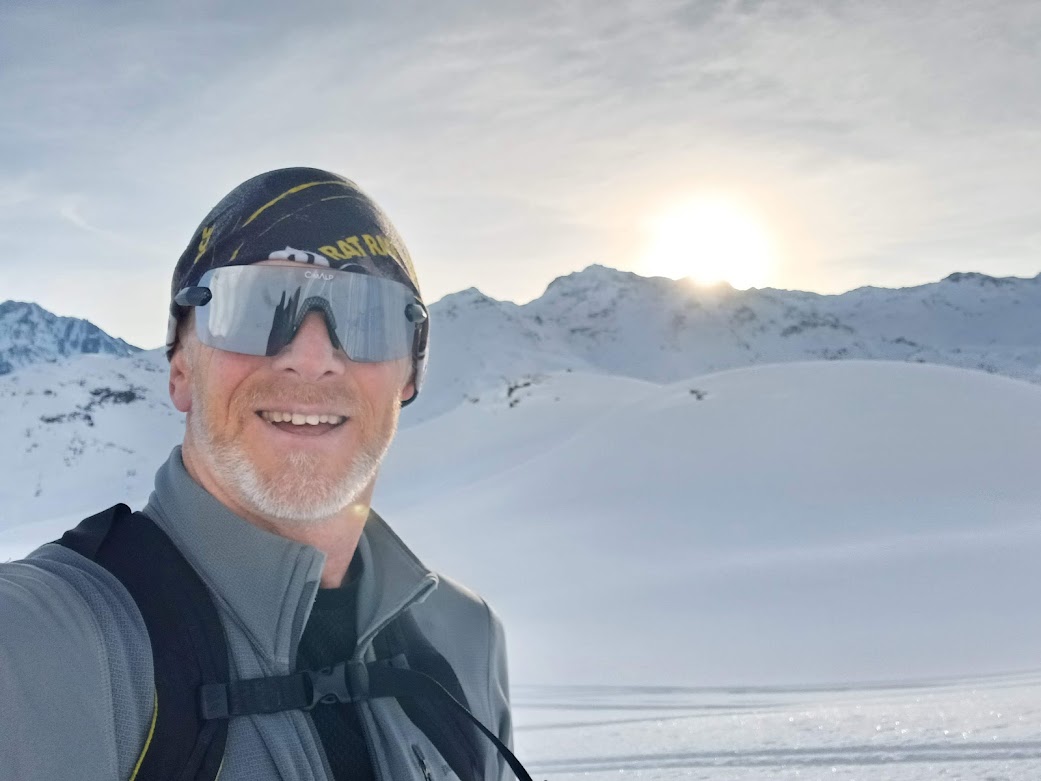 Ski touring is slower, but with a lower impact
What I love about ski touring is that you're not reliant on the lifts – it's just you and the mountain. It's slower, but with a lower impact.
Last winter, with the lifts closed in France, ski touring boomed and there are signs that the trend is continuing this year.
However, if you do take the lifts in Les Menuires, you can do so in the knowledge that they are powered by renewable energy. The resort has always championed its environmental credentials. In 2018, they were the first French ski resort to join the campaigning group Protect Our Winters, a partnership that continues to this day.
Travelling by train will reduce your emissions more
Ultimately, regardless of which lifts you take or how efficiently they are powered, it is how you travel to resort that has the most impact on the carbon footprint of your holiday. According to the French environmental group, Mountain Riders, 57% of a resort's carbon emissions come from visitors travelling to the resort.
Fortunately, Les Menuires is easy to reach by train from the UK. The new Travelski Express service starts in January, now the French travel ban has finished, with services direct from London to Moutiers. I chose to take the Eurostar to Paris, then connect via TGV, before taking a taxi to resort.
Simply by choosing not to fly, according to research by Antithesis, I reduced the emissions of this trip by over 80%, saving 136 kg of CO2.
So for the ultimate low carbon ski holiday, the easy part is taking the train – ski touring to every summit might be more of a challenge!
[Iain booked his train tickets at Eurostar.com and oui.sncf. He stayed at Ho36 in Les Menuires]