It probably comes as no surprise that we think ski holidays are the holy grail of holidays. Snow, sunshine, our favourite sport and delicious local cuisine – there's a whole host of things to love about a ski holiday. Yet, what we enjoy the most is that there are so many different ways to appreciate a ski holiday.
Whether it features adventures with friends or festive family fun, the perfect ski holiday can look very different to each of us. However, this can make it difficult to find a destination with enough variety to allow absolutely everyone to have the best ski holiday possible. Not to mention that these resorts are often the more expensive end of the skiing spectrum.
So, we want to let you into a little secret. In terms of a resort that offers exceptional value, a relaxed atmosphere and access to one of the world's best ski areas, Les Menuires might just be the most underrated destination in the 3 Valleys. What's more, book a package through Crystal Ski Holidays and get on the mountain hassle-free, whatever your budget.
A Spectacular Piste Playground
Enjoying a prime position within the 3 Valleys, the largest ski area in the world, Les Menuires is the perfect base for those who want to enjoy some of the most spectacular ski runs in Europe. Here, over 600km of pistes are at your disposal, serviced by 180 lifts. If you're the type of skier that thrives on covering as many kilometres as possible from first lifts to last, this is a ski area you will certainly enjoy.
Les Menuires itself is situated between Val Thorens and Meribel, making it extremely easy for skiers of all abilities to spend a day exploring these world-famous resorts. Or, for those that really want to get the miles in, you can head over to the luxurious towns of Courchevel on the other side of the area. Getting there and back will take a good chunk of your day and makes for a great challenge, rewarded with a hot chocolate or vin chaud to celebrate!
For ease of access and value for money, Les Menuires is definitely our top pick in the 3 Valleys area. You can enjoy all of the same epic skiing, charming mountain restaurants and endless entertainment of the other resorts in the area for much more affordable prices.
Spend less, avoid the crowds and enjoy a world-class ski area? What's not to love!
Varied Après-Ski
Ah après-ski. From a post-ski mulled wine in front of a wood fire, to champagne on a sun-soaked terrace with crowds dancing on tables, the beauty of après-ski lies in the fact that everyone is just so happy to be there and it's a wonderful example of just how varied ski holidays can be.
Admittedly, if you're massively into the partying, neighbouring Val Thorens might have more to offer in terms of nightlife into the morning hours. However, for those that simply want to soak up the last of that mountain sunshine with a few drinks and a dance, Les Menuires most definitely does the trick.
Here you can enjoy the best of both worlds – a few hours at Val Thorens' famous Folie Douce, before skiing back to enjoy the more chilled atmosphere in Les Menuires. In the town centre, there are a number of lively bars and pubs offering everything from live music and cosy cocktails to Europop. The prices in Les Menuires are significantly lower than other resorts in the 3 Valleys area, so you won't feel like you're breaking the bank with a couple of post-ski beers!
What's particularly great about Les Menuires though, is that you won't feel out of place if your idea of the perfect après is a chilled glass of wine by the fire or a delicious meal and an early night. Indeed, this is where Les Menuires really shines, with some fantastic (and reasonably-priced!) restaurants offering cuisines ranging from traditional Savoyard dishes to pizza and even Mexican!
You've also got the added bonus that when you are eventually happily tucked up in bed, you don't have the sounds of those enthusiastic early morning revellers (which is often the case in larger resorts) to interrupt your slumber.
Sumptuous Spa Options
If you're someone who prefers to add a little luxury to your après, never fear. Les Menuires has its fair share of gorgeous high-end hotels and spas. So if your perfect ski holiday follows up a day on the slopes with a soak, a steam, a sauna, or a soothing spa treatment, you're in for a treat.
Even many of the self-catered apartments here feature wellness centres including pools, hot tubs and spas. For example, at Le Hameau Des Airelles Apartments (pictured below) you can enjoy a stunning indoor pool overlooking the surrounding mountains, before rejuvenating your muscles in the sauna and steam room.
If there's not a spa within your accommodation, you can simply head to the Aqua-centre, where a relaxing atmosphere, high quality facilities and professional treatments combine to allow everyone to wind down in style. There's a specific area for children as well as a designated wellness area for adults, so the whole family can make the most of the outing.
Fantastic For Families
Quiet, relaxed and with a large variety of evening activities, there's a reason Les Menuires is constantly named as one of the best family ski resorts in Europe, let alone the Alps. It is one of a few resorts to boast the 'Family Plus' label, a national label that recognises French resorts that provide the best quality family offerings.
Indeed, Les Menuires demonstrates its commitments to activities and services for families with a number of offerings, such as free lift passes for under 5s, fun ski zones, beginner villages and kids clubs provide families with all they need in order to have the perfect ski holiday.
Off slope, a large range of activities range from swimming pools and ice skating to a fun park with trampolines and bouncy castles! In particular, the 'Speedmountain' mountain coaster is one activity you can't miss and will definitely prove a hit with adults as well as kids…
In terms of convenience, you simply can't get much better than this for a ski resort. A wide range of purpose-built accommodation and ski-in, ski-out options mean you really are right on the slopes, which is incredibly handy when travelling with youngsters.
The phrase 'purpose-built' often conjures images of drab grey concrete buildings, not quite the traditional chalet aesthetic many long for on a ski holiday. However, in Les Menuires this is quite simply not the case. The resort recently experienced an extensive facelift, with accommodation beautifully revamped in stone and wood to keep that traditional Alpine feel.
Accommodation options range from budget through to the most luxury, so you can create the perfect holiday according to your preferences.
If you do opt for self-catering accommodation, Les Menuires has great variety here and you've got access to well-stocked supermarkets and bakeries to stock up on all your food needs. For families, self-catering offers a good way to cater for various people's dietary needs, personal preferences and any issues that having a set mealtime may bring.
For the easiest way to compare accommodations, head to a trusted tour operator such as Crystal Ski Holidays, who have access to all the top accommodation options in Les Menuires.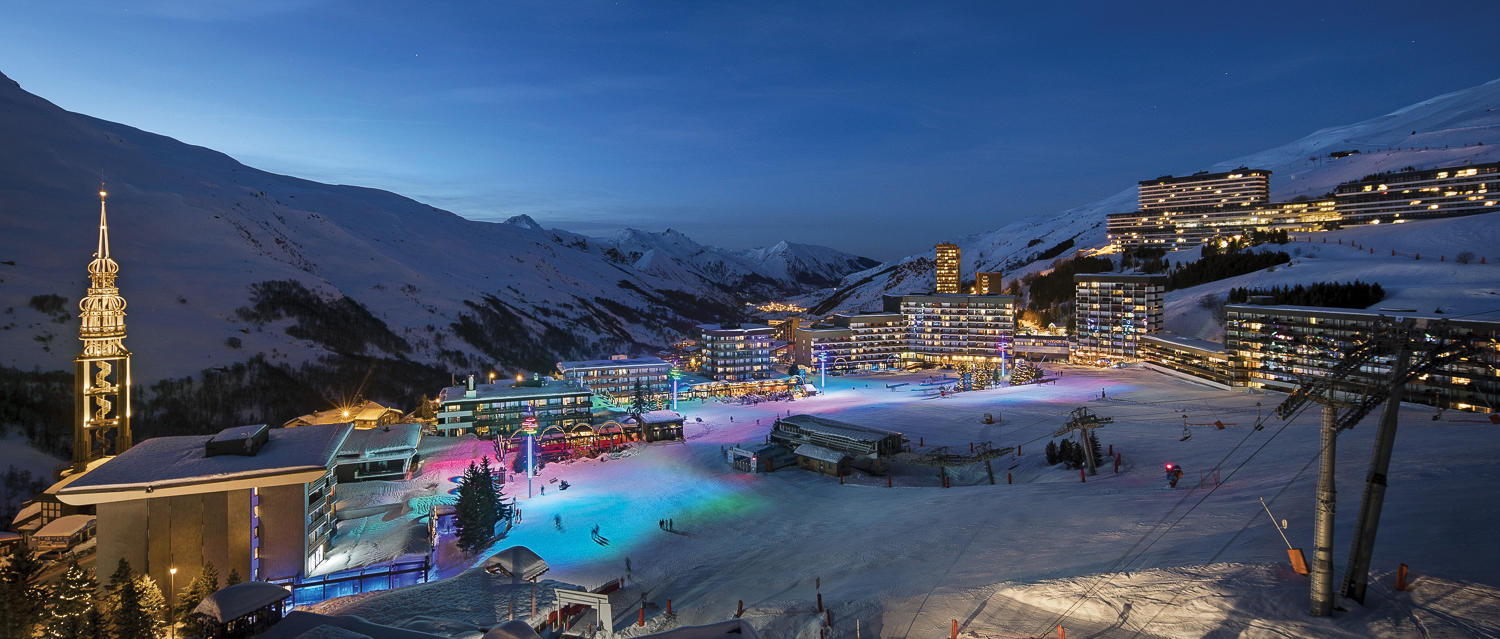 Beginner-Friendly Slopes
One of the many reasons Les Menuires is such a popular destination with families is due to its stellar reputation as a beginner-friendly resort.
It has a number of beginner zones and gentle runs for first-timers to find their feet, without being intimidated by the crowds of the larger, more busy resorts in the area. Two dedicated beginner areas allow complete first—timers to get to grips with the basics, with 5 treadmill lifts, 1 carpet lift and 1 free ski lift allowing easy access to these basic descents.
For anyone wanting to take their skiing further, a beginner's lift pass is available in Les Menuires / Saint Martin for €26 / day, which gives skiers access to 10 additional lifts and more varied trails on which to develop their skills.
What's more, with a huge variety of slopes, Les Menuires is the perfect destination for beginners travelling with larger groups or families of mixed ability. Every member of your group is sure to find runs to suit them, whether this is a cruisey blue, a steep, challenging black or a freestyle park.
Ski holidays are precious opportunities to spend time with loved ones and enjoy unique experiences together in the most stunning settings, and finding a resort that everyone can enjoy makes this experience all the more magical.
---
Looking to book your perfect ski holiday? The experts over at Crystal Ski Holidays know exactly how to find the holiday that's right for you, whether it's your first time or your fiftieth.
Visit www.crystalski.co.uk to find out more.
---