More and more people are discovering the benefits of taking several short break ski holidays each winter, rather than just the traditional week long trip.
There are indeed lots of advantages, of multiple short ski breaks, not least that – so long as you plan it well – you can often get more days actually on the slopes for fewer days taken off work.
You can also enjoy different types of ski holiday, perhaps one break with a group of friends, then travel as a couple on the next, or maybe even take the kids for a few days!
But perhaps more than the traditional ski week, things can go wrong. With fewer days to play with any delays can hit your precious time on the slopes badly, so it's important to ensure every bit of your trip is well planned out, and whilst you can DIY that, it is usually easier and safer to get an expert specialist ski operator that's fully experienced in avoiding the possible pitfalls do it all for you.
What To Look Out For When Planning a Ski Short Break
Don't Waste Time
If you book an inclusive package with convenient solutions you can make sure you don't lose any time in queues or waiting around.
With only 3 or 4 days you want to make sure you ski as much as possible – and if you go with a specialist operator you can get so much more ski time!
With Ski Weekender you get your full region lift pass included and ready waiting for you on arrival…
The company have thought out ski hire solutions with their long trusted partners too meaning  a reliable, quick and flexible service to ensure the best gear for the current conditions in ready and waiting for you to get you on to the slopes fast.
With Ski Weekender – in all of their resorts and accommodations, no matter what time you arrive at night – they can have you out skiing on your first morning by 9am! And the same goes for departure days.  There are no pre-dawn departures to the airport, you can get a full day of skiing on your last day before heading back to the airport.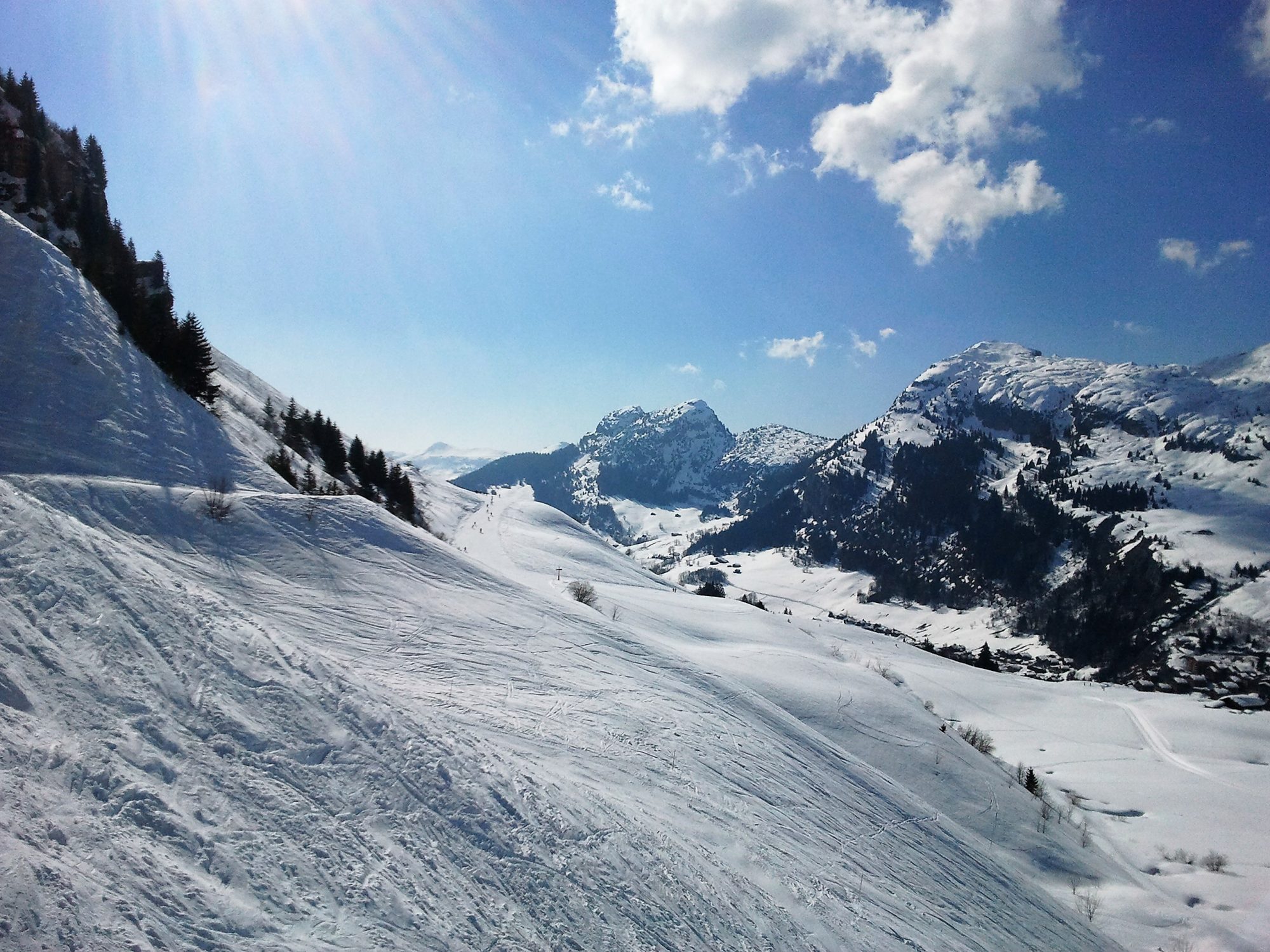 Ski More
Ski Weekender have been offering Midweeks and Weekends based around Monday and Thursday change over days for almost 15 years – and there's a reason why.
It works, offers the most convenient and stress free way to travel and ski, avoiding the busy weekend changeover days most skiers are tied to (instead of packed out airports, traffic jams and long queues at check in you get quieter slopes to yourselves on Saturdays if you choose a long weekend break whilst everyone else is stressing out), and offers the best all in value.
It also offers the widest choice of flights from regional airports that serve Geneva – regularly served by easyjet, BA, Swiss, jet2 from all over the UK, and as mentioned above, flights cost much less midweek than at the weekend, often as low as £60 return.
If you ski midweek you get three days of skiing for three nights away by flying out Monday afternoon/evening and skiing all day Tuesday, Wednesday and Thursday – before departing on Thursday evening.
Or ski over a long weekend and get four days of skiing for four nights away by flying out and arriving on Thursday afternoon/evening, skiing all day Friday, Saturday, Sunday and Monday – before departing on Monday evening.
So that's 4 days of skiing for just Friday and Monday off work, compared to 6 days of skiing for 5 days off work in your regular ski week.
Do that twice and you've had 8 days of skiing for 4 days off work compared to 6 days of skiing for 5 days off work in a regular ski week.
Choose the Right Resort
Some operators will offer you as ski weekend pretty much anywhere but the more time you spend transferring to a resort that's a long way from the airport, the less of your limited time you'll be spending on the slopes. Consider the transfer times from the airport.
Val d'Isere for example is a great ski resort of course, but at over 3 hours' drive from the airport, it means even with an early start you're unlikely to arrive in resort in time for any skiing on your travel day, and on your return trip you'll probably need to leave early too. Big chunk of ski time lost already…
With Ski Weekender all resorts are around an hour away from Geneva. The closest being La Clusaz and Le Grand Bornand, as well as St Gervais which are all just an hour's drive away. Next are Samoens in the Grand Massif area and Les Contamines at 1 hour 15 mins.
For a guide to popular ski resort transfer times – consult https://www.skiweekender.com/ski-holiday-guides/comparison-ski-resorts-near-geneva-airport
As well as transfer time – make sure you have easy to access the slopes and skiing from your accommodation. Are the lifts well thought out to get you up and skiing quickly, not big queues to get out the resort?
Is the accommodation in a good location? With helpful owners and team? And with good food? Can they speak enough English?
With an established operator who have years of experience "on the ground" you can be sure that these details have all been thought through.
No surprises – just reliably good service and the "ultimate convenience" of a seamless package and well thought out solutions!
Package vs Independent
Whilst it may be possible to arrange a trip independently and you might strike lucky, can you be sure it's going to work out seamlessly and without hassle?
Private transport to ski resorts can be very expensive and public transport links are still quite variable and not that frequent.
What happens if your flight is delayed and the bus has gone?  Or if it's dumping down with snow, how comfortable are you in a hire car driving to the resort?
With a dedicated tour operator – no matter what happens, you can relax knowing that they will get you there!
You also know what you're paying for and what your budget requirements are – there are no nasty cost surprises and delays of the kind that can occur when your best laid plans fail for an unexpected reason.
At Ski Weekender – you simply get yourself to Geneva, andthey will look after all the other aspects of your holiday. They have the experience, local knowledge and partners to make sure you can just relax and concentrate on enjoying the skiing!