"It's snowing in the Alps!" my friend told me excitedly before his skiing trip; "oh", I said smugly, "is that something remarkable?". I live in the southeast of Kazakhstan, in the country's economic hub, Almaty. As cities go, it's comparable only to Innsbruck for its instant accessibility to good ski areas, and exceptional quantities of snow are the norm each winter. The country is not a wealthy one by Western standards, but the people's enthusiasm to experience all that life can offer is unmatched, and that includes their taste for winter sports.
Only 30 minutes' bus ride or 20 minutes by taxi from the centre, is the upmarket ski area of Shymbulak, Kazakhstan's answer to St. Moritz and Cortina. But Almaty is a much larger place than Innsbruck, so one minute I'm mingling with suited office workers drinking their takeaway coffee and discussing business, and the next I'm surrounded by sculptures of snow leopards, the symbol of the region, and nylon clad snowboarders. While many expect to have a rugged, post-soviet experience, they are in fact surprised by its high standards of maintenance and après entertainment. Shymbulak's base is at 2,200 metres, and for somewhere with an immensely continental climate, on the same latitude as Nice, that means snow on the ground from November to the end of March, guaranteed. It's a forward-thinking place, too. In a city as large as this, plenty of people go to the mountains for views, not for sport, so the main lifts are split: two chairlifts for every gondola, with separate queues. It certainly feels strange at first, to slide up to the back of a gondola as the chair comes around, faces staring back at me with great interest, but the idea works – queues are minimal.
At Shymbulak, if it's not snowing, its sunny, and most of the time it snows on weekdays and the sky is blue when you want to carve your turns. It's as if god decided to give us the perfect season. At the highest point, 3,200 metres, the temperature is low, actually it's so low that the blood is scared out of my fingers and the particular smooth, flowing and quiet blue run I came to race down, with lift posts filling in for slalom poles, isn't something I can make the most of until the spring.
The resort isn't miserly when it comes to off-piste adventures either. Head up after snowfall and there are figures across the mountains and between the trees in all directions; as I head up a popular lift for the more adventurous, an English speaker tells me that what I thought to be a good year for snow is actually a bit below average, "normally these trees would only just stick through the top of the snow".
Fifty minutes' drive to the east of the city is Ak-Bulak, a great resort, but one that feels very much aimed at locals. The journey there reveals Kazakhstan beyond the big city, as we drive along the edge of the steppe, with flatness to one side and distinctly alpine looking mountains to the other. My taxi driver gives me the Kazakh flag which was attached to his dashboard as he sings along to Boney-M at about 999 decibels. As this part of Kazakhstan is the natural origin of apples, he stops at a fruit seller, and tries to convince me to buy as many apples as I can, because he says, they are the best apples I could try. Unfortunately, I had to decline because my option was to take the seller's entire stock or nothing at all. I don't think I'd be able to ski very well with a truckload of apples strapped to my back.
This is a fun place and everyone here is either making use of the obscenely wide piste at the lower end of the resort for their first ever skiing or boarding experience, or searching for the best lines through its extensive freeride terrain. Stay on the far left as you start from the main gondola and if you're lucky you'll find the narrow track to the secret drag-lift. I stop as I see a drop in front of me, from which I won't be able to return, but only an endless forest into the distance. One or two tracks indicate that maybe the hidden lift is this way, but if not I'll be a bear's dinner before the sun goes down… and then a t-bar appears to float like a ghost through the trees in front of me. I've never seen a lift that goes from somewhere in the forest, to, well, somewhere else in the forest, but it provides great opportunities to practice one's off-piste technique; the route back to the resort even feels like couloir training for future big-mountain days.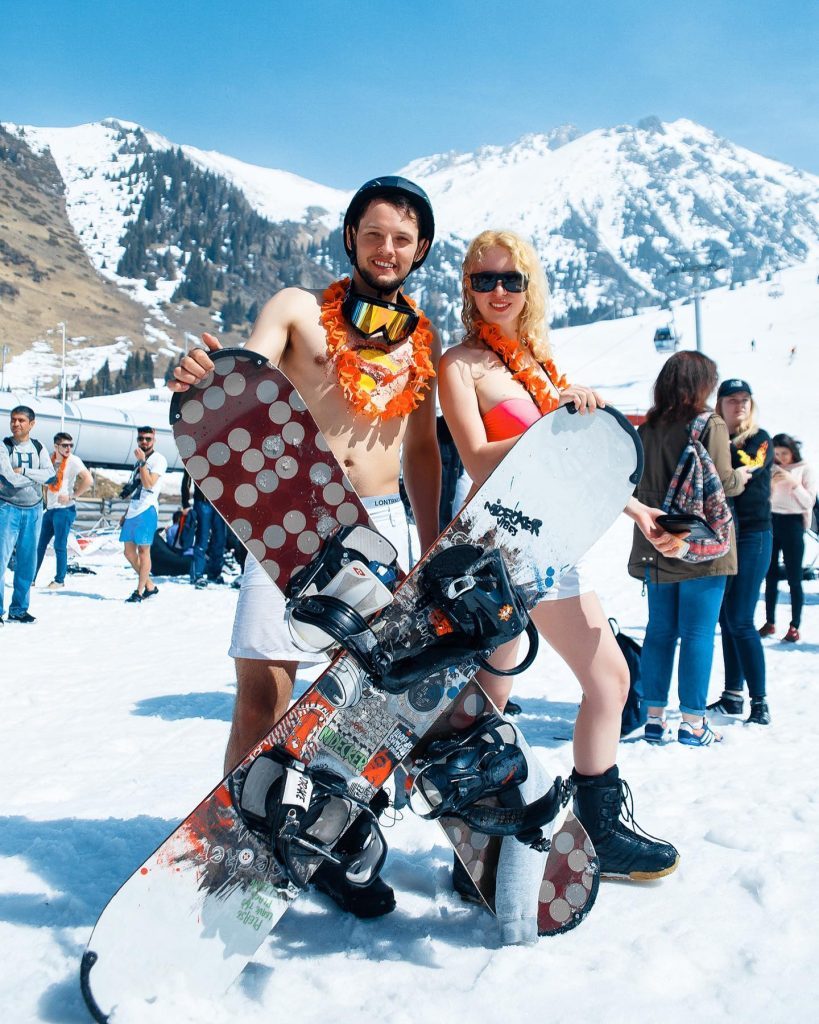 Once you're finished your practice, follow the people with the widest, most brightly coloured skis to the main dedicated freeride lift. From where I'm watching, it looks like a lift to heaven. After a long ascent it vanishes into the clouds before reaching the top of the mountain. Everyone who tries to ride it is quizzed on their proficiency by the attendant before being allowed on; the runs from the top are steep, long, and powdery all the way to the bottom, and there are a multitude of ways to get down. Great fun.
There are more ski areas to experience within an hour of Almaty, too. Try Oi-Karagai or Tabogan if you're with learners. Kazakhstan seems primed to burst out of its shell as a future go-to winter sport destination: new and more extensive resorts, with enough Kilometres to justify a weeklong holiday, are being planned around the country. I think I'll stay here for as long as possible, because each season is going to have more opportunities than the last.
(Images credit: Shymbulak Ski Resort)
We have a regular Podcast called The White Out where we review the latest gear, talk about the latest snow forecast and updates on where is best to ski now, as well interviews with absolute ski legends AND we spotlight a resort every week and so much more. You can check out our regular podcast here Apple | Spotify | Podcasts or search The White Out on your chosen podcast directory.