In the ski industry, we can often see first hand the effects that climate change is having on our beloved mountains. Recently, this has led many skiers to look for a way to keep their mountain adventures as sustainable as possible and now, ski company Mountain Heaven are offering an extra 10% OFF ski holidays when you travel by train.
For most travellers, flying is the optimal method of travel when it comes to taking a ski holiday. It's by far the quickest option and is generally cheaper than the alternatives. However, it is also the worst mode of transport when it comes to your carbon footprint and as such, it is unsurprising that this is one of the key areas in which many are looking to make a change in order to decrease their travel CO2 emissions.
But just how much difference does it make travelling by plane vs. say, driving or taking the train? Mountain Heaven have gathered data from several sources to be able to make a reasonable comparison of CO2 emissions for air, rail and road travel to the mountains.
This data shows actual CO2e figures in KG for just a one way trip to a ski resort.
Travelling by Plane
Getting to the airport: 7kg
Plane to Geneva: 120kg
Transfer of 190km: 6.15kg
Total CO2 Per person: 133.15kg
Travelling by car
Driving to Folkstone 231km: 51kg
Eurostar: 0.09kg
More Driving 965km: 213kg
Total for car: 264.09kg
Total CO2 Per person: 66kg
Travelling by train
Getting to the station: 3.5kg
Train to Alps: 20kg
Transfer of 45km: 6kg
Total CO2 Per person: 29.5kg
This simple graphic shows just how far ahead air travel is when it comes to carbon emissions: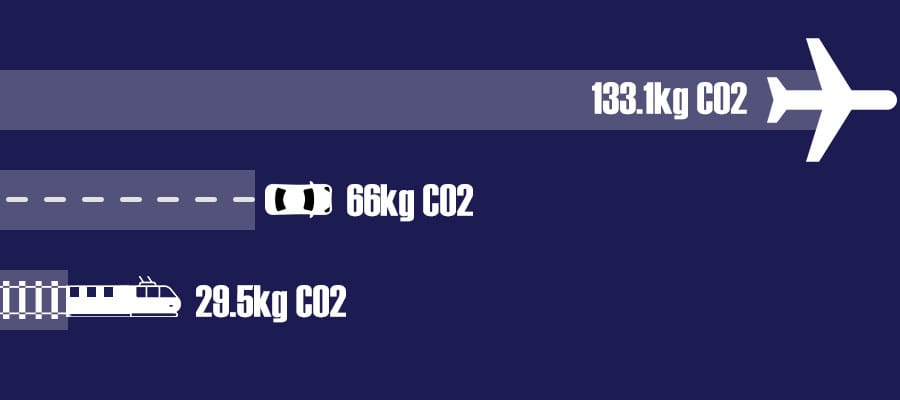 Train travel to the Alps has been a possibility for a long time, but in more recent years there have been those who are making the journey by train a lot more hassle-free. This October, the website SnowCarbon celebrate their 10 year anniversary of making train travel more convenient for skiers. Founder Daniel Elkan feels that the train is superior to other travel methods for many reasons, not just because of its position as a more environmentally-friendly alternative to air travel.
This year has also seen the birth of a new site promoting train travel to the Alps. Ski Flight Free is a venture aiming to bring the message of flight-free skiing as many U.K travellers as possible and is hopefully the sign of a positive change for both the ski industry and the planet.
---
The easiest way to plan a train journey to the Alps? SnowCarbon's journey planner tool is extremely helpful here.
---
So, what are the key benefits for train travel over air travel?
More relaxing – Simply sit back, relax and enjoy the views!
Family friendly – Train travel is much less stressful for those travelling with children than airports and planes!
Quick journey time – Door to door, travel time is not too dissimilar to flying. Don't believe us? Take a look at the Plane vs. Train video from SnowCarbon.
Train Travel with Mountain Heaven
Tour operator Mountain Heaven are doing all they can to reduce their environmental impact, not shying away from addressing matters of climate change in their business. For this reason, they have launched a very special standing offer to promote train travel to their guests this winter: 10% off when you travel by train
No matter what other offer you are using, you can now benefit from an extra 10% discount off the price of your Mountain Heaven catered chalet holiday if you travel by train. Now you don't have to worry about whether the train costs a little more!
Find out more: www.mountainheaven.co.uk/quick-links/catered-special-offers