April was a much snowier month than December so although most ski areas have closed for the season, almost all of the two or three dozen still operating in to May are in good shape with deep bases and recent fresh snow.
In fact it has been one of the snowiest Aprils on record (after one of the warmed winters again) which is of course extra good news for May skiing at those few centres that are still open.
That's because May is one of the quietest months of the year as neither most summer ski areas nor southern hemisphere centres have begun operating and by the end of May less than 20 areas are likely to be open worldwide before the numbers start to grow again in June.
Austria
Austria's glaciers are the places to head to in Spring and they're in good shape this May thanks in part to a lot of late April snow. Austria has eight glacier ski areas but not all are open in May. Hintertux is open year round, so it is, and the Dachstein is too, as is the Kitzsteinhorn which aims to be open in to July. The Stubai and Kaunertal glaciers are open almost all month (closing from the 30th May) but the Solden, Pitztal and Molltal glaciers plan to close after Sunday May 8th.
France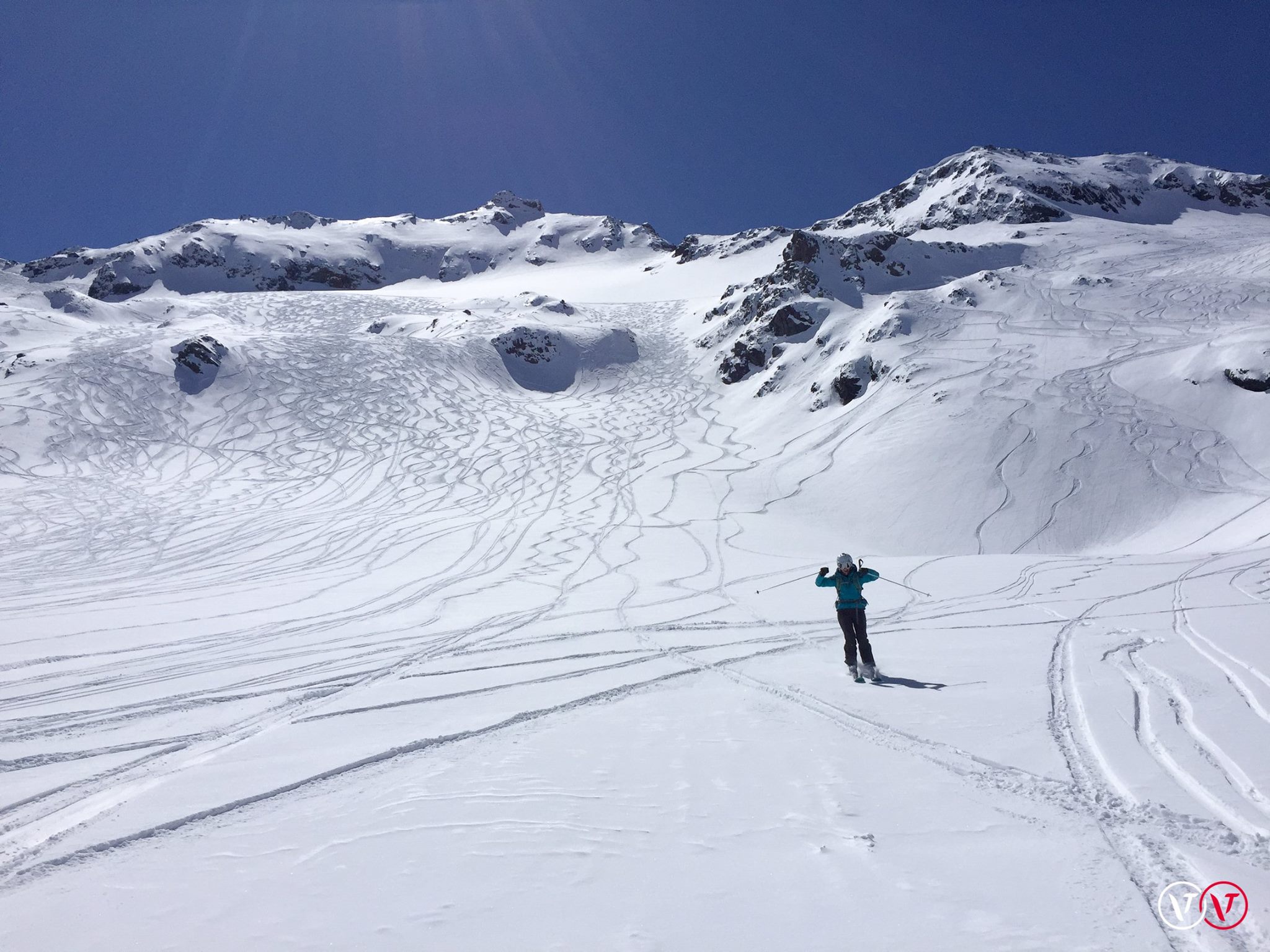 Unless there are any season extensions, the last day to ski in France in may and for the 2015-16 ski season will be Sunday 8th May when Tignes and Val Thorens (above on April 19th) end their seasons. Both had good snowfall in the final weeks of April so it's looking good for the last week. Tignes, Val d'Isere and Les 2 Alpes re-open for summer skiing from mid-June.
Italy
Italy in May is more confusing than it used to be, and there are certainly fewer choices. Most of the country's ski areas will have shut up shop by 1st May but Val Sensales, which reported over two feet of fresh snow in late April, is open to May 8th. Unusually Passo Tonale, normally open in to June, is closed too for on mountain building works. So through most of may the only option is weekends at Cervinia (pictured above). However the summer glacier area of Passo Stelvio is due to open for the season on May 28 at the end of the month.
Switzerland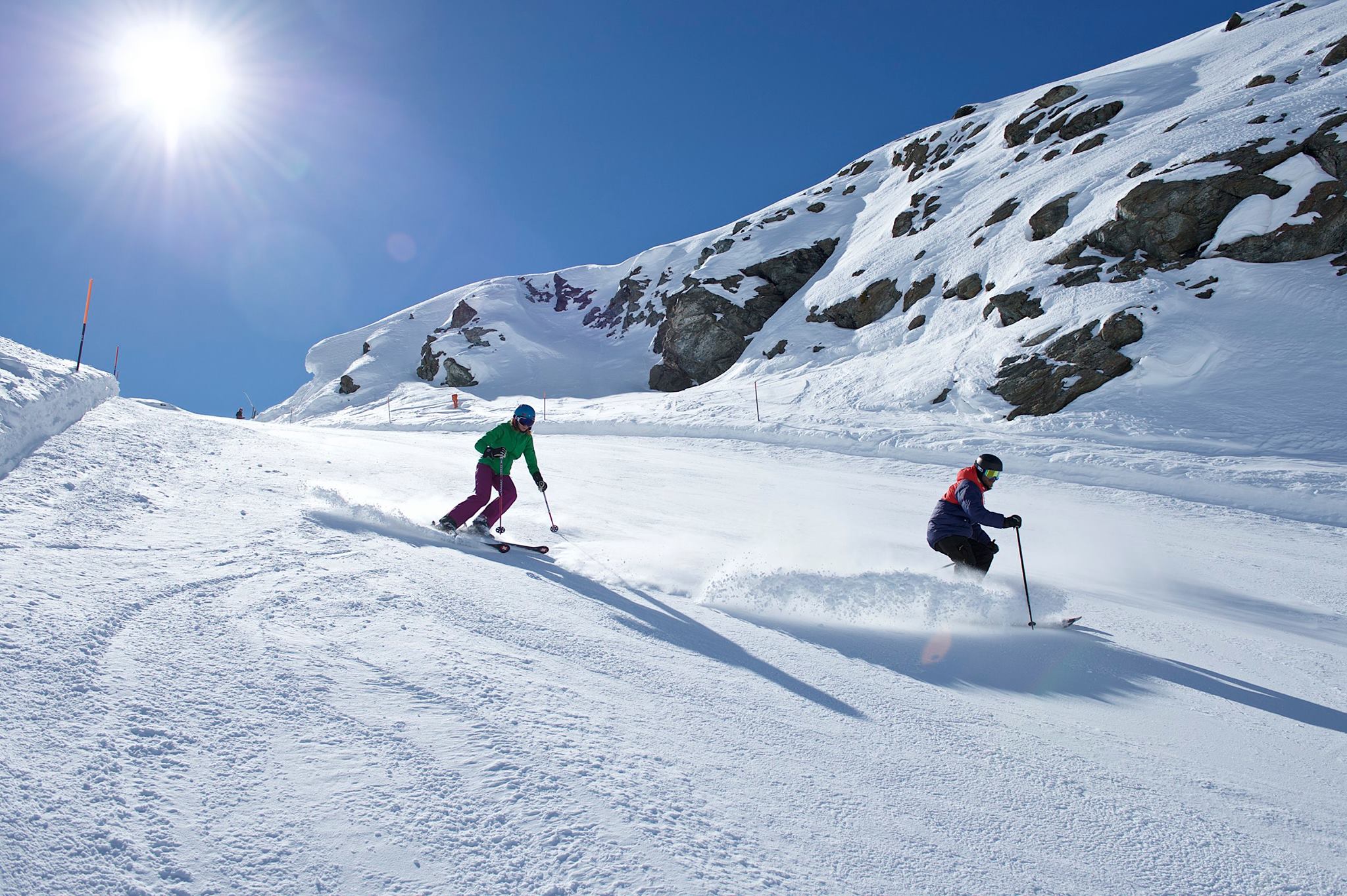 There are half a dozen Swiss ski areas open as we start May, but only one, with Europe's highest slopes at Zermatt (pictured above) expects to be open by the end of the month. Operating for one week only, to May 8th, is the Diablerets/Gstaad Glacier 3000 area. But Engelberg, which starts the month with the second deepest snow base in Europe at more than 3m/10 feet on its Titlis glacier and the Diavolezza glacier near st Moritz will operate for another two weeks to 22nd May.
Scandinavia
(Narvik – open to May 16th) Many of the larger Scandinavian ski areas stay open at least to the end of the first and in some cases the second weekend in May, or even longer. Ruka in Finland will be open to the 9th, Narvik in Norway (above) to the 16th. Riksgransen in the Swediush arctic Circle, often called the spring skiing capital of Europe, is open to midsummers day in late June.
There are also summer skiing opportunities in Scandinavia. the Folgefonn glacier, one of three in Norway open in summer, opened this weekend for its season. A second choice, the Stryn glacier, opens the last weekend of May this year.
Scotland
It has seemed much more like mid-winter than mid-spring in Northern Britain over the final week of April and snow has reached Scottish valleys (rather than just the ski slopes) for the first time since January. Glencoe on the West is still open and expects to remain so to May 2nd inclusive. Cairngorm (above last Tuesday) is also staying open to May 2nd and says it will decide then whether to continue further in to May – the problem is more lack of business than lack of snow.
Canada
Three Canadian areas are open as we enter May but Lake Louise in Alberta will close on 8th May. This another Banff' area, Sunshine, open through to the 23rd May (when it will also stage the Pond Skimming World Championships) and Whistler, open a week longer to the 30th – at which point it just closes for 12 days before re-opening for a month of glacier skiing in June.
USA
There's been lots of fresh late April snow in the Western US, Ski areas planning to stay open through to the end of May include Squaw Valley and Mammoth in California, Arapahoe Basin in Colorado, Snowbird in Utah and Mt Bachelor in Oregon. Some of these open maybe Friday to Sunday only, not mid-week, because they don't have enough customers. Some will also stay open in to June and maybe even July. Mammoth has stayed open to August in the past and currently has snow lying 15 feet deep at the top of the mountain. There's also a ski area called Timberline Lodge at Oregon which is open almost year round and on the East coast Killington in Vermont has a reputation for keeping a run or two open in to May and sometimes June. As we enter May 2016 it has about two miles of runs still open with a 60cm base.
Southern Hemisphere
No ski areas in the southern hemisphere expect to open before the start of June but there have been some healthy pre-season snowfall in several areas to get people excited. La Parva in Chile is pictured above in the last week of April and a young man at Catedral in Argentina below, both report around 30cm of fresh snow in the past week.