I set out to do a low carbon ski road trip in Austria. Me and three buddies in an Audi e-tron, reducing our footprint as much as possible, as we range over Austria's famous ski regions.
A slight change of plan at the 11th hour, but we assemble in Ashford at 5am from various points in the south of England to pack up head Alps-ward. Timewise, and green-wise, crossing the Channel by Eurotunnel from Folkestone to Calais in 35 minutes is the way to do it (train contributes 2kg CO2e v. 147kg CO2e by ferry). There are a handful of charging terminals at the Flexiplus passenger lounge, if you can resist jumping on the next available train as Flexiplus travel allows; We think how efficient it would be if you could charge onboard.
Driving through the flats of Ypres, I count nine contrails in the electric blue, cloudless sky that was to stick around throughout our entire three-weeker ( – that's not exactly good luck for February-March in the mountains). We pull into several big petrol stations on the hunt for a fast charger: all taken, with many cars hovering.
On we plough through France, into Germany and try our hardest not to cane it on the autobahn, wasting precious energy (in a brand new Audi, it's tough). Can we save any in someone's slipstream, we wonder? Rolling into Altenmarkt im Pongau in time for dinner 12 hours later, we check in to Hotel Kesselgrub (powered on hydroelectricity) for a slap up meal in its cellar restaurant s'Kessei.
Altenmarkt – Zauchensee
First thing's first. Skis. Austrian skis, Altenmarkt-made. Atomic might well be defined by its racing legacy but it's making gargantuan efforts for a green future, focusing on sustainable innovation and manufacturing. On a factory tour, you can understand just what this involves, from design and materials, to powering production, to quality control and the onward life cycle of the 500,000 skis it produces annually. I can see why a pair of skis costs £800.
It's the Atomic Redster Q7 Revoshocks that get me, designed for multiple on-piste conditions. It's got the days' full bandwidth covered, with its full camber and solid grip on hard snow first thing, dampening and forgiving on ridden-out chop and slush late arvo.
Walking on air back to the hotel, brand new planks (dubbed 'the gravel bike of skis') digging into shoulders, we're ready to rip. Or are we… The Audi was set to slow charge for 9am. User error? No, the charging point is faulty. We clamber in, our excitement dashed.
The 11th hour change I mention is the car. Our borrowed Audi was in fact a Q7. A hybrid – strongly advised by the brand, worried it was to leave four reviewers stranded on a mountain pass without charge. Our range is now 29 miles on electric. We used two tanks of petrol to get here and pledged to switch to electric once off main roads to travel between resorts, avoiding polluting in local areas. It's far from perfect and I feel somewhat defeated; the trip's raison d'etre was to cut the carbon as well as ski. A quick calculation puts our output a little over 160kg for a return journey driving to Salzburg. Four flights come to 1.24 metric tons. The numbers change with each carbon calculator, but we're four in a car and have avoided planes, so get stuck into the new plan to travel by electric in Austria and use it as an experiment.
Austria is, by nature, set up to be green. The country's traditional way of life in the mountains engenders eco-conscious living. It's also a powerhouse of green innovation, technology and manufacturing and, here's hoping, sustainable tourism. (If we can find EV chargers for plan B…)
Altenmarkt has a handful of family friendly pistes but we're looking for something bigger to test out these new guns, and head up the road a few kilometres to Zauchensee and pristine pistes. The resort retired its snow cannons in December when it ran out of water, the electricity for which is 100% sustainable. We boot up, dump the motor for the day and head up to 2,000m. This is part of the mega Ski Amadé area within SalzburgerLand; it's interesting terrain, with skiing on two sides of the valley – prime for losing a team member as you switch from one side to the other. Three stretch their legs on the long, open, winding blues as I take on the beautiful, steep pistes on the western side of the resort. We spend the day here (€68 lift pass) and the evening at Hochnössleralm at the top of the toboggan track with local cuisine and very Austrian music, to sled back down merry.
OBERTAUERN
A 20-minute drive from Altenmarkt, and a hella scenic one at that. But still no E.
Dawn patrollers, here's one for you: Tour up the Hundskogel (2300m) at the north end of Obertauern from the Kingsalm restaurant and lift (1,600m). Martin arrives to guide us, bleary eyed, and we rush to get ready under the stars. 'It's been a while since I've been up for this', he says, and sets off at a lick up the red slope under Schoenalmbahn. We haven't left time for the mellower blue ascent option, as we race the sun up the mountain to watch it rise. From Schoenalmbahn we skin to Hundskogelbahn and follow the ridge round the back of the Hundskogel to the cross at the top. We make it as the sun is crowning the east end of the Obertauern valley. It's -15C up here with windchill; the valley glows pink and orange. 'You guys got me out of bed for the first time in years to do this,' says Martin. 'I forgot how much it's worth it.' As we set off on the down, the rattle of our touring skis sounds like machine-gun fire on the frozen crust. I feel like we're waking the entire valley still sleeping below.
Another highlight, for those that like it steep (real steep), is taking two-man Gamsleiten II towards the end of the day when it gets sun. The views up top are spectacular, and it's a long, consistently pitched descent. In March at the Gamsleiten II, a treasure hunt is held with prizes buried under the snow that range from a season lift ticket, to skis, to a brand new luxury car.
Obertauern is like a vast cirque, the village in the centre and visible wherever you are on the hill, so you can't get too lost. But there's no real resort hub. Lively apres bars do blare out tunes on the slope, though, drawing you in like a siren, and the night skiing is almost as popular as day riding. Plus, it's very good value (€53 pass).
Checking in to hotel Cinderella, we drop the Audi in the heated basement carpark. The charger is tucked away under a bulkhead and the roofbox has to come off to back the car into the space to charge. Cinderella kindly takes on the task and charge it does, delivered back to us on checkout with roofbox on and skis packed.
LEOGANG – 'home for the laid back'
My notes on this journey on from Obertauern simply read: 'drive to Leogang – f***ing insane'. And we're finally on track, travelling electric. This is the real joy you get from driving to the mountains; It's not the slog out and back, but the sweet spots in between resorts. The villages, the landscape, the freedom and independence to explore beyond resort boundaries.
Leogang has impressive eco credentials. Snow runoff is collected in two reservoirs each spring-summer, to be pumped back onto the mountain by snow cannons the next season, which are powered by hydro plants. Excess energy, i.e. heat, created by the lift station is syphoned off to warm the restaurants and workshops. Biofuels are used for piste bashers, cable cars run at slower, energy saving speeds, and there are more organic farmers in Leogang than anywhere else in Austria.
A vending machine at one of the base stations sells bread, milk and cheese, stocked by local farmers. Aesthetically, all looks natural, too. Buildings are made from stone or are dark wood clad to fit into the natural surroundings. The hotel scene is impressive, with eco retreats blending into the foothills. Hotel Puradies is luxurious, inside like a grand tree house, with a huge wooden bar and sculptural spiral staircase. Family owned, one of the sons wearing a jumper reading 'there is no planet b' tells us of upcoming plans to drill down for a ground source heat pump, so the hotel can run exclusively from ground and sun energy.
The Leogang-side slopes are north facing, but get up to its heights and skiing is connected to the mega Saalbach Hinterglemm Leogang Fieberbrunn Skicircus. A mouthful of a name with as much freeriding to seek out as there are groomers to ski (270km). Ski all the way to Saalbach to get a feel for its lively edge, but be careful to make it back to Leogang before lifts shut and you're stuck. We had rather too long and leisurely a lunch at Wieser Alm, easily done in its swanky setting with everything from €10 toasties to €80 steaks, and had to wing it back to Leogang, bribing lifties along the way. (€66 Skicircus day pass, charging at eco-hotels a doddle).
Kitzbühel
Leaving SalzburgerLand ski state, 39km from Leogang and 45 minutes later we cruise into Kitzbuhel. Taking a tour of the town, we visit the Hahnenkamm winners board with its newest entry; Dave Ryding has just won his, and Britain's, first ever World Cup. The victory has generated approval from all skiers, no matter where they're from. During our time in Kitz, we receive many genuine congratulations, everyone is as delighted as us that it has finally come home (after 100 years!). It's a great time to be here; imagine this in France…?!
Skiing between the 'twothousander' and Pass Thurn is a quiet collection of slopes. It's -10 and bluebird. It's also ball bearing snow, warmed slightly by sun through the day and frozen overnight, with zero stick to it. It's going to be sketchy as, if it does snow. But this dry season marches on and we ski route 34 from Pengelstein – a great little adventure away from the piste, with not a soul around. (Lift pass €62)
Two weeks in and we've got road trip fatigue. Lunching on knödel, schnitzel and schmarren almost exclusively (I've been Austria'ed) we look out somewhere less like it for dinner, which we found in fine form at Grief in town. Taking a day off skis we snowshoe up through a forest to the Bochumer hütte near nothing and noone. The only other patrons are local hunters with plates of potato, bacon and egg hash, so we do the same.
Staying in 5* A-Rosa with really exceptional breakfast and dinner buffets, we never quite made it to the front of the queue for car charging. Driver-1 buddy went off on a mission around town and returned an hour or two later with a few miles banked, but missed out on après. It hardly feels worth it for a few dozen miles in the tank.
Zillertal
Zillertal valley is wide and sunny, the valley floor practically snowless. It's impossible to know what good stuff is to be had, hidden up top. We set off from Kaltenbach base, heading up to the vast panorama at Hochzillertal. Until recently it's been a reasonably authentic Austrian ski area but it's going upmarket. Once you're up on the hill, this place gives Kitz a run for its money. It's a shame, says our guide, who in snowier seasons leads freeriding days, as we tuck into a boujis lunch at Wedelhütte. We enjoy a similarly perfect time skiing Mayrhofen, with another baller lunch at mirrored pyramid Schneekarhütte the next day.
We wait our turn to charge at hotel Wöscherhof in Uderns, with its very own baltic nature pool, and luckily plug in overnight. It's a 200km drive to Montafon, so our mini e-tank won't cut it, but an all-electric would be set.
Montafon
There's something strange in the air, it's windy and warm – a foehn is blowing in. We stop in St. Gallenkirch at an old-world hotel, the Adler, on a winding mountain pass with a small, grand dining room for lunch – some pitstop… Vorarlberg really is the place for road tripping.
There isn't enough fresh snow to appreciate the freeriding Montafon's famous for, but touring is on the agenda: an evening skin to farmer's hut Kristahof for dinner above Tschagguns. We set off skinning in t-shirts until dusk when it starts to freeze. Steak reared on the farm and schnapps to warm us, we assemble in messy formation outside and adopt the power plough. Slush has turned to lumpy ice and four competent skiers look like first timers on skis: thank god it's dark. Through much swearing, we miraculously make it down with a few knee tweaks and glute ache.
The Montafon area receives an immense amount of snowfall and much of the skiing is above 2k. This is the westernmost state of Austria – it's practically Switzerland – and is separated from the rest of Austria by a huge mountain spine, with the Arlberg sitting just the other side. You can have it for much less money and fuss than in neighbouring Lech, for example, our next stop. It's definitely a ski area on the up, rough and ready round the edges. What it does have is dozens of e-chargers in the carpark under the Silvretta Montafon lift station – an updating ski area with its priorities in place.
Befitting the name, it's a mood skiing in Gölm, the warm wind blowing from the south. Snow underfoot is soft and forgiving – just find an edge and ride. The Sahara sandstorm has arrived in Austria: It's erie, like an eclipse. We ski a few reds that wind between the trees for some visibility in this sepia world, before heading into Haus Matschwitz for a low-key ski lunch.
LECH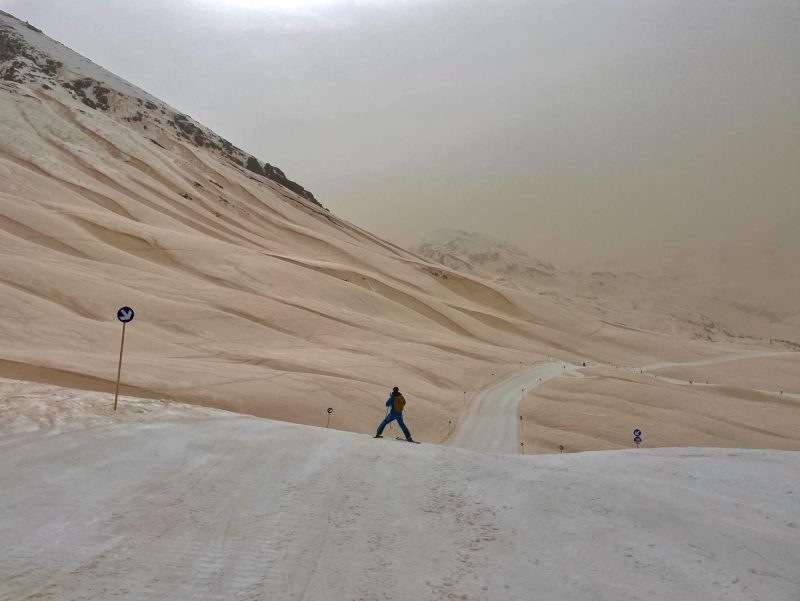 There's more snow piled on the sides of roads and covering the ground than anywhere we've seen by far. But it's like a baked Alaska, streaked with brown. No matter, when you're staying in the homely haven that is Hotel Staefeli up in Zug, a short 3km drive uphill from Lech's centre. We have käseknöpfle night and crash. Skiing Lech's famous ski route 'The White Ring' is now brown (…) but the orange fog still hangs and it's fascinating to ski this vast area, as if you're on the moon. (Lift pass €67). We spend more time in the spa and skiing with a destination, like to lunch in Der Wolf, Oberlech to check out its artwork, and visiting Skyspace Lounge, a mountainside gallery experience at sunset. This isn't the Lech we all know and love, but it's memorable, for sure.
Successful Trip?
The ski road trip, east-to-west through Austria, has come to an end. Plan B, to take a hybrid for resort-to-resort driving, was the safe option. Because, in short, what we found was that the EV charging infrastructure just isn't there. It divides our group: not wanting to risk running out of fuel in the cold when we could be skiing, versus, if we had a fully electric car, we could make it further with less need to charge. But the bottom line is you do need to be able to charge wherever you go, and it needs to be as easy as it is to top up with petrol.
As ski resorts have in the past invested in infrastructure to remain relevant, they now are doing everything to fight climate change: upgraded snowmaking systems, a switch to hydro and solar (even wind), a reduction in grooming, using biofuels to power machines, rewilding, regenerating.
But in reality, skiing's material risk is changing modal transport practises from planes and petrol cars to trains and EVs, with transport 75% of a skier's footprint.
And the infrastructure just isn't there yet to support it. I'm certain the situation is changing and quickly, and I hope that I'm out of date already after a summer of action. Of course it's possible, and I know people who've made it skiing in an all-EV with a little more planning and time taken en route to resort. But as a loose, flexible road trip? Not so much…
———————————————————————————————————————
We have a regularly Podcast called The White Out where we review the latest gear, talk about the latest snow forecast and updates on where is best to ski now, as well interviews with absolute ski legends AND we spotlight a resort every week and so much more. You can check out our regular podcast here Apple | Spotify | Podcasts or search The White Out on your chosen podcast directory.