We're all spending less time on our ski holidays actually skiing, we're told, and instead are looking for more alternative activities to enjoy while visiting the mountains. The ski resorts themselves want to get more visitors outside the ski season and spread their business all year round to make it more sustainable. The result of this conundrum? Well, there are ever more zip wires, mountain coasters, mountain biking trails and, for resorts with the deepest pockets, a growing number of epic indoor water parks! Here are some of our favourites:
Avoriaz, France
Avoriaz is owned by the same company that runs Centre Parcs, so it made perfect sense for France's only fully car-free ski area to build a tropical water park 1,800m up in the Alps. Aquariaz has been designed as "an aquatic paradise in the mountains" featuring lush vegetation and rocks, a river with a gentle variable current, a water playhouse, a paddling pool, a large pool with climbing walls, and an open-air spa heated to 34°! One particularly popular attraction is the "slidewinder", a kind of aquatic half-pipe ridden in a tube.
The Pump House, Jay Peak, USA
Jay Peak, located up near the Canadian border in northern Vermont, created one of the world's biggest indoor water parks, the Pump House, next to its ski slopes. Packed full of wet and wild fun features, highlights include the La Chute waterslide, which has a 20m vertical drop and will see you complete a full 360° rotation as you hit 70kph. "Six seconds later you arrive at the bottom. Forever changed," said a Jay Peak spokesperson.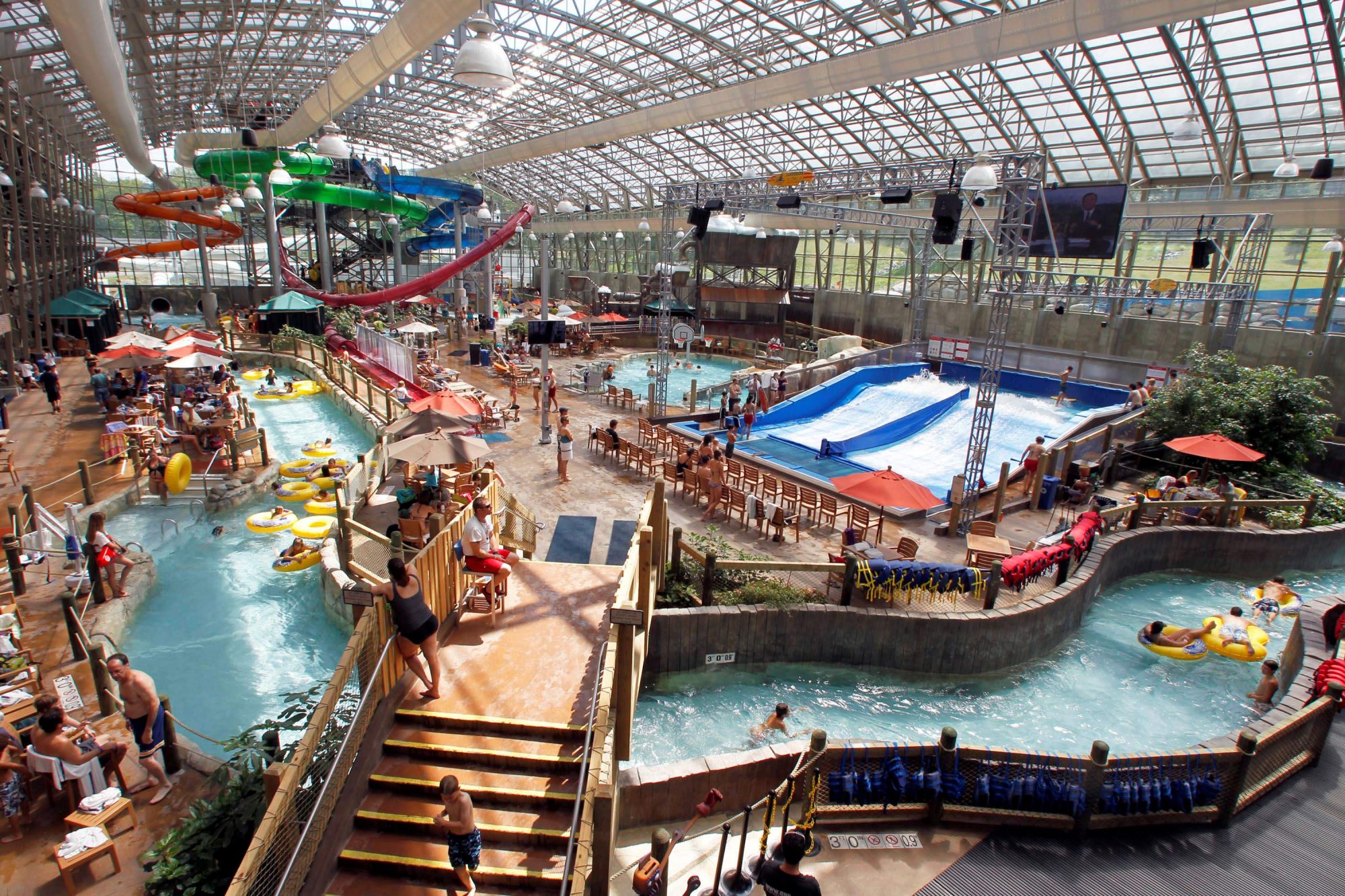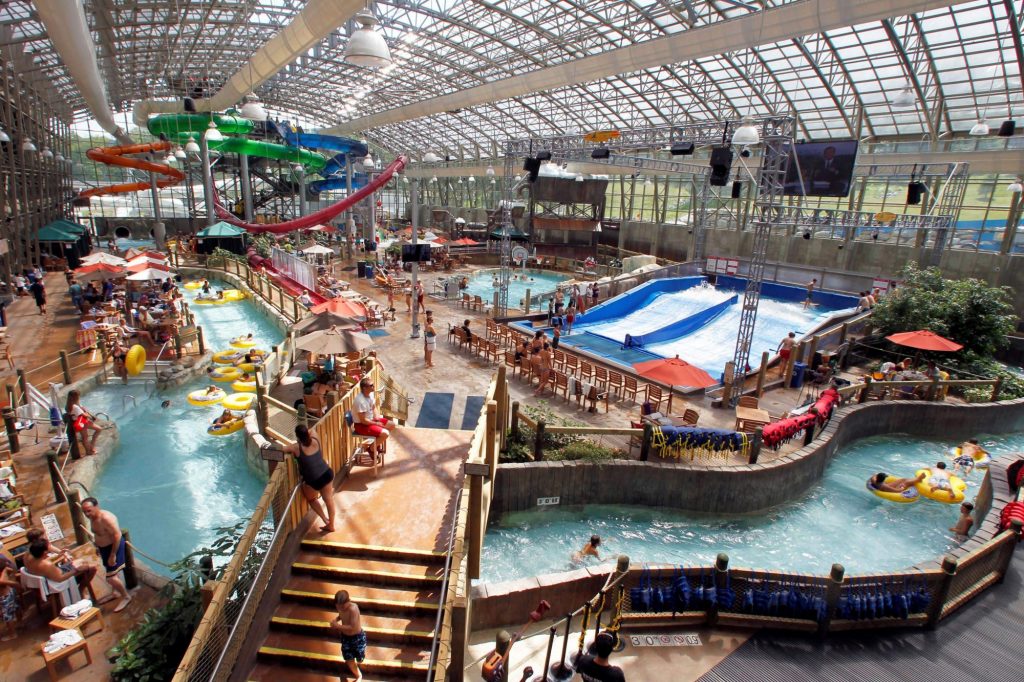 Aqualudique, Les Arcs, France
Les Arcs is one of the latest big French resorts to splash out (get it?) on a huge indoor water fun zone. Its Aqualudique complex at Arc 1800 is part of the on-mountain Mille 8 indoor-outdoor family fun zone, which is open daily, morning to evening. There's 3,800m² of aquatic space and relaxation zones, including whirlpool baths, massage beds and other facilities, to help you unwind and forget the everyday stresses of the ski slopes. Kids will enjoy the splash pad, water jets and water slides.
Levi, Finland
The Levi Hotel Spa (Levitunturi) is the leading hotel in Finland's biggest ski resort, and a few years ago it unveiled its "Spa Water World" – a themed collection of 17 inter-linked indoor-outdoor swimming pools. What's different to your usual indoor water park is the use of sound, projected images and sensory lighting, as well as the more usual flumes, counter-currents and wave pools to make this a very different attraction. It's open to non-residents.
Aquamotion, Courchevel, France
Courchevel recently splurged €63 million (£50 million) on their Aquamotion complex, which is divided into adult and child areas; the former is home to a salt water spa and comes complete with dark, cavern-like areas where mesmerising kaleidoscopic patterns are projected onto the main wall, providing the only real source of light, while lovely relaxing music plays in the background as you float. There's also a large indoor-outdoor pool, a sauna and much more. For kids, there are two huge waterslides, two diving boards and two children's pools and, the centre's signature attraction, a surf wave pool where you can try bodyboarding, surfing or wakeboarding, although apparently it's harder than the competent people make it look.
---
Take a look inside Aquamotion!
---
Tschuggen Bergoase, Arosa, Switzerland
At 5,000m², the Arosa Tschuggen Bergoase is the largest spa in the Alps. Part of the resort's 5★ Tschuggen hotel, the complex is partially built into a mountainside and was designed by award-winning architect Mario Botta. Open to non-residents subject to space, the spa brings together nature, geometry, warmth, rock, light and water with the aim of being a place of wellbeing and inner peace. So, you can expect a spectacular spa and a wonderful pool area complete with themed water trails.
The Grand Spa Thermal, Brides-Les-Bains, France
Of course, some ski areas were spa resorts long before snowsports were dreamt up, and they're still a good choice when it comes to aqua fun and relaxation. Brides-Les-Bains, at the foot of the world's biggest ski region Les 3 Vallées, is one such choice, and this winter it will unveil the fully renovated largest thermal spa in France – the new Grand Spa Thermal – following a €17 million investment.
Along with incredible spa facilities, the aquatic area covers 600m² and consists of three different zones: a 25m swimming lane, an aqua-fitness pool, and a "fun" pool, complete with two jacuzzis, two "bubble beds", underwater jets and an unusual underwater circuit.