Although almost indescribably fun, skiing and snowboarding can be tricky to learn and nearly impossible to master.  The truth is that no matter how good you are you'll still benefit from good ski lessons or snowboard lessons – after all even Olympic athletes need to have coaches!
If you're a beginner you'll stay safer and learn to do things properly right off the bat so not only will you improve faster with a lower risk of injury than if you tried to go it alone, you'll also lay the right foundations for a lifetime of fun.
Many people find that even after skiing/snowboarding for years they get stuck on the dreaded "intermediate plateau" and find technical progression and getting out of their comfort zone next to impossible.  Luckily, with the right ski instructor or snowboard instructor pointing out small mistakes and making relatively simple adjustments to your skiing/riding you'll find getting over the hump easier than you thought and will be tackling more difficult terrain – with more style and grace than you knew you had in you – in no time.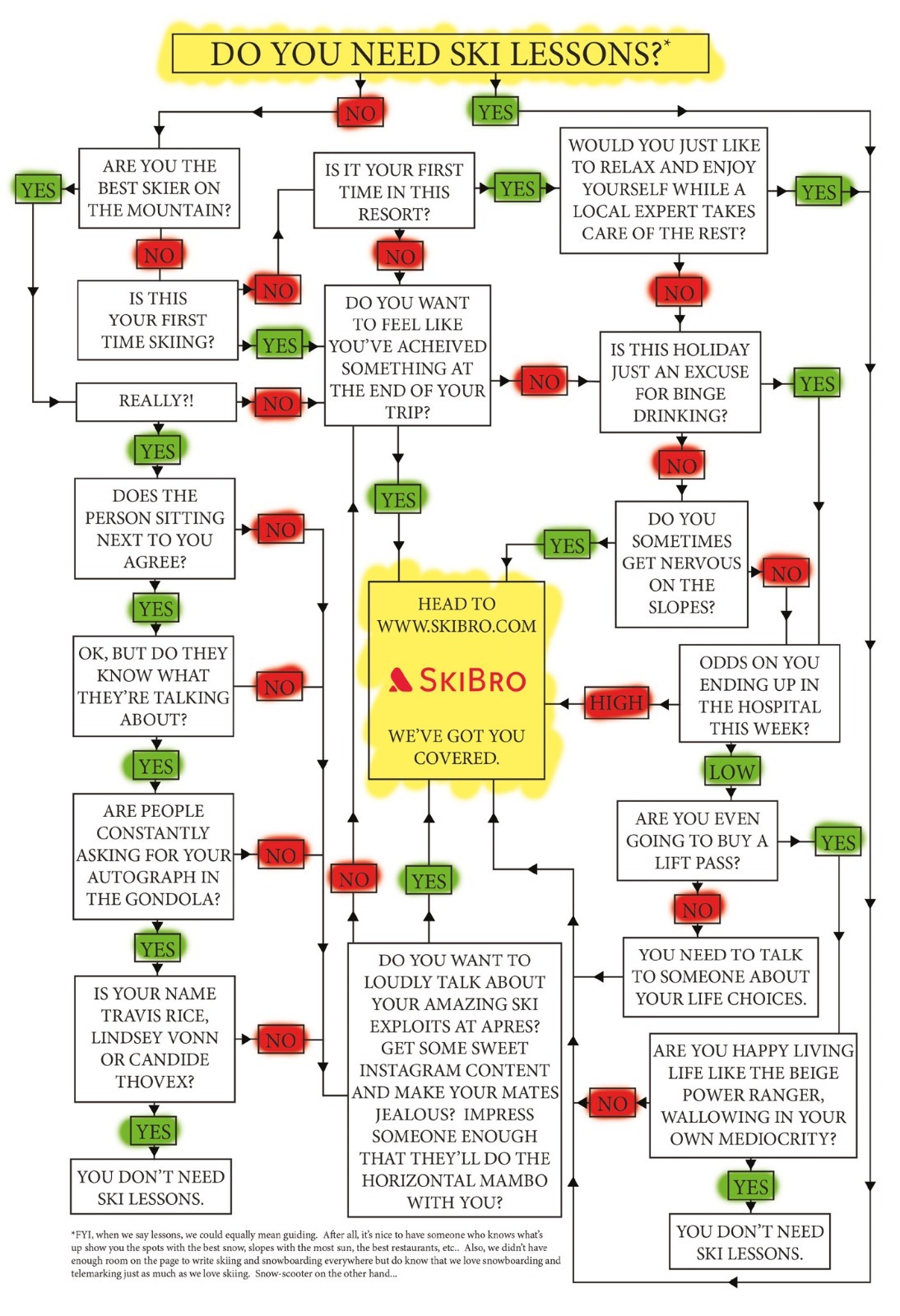 Advanced skiers and snowboarders often think they've got nothing left to learn, but that's rarely the case.  No matter how good you are, expert tuition from a fully-qualified ski/snowboard instructor will improve your skiing/riding and open up the door to new adventures.  Whether it's correcting your technique so you can blast through moguls with ease, going on your first ski-touring adventure, or learning how to manage ropes and harnesses as you travel through glaciated terrain, there's always more of the mountain to enjoy.  Plus, when you're with a ski instructor you get to skip the queue at the lift and that alone can sometimes be worth its weight in gold…
SkiBro is an innovative new platform that enables you to find your perfect instructor, guide, ski school or adventure and book instantly. Each one has a comprehensive profile including profile video & customer reviews, so you know exactly who or what you are booking and can be 100% confident that they're the best possible match for you or your kids. With instant booking it's sorted in a few clicks. With SkiBro, long-winded email chains, awkward phone calls, transfer day mayhem and closed booking offices are a thing of the past!
SkiBro is present in all major resorts in France and Switzerland including Meribel, Val d'Isere, Zermatt and Verbier.  Find out more about the resorts SkiBro covers here.
To find out more, head to: www.skibro.com