Megève is a very different and very special ski destination. It is a smart French ski resort developed by the Rothschild family; its heart is a medieval village, criss-crossed by two mountain streams and centred on a picturesque pedestrian square overlooked by the church. The centre still has the old ambience of a French mountain village, inhabited by some of the original families, but it is also a Parisian resort with smart shops and restaurants and is a base for the fourth largest ski area in the French Alps. The extensive skiing is full of interest and character and at just 75 minutes from Geneva Megève is ideal for ski weekends as well as full week holidays.
When To Visit
Best time of day to be on the slopes: Any time. Pistes are quiet outside of French school holidays (New Year and three weeks in February). In Megève if there are three people in front of you at a lift then that's a queue!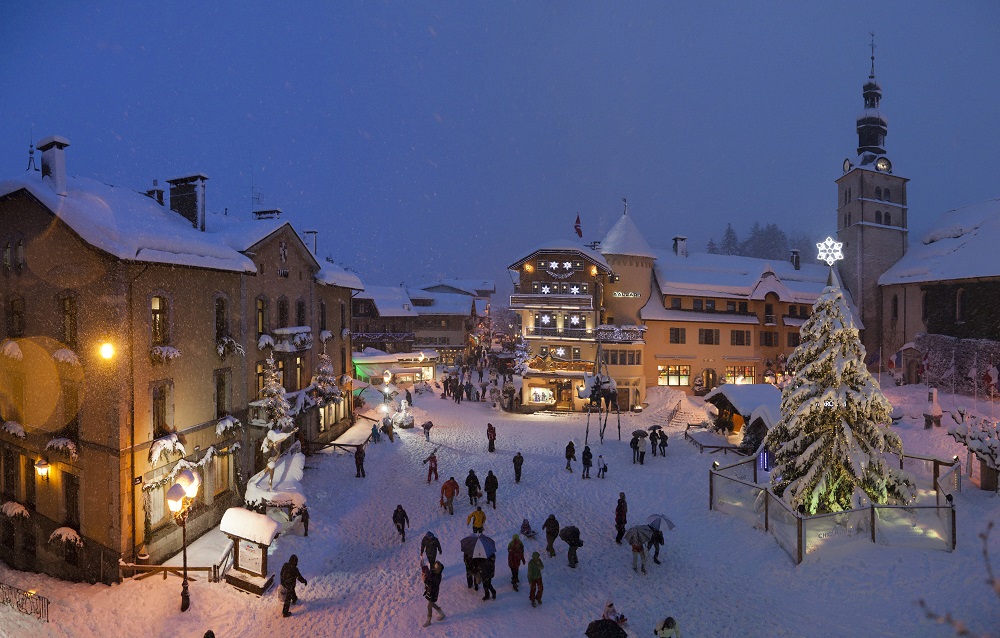 Best Mountain Restaurant
There's a huge choice so it's a tough choice but our favourite is Le Gouet near the Croix du Christomet. A rustic restaurant with a log burning stove, lovely sunny terrace and friendly staff. It does a fantastic Croute de Gouet – bread soaked in white wine, ham, smothered in cheese and baked in the oven, then topped with a fried egg. That should keep you going!
Best Runs
Again, so many it's difficult to choose, but the 8km blue run from the top of Christomet down to Les Giattaz past frozen waterfalls and icicles is always spectacular. In fresh snow, the black slopes Bridans and Voltigeurs are never pisted and are deserted. They are so unknown that we have had returning saisonnaires discover them for the first time! The 7km run from the Grand Epaulet to Les Chatrix embodies the ski area. Starting on an exposed ridge with stunning views of Mont Blanc, it ends up winding down a pretty tree lined piste to the remote village of St Nicholas.
Best Regional Food
If you haven't had your fill of tartiflette and the like on the mountain then head to the Vieux Megève Restaurant for the traditional cheese fondue or Raclette. Delicious, but you won't be able to move afterwards!
Best Restaurant
Spoilt for choice again. Obviously the Flocons de Sel with its three Michelin stars is amazing but if you don't want to make the short drive there (and why would you, you don't need a car otherwise in Megève), try the M de Megève. It's very bling in decor but great service, friendly staff and most importantly delicious food. We expect Michelin stars shortly!
Best Event
22nd BMW Polo Masters.  Played in Megève on snow.  It's a crazy spectacle, taken quite seriously involving international players and not to be missed. Plus it's free!  Starts January 19th this winter.
Best Apres Ski
After you've had your gourmet meal why not dance the night away at the Club des Jazz des Cinq Rues? One of the oldest jazz clubs outside of Paris, the Club de Jazz opened shortly after the end of World War Two in a tiny back street of Megève. It still hosts big name stars and has a cosy atmosphere and welcoming vibe. Or for a quick drink straight off the slopes, the St Paul Bar is where all the locals go. Situated behind the village square, just next to a picturesque stream, it's cheap and cheerful.
Ski weekends and short breaks as well as week-long holidays are available with Megève specialists stanfordskiing.co.uk in catered chalets, self-catered apartments and hotels.