At the crossroads of the Dolomites, where cultures meet in a snow-capped cacophony of sights, sounds and skiing, sits one of the Alps' most under-appreciated resorts, Ortisei.
When you think of ski resorts in the Dolomites, there are a number of names that immediately crop up; Cortina, Arabba, Corvara, Selva. However, there's one resort that's a well-kept secret among regular visitors to the area, and having finally had the chance to visit Ortisei myself this winter, I understand why return visitors here want to keep it all to themselves!
The Dolomites enjoys a unique blend of Austrian and Italian culture and, in our opinion, Ortisei is the resort that best encapsulates this. With its distinctive colourful architecture, lively cosmopolitan feel and spectacular skiing, it truly showcases the best of this incredible area.
The Dolomites' Most Magical Resort
Picture a purpose-built ski resort, sat isolated atop a lunar-esque mountain surroundings. Then imagine the complete opposite, and you've found yourself in Ortisei, or as it's often known, "the pearl of Val Gardena".
I can say with absolute conviction that Ortisei is one of the most beautiful resorts I've ever visited, with a town centre that features gorgeous pastel-coloured Tirolean style architecture in the shadow of the world's most spectacular mountain range.
Ortisei is the largest of Val Gardena's three towns and unlike some Alpine villages, everything here feels truly authentic. This is a market town that's been a key feature of the Val Gardena landscape for over two centuries, with a long tradition of craftsmanship and woodwork that remains to this day.
As we stroll down the main street after a day on the slopes, the cobbled streets and twinkling lights illuminate a vast array of shops, restaurants and champagne bars, tantalisingly tempting in the cold night air. In the spirit of journalistic research, we dip into one to find a welcome vibrant atmosphere as skiers from across the world enjoy the well-priced drinks and accompanying nibbles. It's a far cry from the raucous après-ski you'll find at institutions like the Folie Douce, but for many skiers, it's a far more enjoyable way to reflect on a great ski day and plan your next adventures.
In the surrounding streets, a number of beautiful hotels and apartments mean that skiers on all budgets are sure to find their perfect Ortisei base (though we do have a few personal recommendations below for those looking for the most spectacular stay!).
The Skiing in Ortisei
Nestled at the base of the famous Val Gardena valley, Ortisei occupies a privileged position when it comes to skiing in the Dolomites.
It's by far the best resort from which to access the highly popular Alpe di Siusi area, which is a haven for beginner and intermediate skiers looking for safe, gentle slopes on which to hone their skills. This is arguably one of the most picturesque areas in the Dolomites and is a must-visit spot, especially for families and those with less confident skiers.
For those staying in other resorts in the Dolomiti Superski, getting to Alpe di Suisi can mean a lengthy journey across the area and the ability to spend just an hour or two exploring the region before having to leave to catch their last lifts home. For those staying in Ortisei however, you can spend the whole day enjoying its stunning slopes without having to worry about rushing back, as it's just one quick gondola journey back to the town.
On the other side of Ortisei, skiers looking to rack up the mileage and explore the entire Dolomiti Superski area will benefit from easy access via the gondola and cable car up to Seceda at 2,518m and the Col Raiser area.
Here, spectacular views and corduroy slopes greet early risers looking to maximise their mileage across the Dolomiti Superski. Intermediate skiers will adore the highly entertaining red run down to the Ronda Express funicular, which whisks you across to Santa Cristina and the wider Dolomiti area.
For those skiers that aren't so fussed about ramping up the distance, the Col Raiser area has a huge amount to offer in itself. Not only is it one of the most awe-inspiring ski areas in the region, with a backdrop that would stop even the most experienced mountaineers in their tracks, but it's got a great variety of red and blue runs that skiers of all abilities will be able to enjoy.
Perhaps a testament to its breathtaking views, Col Raiser also boasts a surprising number of cosy mountain huts at which to enjoy long, sun-drenched lunches or hot chocolate stops! A quieter area than many on the Dolomiti Superski circuit, it certainly has the feel of a well-kept secret. Once you've ventured up Col Raiser, you'll find yourself returning time and time again…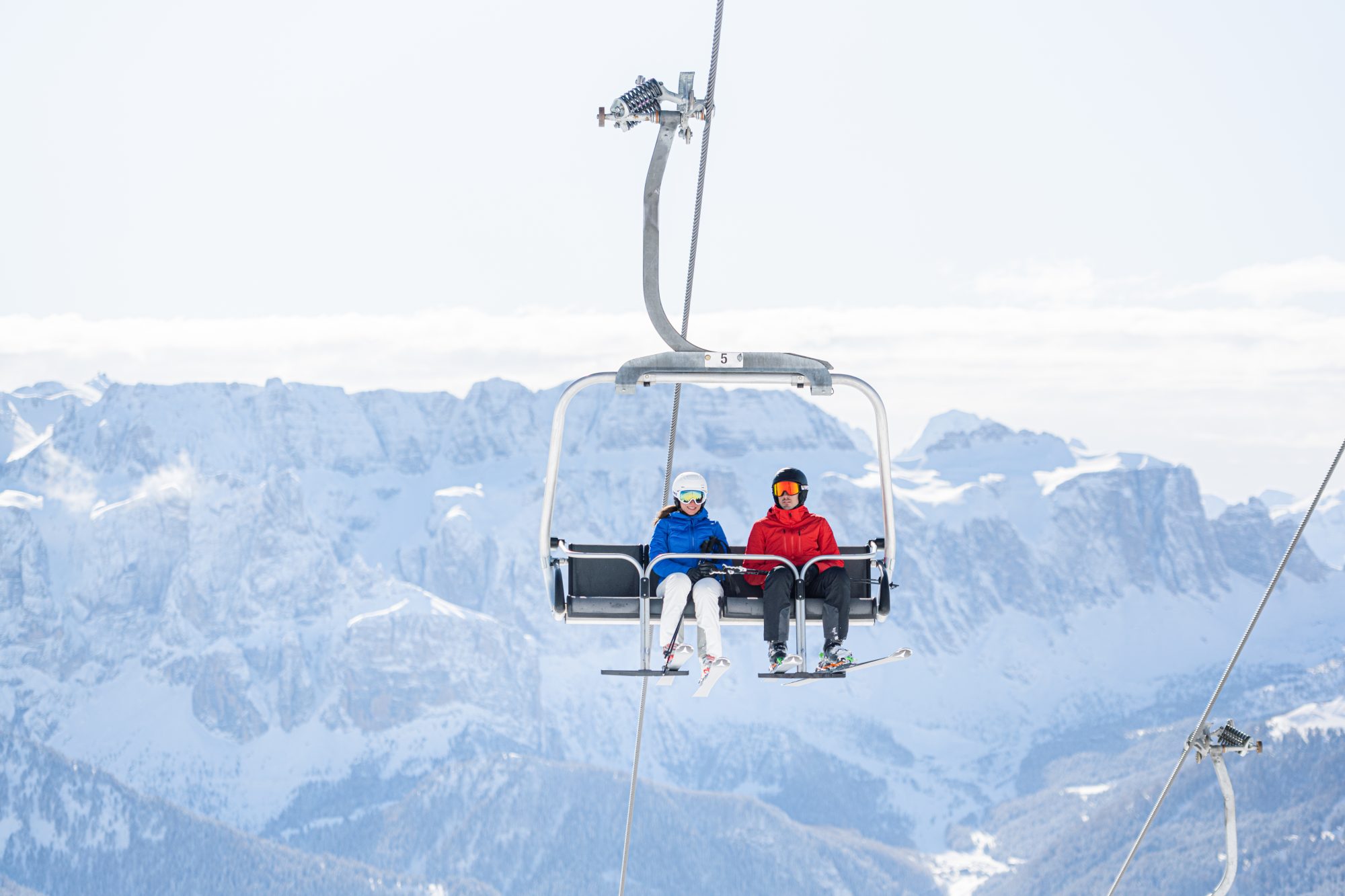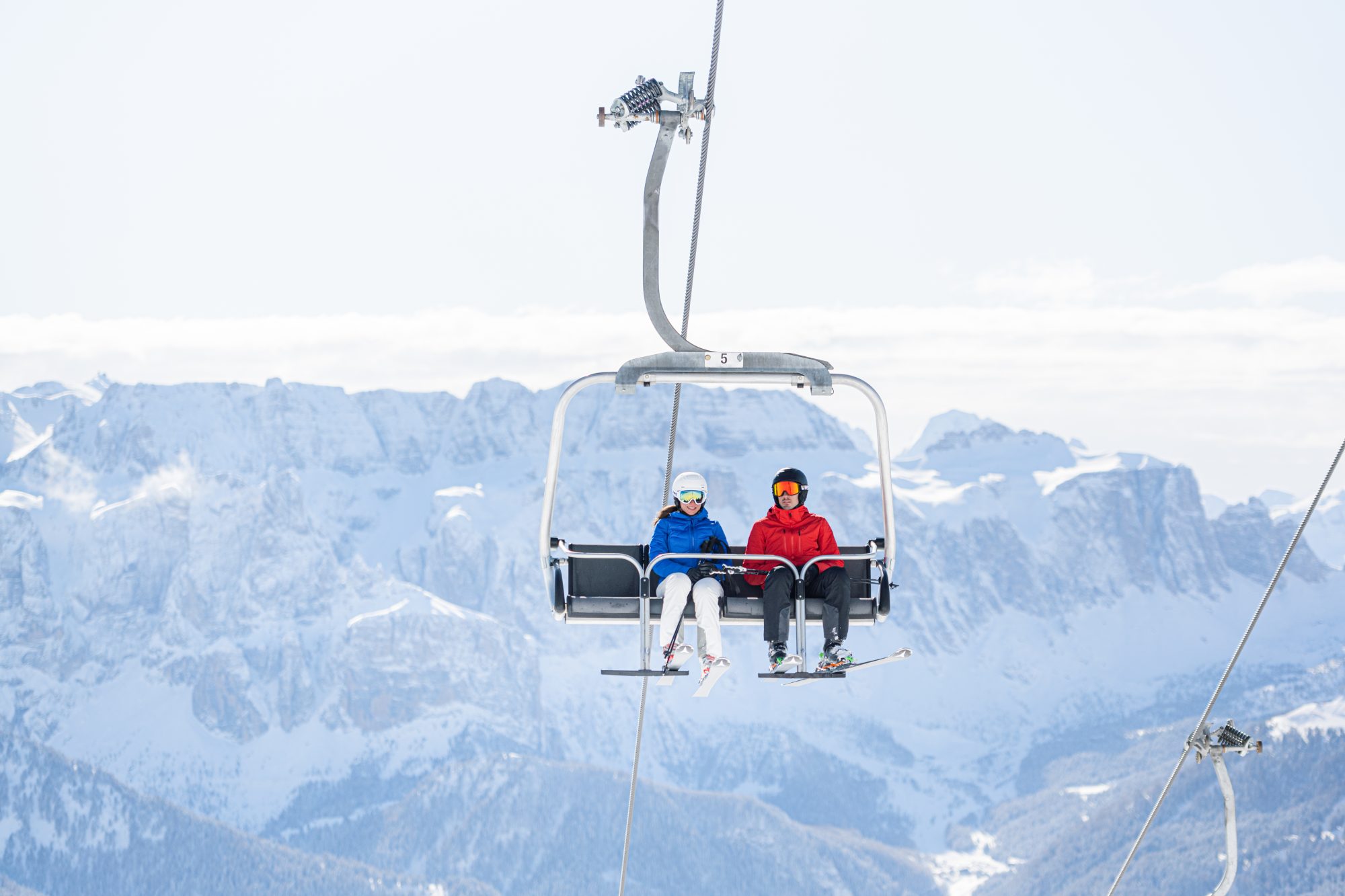 Eat at Sofie Hut. Recommended to us by a young local over a fireside gluwhein, Sofie Hut did not disappoint, with high-end dishes, spectacular views from the table and an impressive local wine selection stored in their beautiful (and extensive) cellar.
Ski "La Longia". One of the longest runs in the Dolomites, this route covers 10.5km from the top of Seceda at 2,518m to Ortisei at 1,235m and is surrounded by rock faces, forests and atmospheric après stops. La Longia is one of the most entertaining slopes in the area and we can guarantee you'll get to the bottom with a smile on your face.
Where to Stay in Ortisei
If you're looking for the most enjoyable stay in Ortisei, you simply can't go wrong with the ADLER Spa Resort DOLOMITI. One of the town's biggest and best hotels, the Adler finds the perfect balance between sensational, state-of-the-art facilities and a friendly, home away from home guest experience.
Everything the ADLER does is about balance; relaxation and activity, urban and alpine, modern and traditional.
To this end, they actually have two separate hotels in Ortisei; the ADLER Spa Resort DOLOMITI and the ADLER Spa Resort BALANCE. The latter is a tranquil, child-free experience, focused on health and wellness, while the DOLOMITI is a more traditional hotel offering, perfect for families and those seeking a more lively atmosphere.
The ADLER Spa Resort DOLOMITI is a family-run hotel that has been central to the resort of Ortisei for hundreds of years, and the family feel remains key to the experience they provide. For skiers and non-skiers alike, each day brings a range of planned activities and excursions, perfect for those that want to explore the area but perhaps aren't confident doing so without a guide.
The rooms are comfortable, spacious and offer exceptional mountain vistas across the valley. Decorated in a charming, natural yet modern way, they provide the perfect place to relax, unwind and refresh.
Eating at the ADLER
As all my fellow foodies out there will appreciate, Alpine cuisine is a key part of any ski holiday and the ADLER certainly does not disappoint on this front.
Meals here are on a whole different level, from buffet breakfasts with everything you could ever ask for, to incredible five-course dinners that boast the best of the areas' cuisine.
In true ADLER style, the menus showcase the best of both South Tyrolean and Mediterranean cuisine, with dishes that highlight and appreciate local, healthy ingredients above all else. Chef Leonhard Rainer and his team have certainly created something special in this kitchen, with each day bringing a new and exciting offering to the ADLER's beautiful restaurants.
Throw in an incredible wine cellar featuring some fantastic local options and experienced staff to advise on all areas of the menu and the ADLER is certainly a winner for those who appreciate fantastic food.
A Spa Like No Other
As I dip my head under the surface, the calming sounds of flutes and panpipes wash over me as coloured lights swirl in the warm water. I'm in the second of the ADLER's two (yes, two) outdoor pools, where warm water, massage jets, incredible views and yes, an idyllic underwater playlist, greet guests looking to wind down after a days' skiing. Soak in the views of the surrounding snow-covered mountains before swimming inside to enjoy the indoor pools and extras, of which there are many.
Indeed, the spa and wellness area is undeniably the crowning jewel of the ADLER; a 3,500 m² area promising holistic relaxation and regeneration across its many floors.
From the huge gym area, panoramic saunas and outdoor hot tubs, to the flower steam baths and indoor salt lake, it can be hard to know what to do next! Everything is designed to ensure maximum health benefits and deep relaxation, all amidst a grotto-like backdrop that is truly magical.
If you're after a more serious spa experience, you'll be spoiled for choice at the ADLER, where over 25 staff are on hand to take care of guests and provide an array of specially designed treatments.
Yes, it looks incredible, but somehow photos still don't do it justice. This is a spa that surpasses all expectations and truly needs to be seen to be believed.
Unrivalled Slope Access
Though the Adler sits right in the centre of the town, getting to the slopes couldn't be easier. A few steps from the ski room and you're at the foot of escalators and travellators heading all the way up to the base of the Funes gondola, so you don't have to worry about walking anywhere in your ski boots! From here you can easily access the entire Dolomiti Superski area, or simply enjoy the gorgeous slopes and mountain restaurants of Col Raiser.
If you're planning to head the other way and explore the family-friendly area of Alpe di Siusi, the hotel offers a complimentary shuttle service to the gondola, so you don't have to make the short walk across the town centre. Simply dial from the ski storage room and within minutes your ride will arrive. Adler service to a tee!
Ortisei with Inghams
Ski holidays in Ortisei, including at the ADLER, are easily bookable for skiers from the UK with Inghams Ski Holidays, who will take care of everything for you and ensure the most seamless holiday experience. Flights, transfers, lift passes, ski hire, they'll make sure everything you need is ready and waiting whenever you decide to hit the slopes. Plus, with Inghams' extensive financial 'In Safe Hands' promise, total ABTA and ATOL protection and low deposits, you can relax safe in the knowledge that your booking is protected.
Click here to find out more about the ADLER Spa Resort DOLOMITI and to book.