Japan has built a worldwide reputation over the past few decades for its fantastic powder skiing and snowboarding, which many aficionados consider the best in the world.
But those who love skiing in Japan like the experience for much more than the snow. It's a long list of positives: friendly locals, very high service standards, wonderful cultural experiences, fun apres ski, great food and drink (and not just the sushi!), the hot springs (onsen), even amazing hi-tec toilets and it all comes at a surprisingly high value.
It's true though that the country is most famous for its abundant powder snow, so far as skiers and snowboarders are concerned, and winter 21-22 hasn't disappointed, with the country's resorts posting the most snowfall in the world, and the deepest powder once again.
Agonisingly though the pandemic has kept the world's skiers locked out of Japan for two winters and we are now looking to winter 2022-23 for the first time we can get back in since 2019-20!
The great news though is that the fantastic Finnair service direct to New Chitose Airport on Hokkaido, the northern island that's famous for its abundant snowfall, is resuming in July 2022. The service takes only seven hours flying direct from Helsinki with connecting services from the UK, shaving several hours off the old flight time and removing the need to change flights (and sometimes airports) in Tokyo.
When it comes to Japan, most skiers from outside the country only tend to know a few of the many ski areas here, but there are many excellent ski areas, offering an authentic Japanese unspoilt and high-value ski experience, all within just two hours of New Chitose Airport. Here are some of our favourites.
Kamui Ski Links
Kamui Ski Links serves as an excellent choice for an introduction to Japanese ski culture. It's a smaller centre, though with a choice of runs for all ability levels and the bonus that lift passes are about half the cost of those at Japan's bigger, better-known resorts. There are a few places to stay nearby but many choose to base themselves in Hokkaido's second-largest city, Asahikawa, the centre of which is less than an hour's drive away. It's perfect for a ski-and-city break.
As well as offering good value, the runs at Kamui Ski Links are wide, well-groomed, usually uncrowded and you can find inbound powder areas where you'll see the famous diamond dust powder snow sparkling in the sunshine.
Kamui Ski Links is located next to the Daisetsuzan National Park, known as the roof of Hokkaido and where the local Ainu culture began. The word "Kamui" means "God" in the Ainu language. According to traditional Ainu belief, everything has a soul, including plants and animals that give the blessings of nature, fire, water, tools for daily life, and other things that are essential for our survival. They also deliver the things that are beyond our control, such as the weather.
With this outlook on life in mind, Kamui Ski Links offers 12 relaxed trails to enjoy the great outdoors: two for beginner skiers, three for intermediate skiers, and seven for advanced skiers.
Furano
Furano is one of the larger ski areas in Hokkaido, a former World Cup ski racing venue located at the heart of the island. It's also one of the longest established ski destinations in Japan with the first skiers here recorded as long ago as 1912 and the modern ski resort established sixty years ago.
The ski area is divided into two independently owned areas that are interconnected with a shared lift ticket. The Kitanomine side, which has wide, well-groomed runs of up to 4km in length and beautiful beech forests is the more popular with skiers. The Prince side (officially known as the 'Furano Zone') offers more favourable conditions for snowboarding, with access to powder snow that has received international praise.
On a clear day, you can enjoy magnificent views out over the Daisetsuzan Mountains from the top of the slopes, accessed by an elderly gondola or a more modern lift, one of the fastest in Japan, on the Kitanomine side.
The powder snow quality here is particularly high, particularly from mid-December to late February when the temperature is particularly low, usually staying below freezing day and night.
There are also excellent facilities for families and kids including snow bikes and there's bright floodlighting on the east slope for night skiing and boarding.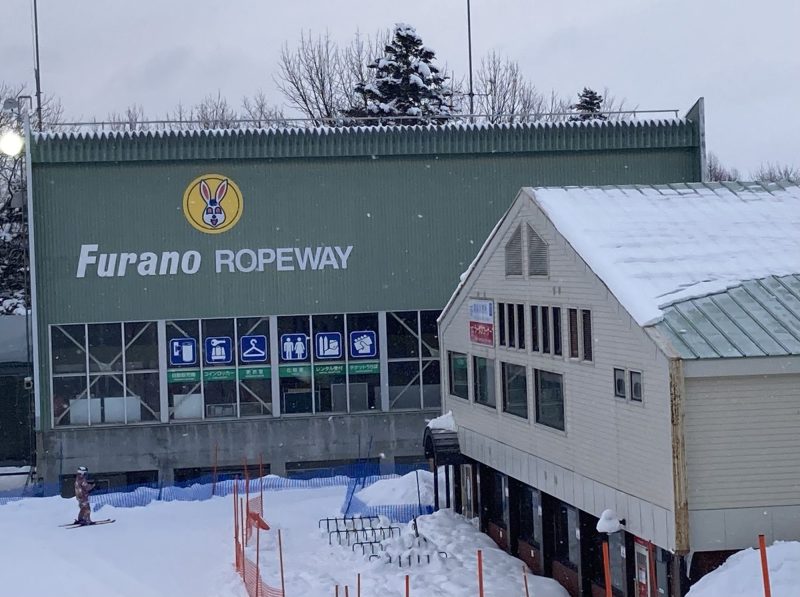 Furano's Fabulous Food and Drink
Furano is also a great choice if you'd like to immerse yourself in the wonderful culinary and apres-ski options of Hokkaido, as well as snow sport.
A special establishment to visit after your day on the slopes is Kumagera, a local pub (known as an Izakaya) that has been serving traditional mountain cuisine for more than 40 years. Dishes made from deer and bear meat are particular favourites. You will also find an original Sake served here providing a warm and inviting atmosphere.
Ordering the "bandit hot pot" (a nutritious miso-based hot pot with deer, duck, and chicken) served with the local sake is a true immersion in Furano culture!
If you're not into meat dishes though Cafe Goryo, located inside a renovated farmhouse, serves Vegetarian meals, homemade bagels, cakes and excellent coffee.
Another treat here is a visit to the Furano Winery, where you can taste a wide selection of wines and enjoy stunning views from the vineyard's restaurant over the Tokachi mountain range, particularly stunning at sunset, perhaps supping on the winery's famous "ice wine". The vineyard is blessed by similar climate and land conditions to the famous vineyards of Europe, making for some of the finest grapes for winemaking in Japan.
Sahoro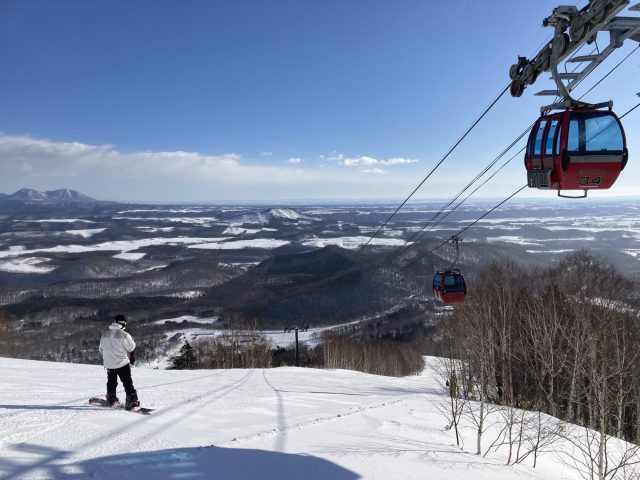 Sahoro Resort in Eastern Hokkaido has a reputation for its uncrowded slopes and is famous for its dry snow. It was one of the first ski resorts in Japan to make a special effort to welcome guests from overseas and has English speaking staff who are renowned for their excellent service.
Sahoro again offers slopes for all standards, although it has a particularly strong reputation with families. Located in the middle of the Karikatsu Pass in the Daisetsuzan National Park, the view as you get off the gondola is fantastic on clear days, offering a panoramic view of Mt. Tokachi and Mt. Tomuraushi. You can also even see across to the Pacific Ocean beyond Obihiro City in the distance.
The centre's name means "dry and wide land" and it is located in the Tokachi region, one of the most typically "Hokkaido" with its vast areas of wilderness and crystal clear environment.
Tomamu
Tomamu Resort operates to a particularly high standard, also located in the Tokachi region of Eastern Hokkaido can be accessed by a new highway in less than 2 hours from Chitose Airport.
The ski area has a good choice of terrain but makes a special effort to offer many ungroomed runs within the resort's boundary which make it popular for powder hunters.
Besides the ski slopes themselves, there is lots to do here including an ice village to visit, snowmobile tours and outdoor adventures like the Yamagoya lunch experience, cooking your own meal over a wood-burning stove deep in the snowy forest. There's also a good choice of modern accommodation here ranging from budget to luxury rooms.
The 32-storey Risonare Tomamu is a remarkable hotel for those looking for a luxurious Japanese ski and culture experience. It has only four guest rooms on each floor with fabulous suites, each covering 100-square-metres and equipped with a jet bath with a view in the corner overlooking the magnificent view.
Heading to Hokkaido
There's so much to see, do and enjoy in Hokkaido in winter it can be hard to decide which to choose and what to do first. The good news is that most centres are used to receiving guests for two or three nights so you can plan a trip and do it all if you wish.
But whether you focus on one area or do it all, you'll love the people, the snow, the food and drink, the unique culture, high service standards, the onsen and the magnificent mountain scenery of Hokkaido.
The fact that it's all so easy to reach, a short hop from the seven-hour Finnair flights arrival from its Helsinki hub to Hokkaido, is just a bonus.
Hokkaido District Transport Bureau