Snowfall has been reported where you'd expect it should – Australia, New Zealand and the South American Andes where it's still wintertime; but also in the northern hemisphere's summertime in the Alps, Scandinavia and North America, where snow in August is more of a rarity.
The snow in Australia (including at Perisher, above) is the latest in a series of big snowstorms that have hit the country since late May, giving resorts there some of the deepest bases they've reported for two decades, with several having more than two metres lying.
It's been less of an epic season, until now, in New Zealand, where 30cm+ of snow in the past few days has finally given some deep powder cover.
In Europe the snow in the Alps above 3,000 metres gave some respite to glaciers that have again been battling record summer heat. Glaciers in Austria and Italy reported 10cm accumulations.  The Dachstein above, late last week.
Up in Scandinavia where similarly two glaciers should be open now, but aren't as it's too warm, one of them, Galdhopiggen (pictured below), reported they were on course to re-open on September 15th thanks to fresh snowfall there.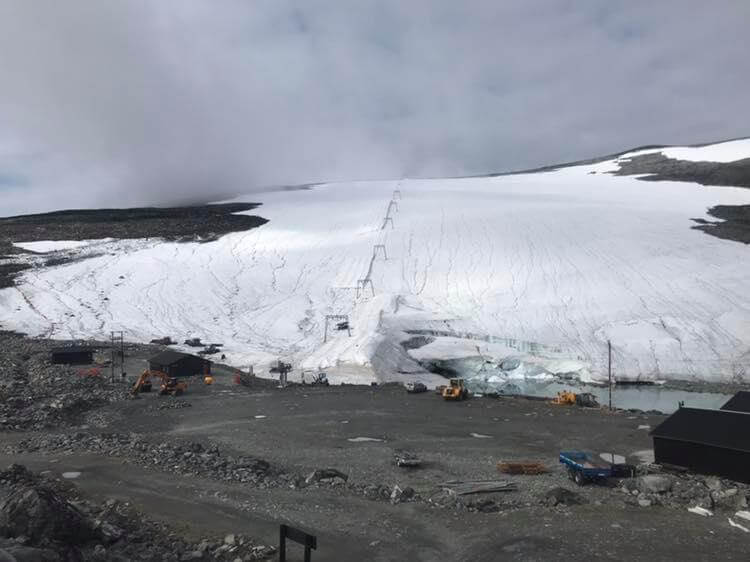 Finally snow was reported in the Northwestern USA and in Alberta and BC in Canada at the end of the weekend and start of this week with accumulations of up to 30CM reported. Sunshine near Banff is pictured below. That's not unheard of at these latitudes but taken as a good sign for snow lovers that the seasons are starting to change as the countdown to winter 2019-20 in the northern hemisphere gathers pace.