Now, many people assume that igloos are an aspect of winter holidays reserved purely for children. However, as we have discovered this is certainly not the case; there are many luxury getaways that involve the iconic igloo and offer a fantastic, unique winter experience. For a break that's a bit different this year, why not give one of these incredible igloo breaks a try?!
The Igloo Village Zermatt offers a stay in a real snow igloo with sensational views of the iconic Matterhorn peak. Igloo Village Zermatt offers the ideal combination of the real snow experience with the luxury of an amazing igloo getaway.
There is a magnificent outdoor bar with panoramic views of the surrounding peaks where you can enjoy a delicious fondue, or in the evening grab a drink inside amidst the impressive snow art.
However, our favourite part of this Igloo break is the addition of an outdoor hot tub. It's an incredible experience to be surrounded by snow, appreciating the amazing views while enjoying the warming relaxation of the hot tub. This is a fantastic once in a lifetime experience.
Choose from a standard or a romantic igloo, with the added option to build your own, depending on what sort of break you are after! The art theme for the coming year is 'Mythology' so prepare to see some incredible artistic takes on this subject carved into the surrounding snow.
The epitomy of luxury igloo breaks, Kakslautten hotel in Finnish Lapland is almost iconic when it comes to artic igloos. Beginning in 1973 as just one man in a tent, Kakslautten has grown through the years into an internationally recognised travel business.
The fully glass igloos here offer the perfect way to admire the Northern lights and a sky so free of light pollution you can see every last star. Snuggle up and watch the incredible natural phenomenon outside while remaining warm and cosy in this gorgeous location. These two-person igloos include a toilet as well as an option to add an extra bed.
Our world-renowned Glass-Igloos are waiting for you – book your once-in-a-lifetime winter getaway and enjoy the pristine arctic sky in the warmth of your own cozy bed. Make your dreams come true here: https://buff.ly/2znoY3G

Posted by Kakslauttanen Arctic Resort on Tuesday, 7 November 2017
Alternatively, you can book one of the Kelo-Glass Igloos, new builds that combine the warm, cosy atmosphere of a log chalet with the incredible views offered in the glass igloos. Made from the Kelo pinewood unique to Lapland, these igloos can sleep up to six. Within the igloo you will also benefit from a private sauna, fireplace, kitchenette and most importantly, the bedroom boasts a glass roof. You won't ever want to leave this beautiful place and you are guaranteed to have a holiday to remember.
Located 250km north of the Arctic Circle, Kakslautten sits near the Urho Kekkonen National Park, one of the cleanest areas in the world. The air and water are both so fresh you will leave feeling wholly rejuvinated.
This hotel is more easily accessible than other arctic igloo options. It's just 30-minutes from Ivalo Airport, which runs regular flights to and from Helsinki. One of the safest countries in the world, Finland is a great choice for a stress-free, magical holiday.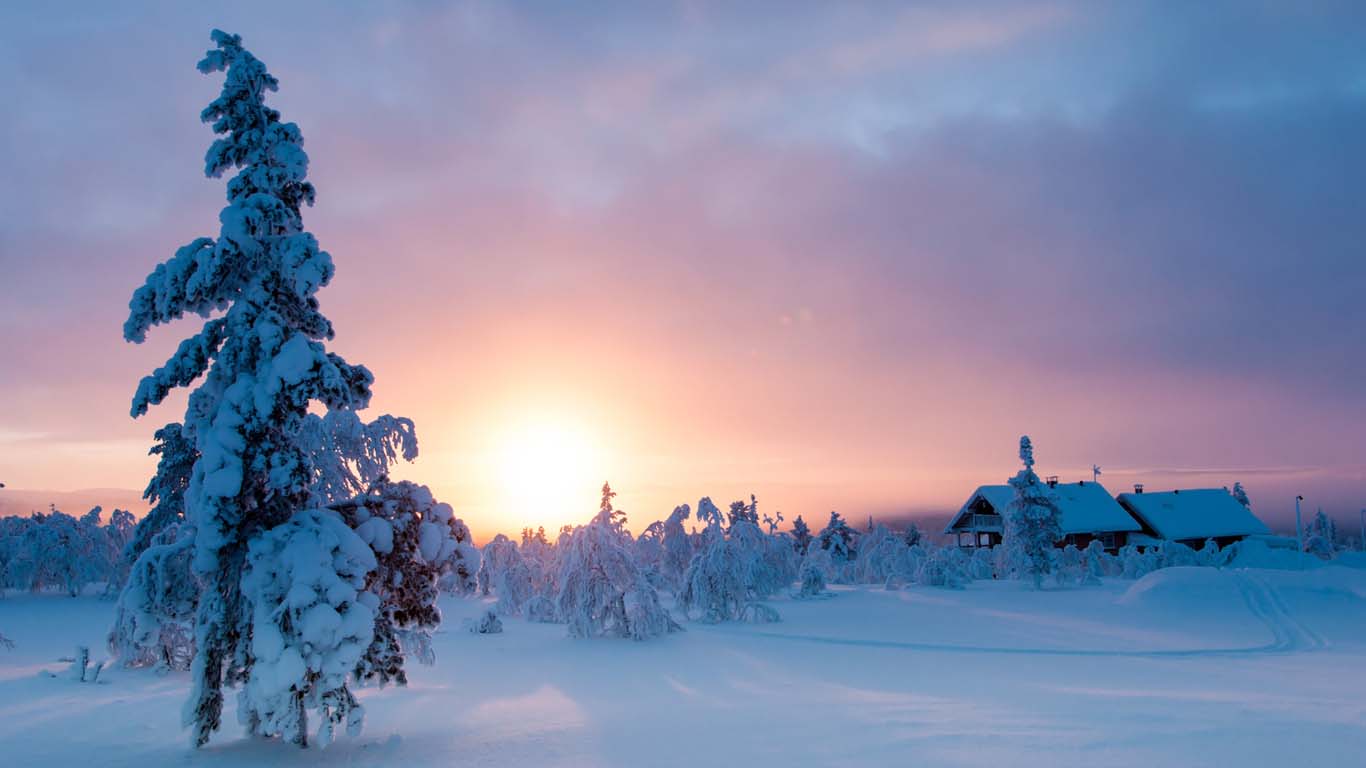 Similarly named but a separate enterprise to Igloo Village Zermatt, Igloo Village Kuhtai is the perfect destination if you want an igloo break with the possibility of adding a little skiing in too (come on, we had to squeeze some skiing in somewhere!)
While these igloos don't boast glass ceilings with a view of the Northern lights, they offer an equally incredible experience as you spend a night in a real snow igloo designed and shaped by snow artists.
A group of igloos set in a circular formation and with their very own Igloo Bar, this is a more social experience than the previous getaways and this makes it a lot of fun as you get to know your neighbours and share this wonderful experience together. It's a stay like no other, from the fondue dinner on arrival, to roasting marshmallows on the bonfire and participating in 'eskimo sports'.
The heated bathroom facilities have hot showers and the sleeping areas are equipped with comfortable mattresses covered with gorgeous sheepskin. An outdoor barrel sauna is available for all guests, and a hearty breakfast is provided in the next-door hotel.
These igloos sleep either two, four or six people and you can even choose to build your own, guided by experienced igloo builders! Just 35km from Innsbruck, Igloo Village Kuhtai is very easily accessible from the UK.
Another Lapland based igloo experience, Levin Iglut Igloos offer offer a unique, luxury arctic experience under an incredible Northern sky.
At Levin Iglut, when they say luxury, they mean luxury. Not only do these igloos offer unparalleled views of the Northern Lights, the interior and its facilities are strikingly modern and of a very high-quality. Air conditioning, a small kitchen, shower and toilet, and a wi-fi connection are all provided. However, what's most special are the lengths they go to at Levin Iglut to ensure that you get the best possible view all day and night. Electrically heated glass prevents fogging, while the super comfortable beds are actually motorised, meaning you can adjust them to the best viewing position.
If you want to add a touch more luxury, Levin Iglut's premium igloos offer the best possible, most unobstructed view across the whole valley. Perfect for a romantic holiday.
Again a separate enterprise to above (anyone else sensing a theme here?) Igloo Village in Pokljuka. consists of real snow igloos that are rebuilt each year. It's built as a tunnel system, with all the Igloos connected by 'underground' snow corridors and the village consists of a hotel, restaurant and bar, all created from snow!
The Igloo Restaurant offers you the chance to sample Slovenian sausage (Carniolian Sausage) with horseradish and fresh bread, a traditional delicacy that should not be missed. Wash it down with a drink at the neighbouring Igloo Bar which has a great atmosphere and is a really unique place to spend an evening or afternoon!
The Igloo Hotel consists of two 8-person Igloos and two romantic couples Igloos, so it's great for groups as well as couples. There are also lots of activities on offer such as sledding, snowshoeing, biathlon challenges and crosscountry golf.
What we particularly like about the Eskimo Village is that it genuinely does feel like a whole hotel complex, simply one made of snow! It really is a unique getaway and does feel a lot more like a real Igloo experience than perhaps some of the more 'luxury' choices. It's bound to bring out the inner child in everyone as you really do get to play at being a real Eskimo for the night!