I've sat in so many bars, coaches, front rooms, listening to intermediate skiers say '…I don't need lessons any more…' – hmmm…..really?
Last season, as the April temps took hold of the snowpack, I had a heart to heart with my close friend Anthony as we descended in the gondola. I realised that my hyper-loose boots were not really a big factor in my skiing, or my trashed rock skis. It was me. What's held me back? Lack of time on the snow.
Factor 1: we don't live with mountains in the backyard (eg Candide Thovex at La Balme; Luke Smith in Geneva)
Retrospective recommendation: should have said yes to that job in Geneva when I was 20.
Factor 2: eight-ten weeks' skiing a year is great, but not enough.
We're lucky enough to get a lot in. But I hear a lot of nonsense from people who ski for one week and then spend the rest of the year fretting about their skiing kit, and tend to think it's the kit holding them back.
Retrospective recommendation: I can lapse into the same behaviour – so out of season force myself to think about other sports instead – table tennis (reaction time) and mountain biking (fitness and balance) – I have indeed become better at this, but the transition month (May) is difficult – I need to think 'bike' but am still stuck in 'ski'.
Factor 3: I wasted precious time – years – by not having coaching.
Ant and I agreed that we indeed had a terrible period of 10-15 years of 'intermediate arrogance' – The Wasted Years.
Retrospective recommendation: should have had coaching every trip. Every trip. The session with top coach Sasha in Dec 2016 showed this up all too well; a quantum leap in technique and a deep curse at failing to get coaching years before
What's been holding me back – boots? Skis? ABS? Bindings? Wicking pants? ….. No, me.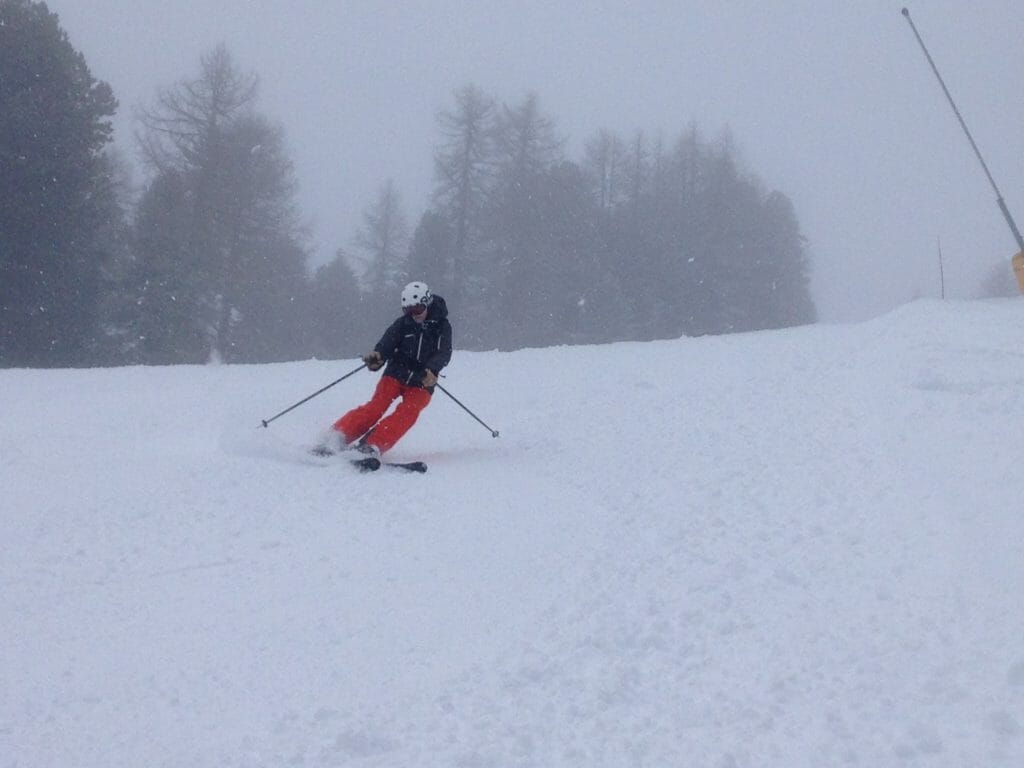 Roll back the clock …
By 2003, I'd skied for 20 years and was reasonable on anything – challenged in deep stuff through lack of practice. Kids arrived, one in 2003 and another in 2005, so for 5 years I flapped around with them, and indeed benefitted from the slow skiing which was needed – much better edge control and balance. That's another story – 'the merits of slow skiing'. But these days with the kids were short days. Not enough time on the snow.
By 2010, my youngest was already showing promise, so the next five years was spent coaching him, focussing on the skiing of others, not on myself. Other than a brief weekends' coaching with Dave Morris at New Gen in Courchevel, my skiing improved only through watching others and incrementally improving this, improving that… I thought I was improving. But now, I can see that was self-delusion. Any improvement was glacial in speed. And some bad, bad habits had built up.
Christmas 2015 saw a weird mix of boiler plate and brown porridge at Crans Montana and I realised to my horror that my 10 year old had far better control on ice than me. He was getting an edge in where I was skidding. Alex coolly hooking short turns on ice, I knew that it was time to do something, not about my skis but about my skills.
And that's important. So many skiing websites are full of English skiers agonising over kit. For sure it's important to keep skis in good order – learning to sharpen your own edges can be a very good thing – but often, recreational skiers anxious to improve think about equipment first and skills last. Maybe it should be the other way around…
Alex's performance had shown me how it should be done. I wanted to do the same. So that evening I went to see Yves Caillet at Swiss Mountain Sports near the ice-rink in CransMontana, and booked up a private session. As always, Yves carefully listened to what I wanted and then allocated Sasha to me for a long morning. From Metabief, Sasha was cool, pragmatic and a man who loves his hills. As we emerged from the top lift the 'I want all my faults highlighted clearly….bad habits…laziness….attitude…'.
'…OK…now we ski…and I look to see how you are…;' and we get off at Cry D-Er and go straight onto the steep Nationale.
Holy *9&!! I'm not used to skiing THIS fast….but the pisteis empty and we can blat down.
I don't think Sasha can see a single thing about my skiing at this kind of warp-speed but I am completely wrong. Like all good coaches, he has been carefully observing. When we stop he lists a series of faults – after a polite '..good basic position, but we need to work on forward position, angulation and, well, let's ski a bit more and I will see…', he unleashes a series of tough exercises, all interesting and challenging. All of them are designed to get my edges in and keep them there. It's good that I had three days' of free skiing before doing this morning, I'm reasonably tuned-in and flexible. One exercise in particular gets a breakthrough in my technique – punching forward with my fists down the fall-line on steeps, crouching and then jumping around the turns. Suddenly my edges are in on ice, and staying there….
At the end of the morning I am exhausted and very, very satisfied. Over the next three days I realise that what I saw previously as steep and icy is now simply a slope to be skied. I am astonished at the step-change in my technique. While following and imitating good skiers did some good things over the past few years, an intensive session with a high quality coach has had profound effect. I wonder whether those years consolidating were a good thing, and meant that I could make really good use of a session like this – or whether I should have had intensive coaching far more frequently. Actually it's a no-brainer, coaching trumps wasting time. I remember the tiny woman I met once at a friend's chalet down the hill – fat waist Black Crow planks a metre taller than her – as a lawyer she took a year off and skied with a coach every day for a year. She went from novice to astonishing expert – in a year. OK….Iwill aim for more frequent coaching sessions…
The next time I hear '…I don't need lessons any more…' I may not say anything, just smile wryly…and maybe hand over one of Yves' cards….worth every penny….