In this day and age, when the large ski resorts are ever more crowded, and an increasing number of people are tracking up the powder as a result of the wide, big-mountain skis that make skiing off-piste so easy, there are still a number of locations where one can get off the beaten track and find some solitude as well as powder. One of my favourites is Greece.
As the 21 Greek ski resorts are relatively unknown outside of the country itself, there are almost no foreigners, and relatively few local people ski midweek. In addition, the financial crisis has certainly also taken its toll on the Greek ski industry. The lifts are generally outdated, and only one resort there is currently profitable. Yet, when it comes to heart and soul, the Greek people rate five stars.
The Greeks are among the friendliest people on the planet, and their hospitality alone is reason enough for a visit. Their life philosophy is quite similar to that of an old ski bum like me. They do not live to work; they work to live. That is to say that their leisure hours –family time, good food, wine, dance, and music – are often a higher priority than money. With all that in mind, Klaus Arpia, Jan-Erik Blomberg and I flew to Athens in search of light powder, good people, tasty food, and a little adventure.
If one is going to ski in Greece, why not ski with the gods on Greece's highest peak, Mt. Olympus? As we approached the home of Zeus, the magnificent mountain truly took on a godlike aura. There was not a cloud in the sky, and as the last rays of light shone on her majestic snow, Olympus transformed from white to a light shade of pink, then to a rose colour and finally to crimson. The skiing on Mt. Olympus is rather unique. The lift is operated by the military to train their mountain troops, but on weekends it is open to the public.
The entrance to the military base is surrounded by razor-wire fences, but beyond this rather intimidating entry is a beautiful world of white. We showed our passports to a soldier at the entry gate, and signed in. From there, one has to hike about 20 minutes to reach the lower of two draglifts. Okay, you think a 20-minute walk is a bit inconvenient, but use of the ski lifts is free of charge! Now, we are really talking the ski-bum language.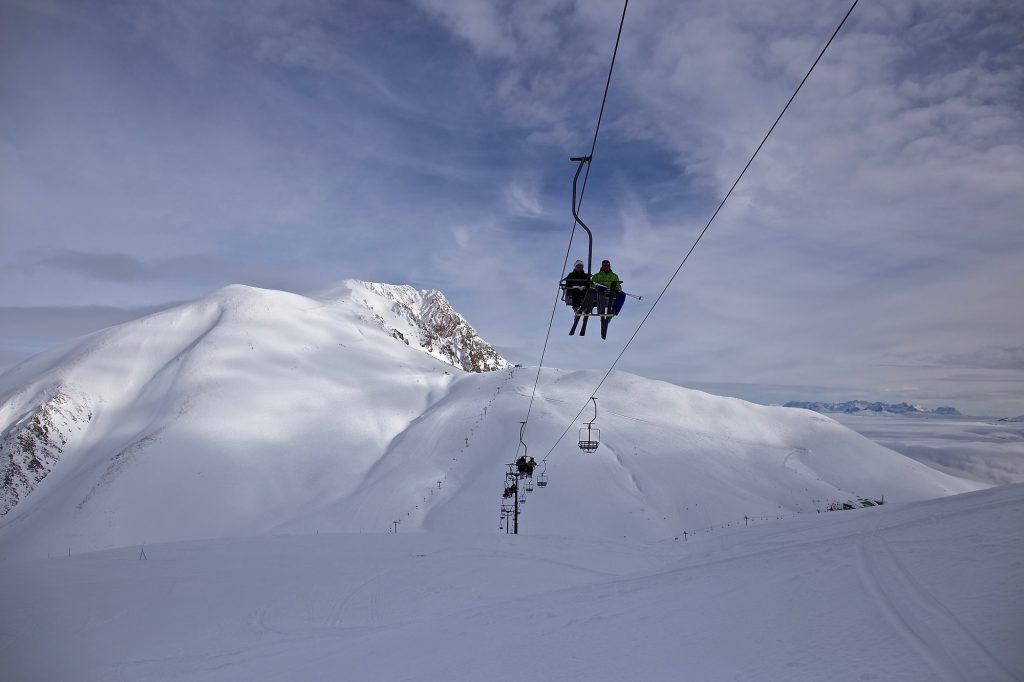 Despite the unbeatable price, there were fewer than 100 visitors, and about half of them were soldiers taking their first lessons. Klaus, Jan-Erik and, I wasted little time, and we headed up the 450 vertical metres to the top of the upper lift. There was plenty of boot-top powder on either side of the piste, and nobody was making use of it. We spent the rest of the day leaving our signature in the virgin snow adjacent to the piste.
The next stop on our agenda was Kalavryta, situated 190km kilometers east of Athens. The skiing was not free, but in Kalavryta, one can actually get a room with breakfast plus a lift pass for €30 (£26) Euros a day.

It was a weekday, and there were about 60 cars at the resort, the snow depth at the base of the lifts was two metres.
The upper mountain in Kalavryta is home to a lot of difficult off-piste terrain, all above the tree line, while the lower half of the ski area offers some excellent tree skiing where the snow is more protected from the wind. The tree descents were manager Spyropoulos Leonitas's favourites, and he took us on a few runs in the forest to show us around.
The wind was howling up high, and the snow was falling horizontally, but in the trees, it was calm. For the next few hours, we slithered and glided through the powder in the forest, making a new track on every descent, and we never saw another soul.
There was still time for an après-ski, and on the way down to town, we stopped at a roadside stand for a drink. It all began innocently enough, as Klaus and I asked the young ladies behind the counter if they had any ouzo. They did not, but instead doled out a free sample of what we would soon learn was a typical Greek après-ski drink – 'rakomelo' – honey mixed with raki and spiced with cinnamon or other herbs.
Feeling happy with our powder day and free drinks, Klaus and I broke into an a cappella rendition of our theme song – Country Roads – which in turn resulted in a Greek bystander, Giorgos, calling out "Yamas" and toasting us.

After that, the rest of the afternoon and evening is a rather hazy blur, but suffice to say our random and seemingly insignificant decision of stopping at that roadside stand set off a chain reaction of hospitality that continued all night and probably could only happen in Greece.