Why Heat Ultra will keep you warm on the slopes this winter
Baselayers are one of the most important pieces of kit we need to wear on the slopes. It's the layer against our skin, and we wear it indoors and outside, all day long. Ensuring any moisture is wicked away quickly is crucial to staying warm, and this is one of the reasons that Heat Ultra works. So let's stay warm and odour free by the end of the day. Nobody likes a smelly après buddy. 
The key to Heat Ultra's success when it comes to keeping us warm, dry and cosy on the very coldest days is partly down to the D Tex Therm fabric that feels like a second skin. This fabric captures your body heat and keeps hold of it, and any sweat is then allowed to wick away.
The fit is also really important and the four-way stretch fabric, made with 10% elastane, covers the skin at all times and hugs the body – this feels both athletic and comfortable to wear. But perhaps the best thing of all is the great value Heat Ultra brings to anyone looking for baselayers – for this kind of quality you'll struggle to find anything better priced.
We're a big fan of Heat Ultra, and we've recently reviewed some of the latest items in the range.
CREW NECK – RRP £34.95
Heat Ultra's best-selling top for men, the classic crew neck with long sleeves is soft and super comfortable. High performance D-Tex Therm fabric provides fantastic heat retention and a 360° stretch.
HENLEY – RRP £39.95
This three-button top for men works really well when worn under a jacket or even a shirt. It has definitely got a bit of style about it and looks great while retaining all the technical features you'd expect including the D-Tex Therm fabric.
MOCK NECK – RRP £29.95 (women), RRP £34.95 (men)
Available for both men and women, the mock neck top is great for colder days as it helps to keep the neck warmer and therefore helps the body stay warmer. The four-way stretch and D-Tex Therm fabric ensures optimum body heat retention.
LONG JOHN – RRP £34.95 
Ensuring your legs stay warm on the slopes is as important as the upper body so long johns are essential, especially if you're wearing shell pants. Made from the same fabric as the tops, but with an elastic waistband, ankle cuff and front opening for those moments when convenience is required, the men's Long John is great value.
HEAD WARMER – RRP £16.95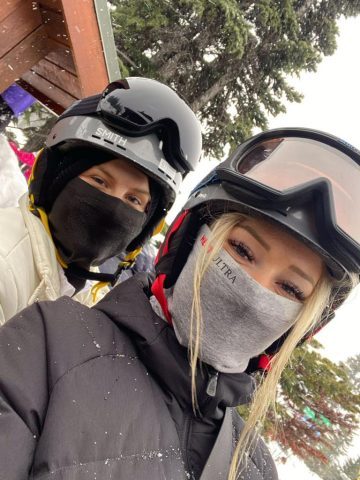 This soft and comfortable head scarf made from D-Tex Therm fabric is great for those cold days when you need to really wrap up. It can be worn under the helmet and pulled down if needed. It's suitable for men, women and children.