Here at InTheSnow, we often see new and 'innovative' products coming across our desks, but it's only once in a blue moon that we see a product we'd actually consider a game-changer. So when Elan announced the launch of the world's first fully functional, folding, all-mountain ski, the Elan Voyager, we couldn't wait to take a look.
With the Voyager, Elan have made clear their dedication to keeping the mountains accessible to us all. They understand that us skiers are a resilient bunch, that we will want to return to the mountains as soon as possible and that anything that can make that goal easier to achieve is invaluable.
This is where the Elan Voyager comes in, combining easy transportation with exceptional performance.
Now foldable skis are not in themselves a new creation; many brands have tried to get the idea of a folding ski off the ground in years gone by. However, finding a folding ski that actually performs as well as any non-folding option has always seemed an almost impossible task.
Until the Elan Voyager, that is…
Elan as a brand has always been at the forefront of ski industry innovation and the Voyager is a prime example of this, a ski that has been in the works for the last three years.
Now, previous concerns levied at foldable skis have called into question the skis' stability, power and performance. Elan, through years of fine-tuning and technology, have managed to solve each of these issues, creating a ski that will happily tackle on even the most demanding of conditions, with absolutely no compromise on performance.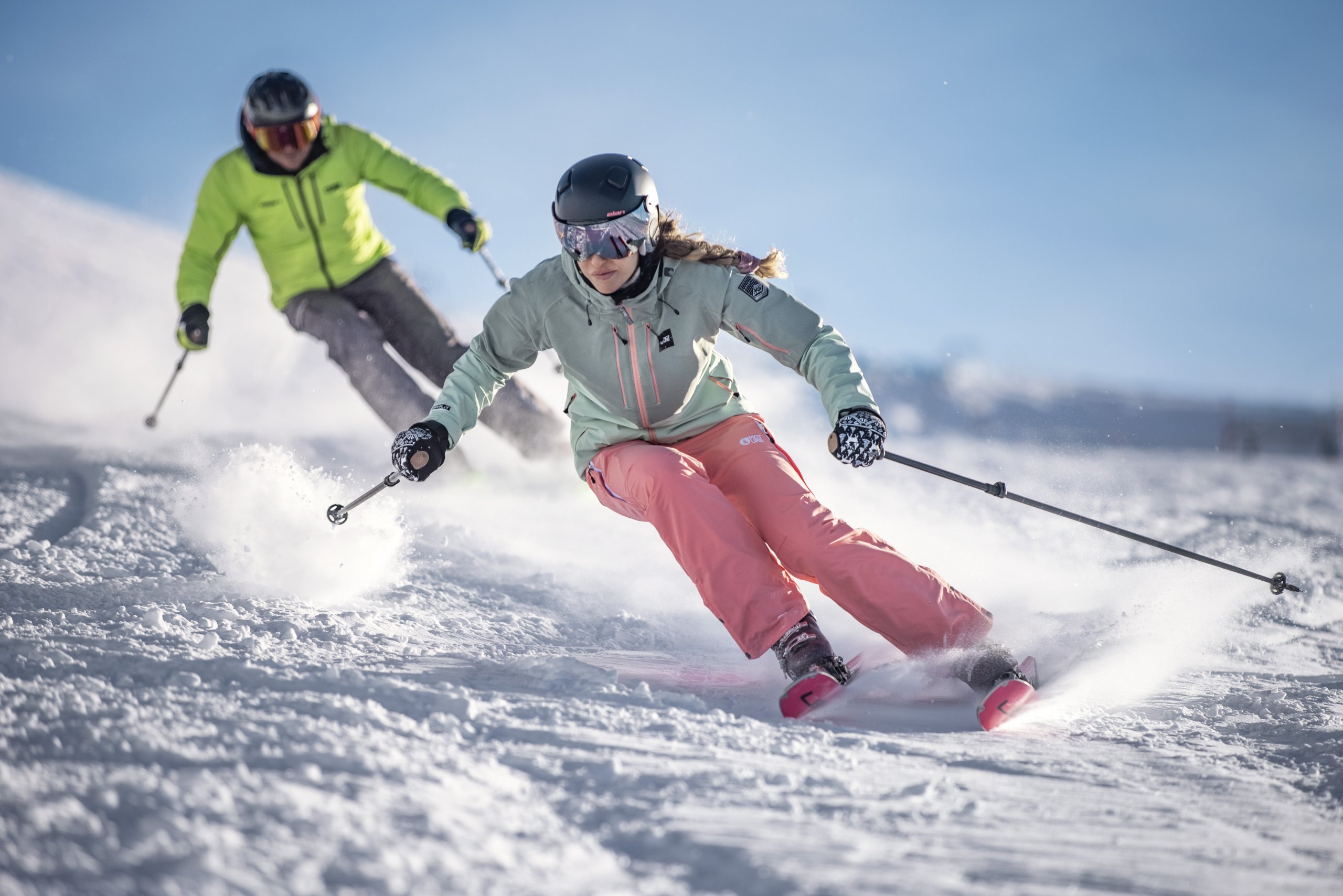 They have done so thanks to their revolutionary new Connect Technology, which makes these folding skis easy and efficient for transport without sacrificing performance on the slopes.
The Connect Technology works by utilising a highly advanced four-axis mechanism that bonds and seals the ski together at the folding joint. A carbon-reinforced fusion plate serves as a load- bearing platform for support, working with the axis to ensure impressive torsional rigidity. The result is a folding, easily transportable ski, that offers the same superior ski performance as any of Elan's all mountain offerings.
The Voyager also features Elan's highly popular Amphibio technology. A revolutionary ski design that integrates both rocker and camber profiles into dedicated left and right skis, Amphibio technology creates a highly stable yet forgiving ski, comfortable across all terrains.
So, a ski that carves up the groomers as well as any race ski, that handles changing terrain as if it were simply changing gears… the Elan Voyager looks set to revolutionise the ski industry.
It will certainly revolutionise travel, that's for sure. Gone are the days of lugging around a heavy over-the-shoulder ski bag, threatening unintentional decapitation to any in your path. We've never known a ski as easy to transport as Elan's Voyager. The custom travel ski bag makes them incredibly easy to carry and store, whether you are travelling by train or plane, or simply slinging them into the back of your car for a trip up to the hill.
The Voyager launches today, 1 February 2020, with limited quantities in each length: 160, 166, 172.
---
Specs
160cm (packed to 87cm) – 127/78/110 width / 12.6 radius
166cm (packed to 89cm) – 127/78/110 width / 13.7 radius
172cm (packed to 93cm) – 127/78/110 width / 14.9 radius
The package includes Voyager skis, bindings, poles and custom bag – priced at €1.499,95 / £1.349,95.
The Voyager one pair ski bag is the world's most compact ski bag, measuring 100cm X 26cm X 16cm, made specifically to transport and travel with Elan's Voyager skis.
---
Want to find out more? Head to: elanskis.com/en/